The folks at Zwift HQ have been testing the new London course and posting the rides to Strava–here are links to recent rides from Eric Min, Jon Mayfield and Mike McCarthy and Matt Antoniou.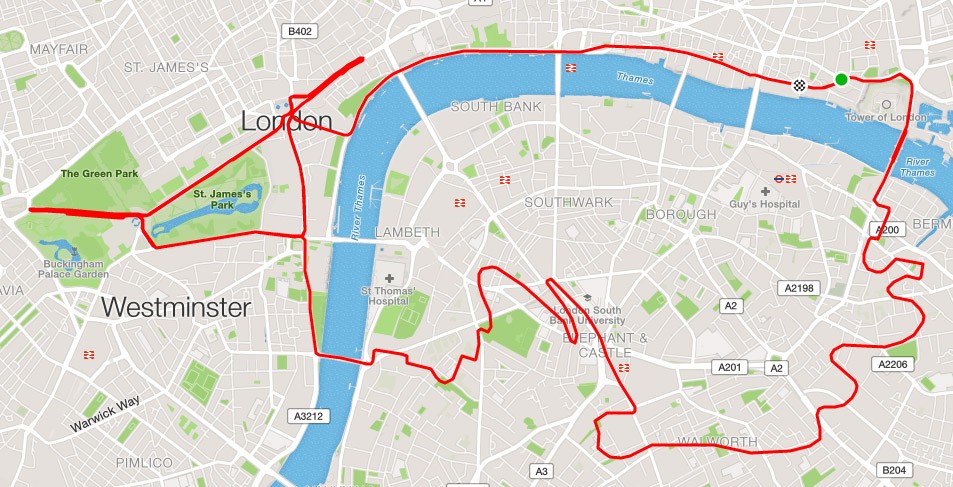 Based on Strava's data we can ascertain a few tasty details about the soon-to-be-released course:
It is fairly flat except for the Box Hill climb of ~495′ (151m) which is ~2.4 miles (3.9km) long–quite close to the profile of the real life Box Hill
Zwift HQ took liberties with the layout of the course so we don't have to ride out to Surrey to enjoy Box Hill–it finishes at the Elephant & Castle
The main course loop is ~9.2 miles (14.8km) long
The course has an optional loop section ~3.4 miles (5.5km) long to the west through Green Park so we can race around Buckingham Palace–definitely something we won't be doing in real life!
We'll be riding in the left lane
When will it be released?
Zwift HQ is staying tight-lipped about a release date, but since the Prudential Ride London race is July 30-31st, my guess is the course will be released sometime between late this Wednesday and early Friday.
Screen Shots of the London Course: