In 2016, 37-year-old Leah Thorvilson proved that age is no barrier by becoming the first-ever winner of the Zwift Academy just one year into her cycling experience, after switching over from running due to injury.
Seven years later, Leah just doubled up in August 2023 to become the US Masters champion in both the time trial and road race for her age category. And she did it in style, tearing up the roads made famous by golf's Masters championship around Augusta, Georgia. Leah's reward for her efforts was no green jacket but something better: two US Masters Champions jerseys at the age of 44.
What makes these victories extra special is that Leah is one of Zwift's own, having won the Zwift Academy in 2016 and turning pro with CANYON//SRAM. Once the contract ended she came to work for Zwift in their Social Media Team before moving to their Content Programming Team and today, if you ride an event on Zwift, there's a good chance it was set up by Leah.
She manages to fit bike racing around her role at Zwift, riding for the US-based team 3T/Q+M Cycling.
US Masters Championship
On Friday, 24th August, part one of Leah's remarkable weekend unfolded.  She posted a blistering time to clinch the US Masters Women's time trial title by a huge four minutes. With a current FTP of 270W her fine form continued into the Road Race two days later.
Buoyed from her success two days before, Leah says, "I wanted to win this race. The Masters in 2019 didn't go well, and in 2022 I trained well but got beaten."
Before the start of the road race, Leah was speaking to the defending champion about another rider with a strong sprint who needed to be dropped. Leah explained that her original plan was to use the first lap to 'feel people out' before increasing the pace and making a move on the second lap.
This plan lasted all of two minutes.
"The first climb, two minutes into the race, I lifted the effort to 300 watts, to see who was capable. On the descent I pushed my effort and had a 5-second advantage. Over the next part of the course, this extended to 2:15 with 5km of the first lap to go."
Leah was clear. On the first climb of the second lap, Leah pushed it again, using her climbing skills to her advantage. The gap increased to 5 minutes. At this point, Leah says, "I was on a mission. I just sent it. I felt really good." It became clear that, barring a mechanical issue, the victory was assured, giving Leah enough time to take both hands off the handlebars and salute the victory. "I worked so hard for it. It meant a lot."
The victory was emphatic, with an 11-minute gap to the next finisher.
"The time trial was special as that was the first victory, but the road race was emotional because I had to build a strategy. I really earned it and I am really happy and proud."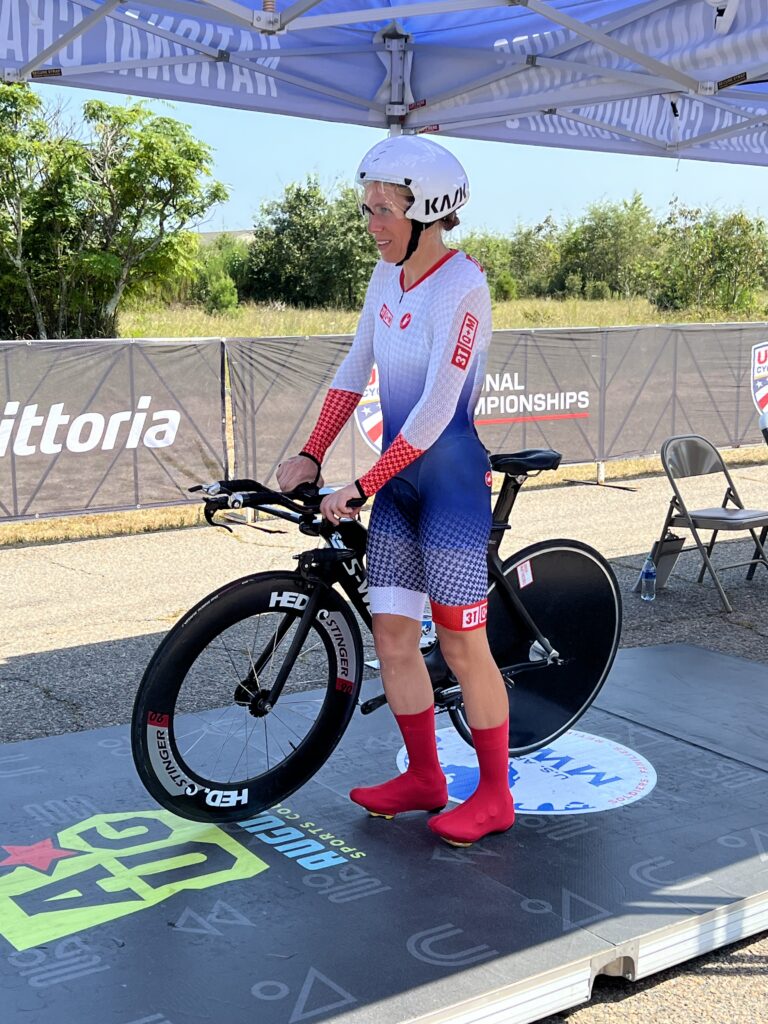 Success Continued
Success at the Masters Championship continued the following week when Leah got 4th on the Queen Stage at Green Mountain, a 4-day stage race coming.
She finished 6th overall in the general classification, despite the fatigue from the US Masters Championship races the week before and the extensive travel to the events, including a 10-hour road trip and a flight to Vermont for the next.
Late Entry to the Sport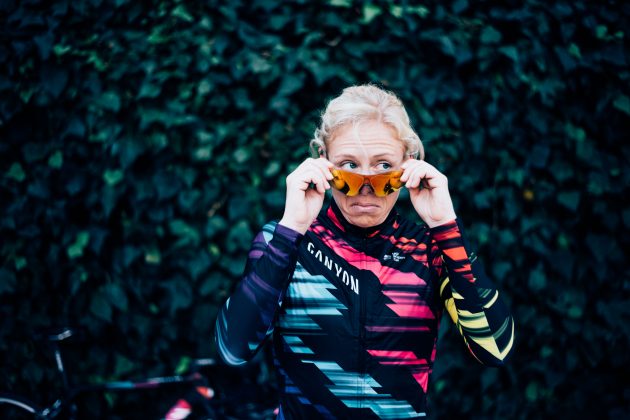 Despite her late entry into the sport of cycling at 37, Leah has proven that age does not have to be a limiting factor. Now 44 years old, Leah says, "I am getting my best results; my power numbers are still there, and I am beating my previous QOMs."
In addition, Leah noted that she is "reading the races better" part of which can certainly be attributed to not only racing outside but racing on Zwift. She has no plans or reasons to stop.
Built on Zwift
The stellar power Leah recently demonstrated is directly attributed to her structured training sessions on Zwift.
"Zwift will get you fit," Leah says. "I do all my interval training on Zwift where I use ERG mode. I use the 'Circus' session in the 'Build Me Up' program, which I undertake every few weeks because it forces me to work on repeating very high-intensity short bursts, which are arguably my weakest point. It's most fun to train in the areas you are good, but I've realized I need to focus just as much time if not more on building up the areas where I struggle. Zwift has something for all of these types of workouts. Similarly, "the 'Gorby' is used to help improve my VO2."
Zwift Academy
Leah's 2016 Zwift Academy achievement is remarkable and the closest thing to a "fairytale" story you could imagine.
Traditionally a long-distance runner, and a good one at that (she ran in the 2012 Olympic Trials and turned in a Little Rock Marathon time of 2:37:26), Leah got into cycling in 2015 following surgery due to the wear and tear caused by running. In July 2015 she rode her first 100 miles and first used Zwift in December 2015 before participating and winning Zwift Academy the following year and turning pro with the CANYON//SRAM team. She describes the experience as the "coolest thing I have ever done."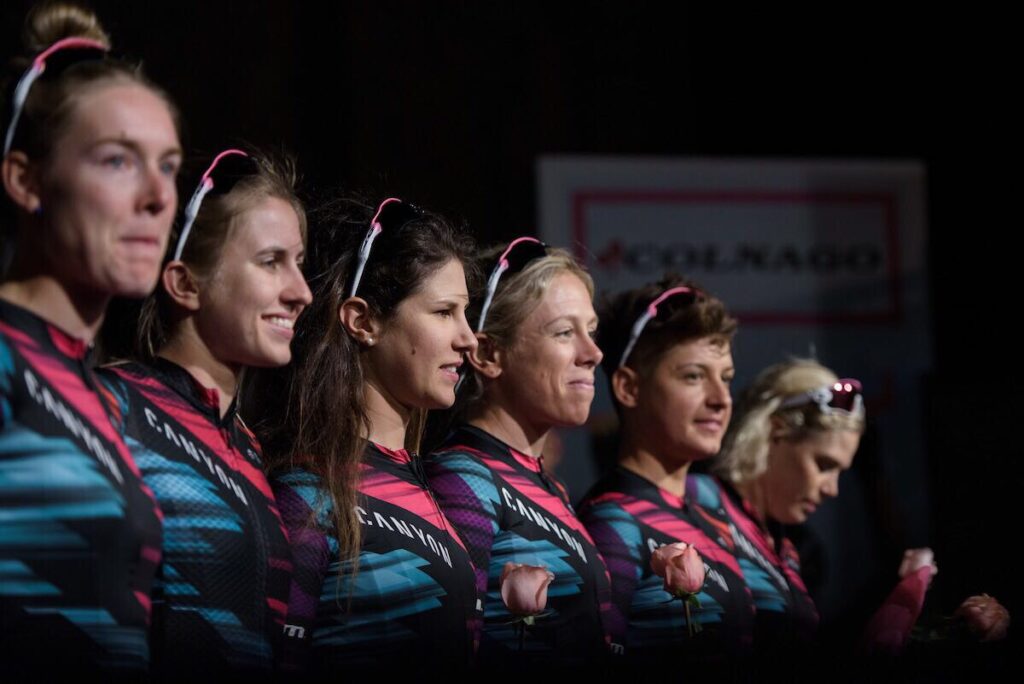 Leah took part in some of the biggest events in the Women's Pro calendar, including the Giro d'Italia. Reflecting on her experience, she admits she sometimes "lacked the confidence required." Being in such a competitive environment required a lot of mental fortitude and, "It took a lot to not mentally spiral down." Yet despite the challenging days, which are often the norm when cycling, Leah notes, "I think back about the good times and miss the people."
If you fancy following in Leah's footsteps, Zwift Academy 2023 is launching on 6th November. You will have the chance to earn a pro contract with CANYON//SRAM or Alpecin-Deceuninck for the top-performing female and male. This year's Academy challenges Zwifters to complete six workouts created by Dig Deep Coaching, as well as two Zwift races. As Leah herself says, "I think the ZA program is amazing."
"Women's Training Club" and Leah's Winter Program

After her recent victories, you would expect Leah to think about having a rest. Instead, she is supporting the launch of Zwift's new "Women's Training Club." Leah is integral to this, along with Kate Veronneau and Kristin Armstrong.
Leah explains, "We have some plans we will announce in the weeks ahead that will incorporate the Women's Training Club with elements of Zwift Academy." The Club delivers a consistent weekly schedule of group workouts and recovery rides which, along with club chat in the Companion app, connect the women's cycling community and ensure advice from leading cycling experts is shared.
See upcoming ZWTC events at zwift.com/events/tag/zwtc >
In the background, Leah has an epic challenge she is starting to focus on. "I've decided to take on a 6-hour time trial this fall! I have a teammate and best friend who does tons of ultra cycling events. I've crewed for her before at the 24-hour World Championship event, which I will be doing again this year. The day after the 24-hour challenge is the 6-hour event, and I thought that the 6 hours seemed like a fun challenge."
Once this challenge is complete Leah plans to take a proper off-season before "ramping training back up for next year where I will use Zwift almost exclusively in the winter." (But with all Leah is involved with, I can't see much "off-season" happening.)
Summing Up
Leah's recent results demonstrate that with commitment, dedication, and above all, perseverance, success can be achieved.
It also indicates that age doesn't have to be a limiting factor to enjoying sport, and platforms like Zwift enable you to safely obtain and maintain a good level of health and well-being. With opportunities like Zwift Academy, the platform provides doors to routes that would previously have not existed, allowing you to achieve goals, often beyond expectations. Zwift allows opportunities for all.