Editor's Note: Originally posted on the Bereda Training Journal, this is author Dennis Cottreau's second conversation with Zwift Community All-Star member Justin Purificati as they follow his participation in Zwift's new KISS Super League. Their first conversation can be found here. This article includes comments from Round 2 winner Ed Hopper as well as commentary from Justin after his view from the couch.
---
When a professional cyclist has the day off while their teammates race for the win on the roads of Europe, they'll often be at home on the couch with their feet up if they're not out training.
When it comes to virtual racing, it's no different.
But the couch racer still has a role to play.
Last week, Justin Purificati announced himself to the KISS Super League with an impressive third-place finish up the finishing volcano climb for the Zwift Community All-Star team.
This week, with the course being much flatter, the team opted to include more sprinters in the mix.
Still, Justin had a job.
"I was still in the chat with the guys, and I still had the streams going on multiple computers," he told us, talking about the All-Star team's use of Discord to communicate strategy with each other during races. "So, we were just keeping tabs on who was left in the group."
Team Strategy includes Providing Updates
Justin described what he was up to during the race to support his teammates suffering at home on their trainers: "We had Kim [Little] going for the sprint points, so, keeping an up to date tally on who was where on the point standings just so that we could not burn too many matches."
Little, who organized the roster for the Zwift Community All-Star Team, had the intermediate sprint competition wrapped up after only the third of four sprints, and Justin was able to confirm this in real time "just because of the placing with second and third on the second and third sprints," he told us.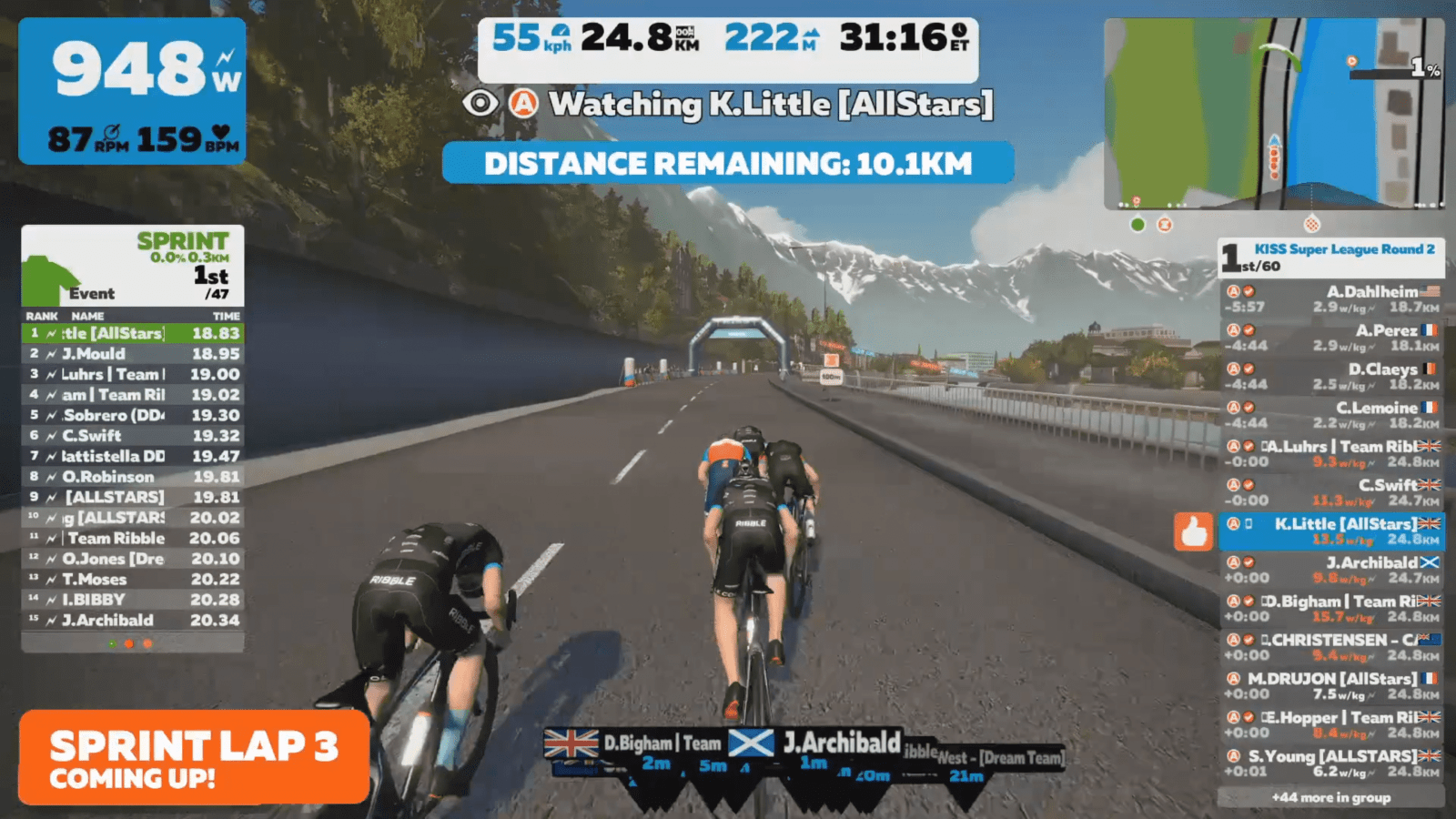 With such an impressive showing in the intermediate sprints, I thought it must have been part of the game plan going into round 2 for the All-Stars.
"Well, originally we discussed that it's not really that important, you don't have to go for it, but… if you're in a position to go for it, you know, just go ahead."
The Low-down on Intermediate Sprints
With only 5-minutes of live broadcast before the start of the race, commentator Nathan Guerra didn't have much time to establish what exactly was going on with the intermediate sprint competition and its purpose and implications for the series.
"Originally what they said for the first race was they were going to have a combativity award, so like, most combative, but the problem was they didn't really have a way to score that, basically, so for the second round they turned it into a sprint competition," Justin told us.
Weekly Changes in the KISS Super League
Things are changing quickly with the KISS Super Leauge. We've learned that they've recently banned the use of certain indoor trainers to participate in the series, including the:
We've also heard that racers might soon be required to film and send in videos of themselves on a set of scales to report and verify their weight as a precaution to cheating. YouTuber Cameron Jeffers recently mentioned this in his open letter to Zwift.
Racers are definitely being kept on their toes.
And these new intermediate sprints are just another example of changes to the racing format, which is understandable as Zwift uses the KISS Super League as a testing ground to refine how their eSports offering will work in the future.
Still, it makes having and sticking to the strategy difficult for teams.
All-Star's Round 2 Gameplan
In our interview last week, Justin Purificati gave the nod to his own teammate, Steve Young, for the win in round 2.
Going into the race, Justin told us: "The overall plan for the day was to just watch the moves and just basically sit in and wait for the sprint."
As predicted, that sprint to be delivered by Steve Young.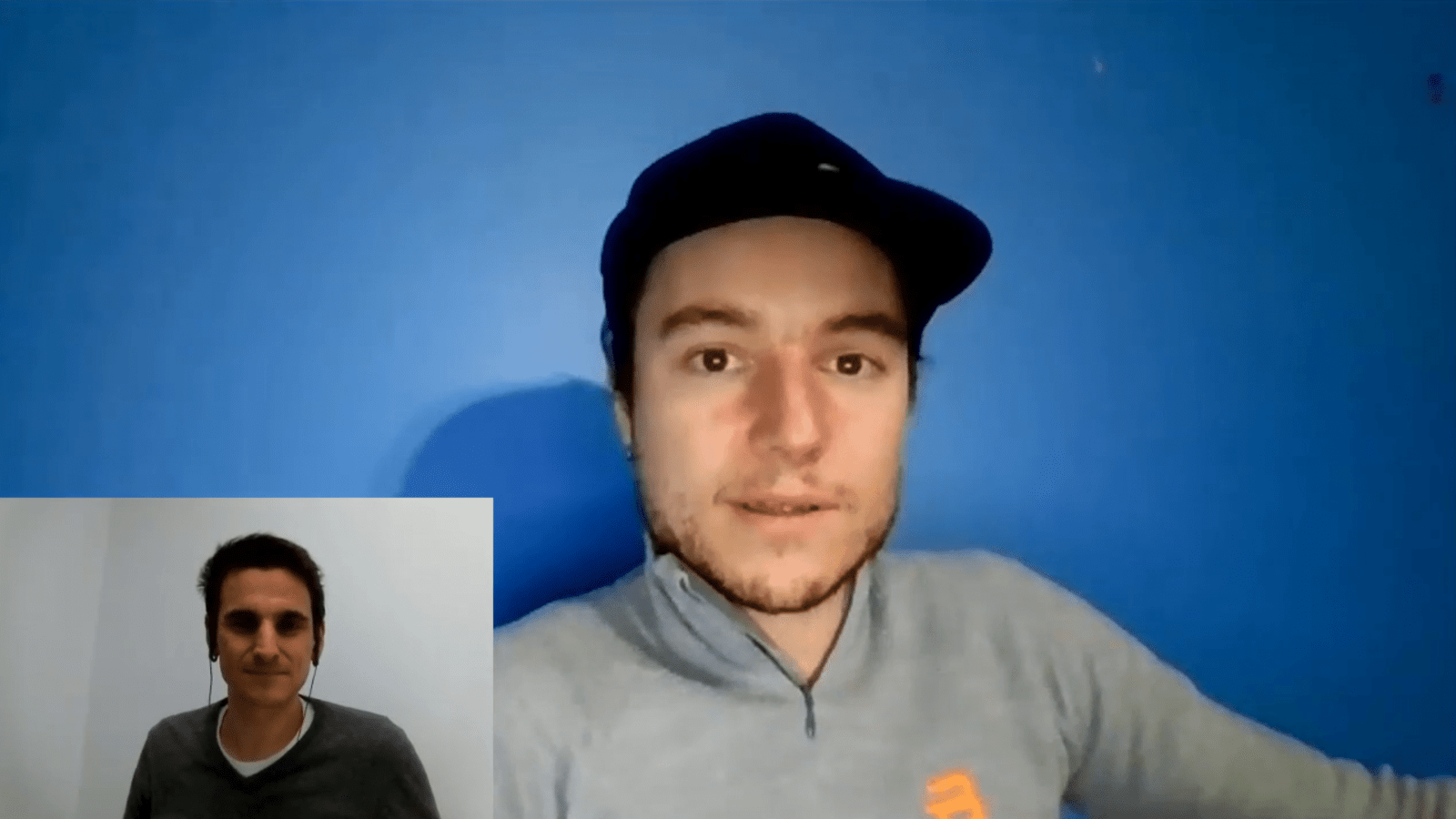 "We knew that they'd change things a little bit this week around," Justin continued. "I mean, they took out 'Double Draft' like I said last week. If they wanted a little more excitement, a little more attacks, just take the double draft off and, of course, that's basically what happened this week, right? So the point was to conserve and basically watch for moves going over the leg snapper because that's a good 40-second effort, right, and if you're not paying attention, you're off the back, and if you're on your own, good luck getting back on, so…"
And sure enough, when it came to the finish, Steve Young took the bunch sprint.
But not the win.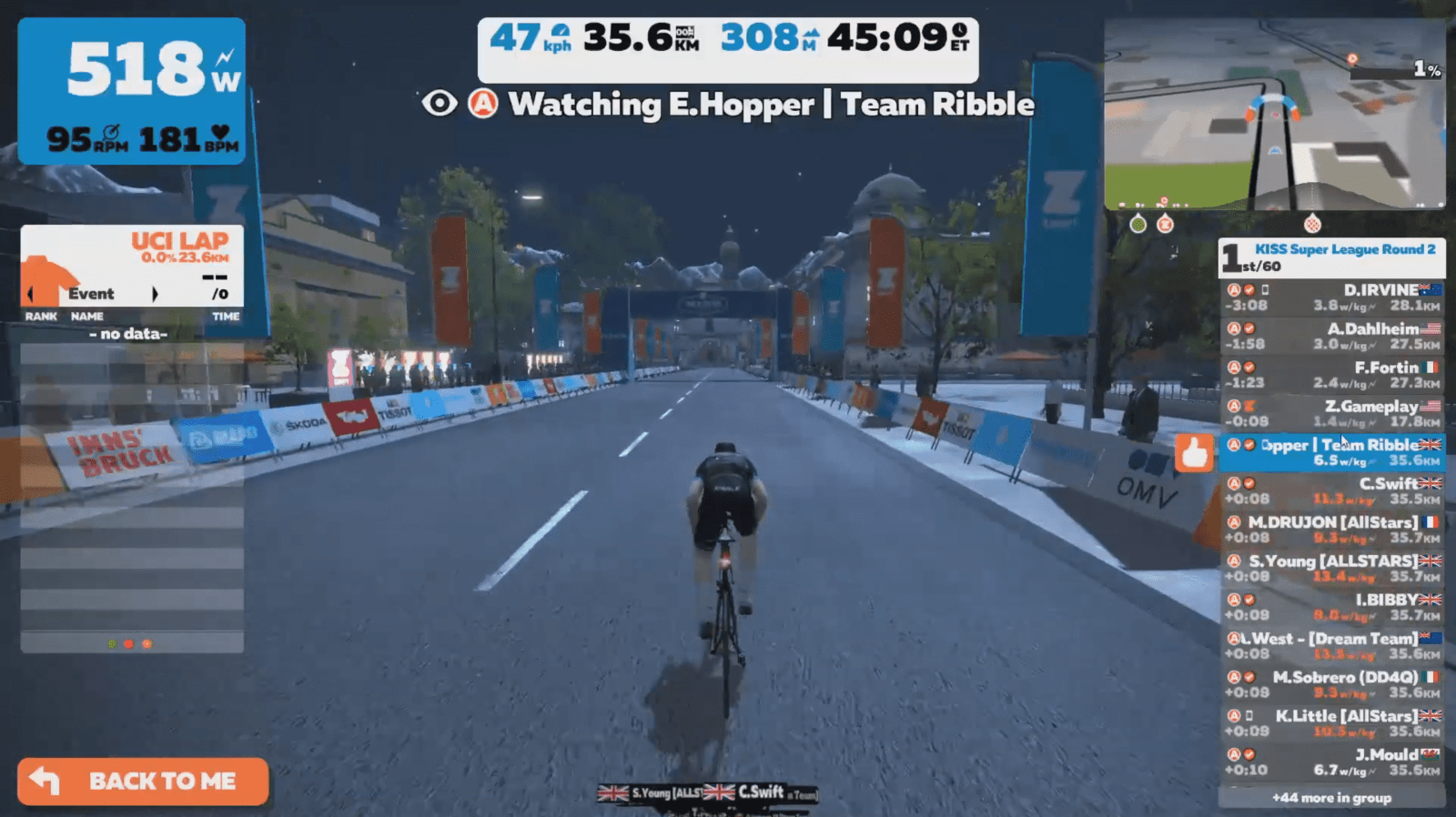 "I didn't count on the solo lap breakaway," Justing laughed, referring to Team Ribble's Ed Hopper who won round 2 in dramatic fashion, riding away from the pack with one lap to go and holding off a charging peloton in the final few minutes to secure the win.
Ed Hopper's Dramatic Win
If you're like me, one thing you might have noticed about the KISS Super League is that it provides a pretty jam-packed viewing experience. It's exciting, but can sometimes be difficult to keep track of what exactly is going on.
During the live broadcast, all of a sudden I noticed someone off the front with one lap to go.
"Ed Hopper just seemingly rolled off the front," I told Justin. "I actually had to go back this morning and rewatch the replay to see how he got away, and… it seemed very gentle! He kinda just, moseyed off the front, there was a gap, and then he just went up 6 watts per kilo and cruised away."
"He basically rode at a steady, like, 500 watts almost," Justin chimed in.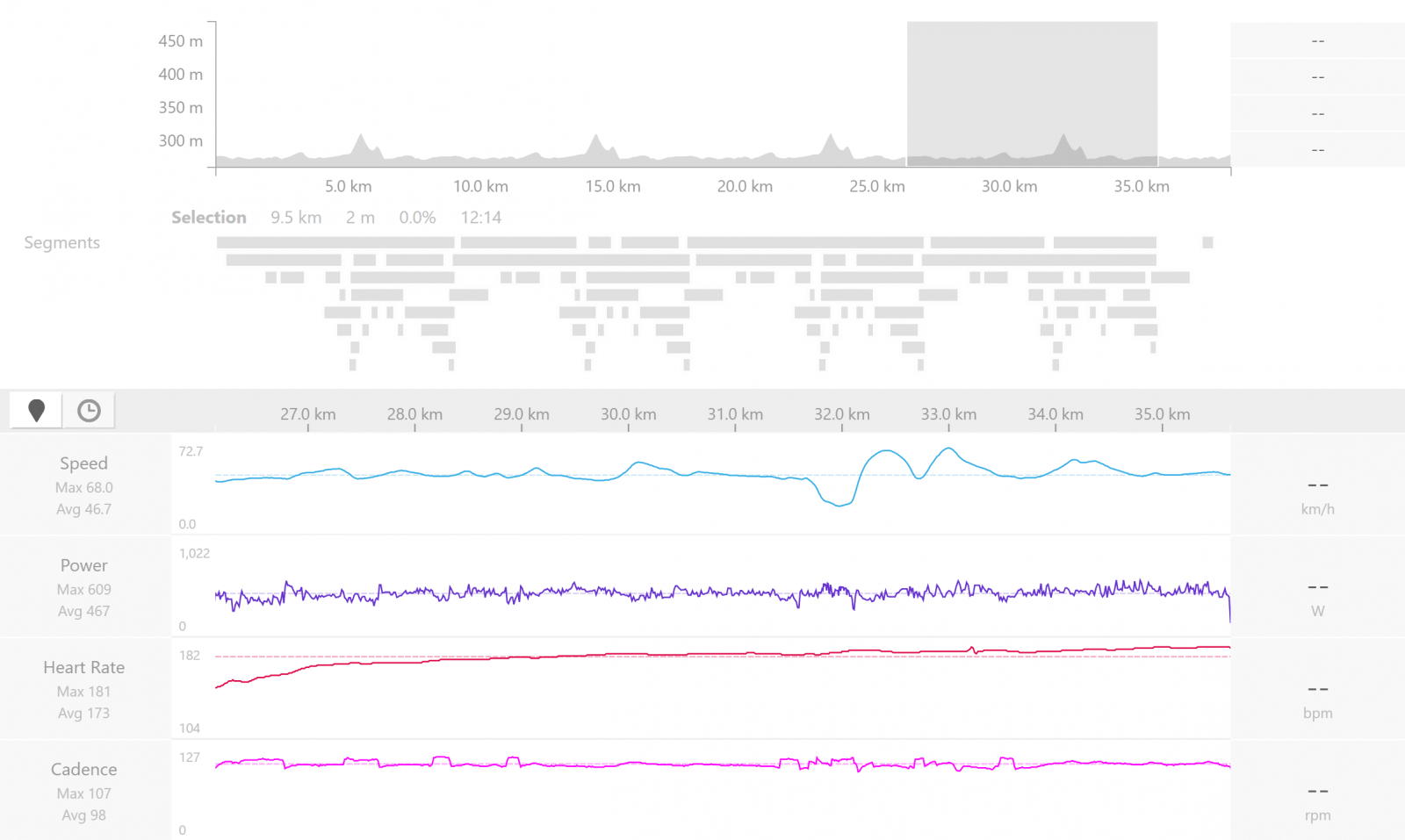 467 watts, on average for 12 minutes and 14 seconds, to be exact.
We actually caught up with Ed Hopper and got his thoughts on the race and the KISS Super League as a whole.
Comparing it to racing on the road, he said "In some ways easier, in some harder. You have real-time data so when I was away I could see that they were at 3 watts per kilo and I know I could just try and keep above them. So, if they lifted to 4 I could go to 6 for a bit. That's definitely better than time checks," Hopper told us.
"But it's harder because you can't see who's suffering and you can push yourself harder on a turbo trainer because you can't fall off."
Hopper on Support from Fans
KISS Super League is an experiment in virtual racing, and even though it's rightfully trying to be its own thing, it's constantly being compared to professional racing on the road.
One way it's being compared is through the racer's experience, but equally important is the viewing experience for fans.
Ed Hopper has won many road races, but this was his first virtual win.
What was the fan support like? How did it compare? Might there be more response and engagement than through actual road racing?
"That's already the case," Ed told us. "It's far more accessible to watch. People can watch me from their front room instead of driving hours to see me pass by a few times an hour. My parents were buzzing to be able to watch it."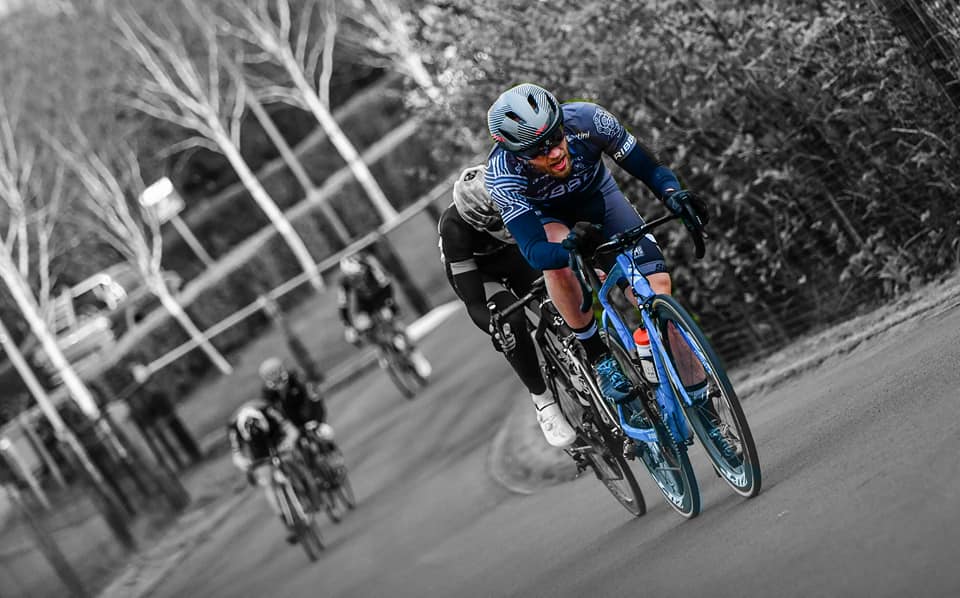 Of course, the top tier of road racing is accessible through broadcast as well. That said, if it's not on regular cable television, it's often gated behind some subscription membership for an internet broadcast service.
Not readily available and free like the KISS Super League on YouTube, Twitch, Facebook, and other social platforms.
"For someone like me who won't ride the Tour of Britain with 100,000 viewers, 50,000 people watching [the KISS Super League] is huge," Ed told us. "What's even more crazy to me is I'm just a normal guy. I don't get any money from cycling, just kit and race, etc."
He's just a normal guy.
"I was back in work at 5 AM the next day," he said.
But virtual racing could present him an interesting, new opportunity. If the response from the fans and Zwift community is any indication, that could be true.
"It's been immense!" Ed continued. Talking about virtual racing as a whole, he told us "It's got the potential to be massive. You've just got to hope teams are staking their reputation on honesty."
Double Draft Removal Enables Ed's Attack
Despite the fact that it cost his teammate the win, Justin Purificati enjoyed watching Ed Hopper ride away for the win.
"I mean, that's the great thing when you take off the double draft, right?" Justin told us. I mean, the pace is a little more controlled, and I think guys this week were a little more aware of the fact that there wasn't any point in trying to like, drill it on the front and split up the group because you weren't getting anywhere."
He was noticing a significant change in the racing dynamics after just one round.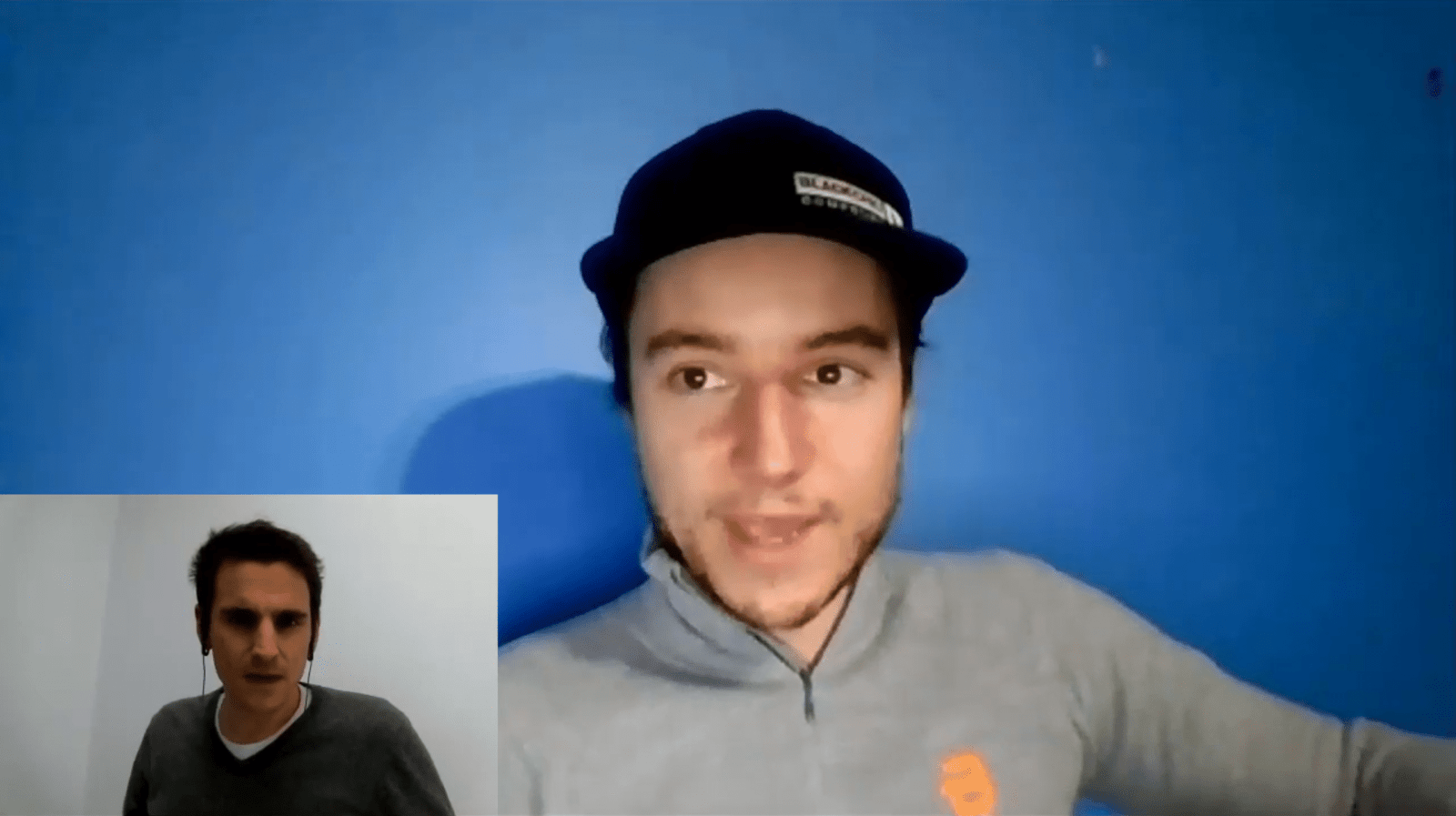 "Even, like, as early as the second lap, guys were trying harder to just like, sit on and not really try to drive the pace because they knew it wasn't really conducive to doing anything but burning yourself out…"
Turning to Ed Hopper's winning move, Justin said: "I think he definitely saw that and he saw an opportunity to take advantage, so, he went for a little acceleration, got a gap, and then just put the gas on and took a solo lap."
"It was pretty interesting to watch for sure!" Justin said.
The Impact of Zwift Experience
One thing Nathan Guerra was pointing out on the live stream was how the All-Star team and the Dream Team were finishing races with almost entire watts per kilo less, on average, than some of the pro riders.
Even this week, with the removal of the double draft.
It really shows how much knowing what you're doing with Zwift really comes into play.
"When double draft first appeared it's not so much you get a better draft, it's just that things kind of accelerate to a point where ya, your draft is better but you're also traveling faster," Justin told us. "So maybe you're not actually conserving as much as you would have thought."
Double Draft Mechanics and Zwift's "Blob Effect"
We posted a clip of last week's discussion with Justin about Double Draft in the popular Zwift Rider's Facebook Group which sparked some interesting opinions.
One commenter explained how, aerodynamic wise, there should really only be a few people breaking the wind at the front of the group which sets the pace. But, the bigger the group size gets in Zwift, the faster and faster they go.
"Essentially, the whole 'blob effect' in Zwift, gets worse," Justin told us. "Everyone's still going to work as hard as they were before but now all that's happening with more draft is that more guys can just happen to roll through the draft and get on the front. So, I think it's causing a lot more people to rotate through and it just creates this exponential factor where guys just keep accelerating to the point where you're going really fast."
On the road, a breakaway of 5 working well together has a chance at holding off a group of 20 behind. When asked about the likelihood of that happening with Double Draft, Justin said plainly:
"There's no chance."
Pros Learning Zwift Quickly
This was only the second round of the KISS Super League, and for some of the pros, their second ride on Zwift.
Still, some were starting to show some signs of improvement.
"We definitely noticed a few people learned not to go as hard right from the gun," Justin said.
He also noticed fewer guys trying to attack and fewer guys getting dropped out as early as they did in round 1. The group stayed together much longer in the second week of the series.
"It's still pretty evident that a lot of those guys [the pros] are still having like technical difficulties," he added. "I mean, just having the right trainer set up and the Wi-Fi well connected and like, the right computer and not having too many apps open and all that kind of stuff interfering with the program."
Not at all the standard things professional cyclists are used to thinking about before a road race.
"So, I think definitely from like a tactical point of view I think they definitely did a better job," Justin concluded, saying that this week: "I think they knew a little more what they're getting into."
Power-Up Controversy
For a first time virtual race viewer, one thing that might have been surprising about the sprint finish of round 1 was all the green medallions floating above the avatars' heads.
"Power-Ups", they're called.
Specifically of the aerodynamic variety.
In round 2, they were essential for the sprint finish as well.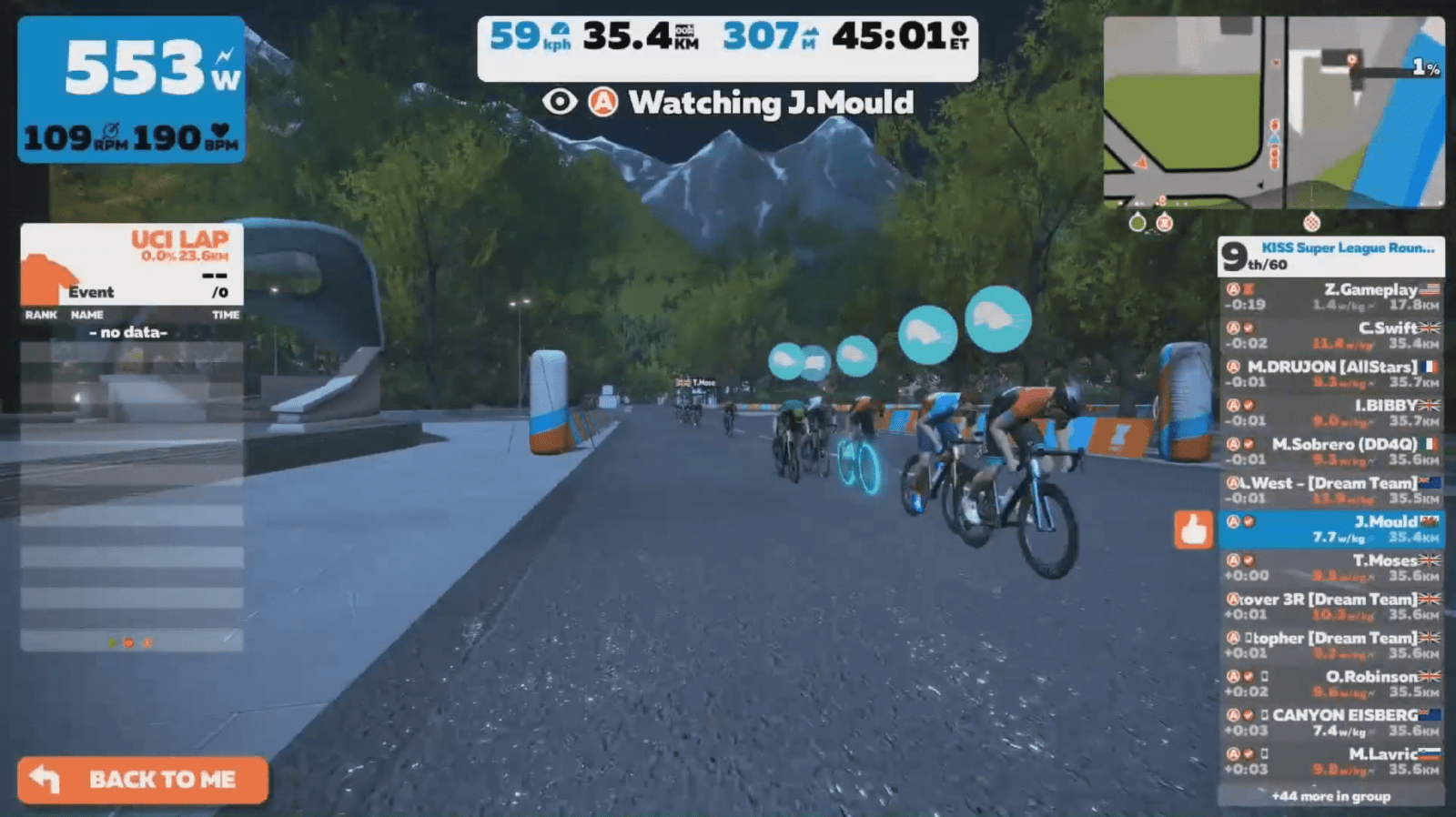 Somewhat controversially, some of the racers are using a tactic where they log onto Zwift prior to the start of the KISS Super League and ride around in their warm-up long enough to collect one of these highly valued aero power-ups so they have it for the competition.
They could roll the dice and try to collect it during the race, but instead, they choose to start with it and hold onto it until the finish.
"You pretty much need it for the sprint," Justin said. "I think it's pretty fair for everyone to be able to get them. Some of the guys that are starting with a specific power-up. They're in the entire race hanging on to that power up until the end, right? That's their choice to do that whereas during the race there were a few guys that did use their aero power-ups, their feathers or their draft boost during the race. You kind of gambled on the fact that you know they might get the aero for the end."
In the end, no one is breaking the rules.
"It's pretty level in the sense that everyone has the same opportunity to use the power-ups," Justin said, "so I think keeping them is probably fair. I think, depending on the course they probably could offer a couple more opportunities to get them so I mean, it really depends on the race."
More Power-Ups, More Fun?
Where, in comparison to road racing, Zwift lacks the technical bike handling skills, the use of power-ups could provide somewhat of a skill-based dimension to this virtual racing format that seems to be missing.
Where a road racer might attack through a corner, some well-timed and unexpected power-ups could add more flavor to the new racing format.
"It definitely fills the void and gives it a bit more of individualistic feel instead of just straight-up power and how many watts you're doing right?" Justin said.
It allows for more creativity.
"Yeah, I think, if anything maybe they should add more," Justin continued. "More power-ups. Different ones."
And I couldn't agree more.
Right now power-ups don't seem to be a big feature of the race, however, they're a big feature of the finish of the race. Since they're not well introduced to the viewer during the race, their big impact on the finish is a bit jarring.
Holding onto a specific power-up for the finish is a valid and strategic choice that adds a level of suspense to the race, in itself. But, perhaps riders shouldn't be able to start with a specific power-up and instead be left to collect them out on course and make decisions about using them along the way.
It would lead to more overall usage.
Another option is to remove them completely. "I feel like it's in a weird middle ground right now and it could go either way," I told Justin at the end of our call.
Things are evidently very fluid in this, the first-ever professional virtual bike series, and we'll keep an eye on how things evolve and continue to discuss it with those involved as the weeks continue.
At Bereda, we're looking forward to what Round 3 has in store!