A while back I was contacted by avid Zwifter Ryan Snow, who let me know that his friend Keith Roy was about to hit a big milestone on Zwift: 365 days of accumulated Zwift ride time! This is quite an accomplishment, but it's made more amazing by the sheer length and regularity of Keith's rides, which happen daily and are typically 100+ miles in length.
I'm nowhere close to the top Zwifters in terms of time/distance/elevation, but I've ridden on the platform much more than most. Check out the difference between my stats and Keith's: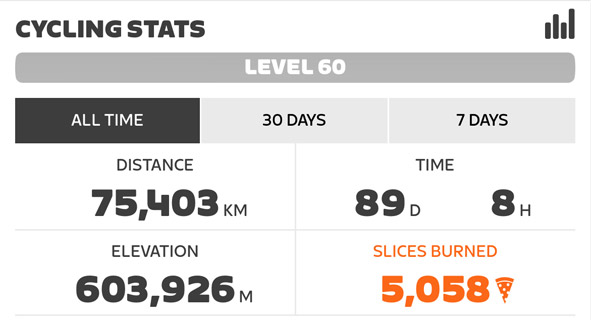 I got in touch with Keith and we chatted about his backstory and motivations. Read it all below…
I was contacted by Ryan Snow several weeks back, who said you were about to hit 365 days in a row of Zwifting. Did you achieve your goal? Are you still going? And how did this craziness all begin?
I did surpass 1 year of total Zwift time on July 21st (see Strava activity):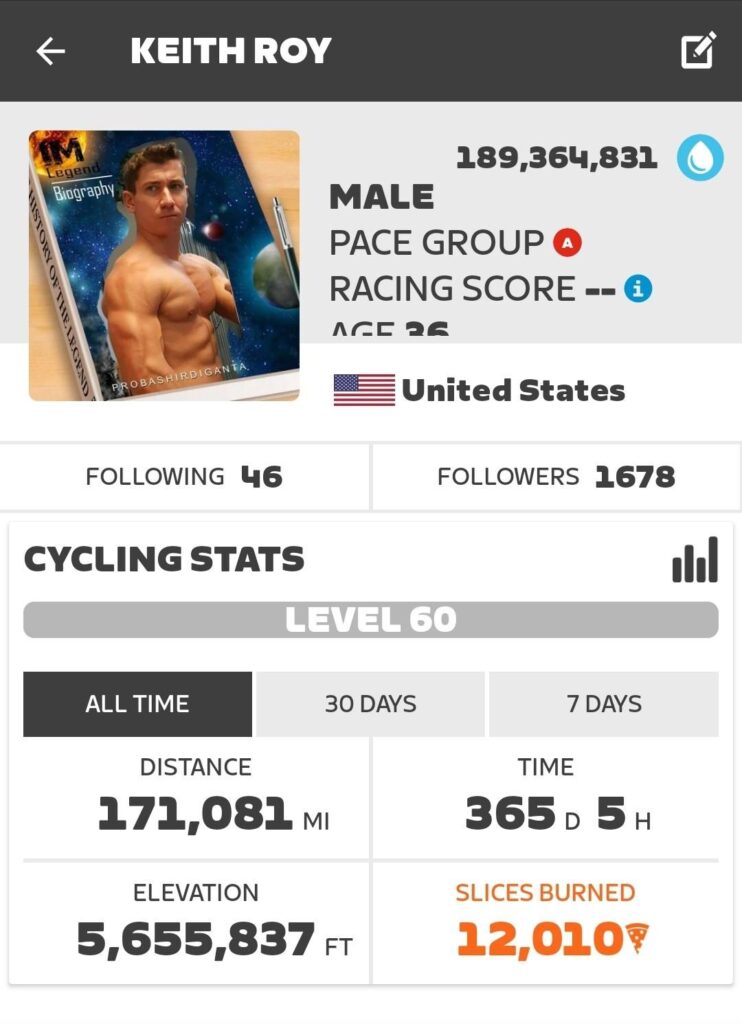 I'm almost warmed up for my warm-up.
Shortly thereafter I knocked out my 3rd 300 imperial century streak (see Strava activity), my 28th consecutive 1,000+ mile week, and surpassed 10,000,000 feet ascending logged on Strava!
Note: Keith is at 308 consecutive imperial centuries as of August 7.
Those are some amazing numbers. Give me some background about yourself (job, family, location, etc)…
I am in the EMR industry (Electronic Medical Records). I work for a great company that will remain nameless, but I am an 'Integration Specialist' or as I like to refer to it: a desk jockey.
I am from the Finger Lakes region of New York. Not one for travelling but surely it has to be one of the better places on Earth to ride a bicycle!
I live with my girlfriend Tina and our two Australian Shepherds, Bandit and Bowie.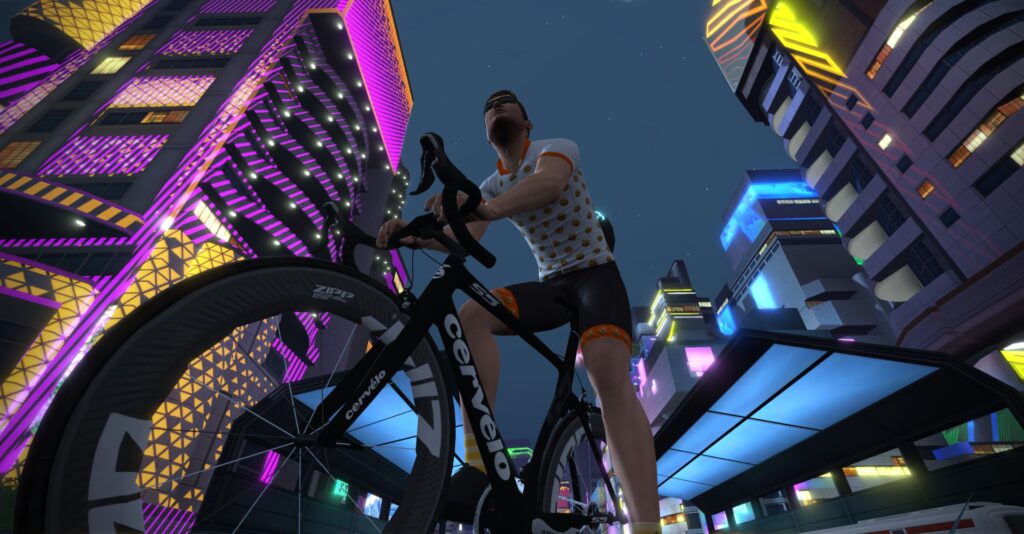 How did you come into cycling, and how and when did you arrive at Zwift?
I stumbled onto road cycling by accident. I was very passionate about strength training and bodybuilding. Not being one for running or many other types of cardio, I had the idea that a road bike might be a good way to get cardio work in by riding to and from the gym. So I tried out a road bike at a local shop in their parking lot – I knew IMMEDIATELY that I HAD to have one. The rest is history. I was riding around in gym clothes with a backpack and normal street shoes on clip-in pedals. Slowly I gained confidence on the bike, learned more, traveled further, and started moving faster. At some point I learned of Strava and that's when I caught the attention of a local cycling group who helped guide me towards becoming a 'real' cyclist. I enjoyed riding so much I ended up giving up strength training to ride.
Around work and town people started hearing of my exploits and I became 'the bike guy' for lack of a better term. One day at work a programmer told me about this new video game in beta called Zwift, where you can train and ride a bike inside through a virtual world, up and down hills, etc. He told me I should try it. I responded: Sounds stupid, why would I ride a bicycle indoors? I'll stick to strength training and riding outside. Shortly thereafter another coworker gifted me a dumb-trainer (a rear flywheel setup). By then my bike had a power meter so one day I popped the bike on that trainer and gave Zwift's free trial a shot.
After a few quick rides I called the bike shop and asked them to order me what looked to be the best trainer on the market: the Tacx Neo. A game changer! Literally. That device still works and has well in excess of 70,000 miles! One of the best investments I have ever made.
The crazy thing about your daily ride streak is that those aren't short rides. You ride with RoboPacers quite a bit I see, putting in rides 6-8 hours long. Is this your favorite thing to do on Zwift? What are your thoughts on other Zwifty activities (structured workouts, races, group rides, running)?
Running? No thanks. Even as an early adopter of Zwift I did not join group activities, never completed workouts, I free rode every ride, just doing my thing, enjoying spinning. I still do this, however, the pace bots changed Zwift (and my fitness) entirely as now I was able to pace and ride with others. I prefer to ride with the pace groups as by nature, it seems, I am a lazy cyclist. The pacers also added a social aspect to Zwift. In my mind, by far, the best feature added to Zwift.

As someone who has stared at the Zwift screen much more than most… what feature requests would you have for Zwift's game team?
Before strength training and cycling I was a huge video gaming nerd. Most games have some sort of 'end-game' that keeps users interested and playing, unlocking new things, even after finishing the game. Zwift could do something like Call of Duty prestige levels where you can reset your account to level 1 but unlock a badge, or a special feature, something, ANYTHING.
Related Post: Zwift Hot Topic: Give Me Some Motivation!
I have a few more ideas, but Eric Min can come to me with one of those Zwift/Canyon bicycles and a notepad if he wants to hear more. 😊
Anything else you'd like to share?
This story could go on and on endlessly as I have had so many experiences, accomplishments, and setbacks on this journey (who hasn't?). I didn't know/wasn't aware I was going to be the first to ride 365 days on Zwift. Ryan is a good friend and often lets me know when I do things he thinks are amazing milestones. He is a great cyclist and hype man, that's for certain.
At the start of 2023 I was riding a lot of elevation during the winter season – come late February Ryan let me know I was ahead of the calendar year climbing world record pace. We had a discussion and it became a thing. So now, I will be the first cyclist to surpass 50,000 miles (80,000km) on Zwift and over 3,000,000ft (1 million meters) in one year, having climbed more than anyone in a single year.
I've had setbacks in my short time on the bike which have very much hindered what others are telling me is now known as my legacy – if they only knew that I could/would do more if it were possible. I do this for fun and no other reason as I do not compete, race, etc. After all is said and done I only have one goal, one vision, one dream. In 2017 I purchased my dream bike, a custom painted TT frame which I used an inheritance to acquire. It meant the world to me. I didn't even own a cycling jersey before I bought one of the world's most expensive, fastest bikes! In fact I had never even sat on a TT frame before I purchased it. Unfortunately this bike was taken from me. I hope one day I am able to say through sheer passion, hard work, consistency, and goodwill that I EARNED a TT bike, to somehow/some way gain the attention necessary in this industry to saddle up on a dream TT frame once again.