A note from Eric: I recently published a post about the best slow group rides on Zwift. John Barter's ZZRC rides were near the top of the list, so I interviewed him to learn more about himself and the ZZRC rides.
First, a little about yourself. Where are you from, and how would you describe yourself as a cyclist?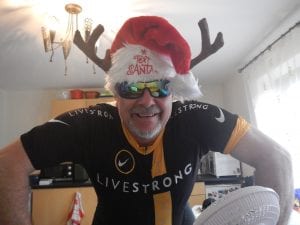 I am a born again Essex boy cyclist now living near Oxford. I was cycling mad when I was a child and and into late teens. I was into all sports then all of a sudden you meet girls and have parties. Then work and more work. Then a wife a children appear, so even more work and before I knew it I was in my 40's? Aaaaaargh.
Then I was very ill and this lasted for a period of ten years. My surgeons then told me to get fit again to improve my health. I was very limited in sport due to my injuries, but then one day I walked past a cycle shop. "That's it," I thought to myself and never looked back since.
I am not a racing cyclist, but more of a fitness come casual rider. I love touring around the south west countryside. I do a lot of charity rides and did a 5000km challenge on Zwift for "Children with Cancer UK" and raised £3000. I am also doing this year's ride London 100 for the same charity.
Tell me about the slow rides you lead. When do they happen, how long are the rides, what sort of pace do you hold, etc.
ZZRC Europe promotes two pace groups every Monday, Wednesday and Friday.
We have just newly Introduced ZZRCAR (America's ride) and it is growing fast. These events are run on Tuesdays and Wednesdays.
The groups' paces are either sub 2.0 (average speed 19-23mph) or sub 3.0 (average speed 21-26mph) and the rides last around 1 hour.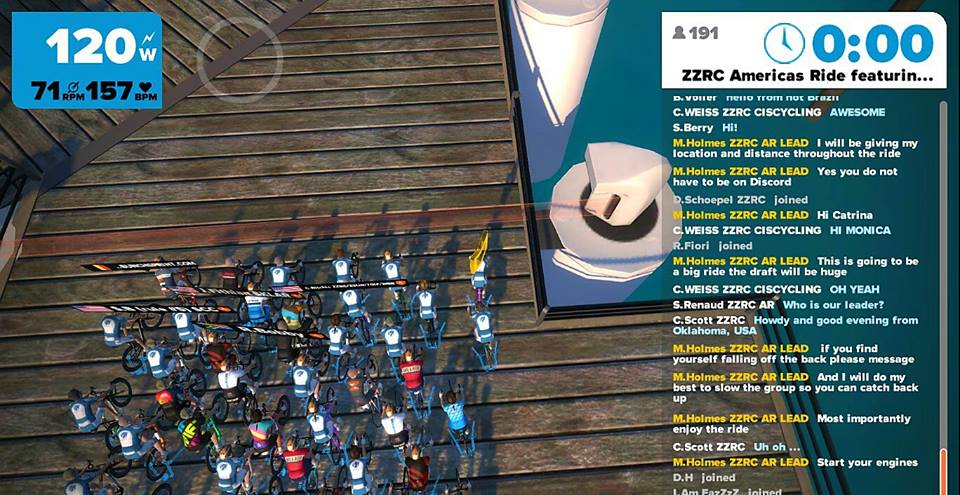 How many riders have you been seeing on your ride lately?
We are averaging around 150 to 250 riders per session. And our highest was 625 for the first "Zwift in the New Year" event and I believe we crashed the system (Oops, sorry guys!)
Some group rides on Zwift have been around for quite a while, while others are relatively new. How long have your rides being going? What was the inspiration behind starting them?
We were Zwift born on December 2015. Having minor disabilities I realised there seemed to be no casual groups on Zwift for the disabled, beginners, young and the older generation at that time. After a few investigations and questions within the community I confirmed there were no such groups, so I introduced ZZRC into the scene.
We were just a group of 5 waddling around Watopia at a sub 2.0 pace. One year later we are now a popular group with 1800 members. We also host the now Yearly ZZRC Xmas pace n race party which had a great turnout with all the Zwift HQ turning up and loads of other top names in the cycling world. This was a super event where the social goups met with the pros.
Many group rides are run by a team–sweepers helping those off the back, different leaders rotating responsibilities, even others helping to advertise the ride, etc. Who helps make your rides happen?
ZZRC have grown into and large professional team. We have a separate leader group page now and the amount of admin and organising is huge. I have a great team of 15 guys and gals helping run the events. I cannot praise them enough. We spend a lot of our free time organising these super events. We also have regular volunteers who help sweep for us to.
As a side note, Zwift's own Mike McCarthy has kindly accepted to be an Honorary Member and will occasionally lead an event from time to time.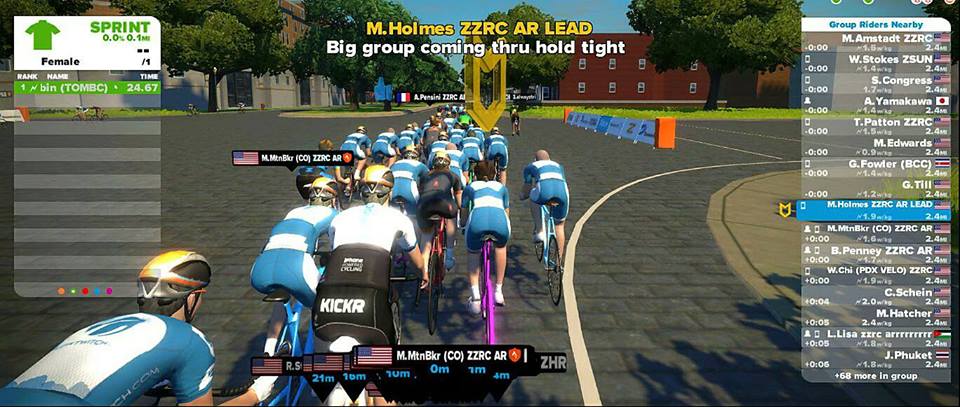 Do you have problems with "flyers" zooming off the front of your rides? How do you handle that situation?
Errrrrrrr no comment 🙂 . Yes this is quite regular but we have learned to ignore them now and let them go 🙂
It is a lot better now you can see the leader beacon more and read texts at a further distance.
Does your ride use Discord for audio communication? If so, how can folks get in on that
Yes we use Discord: https://discord.gg/xN5dEBF
Sub 2.0 is a fun social group and there are mad guys and gals on here, we tell jokes and sing, it's a real family group and we have fun. Sub 3.0 is a bit more quiet probably due to saving air.
As you know, we've got lots of new folks joining the Zwift community. What would you recommend to anyone who wants to try your ride, but has never done a Zwift group ride before?
Just to join our Facebook group. We have loads of information on our files tab. Give us a try on sub 2.0 and do not worry about being dropped, there are no rules with ZZRC. We have a "do what you can" attitude and have fun. We also do one-to-one rides with people who are in need of rehab, regaining fitness or disabled people who just need a chaperone to go around with.
Zwift has come a long way in the last year with the event module, leader beacon, etc. What other upgrades could Zwift roll out to make your group rides even better?
I think Zwift are working all the time to make the module better. Three ideas I would like see is:
I would love to see a laser beam introduced that goes across the road to stop guys passing the leader.
Also there is a problem when the leader gets ejected from the server, when he/she rejoins they cannot text…
Would be nice to let the admins of groups to have access to book leaders on events, sometimes we have last minute changes due to circumstances. This would very helpful so we do not have a leaderless event.