The HERD team has announced a fresh race series beginning Tuesday, May 31 and running weekly for 6 weeks. It's another popular season of the HERD SHEries for ladies, but there's also a men-only HEries this time around.
The inventive series features some unique race formats (details below) including individual time trials, short "sprint" races, and events where only your segment times count!
Series Basics:
Separate Men's only and Women's only races
Every Tuesday from May 31st for 6 weeks
Riders must enter the same time each week if they are going for a series win
Uses Category Enforcement for both men's and women's events
No ZPower
HRM encouraged but not enforced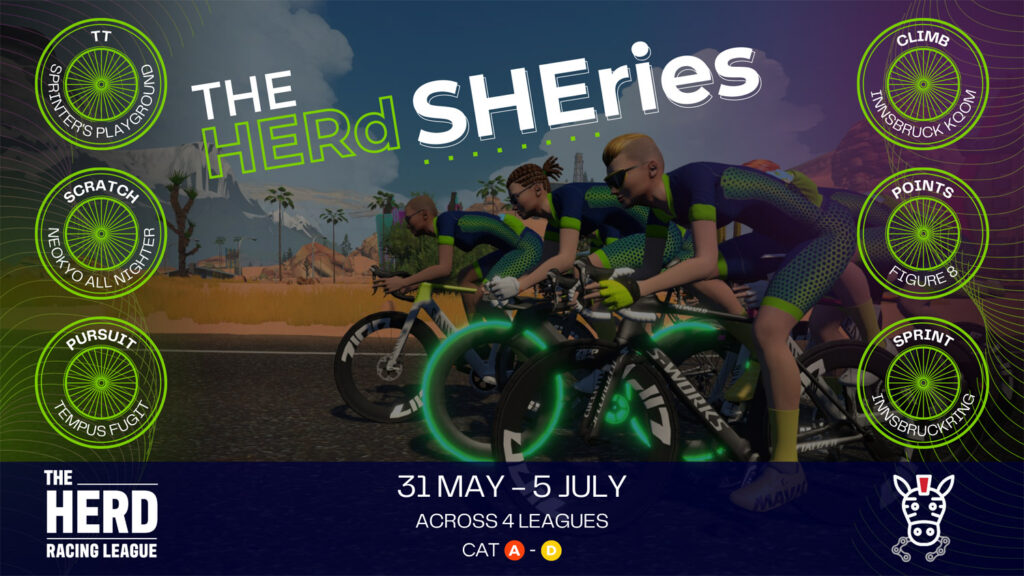 Race Details
RACE 1 – TIME TRIAL – SPRINTER'S PLAYGROUND
This is a 12.5km Individual Time Trial which will use the Time Trial module, so everyone will set off at different times. Pace yourself and push as hard as you dare over the the lap to try and set the best time you can.
Draft is disabled for this event and you can choose whichever frame and wheel-set combination that you like.
RACE 2 – SCRATCH – NEOKYO ALL-NIGHTER
This is a single-lap race of the Neokyo All-Nighter route. The winner is the first person to cross the finish line. Make sure you time your sprint well!
Double Draft is enabled, as well as an open bike selection.
RACE 3 – PURSUIT – TEMPUS FUGIT
GO BIG OR GO HOME!
This is a 3km Individual Time Trial using the Time Trial Module. Pace yourself as hard as you dare over the 3,000m route and set the best time you can!
Draft is disabled and there is an open bike selection. Fit your fastest and leanest TT outfit and bury yourself for 5 minutes or so!
RACE 4 – CLIMB – INNSBRUCK KQOM (2018 UCI Worlds Course Short Lap)
The aim for this race is simple: only the climb counts. The winner of the race is the rider who sets the fastest time on the Innsbruck KQOM.
Take it easy before and after the climb, and push yourself as hard as you possibly can up the hill!
Drafting is disabled and you can choose whatever frame and wheel selection you like – make sure they're light!
RACE 5 – POINTS – WATOPIA FIGURE 8
This race is a single lap of Watopia Figure 8, but only the 4 segments count – you'll score points on these for your time on the segment versus those in your category. Up to 50 points will be available for each segment and your position over the finish line DOES NOT COUNT.
Hilly KQOM Forward
Hilly KQOM Reverse
Watopia Sprint Forwards
Watopia Sprint Reverse
Draft is enabled and there is open bike selection.
RACE 6 – SPRINT – INNSBRUCKRING
This won't take long! It is a single-lap dash around the Innsbruckring course – the winner is the first over the line.
Double Draft is enabled and you have an open bike selection. Will you go all out aero, or choose an all-rounder to get you over that nasty Leg Snapper?
Race Schedule
Each week has four timeslots for men and four for women.
See upcoming HEries events >
See upcoming SHEries events >
ZwiftPower Series Standings
While you can jump in and race just one or two events in the series, the real competition is for the overall points win! In order to be a contender, you'll need to race the same timeslot each week. Here are links to the overall series standings for each timeslot of the Men's and Women's series:
Men's
Women's
Questions or Comments?
Post below!