As a recreational cyclist with young children and an increasingly demanding work life, Zwift was a saviour to me back in 2018 when I joined up. My brother had moved across the globe to Chicago, another riding friend had moved to Seattle, and I found myself without motivation to be on my bike(s). It's a common origin story, but over the years Zwift has allowed me to achieve far higher levels of fitness and friendship than I could have imagined or hoped for.
Fast forward to 2020 and I was so excited when Zwift, seemingly within a matter of weeks, announced and then released the France map and proceeded to host the world's first Virtual Tour de France on Zwift. France is synonymous with cycling, and the Tour de France is iconic not only for the skills and stamina of the riders but equally for the breathtaking scenery as it travels through picturesque regions of France and Europe every year.
Like many, I forgave ZHQ the fairly basic appearance of the France world compared to Watopia when it was released, given how quickly it was put together. It seemed perfectly natural to assume that in time it would blossom into another large-scale map. Recently I started wondering, given Zwift is the title sponsor for Le Tour Femmes avec Zwift and Paris-Roubaix Femmes avec Zwift, is ZHQ ever going to turn its focus back to France and finish what they started? So I decided to jot down some ideas, complete with a mockup map.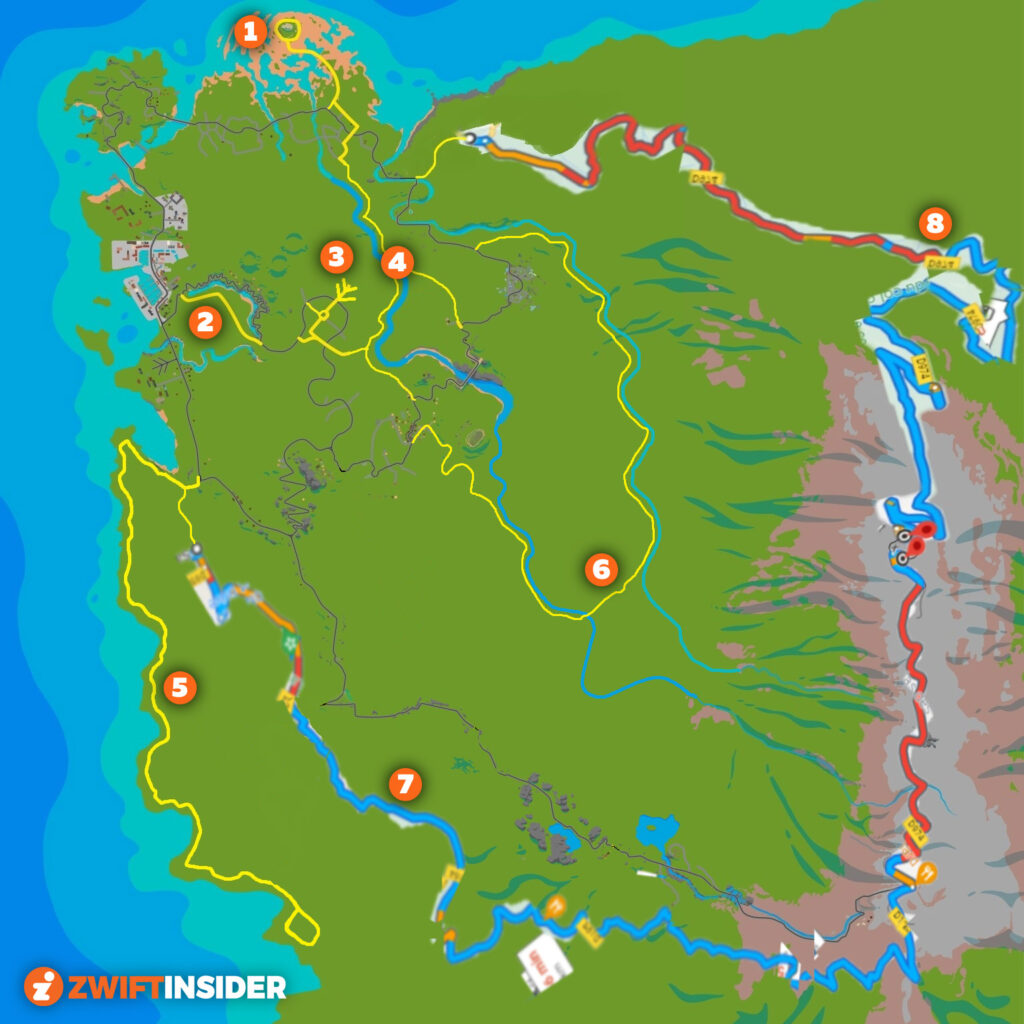 1: Mont-Saint-Michel

The iconic island monastery is already depicted in game, so add a bridge just like in real life, and allow for turnaround at the Abbey. Bridge is exactly 1km long in real life, and could make for a challenging timed segment in its own right. A cool feature would be to have the ocean behave as tidal, like how weather changes in other worlds. Ever noticed that it doesn't rain or get dark in France?
2: River Bypass
Activate existing road artwork in game, allowing bypass route on the southern side of river, avoiding the infamous 'Les Intestins' section. It would open up options for new routes and even a criterium-style loop taking in both sides of the river.
3: New Windmill Start Pens
As Watopia grew, new start pens were added to allow easier access to the various 'zones' for free riding and racing. An additional start pen near the big windmill could cater to a new proposed Canal River Zone while adding options for Aqueduct Zone routes. Existing road artwork is in game already, and a cool feature could be to have the road split on either side of the big Windmill, with the game deciding if you go left or right side depending on positioning in the pack. Would look spectacular on a mass race or group rides, just like what happens at round-a-bouts in the Tour de France!
4: Canal River Zone
By extending the river from the Aqueduct to link with the river near Mont-Saint-Michel, a new zone can be created allowing for more flat roads which are great for group rides. Add new roads coming off from the Windmill area and either side of the Aqueduct KOM then re-joining near Mont-Saint-Michel. Some of the road artwork is already in game. Include a small Canal Village with bridge over the river, and also a gravel pathway section along the canal/river complete with barges motoring up and down stream. Any number of new route combinations could be created with this relatively small addition section. Also allows for a loop taking on the Aqueduc mini KOM for criterum-style racing.
5: Cote D'Azur – Monaco

Use the eastern coastline on map to recreate the feeling of the French Riviera, riding through various small coastal towns and leading to a Monaco-esque city and marina full of uber-yachts. This area would add some gentle rolling hills and would be an out-and-back style, starting at the top of the first little incline towards Ven-Top at the sharp 90 degree turn.
6: Balcony Roads

In IRL France there are several famous balcony roads comprised of single lanes cut directly into the sides of sheer cliffs. With spectacular views down into the ravines below, it would be a brilliant addition to the France map as another quintessential French experience. Using the area in the centre of the map on the foothills of Mont Ventoux, the existing river network could be extended, or simply create some ravines to add in a gentle climb loop comprised mostly of these spectacular feats of construction. Start and finish near each of the villages on either side of the Pont du Gard Aqueduct.
7: Ventoux via Sault Profile Climb
The Ven-Top route is daunting for many, and perhaps it's not well-known that there are in fact three routes to the summit of Mont Ventoux in real life. The easiest is via the real-world town of Sault, and with gradients averaging only 5% before joining in at Chalet Reynard, it would open up a more accessible climbing route to the summit or Chalet. Add a route at the bottom area of map, mimicking the profile of Ventoux from Sault. Given the IRL road is relatively straight, it would require editing of some corners via a bit of "cut and paste" to fit neatly within the Zwift France map, but the same incline profile and distance could be kept.
8: Ventoux via Malaucene Profile Climb
The hardest Mont Ventoux ascent is via Malaucene. It is almost identical in distance to the existing Zwift route which mimics the route from Bedoin, but has some even steeper sections for those who love climbing. Add a route to the northern area of Mont Ventoux in game, mimicking the profile of the ascent from Malaucene. This will also require some "cut and paste" creativity to have it fit compactly in the map and match existing mountain range artwork, but the distance and profile could be maintained. Start from the end of the small straight canal road, near the "Needle" of Etretat.
This would allow for completion of the Ventoux road network, creating a true looping course and opening up an epic triple, Des Cingles Du Mont Ventoux. Summiting Ventoux three times in one ride… a truly epic route and worthy of its own jersey perhaps?
Related: Lucianotes – Mont Ventoux x3, you have to be crazy
Let Your Voice Be Heard
I raised this idea on the Zwift Forums back in August 2022, and it gained some visibility, although at the time a Zwift employee confirmed there were no plans for France expansion. Recently, a post on the Zwift Insider Facebook page allowed me to raise this passion project again, and I revisited my original notes to fine-tune some of my ideas.
I am grateful to Eric for the opportunity to share it with you all, and hope that it gets noticed by the right people at Zwift. I am sure there are plenty of other great ideas from the community that could be included in a request/demand/plead to ZHQ for a France upgrade, but if you'd like to upvote my forum post, please do.
Vive la France!
Your Thoughts?
Share below!