Zwift has just posted a slate of races happening between February 21-28 which will test a new category enforcement system. Races will happen multiple times each day, with each day featuring a different popular race course.
See upcoming Category Enforcement Races on ZwiftHacks >
The big news here isn't the test events themselves, though. Rather, it's that we're seeing Zwift test some much-requested category enforcement features! So let's dig into what this means and how it works.
The Why and How (Big Picture)
In Zwift's current racing ecosystem, any rider can join any category of any public race event. That means a super-strong A-level rider could join the D category, win the race, save their activity, and never be alerted to or warned about any issues. This lack of in-game messaging/enforcement has logically led to races being negatively affected by sandbaggers as well as ignorant n00bs who simply haven't taken the time to understand how Zwift race categories work.
Category enforcement aims to stop riders from racing in categories below their ability level. It does this by looking at their historic power numbers and disallowing them from entering these lower categories. Or to put it another way: category enforcement assigns you a minimum category for the race, based on your historic power data.
How Category Enforcement Works (the Details)
Before we discuss any details, it's important to mention that Zwift Category Enforcement is a FutureWorks project and therefore a system in flux. Next week's events are the very first events of their kind, and will surely lead to feedback and modifications of the system.
With that said, here's more information on how it currently works…
Category Enforcement assigns you a minimum race category based on the last two months of power data from your Zwift rides. (If you have no ride data, you will be placed in the A category. Ouch!)
Categorization is based on your estimated VO2 Max, MAP, and FTP.
Signup options for categories below your ability level will be disabled. As an example, here's what the signup screen looked like when I visited today. I'm a B according to ZwiftPower, but with the current Category Enforcement parameters, I'll be racing in the A's!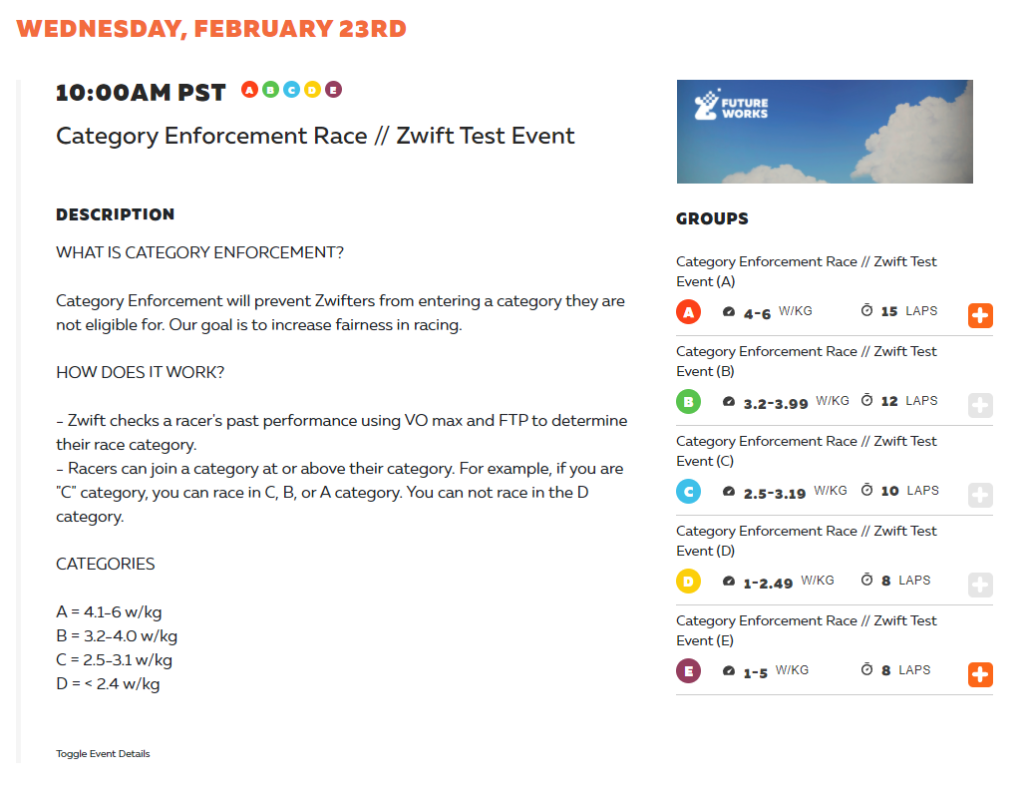 Riders are free to "race up" and join higher categories than their minimum. Category Enforcement simply removes your ability to sandbag in a lower category.
Good News x2
I think you'll be hard-pressed to find a Zwifter with something negative to say about this Category Enforcement announcement. Why? Because it's a development that should make Zwift racing better in two ways:
First: it will obviously reduce the number of sandbaggers, which makes races feel more realistic and lets legit riders compete for the win.
Second: it will make categories more competitive by fine-tuning the parameters used to categories riders. ZwiftPower's current FTP-based categorization is better than nothing, but it could be much better. For example – it doesn't account for riders with huge VO2 power but relatively weak FTP, thereby allowing those riders to excel in races which are more VO2-focused, like courses with punchy climbs or shorter "sprint" races.

Looking Ahead
We could be seeing the start of a paradigm shift in how Zwift races are categorized. Think about it: in theory, categorization could be based on an entirely different set of parameters – sprint power, weight, age, 1-minute power.
Parameters could be tuned to fit the course. A race up Epic KOM? Make 20-minute w/kg the deciding factor. Crit City? Sprint and 1-minute power are key factors. 40km TT? That's all about your FTP.
Eventually, Zwift could put these Category Enforcement options in the hands of event organizers who could break riders into categories based on whatever parameters they prefer. And that will open up a fresh variety of Zwift races to our community.
But we're getting ahead of ourselves. Let's finish some test races first!
Feedback Requested
Zwift has asked that riders fill out this feedback form after their Category Enforcement race(s), so the team working on these features can quickly iterate and improve on this initial offering.
This is a vital step, so don't miss it. Give them your feedback, even if it's to simply say, "It worked well!"
More Information
For more information on these events, including a comprehensive FAQ and an opportunity to discc, see this post on Zwift's forum.

See upcoming Category Enforcement Races on ZwiftHacks >
Questions or Comments?
Share below!