For all my 41 years, I've just had no interest in competition if I couldn't at least be nearly the best. So as a Zwifter with an ftp of 149 and an extra 20 pounds around my waist I have never been interested in racing. And yet I recently found myself entering my first race!
How did this happen? It started back in February 2017 when I wrote about pushing myself up the epic KOM in Watopia. It started this whole snowball effect of hearing from others who had avoided the mountain as well, which led to an organized ride to the radio tower and people making progress up the mountain because of what I wrote. So cool! A year later I figured it was time to try something else on Zwift that people don't particularly want to do and tell them how I did it. Possibly inspiring others again.
I put a note out on the Zwift Riders Facebook page asking if anyone had any Zwift challenges they were putting off for themselves. The biggest response was the one thing I too was putting off. Racing. Blah!
A few days later I got a text from my husband Eric (who races IRL and on Zwift) telling me "KISS First Base Race today at noon. You should do it." My reply: "Is it seriously called KISS First Base?" Haha. So yes, it's really called that. It's a race designed as a starter/taster race for new racers in lower categories, generally with smaller fields and shorter distances. (Learn more at kissraces.cc) Sign me up! Since Eric is a racer and knows racing he decided he'd come home and coach me through it. "Don't come home! I have to do the first race on my own. Unless you're going to go to the homes of each of the people who read about this to help coach them too." Sorry guys, he's not.
I found myself a few hours later racing one lap of the UCI course in Richmond with 2 other women, 39 men.
Race Preparation
I read up on racing beforehand so I knew I needed to jump out of the gate at the beginning. My only other strategy was to wheel-suck the whole time and, if possible, do some pulling for whatever group I was in.
I also made my Strava account open and created a zwiftpower.com account so I'd show up in the standings. And I read up on the actual race event rules on Zwift Companion to make sure I wouldn't get DQd.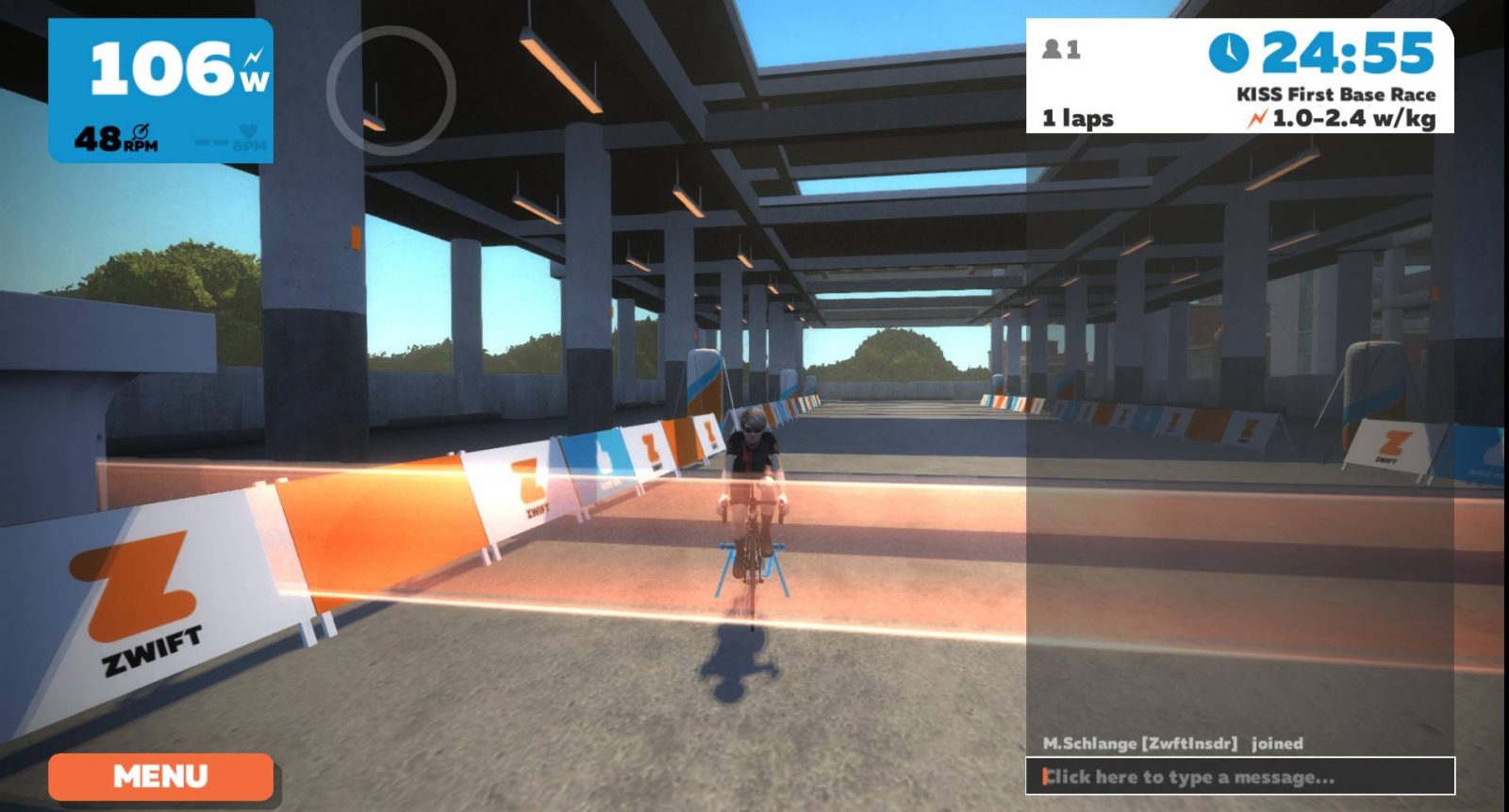 I turned Zwift on a good 30 minutes before the race. I wanted to make sure I was all logged in and warmed up before the event. I went to the start pen with 26 minutes left (by clicking "Join Event"). I wasn't sure how much warming up a person is supposed to do. It was pretty empty in there until 5 minutes before the race. Were the others warming up elsewhere? I don't know!
Two minutes before the race started a lovely voice came on telling us to have a good race and to… ack!… change my name so that it said "KISS D" afterwards. That would have been good info beforehand. I quickly did that.
And… We're Off!
The race started and I pushed my watts up to jump out quickly with everyone. I was in the lead for the first 6 seconds! Winning! I then held back a bit so I wasn't pushing more than I needed to. I hung on to the front group of about 6 for several minutes! Death was already knocking at my door and that group dropped me eventually. I hung on to the next group of 2 who caught me and tried desperately to pull for them after drafting for a while. I never could gain enough momentum to pass and do my fair share of pulling (sorry "OldStuntMonkey"). They eventually dropped me too.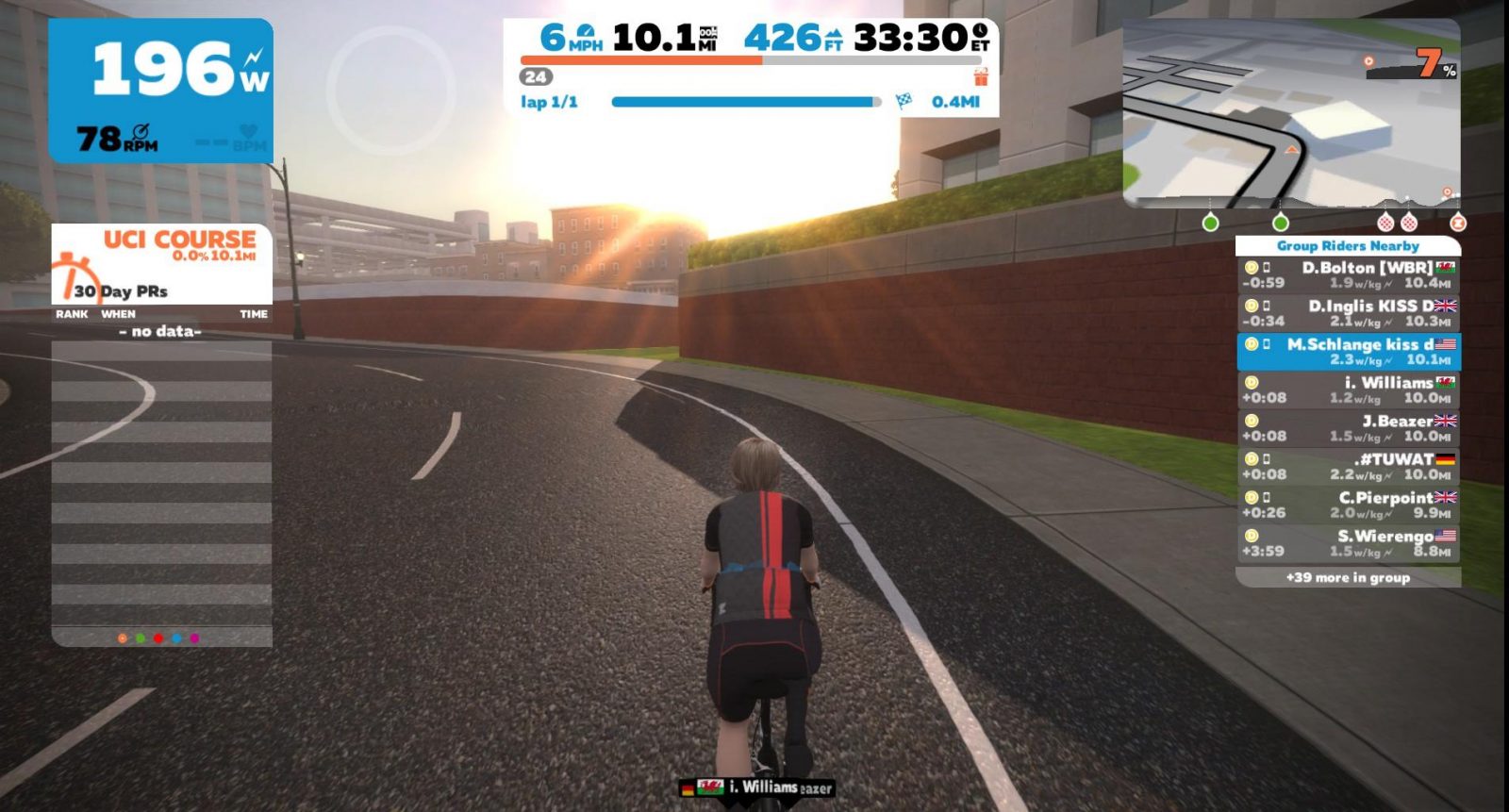 The next group behind caught me and I drafted as long as I possibly could behind them. I also used my power ups because that was allowed in the race. And for the last 8 minutes or so of the race I just rode alone. But I did crush the dreams of 5 people who came in behind me so I was pretty happy about that.
As I crossed the finish line I started heaving, and while nothing came up I also had to put my head down against my bars because things were turning black. I'd say I gave it my all. And my FTP went up by 6; I'm now at a race-winning 155!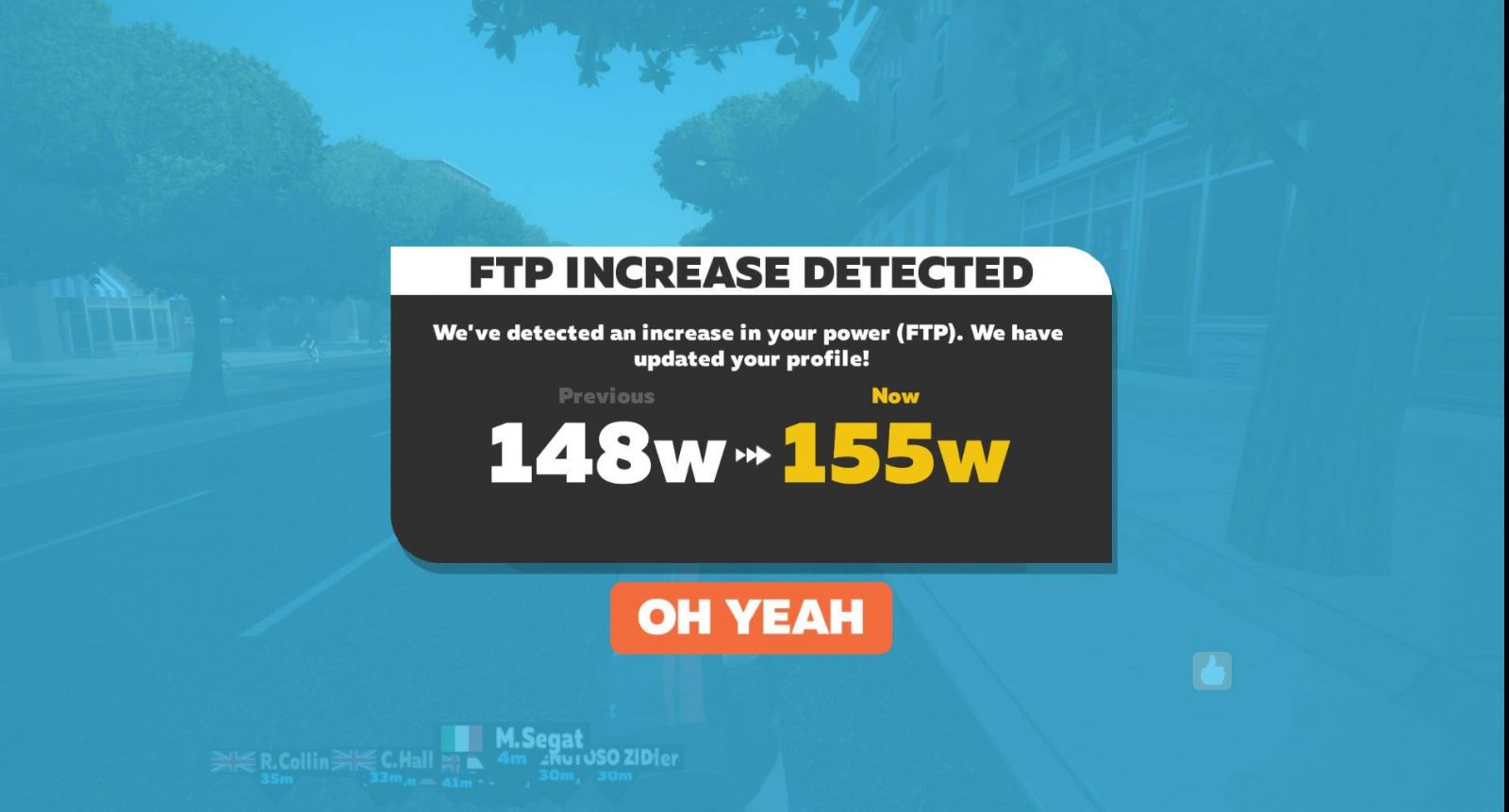 Initial Results
When I was finally able to function again I checked Strava and ZwiftPower as any good racer does. I got my best times on nearly all the Strava segments. Even segments "never gonna make you cry" and "never gonna say goodbye!" Haha! ZwiftPower said I got 32nd out of 37 racers.
Racing was brutal! My immediate thoughts were "It's like an FTP test with other people trying to beat my results." It was not only painful for my legs and my lungs but also a real test of my mental fortitude. I wanted to quit. "Why am I doing this again?" Then I'd remember the accountability of writing an article. Accountability, in whatever form it comes in, has always pushed me more on Zwift than anything else. But man, my legs can scream louder than my head sometimes.
Official Results
Many of the people who beat me were far above the race's prescribed max of 2.49 w/kg. When this happens they are then DQd from the race results. What does that mean for me? I officially got 12 out of 16 riders! And I got first place in the women's category! Don't tell anyone, but technically I was the only woman rider (one wasn't a D racer and the other DNF).
Things I Wish I Knew Ahead of Time
How much should I warm up? How many minutes, how many watts, how much exertion?
What do I eat or drink before, during and after the race?
What do I do as far as pacing myself? Just go guns blazing until I crash? Try to do something steady the entire time? Or do what I did?
What good would a coach be to me? How could Eric help me if I had allowed him to sit in on my race and tell me what to do?
When checking ZwiftPower for race results it can take up to 24 hours for them to be sorted out. Occasionally longer, according to Glen Knight, if things are a bit hectic at the time.
Now what?
I'll race a few more times at least. I don't know that I'll ever get bit by the racing bug, but I'll try racing with coaching from my husband and I'll try various races too (including KISS Second Base) to see what they're like.
And honestly, it seems racing is a bit like having a baby… the longer I'm away from the intense pain, the easier it is to say "yeah, I'll do that again!" So stay tuned!