A good time was had by all on this morning's "Festive Ride with the Erics" event hosted by Zwift co-CEO Eric Min and myself.
410 riders joined us for 4 laps of Richmond UCI Reverse, a route with a few climbs in the first half of each lap, and a flat second half. Although Eric and I had ride leader beacons over our heads, this was an open-paced group ride. A strong group jumped off the front and stayed away to the finish, quite a few hung with the Erics, and a good number of riders were grouped up behind the beacon group as well.

We had a nice time chatting on Discord, too, with around 50 riders in voice chat.
This wasn't an easy social ride – the beacon group(s) took nearly 2 hours to finish! Since riders were required to finish to be eligible to win the Zwift kit, it felt like one of those "whoever keeps their hand on the car the longest wins it" sort of endurance contests after a while, as various riders messaged "work calls, gotta go", "dropped my chain", etc.
But hundreds of riders held on to the end. Chapeau to all!
Negative Splits
Eric and I held a pretty steady pace around 2.4-2.6 W/kg for the first three laps – a bit higher on the climbs, a bit lower on the descents and flats. But somehow, each lap got just a bit spicier, as evidenced by our E Main St climb times:
Lap 1: 3:54
Lap 2: 3:45
Lap 3: 3:26
Lap 4: 2:40
But Eric was getting his last ride in before a few days off the bike, and he wanted to stretch his legs a bit… so on the final lap he went to the front and pushed harder, especially on the climbs. I hung on until the last climb up E Main St, when I sat up and let Eric go away up the road… because I'm a helpful red beacon and wanted to help the stragglers. (The huffing and puffing you heard on Discord must have been someone else! 🙂)
My final lap times:
Lap 1: 27:42
Lap 2: 26:51
Lap 3: 25:59
Lap 4: 24:18
Drumroll, Please…

As promised, two finishers (one man, one woman) were drawn to win Zwift's new kit bundle: the Expression jersey, Core bib shorts, socks, cap and bottles (see them in Zwift's online shop). And the winners are:
SHELLYBELLY (Wales)
PETER BRANDT (Denmark)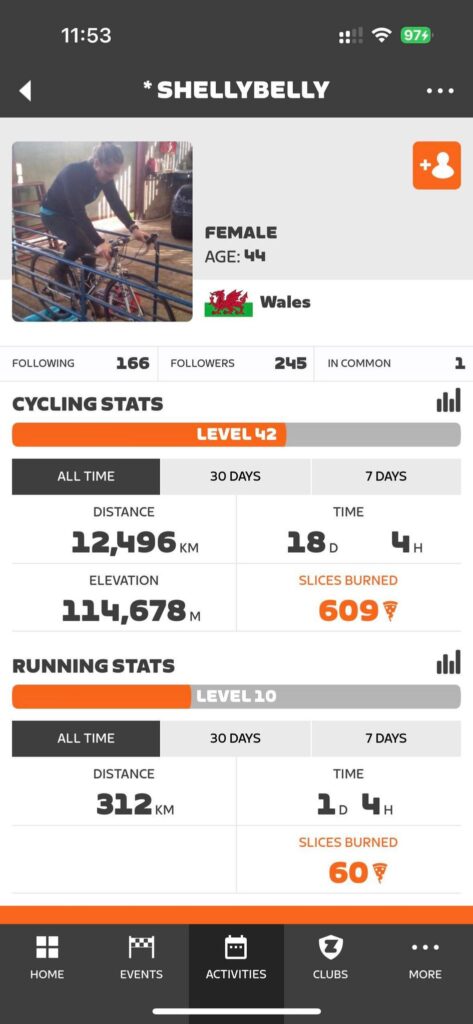 Thanks everyone for joining the ride today!