Opportunities to challenge oneself are always abounding on Zwift. There are big Zwift events, as well as unofficial events and solo challenges. Here are 5 events this weekend you may want to check out.
Special thanks to Jesper at ZwiftHacks with his Events app which provides powerful event filtering tools that help us create this list each week.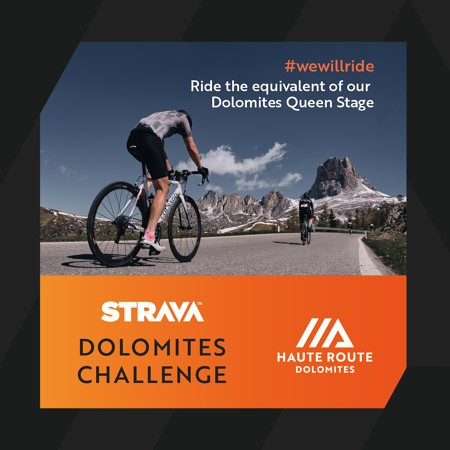 Haute Route Dolomites Challenge

This is an individual challenge, not an official Zwift group event. The challenge? Climb 3300m in a single ride between 12:00am Friday 12th June and 11:59pm Sunday 14th June in your local timezone.
To mimic the elevation of the Queen Stage for Haute Route's canceled 2020 Dolomites event, riders must climb 3300 meters (10,826′) in a single ride in order to complete this challenge. The challenge only runs from Friday-Sunday in your local time, too, so you've got to plan accordingly.
What does 3300 meters look like on Zwift? Well, you could ride:
3x up Alpe du Zwift, plus another 194m
Almost 8x up the Epic KOM forward (or almost 6x if you include the Radio Tower "bonus climb")
More than 24x up London's Box Hill
66x up Watopia's first climb, the Hilly KOM!
If you complete the challenge (and jump through the hoops of filling out a form or two) you will be entered into a drawing for a 3-day Haute Route event in 2021, plus prize packs from Precision Hydration. Be sure to visit the link below for details, so you can get registered properly.
Learn more at Haute Route's website >
25 Volcano Laps with Sammy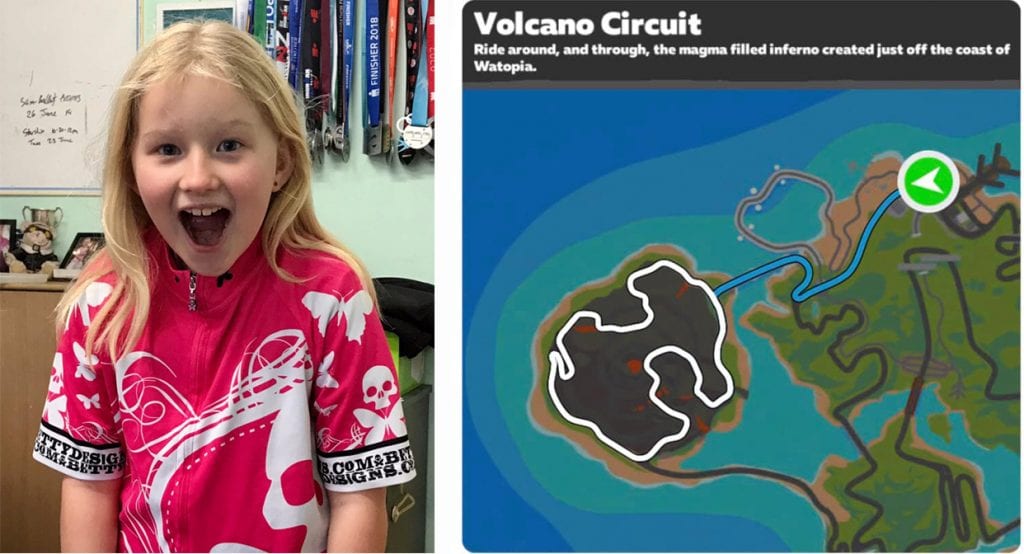 You may remember 8 year old Samantha Frost from her Tour of Fire and Ice ride last month. She is cycling to battle arthritis in her knees and back, and this weekend she's taking on the challenge of riding 25 Volcano Circuit laps. That is a full distance of 102.5km or 65 miles!
Zwifters are invited to join and support her. This is a great time to earn that "On Fire" badge, too! (Join Samantha by looking up "Samantha Frost (age 8) on the Companion app and sending a follow request.)
Ride organizes say, "We are also asking people to sponsor her for each lap she completes. As much or as little as you like. The only thing we ask is that the money she raises is sent to your own local arthritis association of Your choice in her name or the Everyday Hero page below."
This is not an official Zwift event. Sammy begins at 7:30am New Zealand standard time, which is Saturday 8:30pm BST/3:30pm EDT/12:30pm PDT. Learn More >
Catrina's Ladies Only Century

Ladies, join ride leader Catrina Weiss for a 100-mile ride on Watopia's Waistband! Catrina says, "This is NOT a NO DROP ride. With that said we do try in my rides to keep the pace steady and drop back if we know early enough to bring back dropped riders. We encourage all women who have done 59+ miles on Zwift or IRL to join this ride as it will be super fun."
Saturday 2pm BST/9am EDT/6am PDT
Sign up at zwift.com/events/view/796537
The MBPC 6 hour Zwift Challenge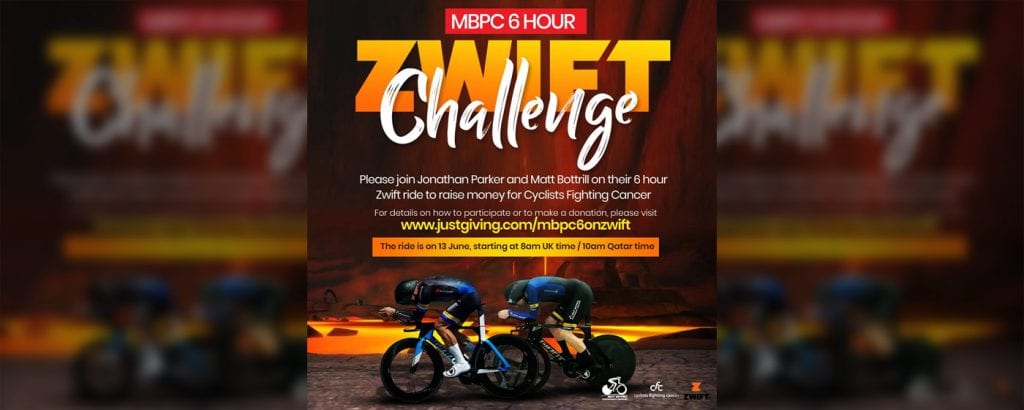 Jonathan Parker and Matt Bottrill are undertaking a 6 hour non-stop Zwift challenge to raise £2,000 for Cyclists Fighting Cancer. Support this effort by making a donation and/or joining Jonathan and Matt for some or all of the 6 hours of pedaling!
Jonathan Parker holds the official world record for the fastest solo cycle ride from London to Paris (12 hours and 31 minutes). Matt is a multiple National Time Trial champion who has set some of the fastest times ever ridden in the UK.
Hot tip: they'll be riding London's PRL Full Route, so if you complete the route you'll only have another ~800 meters of climbing left to complete the Haute Route Dolomites Challenge (see above)!
Saturday 8pm BST/3am EDT/12am PDT
Sign up at zwift.com/events/view/870064

Take on a long race with the KISS crew this Sunday! This week they're tackling 100km of Watopia's Waistband.
Two events: the EU race on Sunday 6am BST/1am EDT/Saturday 10pm PDT and the America's race on Sunday at 2:15pm BST/9:15am EDT/6:15am PDT
Your Thoughts
Got other events that stand out this weekend? Share below in the comments!