Zwift's Volcano Circuit (and Volcano Circuit CCW) are popular routes for racers looking for a flat, fast, multi-lap effort. But did you know there are badges (and bonus XP) awarded for multi-lap efforts, and newer Zwifters can use these achievements to jump up several levels in one ride?
Here's everything you need to know about how these achievements work!

Key Stats: Ride Length and Bonus XP
The "Warmed Up" badge is awarded for 5 laps, "Hothead" for 10 laps, and "On Fire!" for 25 laps. Each badge also awards 1000XP, helping you level up faster!
Learn about XP and unlocks in Zwift
With a lap length of 4 km (2.5 miles), you'll have to ride a minimum distance of 20.4 km (12.7 miles), 40.9 km (25.4 miles), and 102.2 km (63.5 miles) to get each badge, respectively.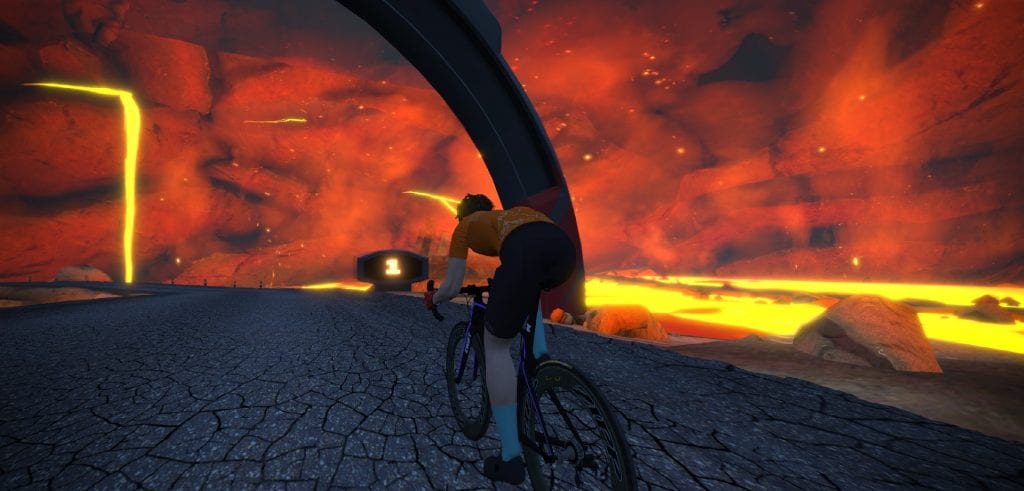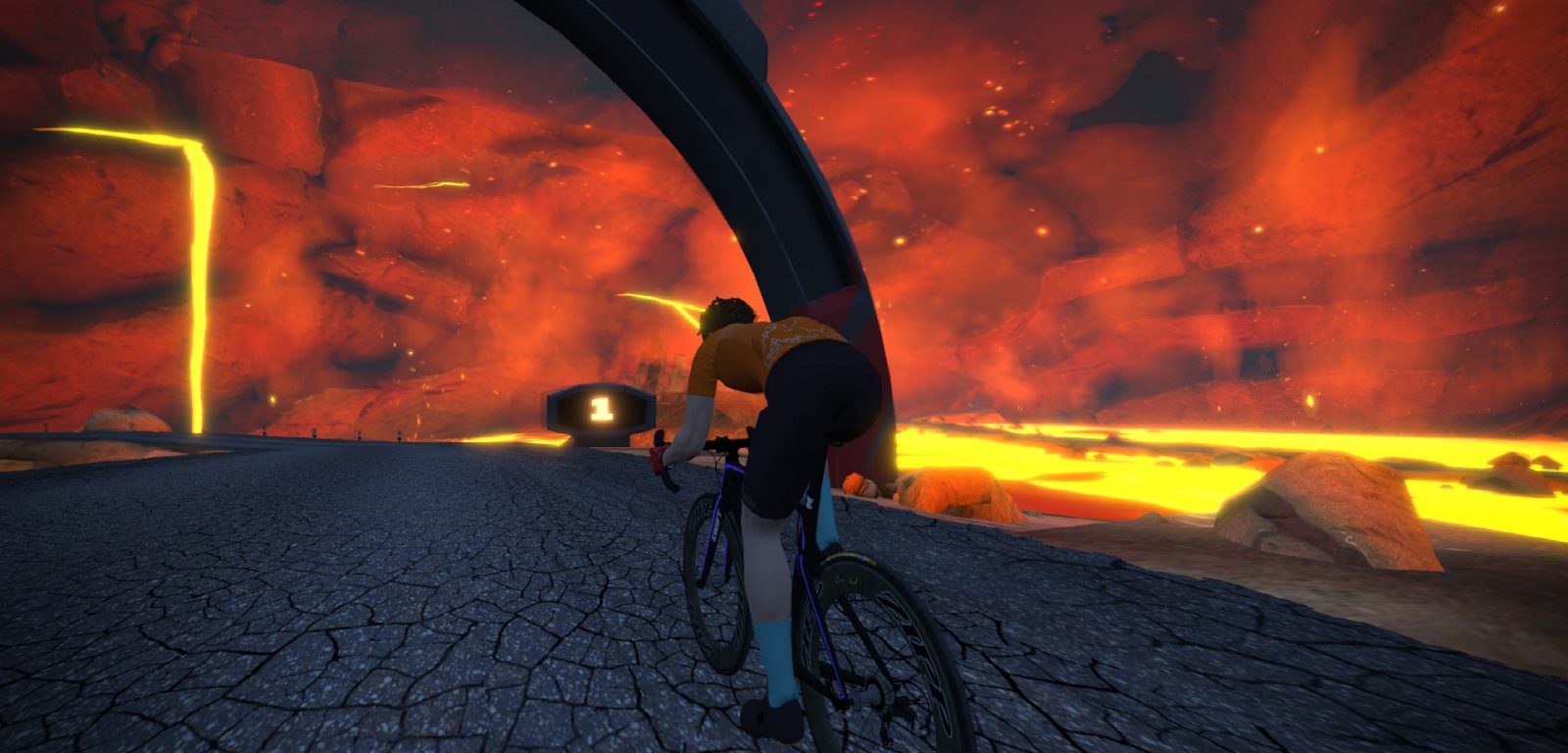 All in One Ride
To earn a multi-lap Volcano Circuit badge, you must ride all the laps in one activity. So these badges are very different from the "Avid Climber" and "Masochist" badges you earn for climbing Alpe du Zwift multiple times – happily, the Alpe badges can be earned over multiple efforts!
It's worth noting that these laps can be completed at any time during your single activity, even if you ride elsewhere on Watopia in between laps. So you could ride a few Volcano Circuit laps, then hit the classic Hilly route for a lap or two, then return to the Volcano Circuit for more laps. Two warnings here, though:
Don't hop into an event in the middle of your activity, because Zwift automatically stops your current activity and starts a new one whenever you begin an official event. That means your multi-lap attempt will end as soon as you click to join the event.
If you decide to turn and ride up the Volcano KOM in the middle of a lap, that particular lap won't count.
Any Direction
Here's another little-known detail: you can achieve the Volcano Circuit badges in either direction. In fact, you can mix directions, completing (for example) 2 laps in the clockwise direction, and 3 in the counter-clockwise direction.
The counter at the lap banner keeps a tally of how many laps you've completed in both directions, making it easy to know how many laps you've got left.

We've created Zwift Insider verified Strava segments for each badge in the clockwise direction: 5 Laps, 10 Laps, and 25 Laps. Of course, if you choose to ride in the CCW direction, your activity won't match these segments.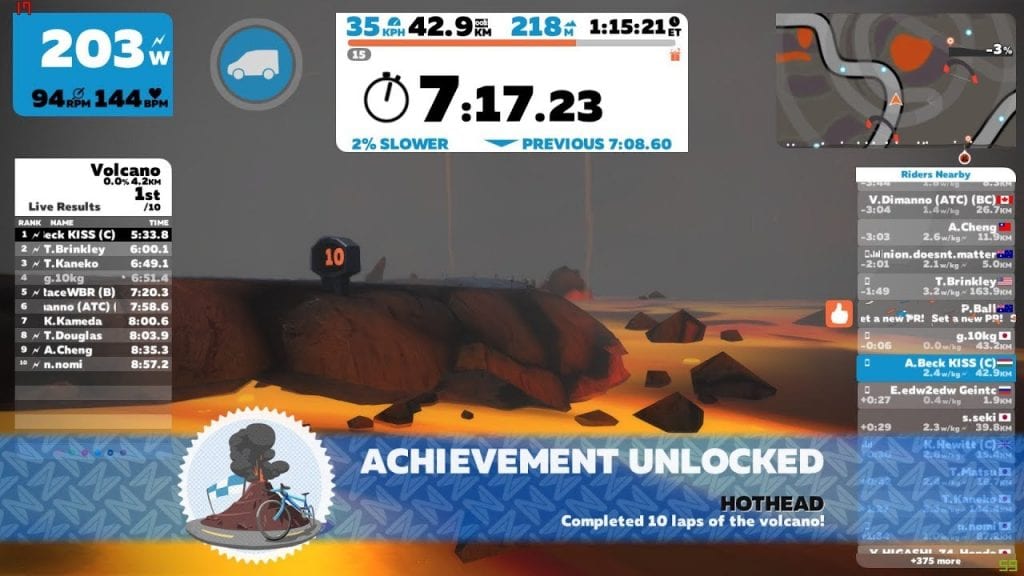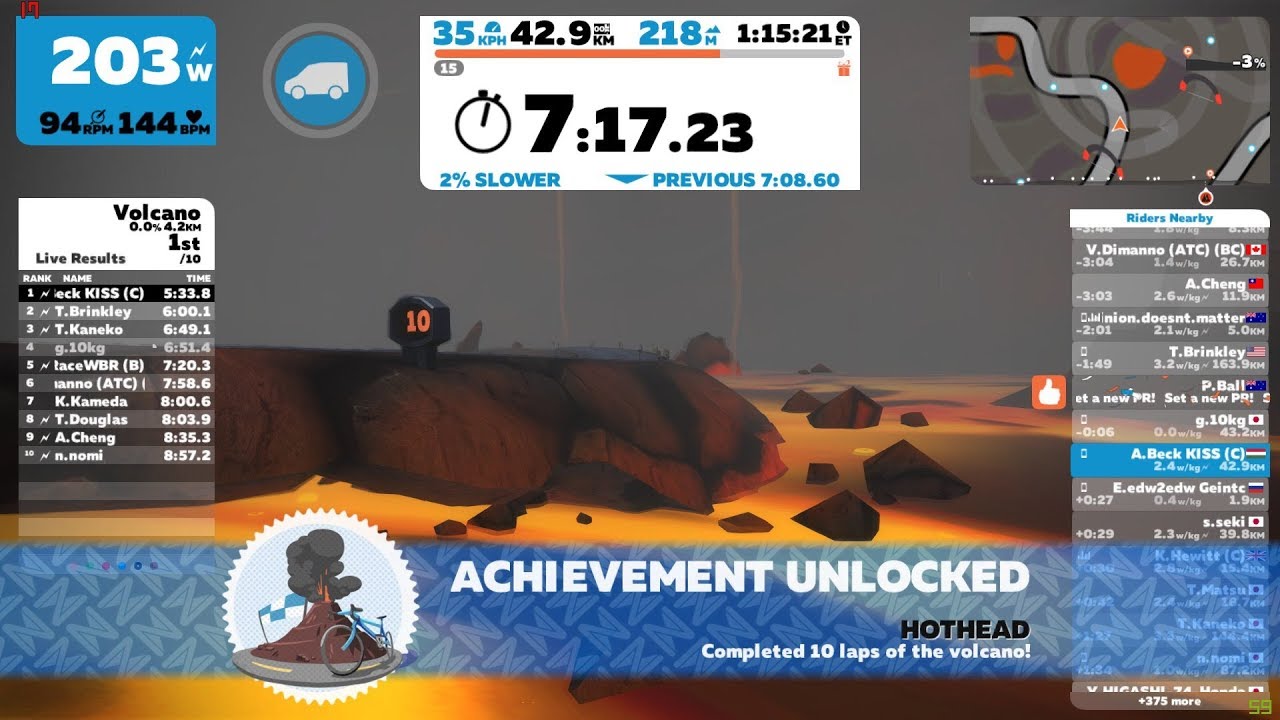 An Extra Badge
There's also a "100 Clicks" badge awarded the first time you ride 100 km in one activity. If you complete 25 Volcano Circuit laps you will hit 100 km, unlocking this badge and 500XP bonus if you haven't done so already.
Level Up
For newer Zwifters looking to level up, the multi-lap achievement is the fastest way to grab a pile of XP whenever you're ready. Not only will you get all the XP for your distance (20XP per km = 2000XP for 100 km), but you will receive another 4000XP for the three Volcano badges and the 100 Clicks badge. That's 5500XP, not included any bonuses you may receive each time you ride through the lap arch!
Join Us this Saturday!
This Saturday, April 25th, we're hosting an informal event where Zwifters can show up and ride to achieve their Volcano Circuit badges whenever they'd like.
Read "Monica Does 25 Laps of Volcano Circuit" for details.
Questions or Comments?
Share below!