Our newest Rebel Route covers the newest roads in Watopia (Titans Grove) and the oldest (Hilly Route). That means you'll get to hammer two short KOM climbs with some recovery in between!
The idea for this route came from Shawn McAfee, who you may know through his Zwifty videos. Thanks, Shawn!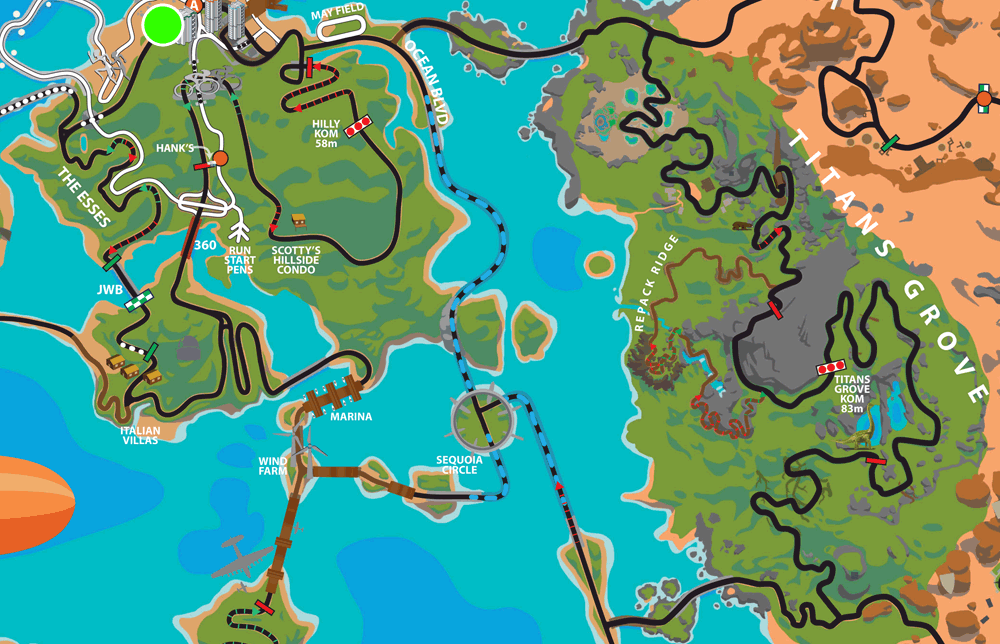 About Rebel Routes
"Rebel Routes" are Zwift rides that are not available on Zwift's routes list, thus requiring manual navigation. See all rebel routes >
The reward for your rebel ride? Exploring a new route, knowing you've gone where few Zwifters have gone before. And a Strava segment rank in the tens or hundreds instead of the thousands! They are included as a separate category on our Veloviewer Route Hunter leaderboard.
Route Description
Downtown Titans is a medium-length route at 24.6km (15.3 miles) long, and it begins and ends at the downtown Watopia start/finish line. Select the Hilly Route to get started.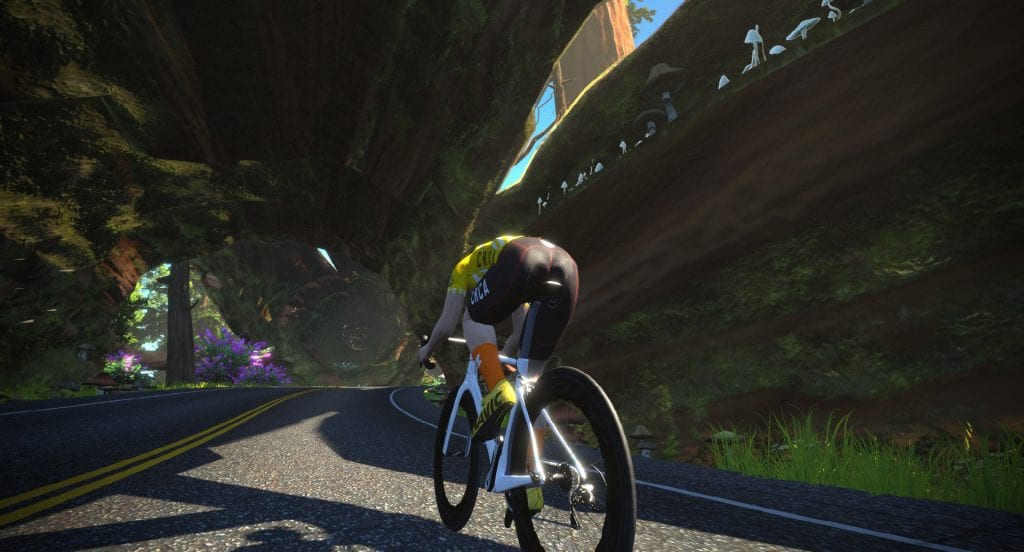 Take a quick left onto Ocean Boulevard, then the next left to head toward the desert where a right-hand turn takes you into Titans Grove. This rollercoaster of a road will have you twisting and turning up and down through the giant sequoia trees and even a lost valley with living dinosaurs! But to see the dinos you'll have to climb the timed KOM first. Top the leaderboard and grab that jersey, then descend to the dinos, wave hello, and continue your rollercoaster road to the end of Titans Grove.
A right turn out of Titans Grove takes you back toward Ocean Boulevard where you will turn another right to head down into the ocean tunnel. Right again to head toward downtown Watopia, then a left to get onto the Hilly Route.
When Watopia first launched (around May 2015), the only road on the island was the Hilly Route. So enjoy yourself – you're riding a piece of Zwift history! Hit the short forward KOM and see if you can grab that leader's jersey, then descend the backside through the statues, past Hank's Gas Station, and over the 360 Bridge.
Soon enough you'll hit the cobbles of the Italian Villas, where you'll want to wind up those legs because you've got a sprint section coming up. Can you grab the green jersey?
Cross the JWB and hit the ramp in the Esses – another rollercoaster ride toward the final stretch of this route. Once you descend into downtown Watopia and cross the finish line you're done. Nice work!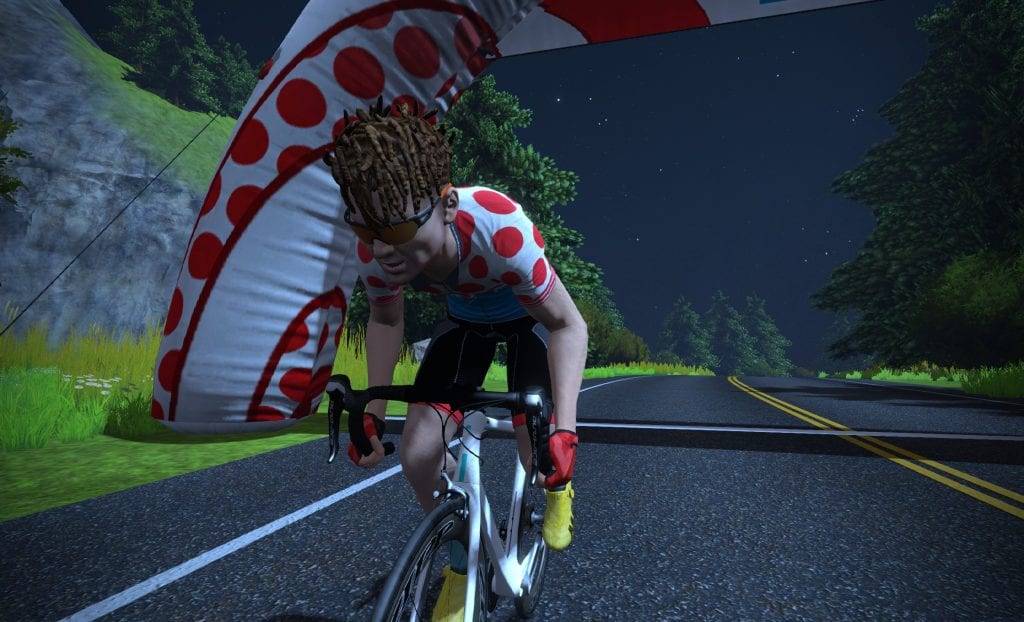 Profile
This route's highlights are the two KOMs, as you can see below. Climb up to the top of the Titans Grove KOM, then recover as you descend down to the Ocean Boulevard flat road. Then it's up-up again to the Hilly KOM, a descent, and rolling/flattish roads to the finish.

Getting Started + Lead-In
Start by choosing the Hilly Route. This will spawn you just before the downtown start/finish, which is where our route begins. There is no significant lead-in to the start of this route.
Turn by Turn
Here are the turns you'll need to make to successfully complete Downtown Titans after selecting and starting the Hilly Route.
Left to Ocean Blvd
Left to Desert Flats
Right to Titans Grove
Right to Epic KOM
Right to Sequoia Circle
Right to Downtown
Straight to Downtown
Left to KOM
Straight to Italian Villas
Right to Sprint
Right to Downtown
Route details:
Distance: 24.6km (15.3 miles)
Elevation Gain: 254m (834′)
Strava Segment
Rebel Route Suggestions
Got an idea for a great rebel route? Share it below and maybe we'll publish a post about it!