With over 2600 riders and 370 teams, DIRT Racing Series has grown quickly over the last two seasons. After a successful second season, Team DIRT Racing has recently announced the launch of DIRT Racing Series, Season 3. The new season will run from December 20 to January 3 (in-between the Zwift Racing League seasons) and promises to be even bigger, better, stronger, and more widespread across the globe!
Here's how they describe it:
"DIRT Racing Series is open for everyone, all Zwift Racers (new and experienced), all Zwift Clubs, all genders and ages. Whether you're a sprinter, a climber or a diesel – we think you should always be able to contribute to your team. With our well-balanced points structure everyone can contribute so you'll have to push hard wherever you are in the race!
One of the most exciting things about the DIRT Racing Series is that its shaped by the riders feedback more than any other series. Every series so far (including the very first trial) has garnered feedback from what is now hundreds of racers and team captains – and it is this feedback that continues to set the direction. It's still got growing to do, but it will be THE Team Racing series shaped by the racers themselves!"
DRS Basics
Here are some key things we spotted that make the DIRT Racing Series special:
Split categories (A+, A, B+, B-, C+, C- & D) so the competition is tighter
Team racing: open to teams of up to 8 riders (no rider minimum), best 4 riders per stage contribute their points to the team
Three racing formats: iTT, TTT and Races
5-Stages, final two stages are back-to-back
Individual and Team leaderboards
Balanced points allocation so more racers contribute (see Rules & Scoring page)
No powerups, just pure old leg power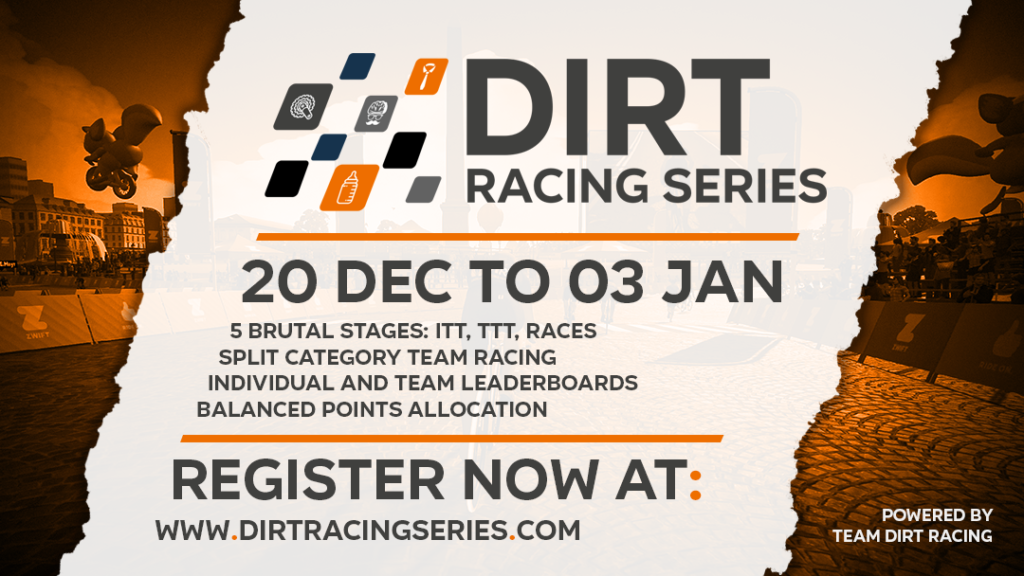 Team DIRT Racing shared additional details about their oncoming season:
"Something exciting for Series 3 is the trial of some new race-up rules. We've set thresholds for ZwiftPower Race Ranking as well as the normal power metrics that mean approximately the top 50-150 racers in each half category will need to race up one half category. We think this is about 1-2% of all racers in a category, and we believe that by making the top 1-2% race up we'll stretch the most talented racers and make the categories more competitive for all.
Lastly, there is a fantastic Discord Captain's community with currently nearly 250 Team Captains part of what has been some fantastic fun and respectful chat between the Race Control team and the captains themselves. For the Race Control team, it's one of the most rewarding parts of running the DIRT Racing Series."
Series Schedule
The 5-stage series is held on Tuesdays in four different time slots:
Atlantic US: 05:45 ET / 10:45 UTC
EMEA C: 19:15 CET / 18:15 UTC
EMEA W: 19:15 GMT / 19:15 UTC
US W: 18:30 PST / 02:30 UTC (+1 day)
The series begins with an individual time trial but also features three points races and a team time trial:
Registration and More Info
Visit dirtracingseries.com for more information on the DIRT Racing Series.
Ready to sign up? Register your team at dirtracingseries.com/register-now