The majority of cycling injuries are overuse injuries which develop gradually over time due to repeated movement patterns. A recent study states, "Clinical experience indicates that the development of hip pain is a common reason for cyclists to seek professional healthcare."
The action of cycling involves repeated hip flexion with the hip never fully extending, preventing the hips from "opening." The hip joint stays in a fixed position as the leg goes up and down in the same plane, but never straightens or rotates enough to open up the hip joint. This can cause tightness or even shortening of the musculature over time.
Most cyclists have tight hip flexors, which can lead to pain showing up in the lower back and the underdevelopment and shortening of the glutes. Although this may not always manifest as hip pain, hip tightness is a huge problem for cyclists. The hip flexors can shorten and pull the pelvis forward, causing an anterior tilt, leading to back pain.
In addition, pain may come from stiffness in the hip rotator muscles, a group of muscles hidden beneath the glutes. This includes the piriformis muscles which extend from the tailbone to the top of the thigh. As your hip rotator muscles tighten, you may begin to feel pain in your deep glute area, with subsequent weakness and muscular imbalance.
Basic Anatomy of the Hip
The hip is located where the head of the femur, or thighbone, fits into a rounded socket of the pelvis. This ball-and-socket construction allows for three distinct types of flexibility:
Hip flexion and extension – moving the leg back and forth
Hip abduction and adduction – moving the leg out to the side (abduction) and inward toward the other leg (adduction)
Rotation – pointing toes inward (internal rotation) or outward (external rotation) and then moving the straightened leg in the direction of the toes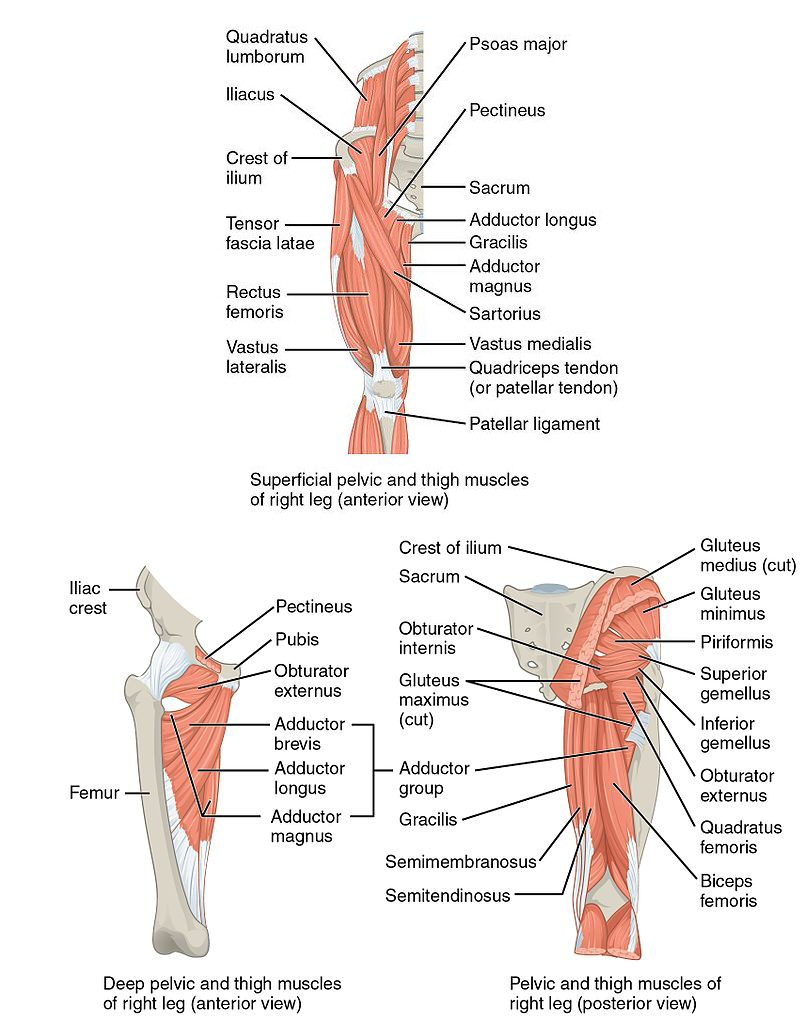 Also known as the acetabulofemoral joint, the hip joint is comprised of these basic components:
Hip bones, including the femur and pelvic bones
Hip articular cartilage that decreases friction between the bones and allows for a smooth gliding motion
Hip muscles that both support the joint and enable movement
Hip ligaments and tendons: tough, fibrous tissues that bind bones to bones and muscles to bones
Synovial membrane and fluid which encapsulate and lubricate the hip joint, respectively
Hip problems occur when any one of these components starts to degenerate or is in some way compromised or irritated.
Common Hip Pain Complaints and Injuries
Anterior (front): hip flexor tendinitis
Lateral (outside): hip bursitis, gluteus medius syndrome
Medial (inside): osteoarthritis, femoracetabular impingement syndrome
Posterior (rear): piriformis syndrome, gluteal tendinopathy
Immediate First Aid for Acute Injuries
The PRICE principle, an acronym which stands for Protection, Rest, Ice, Compression, and Elevation, is the standard for the treatment of sports injuries during their initial phase of discomfort. It should be applied as soon as possible for 24-72 hours.
Basic Bike Fit Recommendations
Typical areas of focus during a bike fit for a cyclist with hip pain include selecting crank length, handlebar size, and handlebar position that do not exceed the athlete's range of hip flexion at the top of the pedal stroke.
Ensuring that the height of the saddle is not too low or that the fore-aft position is not excessively rearwards decreases hip flexion range and limits the stress of posterior hip musculature to contract at a longer length.
Active Treatment Plan For Hip Pain
What follows will be the foundation of a solid cycling injury active treatment and prevention plan, beginning with the basics of flexibility, strength, and recovery with a focus on the hip joint.
By completing all elements of the program, and building upon it with each installment of the series, you will be equipped to withstand the physical stress of cycling with less pain and greater enjoyment in addition to having a resource to refer to when symptoms necessitate.
Flexibility Exercise of the Hip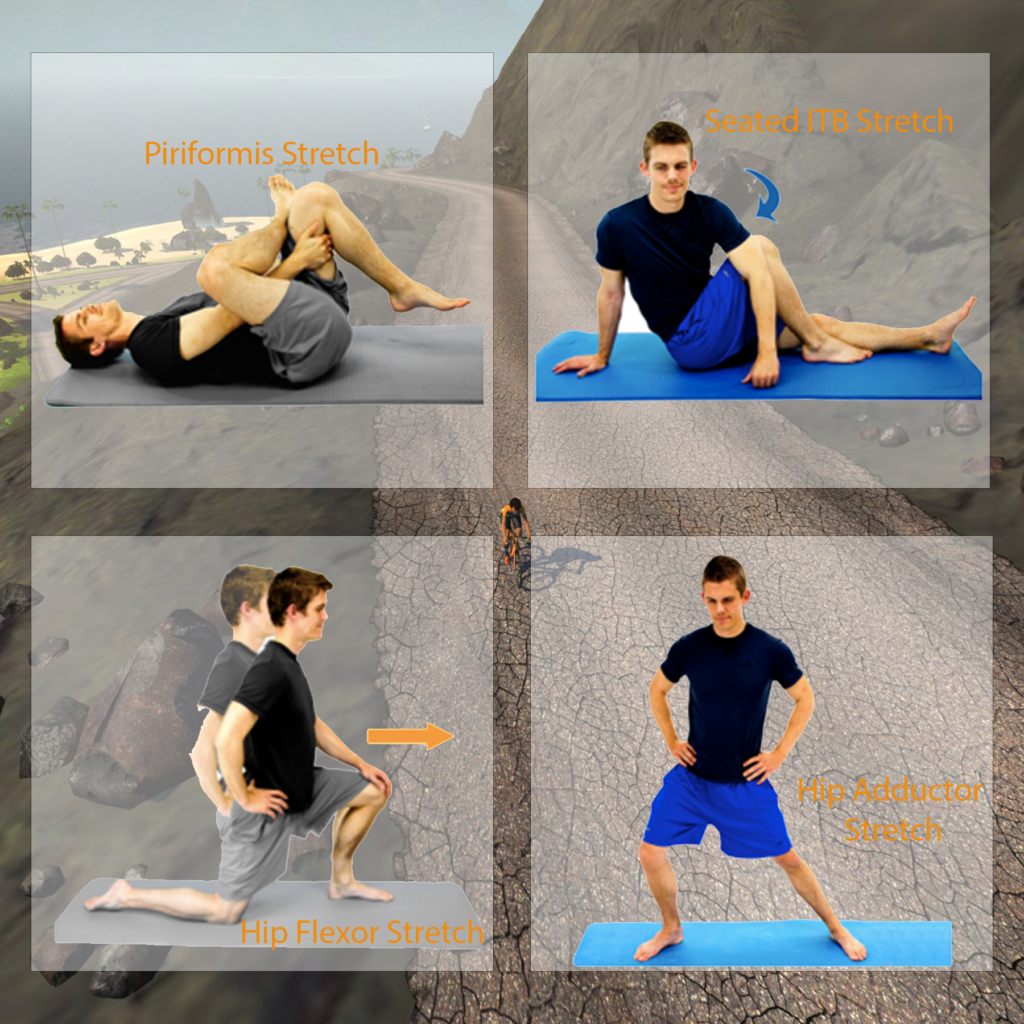 Find the Zwift Insider Hip Flexibility Program complete with exercise descriptions >
Static Stretching Tips
Go to point of stretch and hold for 15-30 seconds
3 repetitions per exercise
Don't bounce!
Strengthening Exercise of the Hip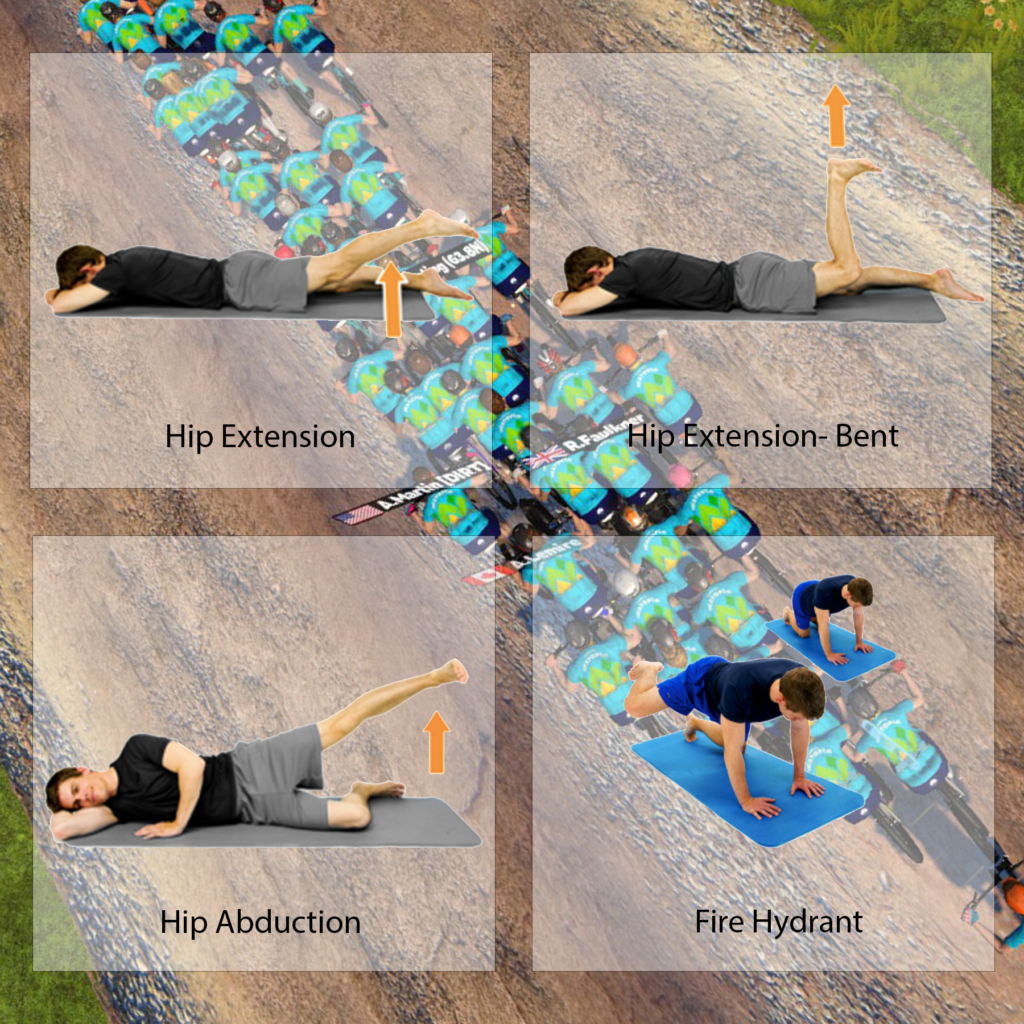 Find the Zwift Insider Hip Strengthening Program complete with exercise descriptions >
Strength Training Tips
Perform 3 sets of 15 repetitions to start
Don't perform if experiencing severe sharp pain (PRICE)
Increase intensity by adding weight or increasing repetitions
Strict form is essential!
Foam Roll Recovery Techniques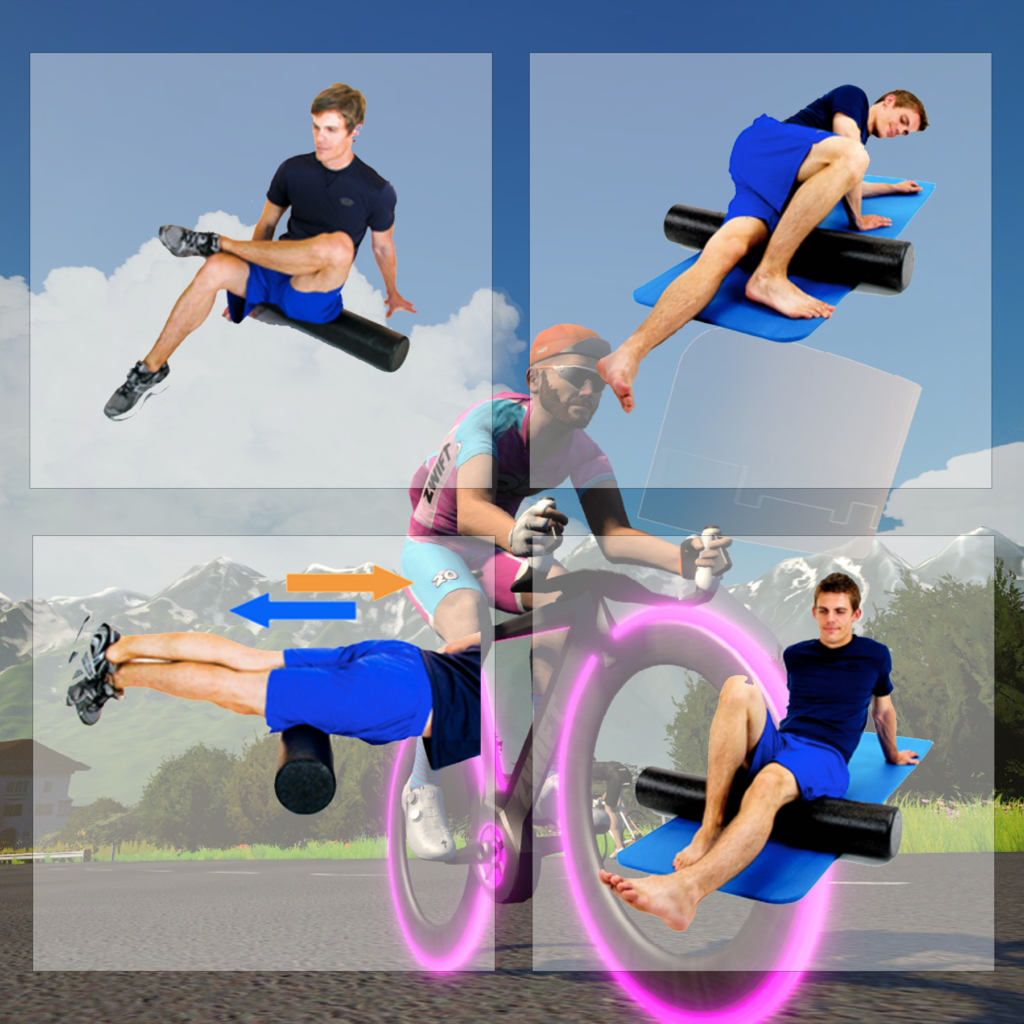 Find the Zwift Insider Hip Foam Roller Program >
Foam Rolling Benefits and Technique
Improves circulation to enhance muscle recovery
Relieves muscle tension to improve flexibility
Roll slowly and when you find a tender spot, focus in on it by rolling back and forth until you feel it soften or release
The Follow-Up Appointment
Stay tuned, as in the next edition of this series I will address cycling pathology of the low back, including how posture and core stability contribute to this debilitating condition. We will examine active intervention measures to keep you riding, training, and racing at your best!
Is This You?
Have you ever experienced hip pain while cycling that you were able to work through? If yes, what bike fit changes, stretches, strengthening exercises, or recovery techniques worked best for you?