Just ahead of this weekend's big Major Winter race in LA, CVR has rolled out their cycleFANTASY platform where you can build your own male and female fantasy cycling teams for this weekend's big event.
Similar to what Velogames does for fantasy outdoor cycling teams, cycleFANTASY allows you to pick your teams, predict finishing places, and even win big cash prizes. Pretty cool!
About the $10 Fee
You can play for free, but you won't be eligible for the cash prizes. (First prize is currently $534!)
Here's the really cool part: each $10 entry fee paid increases the cycleFANTASY prize pool by $5, and the CVR World Cup Los Angeles prize pool (what the racers will win) by $2. (So really, I'm sharing this post so the prize pool will grow and I can win more cash with my entry. Ha!)
Setting Up Your Teams
To get started, go to the cycleFANTASY page and sign in. Agree to the terms and conditions, then choose whether you want to pay the $10 entry fee.
Now it's up to you to build your team. You start with a blank slate: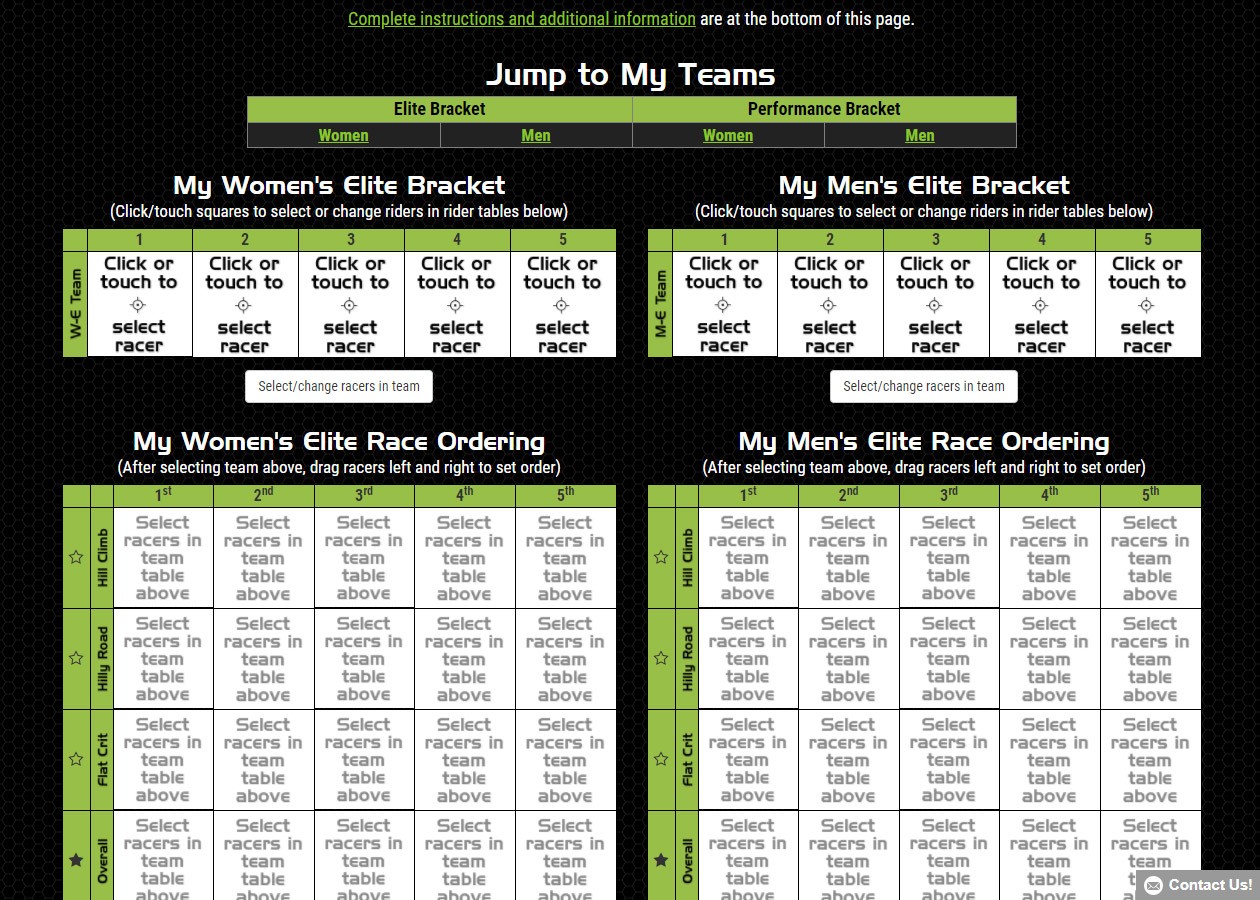 There are 20 women and 20 men racing in LA this weekend, but your fantasy team will only use half of the available riders, since your teams can only have five riders apiece:
Women's Elite Bracket
Women's Performance Bracket
Men's Elite Bracket
Men's Performance Bracket
The "Elite" bracket is the top 10 riders (of each gender) based on the qualifying heats on Saturday, while the "Performance" bracket is the lower 10. If you place a rider on your elite bracket, but they don't qualify for the elite bracket on Saturday, that rider will not earn you any points in Sunday's races. Same thing if you choose a rider for your performance bracket but they qualify as elite. So choose carefully!
You may want to do some research on some of the riders… click their profile picture to get a text description of the rider, and visit ZwiftPower's rider search page to look up the riders and see their race results.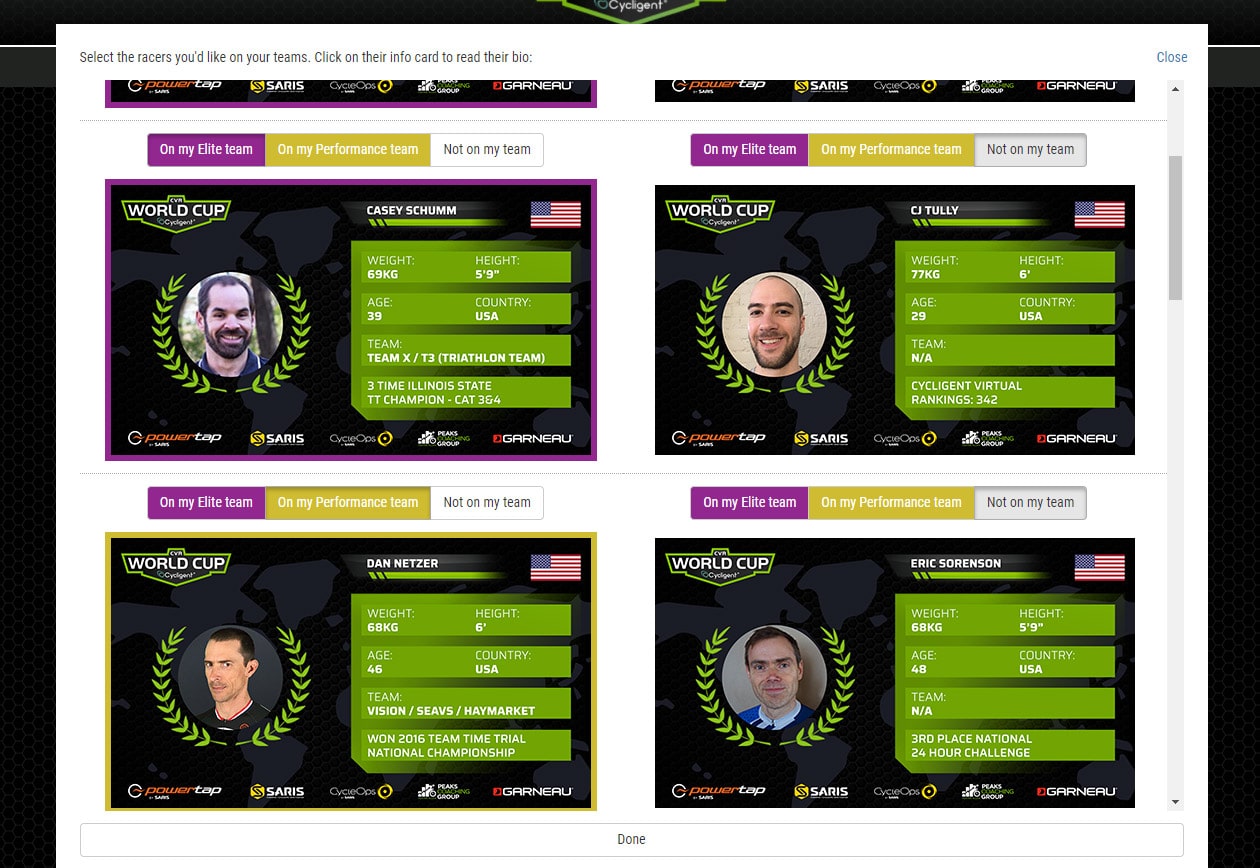 Once you've selected your teams (see my randomly-selected sample below), you can click and drag to decide where you think each rider will finish on each stage of the race (more on race stages here.)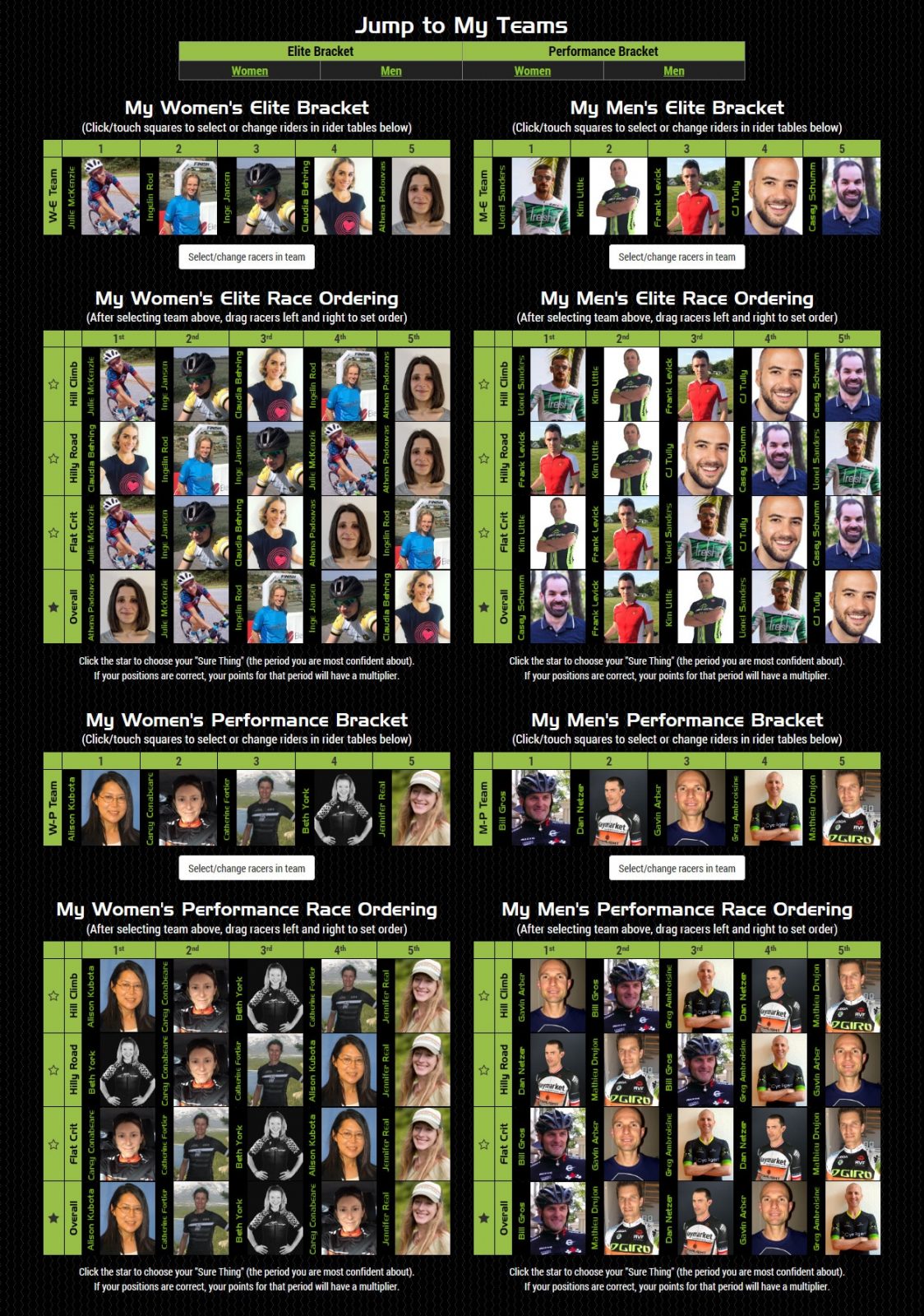 Complete rules and instructions can be found at the bottom of the cycleFANTASY page where you build your teams.
Good luck!