Zwift's Club feature lets Zwifters form groups which can communicate via the Companion app and hold events. It's a powerful feature useful for real-life Clubs wanting a Zwift presence, as well as Zwift-only Clubs wanting a single gathering place for their members.
First Things First
Before we explain how Clubs are created, let's make sure you understand the basics of how Clubs function on Zwift.
Clubs Are For Events… For Now
What's the purpose of Clubs? Much like real-world cycling or running clubs, they let Zwifters organize themselves into groups, then take part in activities together.
In the future Clubs will have a more expanded feature set, but the core function of Clubs today is to let organizers create events. This is something never before seen on Zwift: the ability to create an event and invite others via a simple link.
Further Reading: How to Create Zwift Club Events
It's sort of like creating Meetup, but it's next level because the event organizer doesn't have to manually invite individual followers to their event. The link can be shared and anyone can join, if that's what you want!
Plus, the events feel more official since they begin in standard start pens, like other Zwift events, instead of along roadside like Meetups.
Who Can Create a Club?
To create a Club once the rollout is complete, you must meet the following requirements:
Have an active paid Zwift subscription
Be at least 16 years old
Be a level 5+ rider or runner
Club Limits
Clubs are limited to 100 members at this time. This was increased to 10,000 members in May 2022.
You can be a member of up to 3 clubs. This was increased to 10 Clubs in May 2022. That may mean you've created one Club, and joined nine others. It may mean you simply join ten Clubs (or less). But you can only be "attached" to 10 clubs at any given time.
Creating Your Club
Creating a Club is super simple, and can be done in under a minute via Zwift's Companion app on iOS or Android. Here are the minimum steps required to create a Club:
Tap "Clubs"
Tap "Create Club"
Enter your Club name
Tap "Next"
Click "Preview"
Click "Create My Club"
That's it!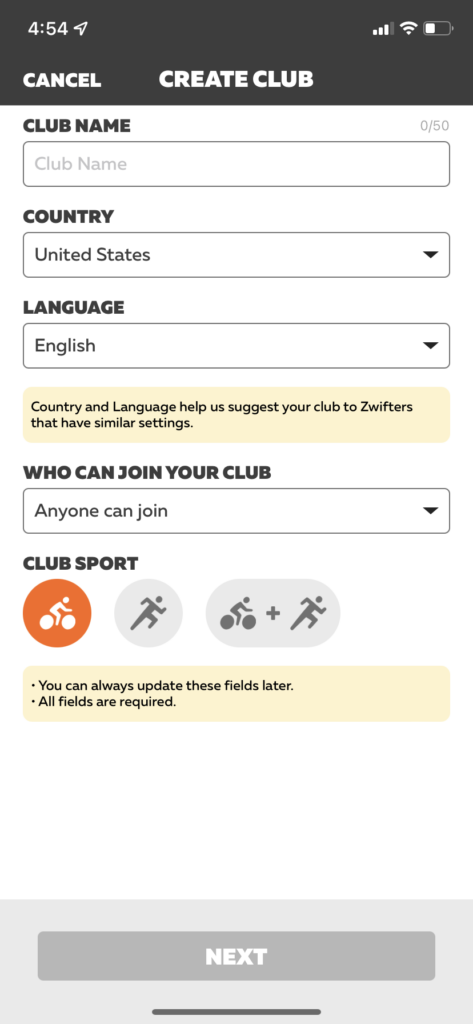 Here's a quick video walking you through the Club creation process:
Best Practices for Starting a Zwift Club
Mind Your Brand
Clubs will be created for a variety of reasons, of course. Some Zwift Clubs will belong to huge multinational corporations, while others will be created as a joke between friends. If your Club is created around an existing organization, or one you're wanting to start up, mind your branding.
Make sure the name is spelled and capitalized correctly. Select good colors. And use the other best practices outlined below.
Add "About" Info
Once your Club is created, you can edit it to add additional info not available in the initial setup process.
Tap the 3 dots menu at the top-right of your Club's homepage and click "Edit Club". You'll see a Tagline and About fields which you can fill in to add more info to your homepage. Does your Club have a website? Enter it in About (just "yourdomain.com" will do the trick) and members will have a clickable link.
You can also add an Announcement to the top of your homepage. Announcements are temporary messages will expire on a given date.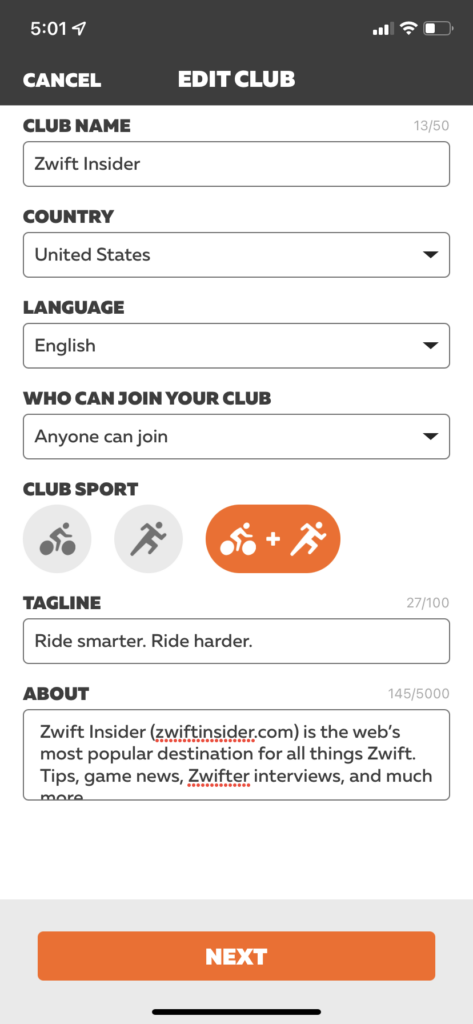 Create an Event
As already mentioned, the real power of Clubs is their ability to host events of any size, on any open Zwift route on any Zwift map.
Here's a post all about creating Club events, including best practices.
Zwift hosts hundreds of public events every day. Make yours special, and participation will follow!
Invite Members
If you're looking to create or empower a community using the Zwift Clubs tool, then you'll need people to join your Club. There are not yet any Club "discovery" tools available, so the only way anyone can join your Club is if you invite them to it.
Your Club can have up to 10,000 members. Zwift Companion only lets you directly invite members who are following you, but you can share your Club's join URL to anyone you'd like via other means (email, text, social media) and they can click to join.
From your Club's homepage, tap the 3 dots menu, click "Roster", then the add member icon at the top-right to search for followers to invite. But before you do that, consider this: why would someone want to join your Club?
Here's what Club membership gets you:
Access to Club homepage and all Club events
Access to members-only events
The ability to be designated as an event's leader or sweeper
The opportunity to be upgraded to Club Moderator status, so you can invite, kick, or ban Club members
The opportunity to be upgraded to Club Owner status, which gives you full control of the Club (including event creation)
Club Members can participate in the Club Chat as well – but that will have limited participation until Zwift updates the chat functionality to include things like notifications and private messaging.
Questions or Comments?
Have you created a Zwift Club yet? Still waiting to get access? Joined a Club? Share any Club-related questions or comments below.