When it comes to Zwift racing, the classic first-across-the-line scratch race is the most popular format by far. You'll also see many points races, where riders accumulate points at the finish line and on intermediate segments (think ZRL). And of course, there's the "race of truth", the time trial, which comes in individual and team formats.
Today I will unpack the chase race format, which is sort of a blend between a scratch race and a team time trial.
Chase Race Basics
In a chase race, riders are grouped by category, and category starts are staggered, with slower categories starting before faster categories. (This is why chase races are sometimes called "handicap races".)
For example, a chase race may have these category start times:
Category D – 12:00
Category C – 12:03
Category B – 12:05
Category A – 12:07
Start time gaps between categories are calculated by race organizers with the goal of giving faster categories a chance to catch the slower groups ahead near the end of the race, so multiple categories are together for the finish.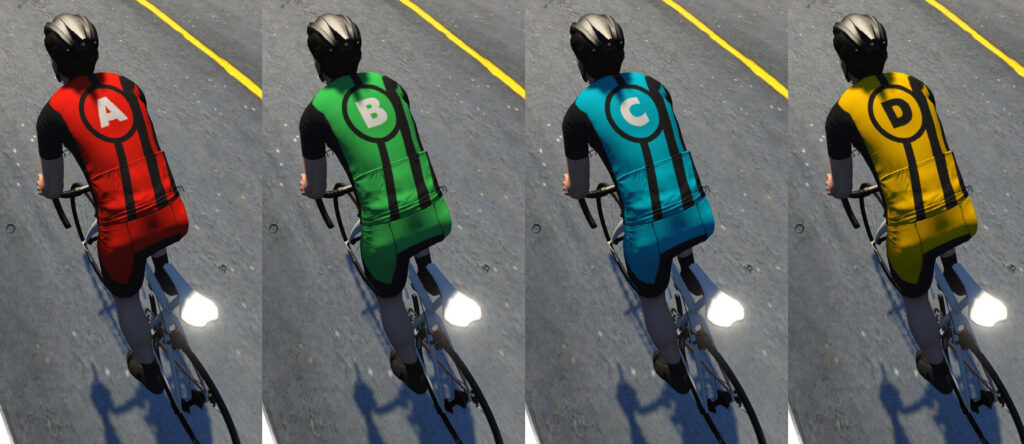 Typically held on flatter routes, chase races begin as team efforts. If your category's pack isn't working together to keep the speed high, they will be unable to catch the group up the road and may be caught by a chasing group from behind. But chase races always end as individual efforts as you sprint for the line against members of your category, and often members of others categories as well!
Chase Race Strategy
Note Pack Sizes
Pack size is a big determiner of pack speed on Zwift. While A riders are stronger than B riders, a pack of 60 B's will probably not get caught by a pack of 20 A's, because the B riders get more rest between hard pull efforts on the front.
The larger your category group, the less discipline is required to keep pack speed high. In fact, you may be able to sit in the draft for all or most of the race! Conversely, smaller groups must be more organized in rotating hard pulls to succeed.
Work Together
When the race begins, your default mode should be to work with the other riders in your category to keep your pack speed high. It will take at least several minutes to figure out how quickly you're catching groups ahead and being caught by groups behind. Best to get organized quickly!
Know/Watch Time Gaps
Know the gaps between groups at the start, then watch those gaps change during the race. Time gap knowledge is vital if you want to race smart, as illustrated in these three examples:
You're a B rider 10km into a 40km race. The C group began 3 minutes before you, and that gap is now down to 90 seconds. Clearly you'll easily catch the C group well before the finish, so you can ease up your group pace.
You're an A rider 20km into a 40km race. The B group began 2 minutes before you, and that gap is now down to 1 minute. Your pace is spot on.
You're an D rider 30km into a 40km race. The C group began 4 minutes after you, and that gap is now down to 30 seconds. Your group is going to get caught by the C's well before the finish, so you need to decide if you want to up the pace and bring other D's with you, or just ease and wait for the C's.
The examples above are oversimplified, of course, because you can't always make decisions based on gaps to just one group. You may be a B rider easily catching the C group, but the A's are also catching you, so you shouldn't ease up!
How do you see/calculate gaps between groups? This data isn't available easily in game, but it can be found using different tools and methods. Here are four:
ZwiftPower's Live view is a good tool for tracking group time gaps, if you have another browser screen available. (Just navigate to your chase race event on ZwiftPower, then click the "Live" link.)
Sauce 4 Zwift's groups feature is an excellent tool for tracking time gaps between groups.
The minimap at the top-right is actually a handy tool for calculating group gaps. Click the map to zoom out, then note your ride time when main category groups pass a particular spot on the course. Compare that time to your time, and you can calculate gaps easily.
Lastly, you can often determine gaps in game by riding to the front of your pack and noting the gap to the next category rider ahead, or dropping to the back and noting the next category behind. This approach is far from perfect, though, since you can't always see riders in the main category group.
Predict and Respond
As you begin to track time gaps and note how strong you're feeling on this particular day, you'll want to start predicting how the race is going to unfold, so you can respond appropriately to maximize your individual result. A few examples:
You're in the C group, the largest group in the race, and it looks like you'll be catching the D's and staying away from the B and A riders behind as well. If you're a sprinter, you should sit in the draft and wait for the final effort.
You're in a smaller A group, and as you get close to the end of the race it's clear you won't be catching any of the categories up the road. You can treat the rest of the race like a standard scratch race, attacking if you feel strong or perhaps sitting in and waiting for that final sprint.
You're in the B group, and it's clear the A's behind will catch you several kilometers from the finish. Don't kill yourself on the front of the B's. Rest so you're ready to go hard and grab wheels when the A's ride through!
Got caught? Survival mode!
If your group gets caught by a faster category from behind, there's no need for your category to keep working as a team. In fact, it's impossible to do so! When that faster category catches you it becomes every man (or woman) for themselves, as you're just trying to hang onto the wheels of the faster category.
Gaps Close Fast At the End
One key thing to know is gaps tend to close quickly near the end of the race. This is probably due to two factors:
Lower-category riders on a whole have less endurance and poorer pacing than higher-category riders, so their pace will fall off near the end of the race while the higher category riders have more to give.
Categories behind may be coming together and forming bigger, faster-moving packs. That is, near the end of the race the solo D group may be chased by a combined pack of the fastest A, B, and C riders.
It's hard to predict just how much faster gaps close near the end of the race, so just keep in mind that you may not be as safe as you think.
How Chase Races Get Broken
Because of how Zwift (and humans) work, it's easy for specific chase races to be "broken". Here are a few ways that happens:
Sandbaggers: overpowered riders are a big problem, especially if a race doesn't use category enforcement. Race organizers compute time gaps based on realistic category pacing, but if an overpowered rider joins and puts in big pulls on the front, a category will go faster than it should, breaking the structure of the race.
Bad group gaps: calculating group start time gaps is no easy task. Organizers need to predict group speeds which are a factor of pack size, route length, and the hilliness of the route. Sometimes they get it wrong, and sometimes it's off by just a bit, because Zwift doesn't let you set start times that include fractions of minutes.
Unexpected big differences between pack sizes: typically the C or B packs are the largest, and race organizers account for this in their time gaps. But if a category is unexpectedly larger or smaller, the gaps may not work well.
Nobody willing to work: this is just human nature. Many Zwift racers get used to sitting in the draft, but if everyone does that in a chase race your category will never get to the front before the finish! Sometimes it helps to have a group DS who encourages people to take pulls, calls out time gaps, etc.
Chase Race Improvements
I've got two ideas for improvements Zwift could make to boost the chase race experience:
Dynamic start times: the game could automatically calculate precise start times for each category based on the number of signups and the chosen course. If everyone knew that each category stood a good chance of making to the finish first, everyone would work harder.
More precise start times: instead of (or in addition to) the above idea, let race organizers set group gaps in increments of seconds instead of minutes.
Visible time gaps: show gaps in the rider list to categories ahead and behind.
Finding Chase Races
Chase races aren't easy to find on the calendar, as they don't consistently use the "chaserace" tag. Here's a ZwiftHacks list of the next 7 days worth of events which contain "chase" or "handicap" in their title. (Most of the events on the list are chase races, although a few are group rides.)
Some of the most popular chase races:
Rhino Crash Chase Race
DIRT Dadurday Chase Race
Cat & Mouse KZR Chase Race
WattFabrik CE Chase Race
Questions or Comments?
Got other chase race strategy tips, or ideas for improvements? Post below!