In terms of cycling brands, they don't get much bigger, historic, or well-respected than Castelli.
For those who are not familiar, Castelli is a premium cycling clothing manufacturer based in Italy with roots dating back to an Italian tailor, Vittore Gianni, in Milan, 1876.  In 1935 Armando Castelli joined Gianni's staff and 4 years later purchased the company and continued to service high-profile cycling clients such as Gino Bartali and Fausto Coppi (2x Tour de France winner and 5x Giro d'Italia winner).

It was some 30 years later when the Castelli scorpion logo was introduced. This was around the time of the first aerodynamic Lycra shorts used in racing. They would eventually be sold to the public.
The modern jersey with printed logos was pioneered by Castelli along with windproof jerseys which were first worn by Bernard Hinault, 5x winner of the Tour de France. 
Castelli has been integral to the development of cycling clothing and offer a premium product. Given their impact on cycling, it's no surprise that Castelli are active on Zwift.
Castelli and Zwift
Like their cycling apparel, Castelli has evolved over the last several years on Zwift and now offer 3 weekly group rides, with 4 different formats to keep them interesting and fresh, all under the "Roll with Castelli" name.  Each ride has a different Castelli jersey to unlock including AERO RACE 4.1, CLIMBER'S 2.0, and INFERNO BIBS.

See upcoming "Roll with Castelli" rides >
These are well-organised group rides and these events have attracted some of cycling's major powerbrokers such Eric Min (CEO, Zwift), Charlie Issendorf (Head of Racing, Zwift), Sir David Brailsford and Tim Kerrison (INEOS Grenadiers), along with Fausto Pinarello.  It is worth mentioning that as a result of Castelli being the official clothing sponsor for the INEOS Grenadier Pro Cycling team that many of the team's riders have also attended the events along with various pro triathletes. Jason Osborne the eSports World Champ has also shown up, as he is sponsored by Castelli.  They attended because the events are well-organised, have good participation, and the changing routes and formats means they offer something for everyone.
One ride is designed specifically as a Women's-only event and is hosted on Monday evenings at a time to cater to those based in the US.
Other rides include a Tuesday evening ride for those based in Europe along with a Thursday evening ride to cater for those in the Southern Hemisphere.  The Thursday ride also doubles up for an excellent lunchtime ride for people in Europe.
The alternating formats keep the event fresh: there is a climbing event, a chase event, an 'After Party' ride along with the most prestigious, the 'Epic.'
The 'Epic' ride happens once a month and provides riders the opportunity to win a prize from Castelli – we are not talking about some water bottles, but a premium item of Castelli clothing. This month, the prize was a pair of Castelli Cycling Premio Black bib shorts which retail at €229,95.
To win, the Ride Leader takes a photograph during the 'Epic ride' and the one closest to the beacon wins the item. Miguel Mendez from Spain was the winner of June's "Roll with Castelli" prize and was announced on Catelli's Strava Club site, which riders are welcome to join.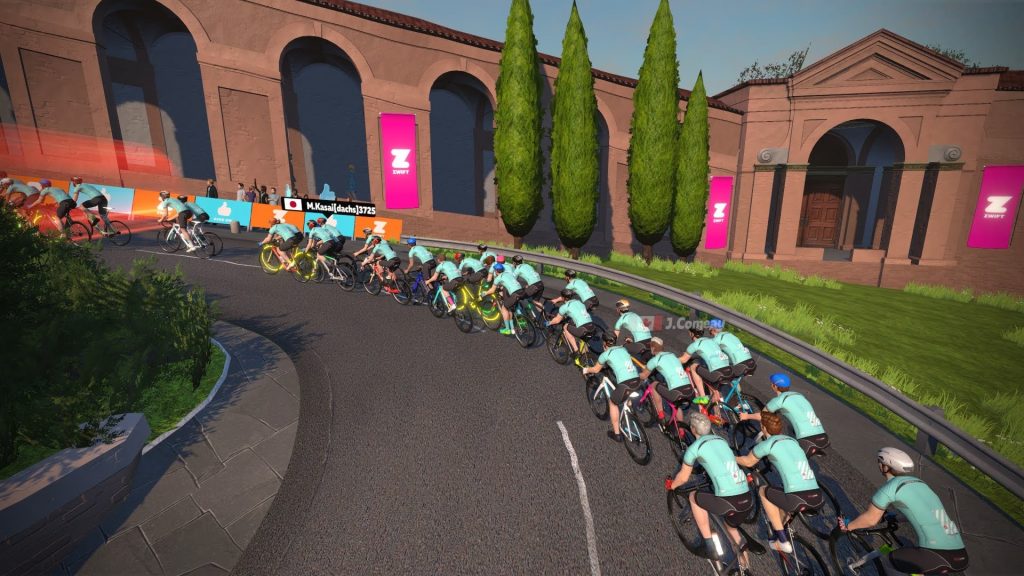 The Premio Black bib shorts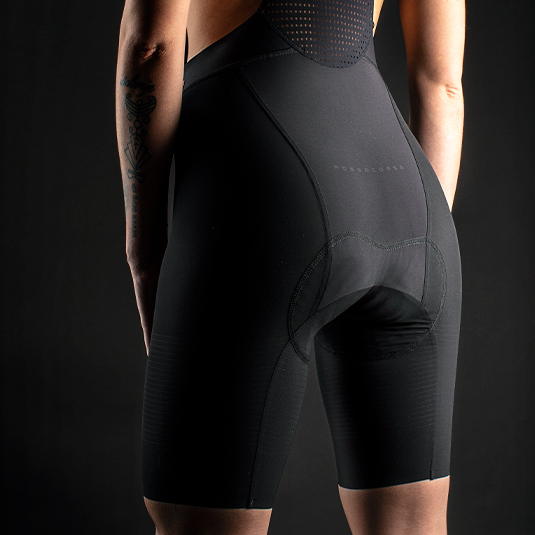 Given the number of hours we spend on Zwift and thus in the saddle, it's certainly worth investing in some quality cycling shorts.  In my recent VEveresting Challenge I completed the challenge using 2 pairs of Castelli's shorts. 13 hours in the saddle and no issues, and this was without the Premio Black bib shorts, which is worth highlighting. Had I had those, I am sure I would have been even more comfortable!
The bib shorts have been re-engineered by Castelli, who have reduced the number of panels, seams and inserts to a minimum by incorporating components into a single engineered fabric that supports the body like a second skin. The 3 panels that make up the shorts replace up to 10 components in traditional shorts. As you would expect from Castelli, there is version specific for women too, ensuring everyone is catered for.
One of the important parts of the design is the Progetto X2 Air Seamless Seat pad. It is the softest and stretchiest layer Castelli has made and is designed to move with your skin and avoid abrasions. Beneath that layer is a completely separate component that Castelli calls the Cushioning Layer. It's in the shape of a saddle and provides progressive cushioning. In addition, there is soft foam for immediate comfort, with a medium-density foam for support and 3 mm gel pads under the sit bones and perineum. With all that padding, it's like sitting on a sofa.
Other key features of the new shorts include:
Gradient stretch woven fabric for the right support in the right place
Woven fabric weighs 30% less than comparable knit fabric
Perforated back bib panel with lie flat bib straps that don't bind at shoulders
Integrated gripper elastic at leg ending holds short in place without need for extra silicone grippers
Laser-etched logos with RossoCorsa at centre back and black scorpion shadow logos at lower legs
Progetto X2 Air Seamless seat pad
Weight:156g
In summary, if you are going to spend hours in the saddle, this a premium product that will make the experience more comfortable.
Origins of the "Roll with Castelli" Rides
Like the origins of Castelli, the origins of their ride make for some fascinating reading and dates as far back as 2015 and starts with Rich Lovelock.
In 2015 there were not many group rides on Zwift and Rich used it as a way to connect with his fellow cyclists from his local club, during the eternal wet and cold British winters. He put together simple training plans which attracted people to his structured workouts which averaged 100-200 riders a week. 
In 2017, to tie in with the release of the Volcano routes in Zwift, Rich evolved his group rides and called them 'AVC Inferno'.  The sessions were innovative! Having a degree in Sports Science, Rich was able to able structure the sessions in a way that previously hadn't been done on Zwift.  The session intensity would increase with each lap of the Volcano Circuit.  The fundamental concept underpinning the event was "simplicity" – the idea was to keep the event simple, so people could connect with it and regular return for training.  To accommodate all abilities, there were 3 different levels: 'Mild', 'Hot' and 'Scorcher.'  These were operating between 6-8 times a week and were led by Rich. 
Rich's event caught the attention of Zwift, and he was invited to be involved in the Zwift Academy and led rides for 3 consecutive years from 2017 through to 2019. 
Late in 2017 Castelli and Rich connected, and using his experience of creating and leading group rides, on the 8th January 2018 the first Castelli ride was led by Rich, attracting 340 riders. It was called the 'Rosso Corsa Ride' after Castelli's premium product line.  In March 2020 with the global pandemic, the ride was rebranded to 'Ride It Out' before its name changed again in June 2020 to 'Roll with Castelli'.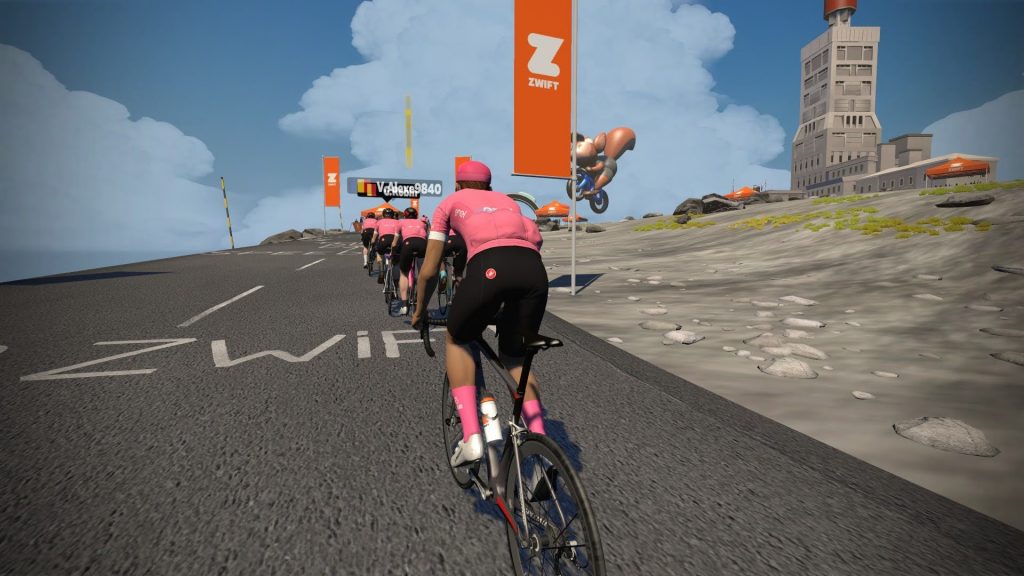 To support the expanding event and like any true cycling team, Rich realised the importance of having a strong and diverse group of riders. So he filled his roster with quality Ride Leaders from across the globe!  The roster includes Alvin Nordell (Colorado, US), Lars Blesvik (Oslo, Norway), Jesus Velasco (Andalucía, Spain), David Johnson (Tokyo, Japan), and their newest member, Jason Fuller (Tuscany, Italy).  To round out the roster and to support the new 'Roll with Castelli – Women' ride, a specific US-focused team was created and consists of Carmen Thomas, Christine Meyer, Johanna Schwartz, and Inga Beck. 
As a reward for the dedication Rich showed to the Castelli family, he was awarded with an Ambassadorial role.  Rich told me, "It is a privilege to be a Castelli Brand Ambassador, Castelli is an innovative and inclusive company that despite being a global organisation, still maintains that 'family feel' in part because everyone is passionate and works to add value and produce quality products, like it has always done."   
On that notion of innovation, in true Castelli style, Rich is exploring returning to his roots of hosting workouts and even a Race Series, all under the supportive umbrella of the Castelli brand.  All I can say is if they are half as good as the group rides, then the Zwift community is in for a real treat. I am already looking forward to lining up on the start line to review the event.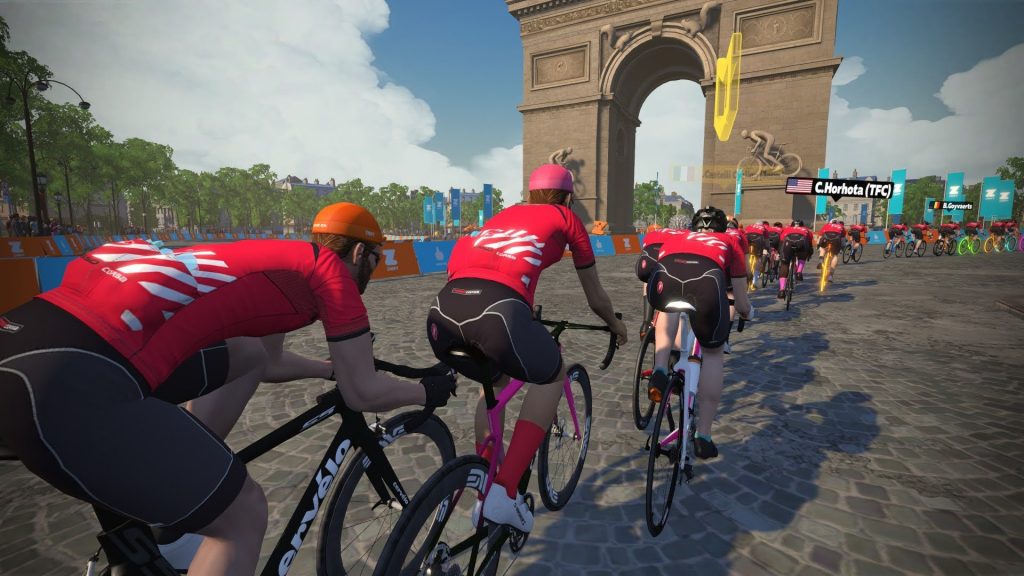 IRL
I have already mentioned that Castelli have their own Strava club, which is called 'Castelli Squadra Corse'. What isn't widely known is that Castelli is a main partner in a major Italian Fondo called the Maratona dles Dolomites  Enel. 
The Maratona is a road-bike marathon in the Dolomites with start and finish in Alta Badia. The first Maratona dles Dolomites event took place in 1987 and has grown in stature, year on year.
There are 3 possible routes. Participants are free to select the route best suited to their ability, also during the course of the event, entirely according to their own judgement. This is something certainly to plan for and the courses are as follows:
Maratona course
Length: 138 km
Altitude gain: 4230 m
Middle course
Length: 106 km
Altitude gain: 3130 m
Sellaronda course
Length: 55 km
Altitude gain: 1780 m
Summing up
It is clear that Castelli's innovative approach and attention to quality is not limited to the apparel they produce.  Their involvement with Rich has led to quality group rides being hosted on Zwift, which are incentivised by the chance to win some of their premium products.  This coupled with Castelli's involvement on Strava and in the Gran Fondos helps make it clear that they are integral part of the fabric of the cycling community.