This is a bit of a long article, but in my defence, I do have 254km and over 13 hours of cycling drama to report on during my vEveresting attempt. This turned out to be my longest day ever in the saddle.
VEveresting – What's it all about?
Virtual Everesting or VEversting is where you climb the equivalent of Mount Everest, which is 8848 meters, in one go! To climb 8848 meters is a big task, so much so that Zwift has a dedicated reward if that goal is achieved. To climb it in one go could be argued to be the definition of insanity. However, here I waited, with members of the 3R Academy, who were equally as insane as I was, as the clock counted down to the start of my longest day on the bike. My motivation was the desire to raise money for the World Bicycle Relief Charity, whose goal is to provide a specially designed bicycle to developing countries.
The journey of getting to this point was not your typical one. I will be honest and state that when the vEveresting craze started, it was something that did not really appeal to me. However, in March I was contacted by George Parker-Fuller. He had created the 3R VEveresting Academy and I was invited to ride with the group to report on it for Zwift Insider. George had organised a 3-month training programme consisting of group rides where people would train together with the end goal being the undertaking of a mass vEveresting Challenge on 29th May compromised of 8.5 laps of the Alpe Du Zwift. The objective was to raise money for charity. It was a novel concept and one that appealed to me, so I was keen to attend their first training session.
The first training session was good fun and I sporadically attended additional training rides, before realising that these rides were becoming the highlight of my week. What made this training fun was their camaraderie and relaxed nature. The training was structured but not high-pressure.
About 6 weeks before the main event, I contacted George and signed up. There was no going back, I was all in.
Prior to the start of the event, I had been methodical in my preparation. I had paid close attention to my equipment and nutrition. The bike had been cleaned and a full inspection undertaken, I did not want a repeat of what happened when my gear cable snapped and I had to race a race a Gran Fondo with only two gears. In terms of nutrition, I had a blend of different drinks to keep me hydrated, snack bars, as well as a big bowl of risotto, which I could dip into between ascents, to keep me fuelled. Everything had been carefully planned, including the charging of all my tech, such as Bluetooth headphones, iPods, speakers, and new batteries added to the heart rate monitor. Finally, I left for bed, leaving the iPad to charge overnight.
The Epic Day Begins
The day of reckoning arrived and I was awake early with nerves. After a large breakfast of two helpings of porridge and weighing in, I went to log onto Zwift to update my details. I noticed I had an issue, the first of the day! The iPad that I had put to charge the night before, had not actually charged and was sitting at 43%! The charging wire was not fully inserted. I could not believe it! So, I frantically pushed the wire and hoped that in the hour that I had before the start, the iPad would have enough power to last the day.
This did not do much for my nerves. Still, nothing I could do now, so I logged into Zwift, updated my weight, and took the various screenshots to prove that I had configured the system properly, which is a requirement when submitting to get inducted into the Hells 500, who are the founders and custodians of the Everesting Challenge.
The Start – Lap 1
By the time I lined up at the start, I was not in a good space, mentally speaking. The battery had only charged to 63%. In the hour before the start, I had researched and learned that despite the iPad being connected to the power source, due to graphic usage, the iPad's battery will drain. The question I had was "by how much?"
As we headed off towards the mountain, instead of focussing on my own watts, I was transfixed with the watts of the iPad. Within the first 12 minutes I had dropped 1%, so as I started by first ascent up the Alpe, I was doing mental arithmetic. 12 minutes meant that within an hour, the battery would have drained 5%. This means that within 10 hours, it would be down to 13% and considering I was budgeting on completing this in around 12 hours, I would be down to my last 1%.
To say I was flustered was an understatement. I was facing the reality that my challenge could be over before it began! I gave a shout out to the group for advice and was told to turn the screen brightness down. Despite doing this, 10 minutes later, the battery was down to 61%. I searched on Google whilst pedalling, frantically searching how to extend battery life. The first tip was adjusting the screen brightness, which I had already done, but then the other tips were to turn the app auto-update and location services off. This I did and would see how I got on.
Fortunately, that seemed to stem the power bleed and by the first hour I was at 60% battery life.
As a result of all this hopping on and off the bike, I had long since lost the connection with the group. I could not quite work out if they were ahead of me or behind me and I didn't have the focus to try and work it out. Effectively, my plan for the entire event, which was to ride with the group, had exploded within the first few turns of the mountain. I already knew I was in for a long day, but I figured the day just got longer!
As if my battery issues were not enough, I started experiencing 'tire slip'. As I would pedal, the resistance from the trainer would slip away and then come back. The closest thing I have experienced is when mountain biking and you go from a hard terrain to a soft, sandy one. It was impossible to get any rhythm. I couldn't figure out the cause of the issue, but I had experienced something similar many months ago, whilst cycling in my Monday Mountain Massif TT event.
The first lap was a blur of tech issues, and feeling more like an IT Technician than cyclist, I crested the first ascent in 71:14. I let the avatar descend and I went to replenish my drink supplies, hoping that the 'tire slip' issue would fix itself.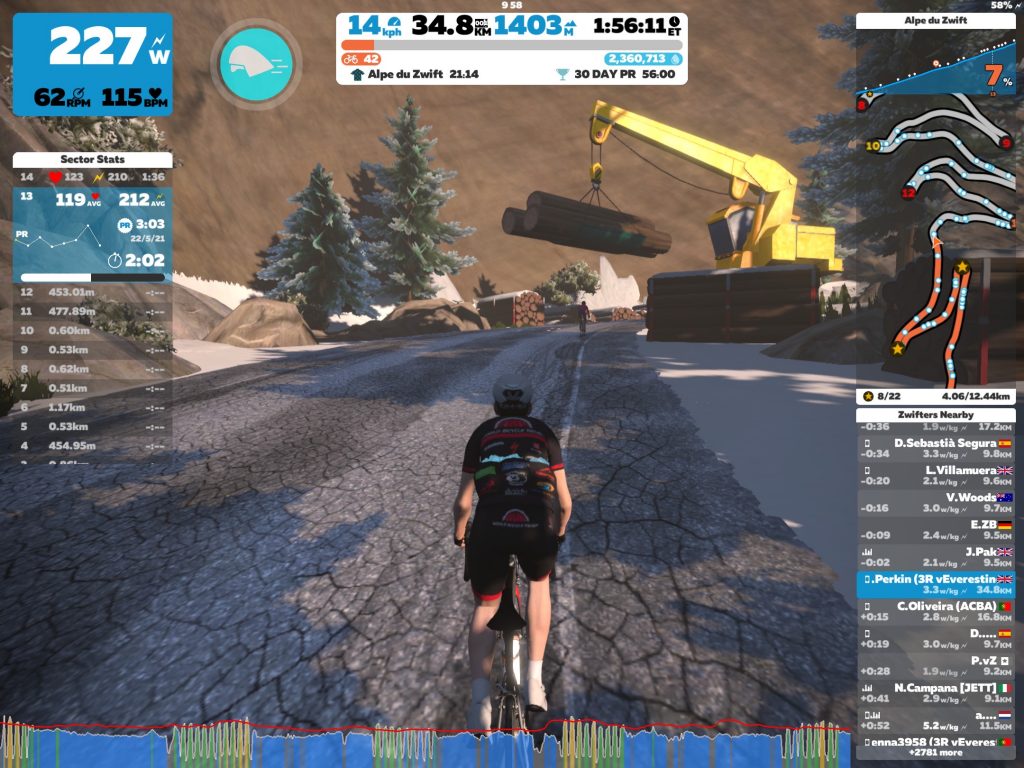 Lap 2
The second lap was marginally better than the first, with my focus remaining on the battery. By the end of the second hour, it was at 58%. However, the 'tire slip' issue remained to a lesser extent. I would cycle without issue for several minutes before it would return for a short period, disrupting my rhythm, before magically fixing itself, only for this to repeat itself. It was hideous. At one point, I got off the trainer and tried re-pairing the Bluetooth connection, but without success. This was a major task in itself as with screen brightness turned right down, a lot of "pressing and guessing" was being done.
Despite this ongoing issue, I ascended in 65:47 and once again got off the bike to get fresh drinks.
It is worth noting that despite these issues, I had made a point of continuing to drink. Switching between sports drink and water. During the descent, I went and weighed myself, which helped me keep track of my level of hydration. During this rep I also consumed a snack. I had 5 energy bars that was to last the day, as well as some sweets for an instant sugar hit, this was to top up the risotto that I would eat. During this rep, I consumed half an energy bar, conscious of not wanting to overeat and feel sick.
Lap 3
The 'tire slip' continued but I battled through and somehow reached the top in 58:16, at the time the 13th fastest on the Alpe for the day. I realised I had perhaps pushed it too hard, but this was in part due to the frustration that I could not contain.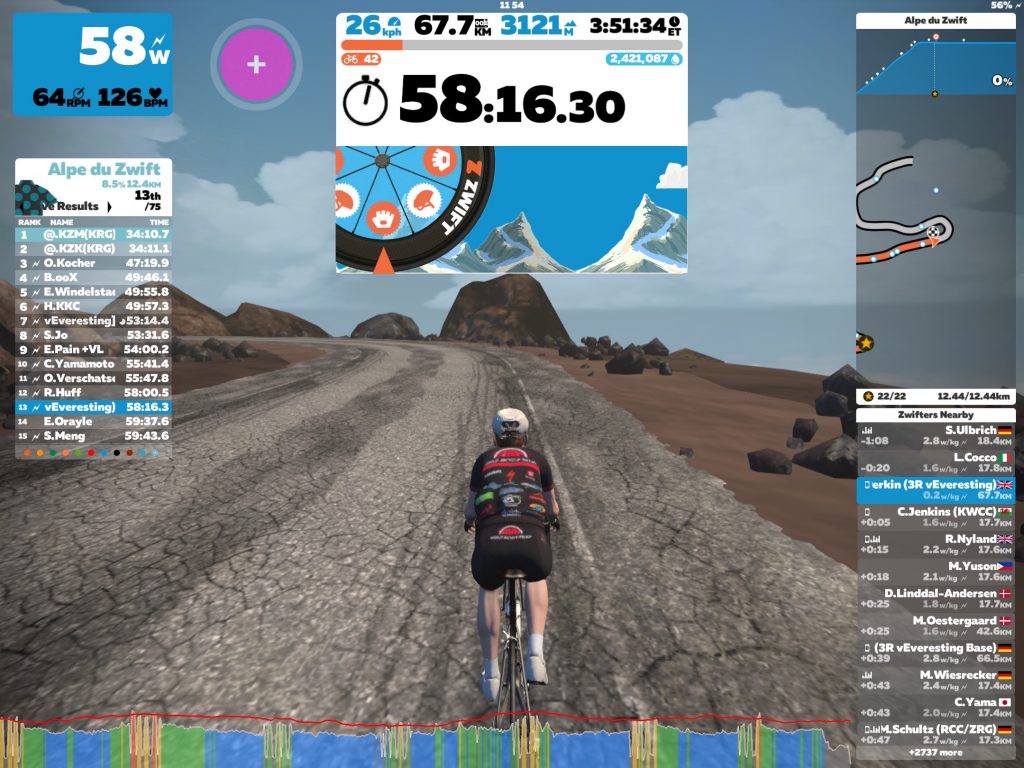 The original plan that I was going to follow, had me stopping at this point and having a break. The idea was to have lunch and change my clothes but now 4 hours into the challenge and at 56% battery, I was focussed on getting to Base Camp and there was no time for a break or a change of clothes.
Lap 4
I pushed on the pedals to start my 4th ascent. Nothing happened. There was no power generated by my avatar. Nothing happened. I was desperate to get going because ahead of me, on turn 18, was Zwift Insider's Luciano. Luciano's articles always make me laugh, so was keen to catch up to him and spend the next hour chatting. I desperately tried to bring some life back into my avatar by 're-pairing' the trainer but it wasn't connecting. Somehow, on the descent, the inactivity had caused it to disconnect.
In frustration, I pulled the power lead out of the trainer, plugged it back in and miraculously the trainer reconnected. I turned all fans off, the air conditioning unit, my Garmin 1030 that I was using for dual recording. I was paranoid that maybe something was interfering and causing the issue. I hopped on the bike and chased after Luciano, who was patiently waiting.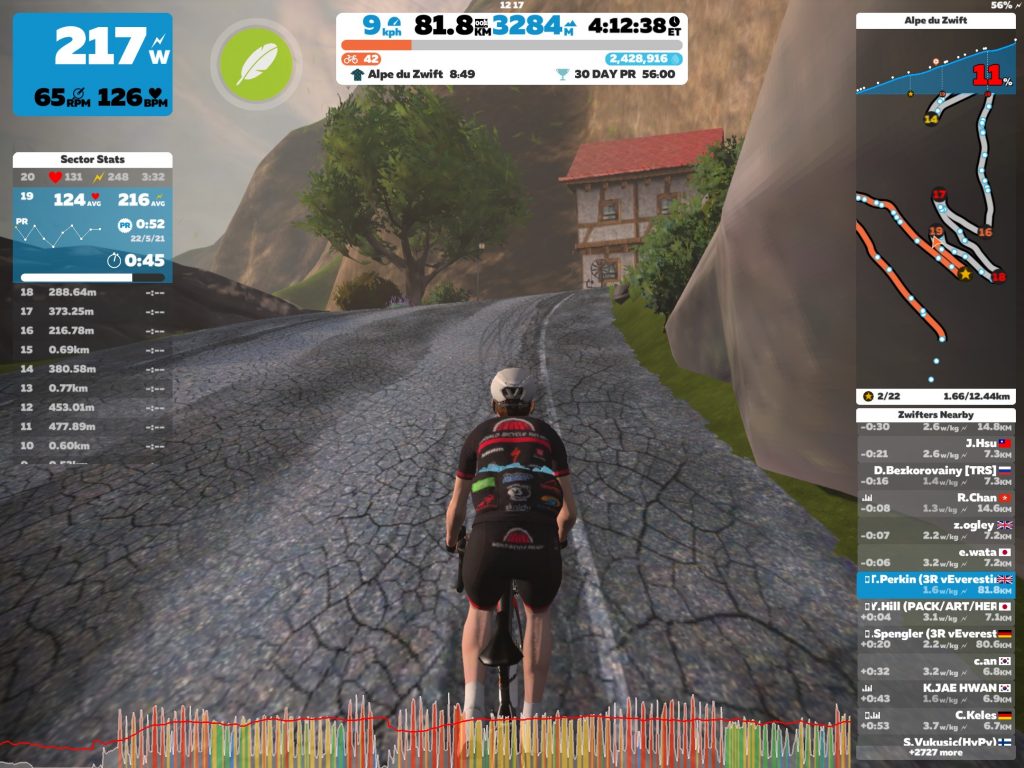 The issues I had experienced before were now magnified and as I raced after Luciano, my power graph looked like the teeth of a sawblade, and with this technical issue my "Pain Cave" turned into more like a "Torture Dungeon."
I caught Luciano and was absolutely red with rage. At this point, I'd had 4 hours of issues to contend with and was consumed by the feeling that this vEveresting attempt was doomed. At this stage, my goal was just to get to Base Camp and I was ready to throw the turbo trainer out the window because it felt like I'd suffered more technical issues than NASA.
There is a famous scene in cycling where during the 2003 Tour de France, Lance Armstrong is climbing a mountain and he gets his handlebar caught in a child's bag. He falls off his bike and jumps back on but he is rightly flustered, his momentum lost. Why I remember the incident is because Lance had a teammate present, José Luis "Chechu" Rubiera alongside him. What is often overlooked during that incident is that it is Chechu who paces Lance back into the group that he was dropped from and it was Chechu that helped Lance regain his composure. Luciano was to be my Chechu.
Luciano could see I was having massive trouble as my power was fluctuating as I battled my trainer and so very calmly we troubleshot the problem. This is what we did:
Unplugged the trainer.
Repositioned a fan by the trainer to cool it.
Waited several minutes.
Re-plugged in the trainer.
Reconnected the trainer to Zwift.
Bingo! It worked. As if by magic, the power issues had disappeared. There was no 'tire slip' and with that we shot off up the mountain. I stayed glued to the wheel of Luciano, who kept a strong pace, and we reached the top in a time of 61:25, my second fastest. In retrospect, I think the fast time was due to the adrenalin because of the roadside fix.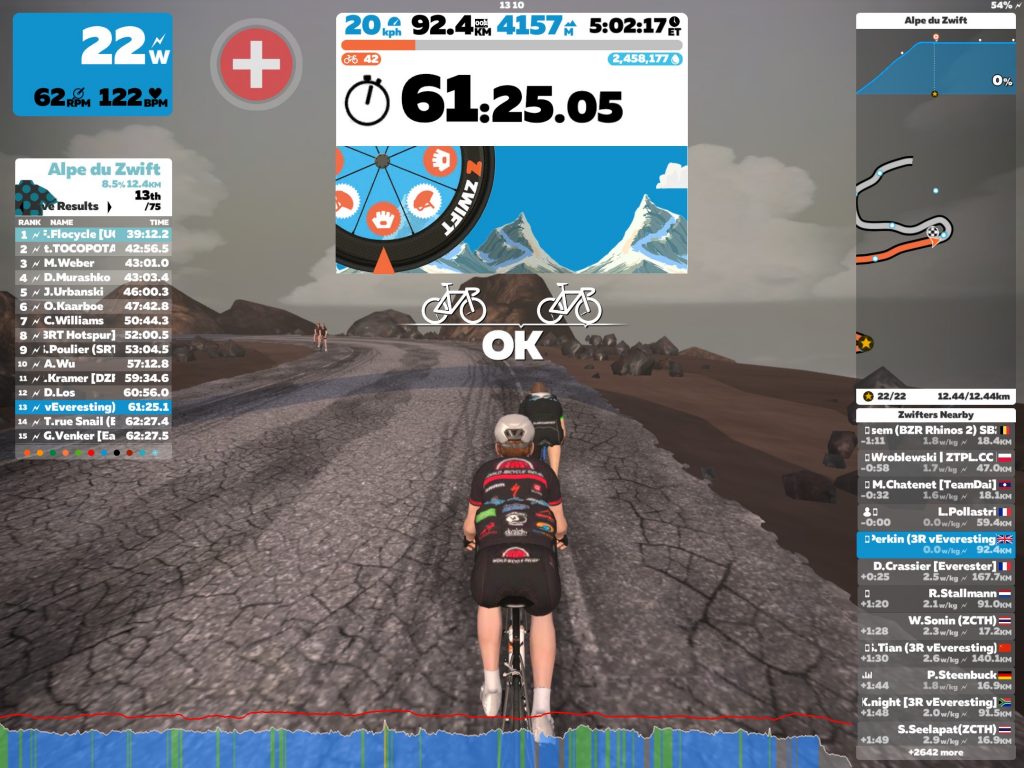 It had been an eventful 5 hours and I was not even halfway.
Lap 5
Luciano had left me at the end of Lap 4, but he had helped me through the worst moment of the day. Feeling energised by having a working trainer, I pressed on. I was finally able to cycle unhindered and at a tempo that suited. This was what I had signed up for.
During the stress of the lap previous, I explained to Luciano that because people had sponsored me for doing the event, I felt this additional pressure to complete the challenge, or at least reach my first target – Base Camp.
As I reached Base Camp, I felt a huge sense of relief. First target achieved. At this point, I decided that once I completed the 5th lap, I would stop for the risotto that I had been very much looking forward to.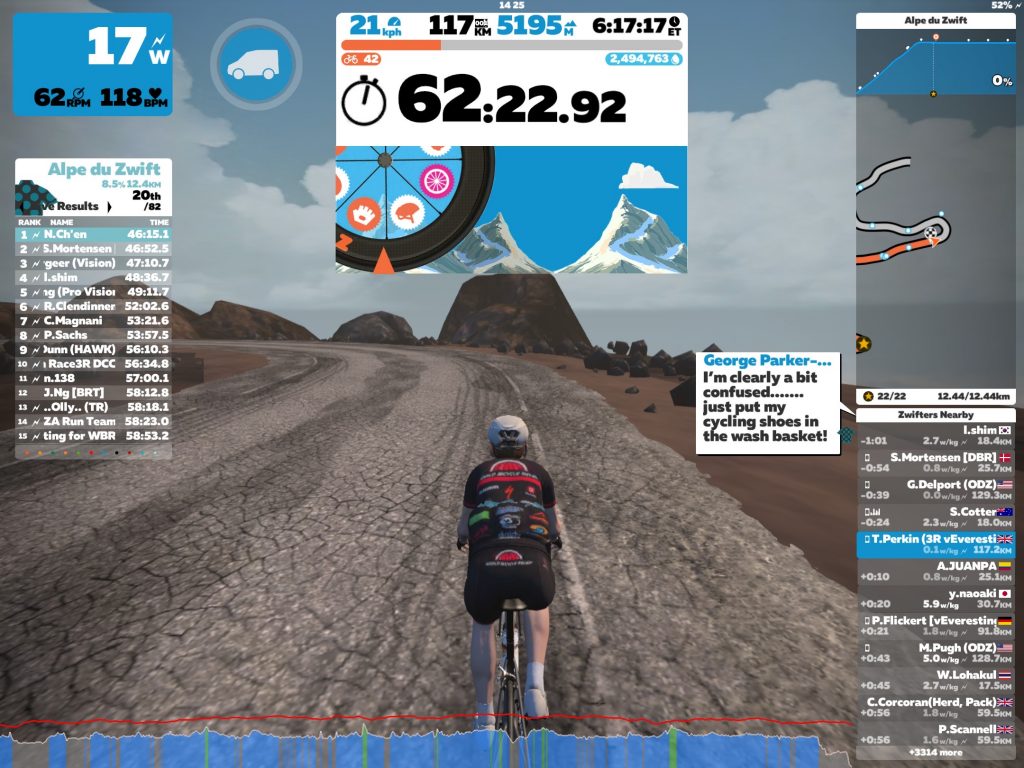 Lap 5 completed in 62:22. iPad battery now at 52%, including my own energy levels!
Sadly, with my own issues that I had experienced, I had not kept in contact with the group or kept track of their progress, I did catch a message just as I finished the lap from George, the organiser of the event and it read "I'm clearly a bit confused… just put my cycling shoes in the wash basket!" I certainly could relate that that.
Lap 6
With a hot meal and a working trainer, lap 6 was ironically the best so far. I was feeling settled and climbing at a little over 3 w/kg and with the Giro d'Italia for company, I was feeling inspired (dare I say it), having fun for the first time of the day.
At this point, I was able to check-in with the group, and it became clear that up and down the Alpe, we were all dealing with different dramas of varying kinds. George was suffering from an injury to his toe, another rider, JG had his session interrupted by his cat, causing his ride to be terminated and having to restart the challenge (fortunately, Hells 500 accepted his two-part ride).
Towards the end of the lap, literally 1 turn from the end, I was joined by fellow 3R rider Ted.
Ted had logged on to support the team and had opted to ride with me. I was grateful for the company. Ted is a brilliant rider and so consistent. Every team needs a rider like Ted and I was delighted when he joined the ranks of my team for the Zwift Racing League. More so when he said he could pace me up for a lap, so it was on to lap 7, after knocking out lap 6 in 65:58.
With the battery at 50%, I was beginning to believe that I may succeed in the challenge.
Lap 7
When I watch cycling on the television, I am fascinated when the riders enter the mountains and you have these trains of teams, all pulling one rider up the mountain. Well, for an entire lap I experienced this, but my team consisted of just Ted. But Ted was superb and all I needed.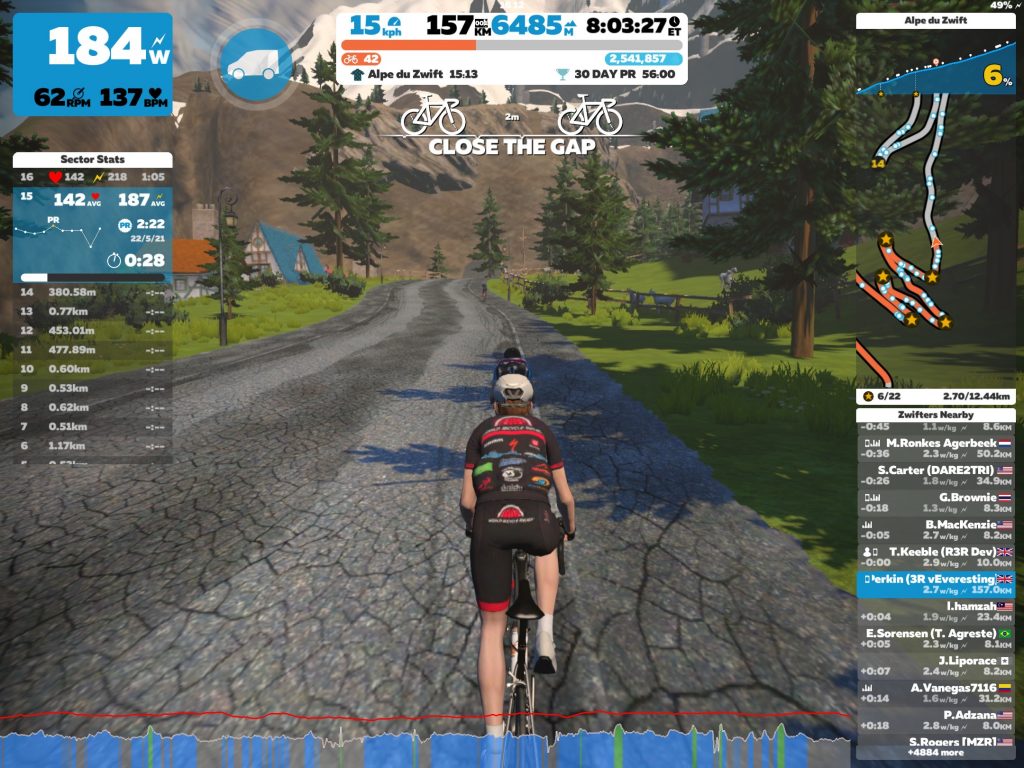 At the start of the lap, he asked me what pace I wanted, to which my reply was around 3-3.3 w/kg and I literally just sat on Ted's wheel as he paced me up, never really deviating from the tempo except when there were slight variations in gradient. This and the time with Luciano (post trainer issues) was the best of the day without doubt. Ted set the tempo and I just rode. It was perfect. After 8 hours cycling, it was all I could do to sit on his wheel. Sadly, for Ted, I didn't have the energy to engage in much conversation. I just focussed on his wheel and pedalled, and we turned out another very consistent lap of 65:34. The calmness of the lap was most welcome.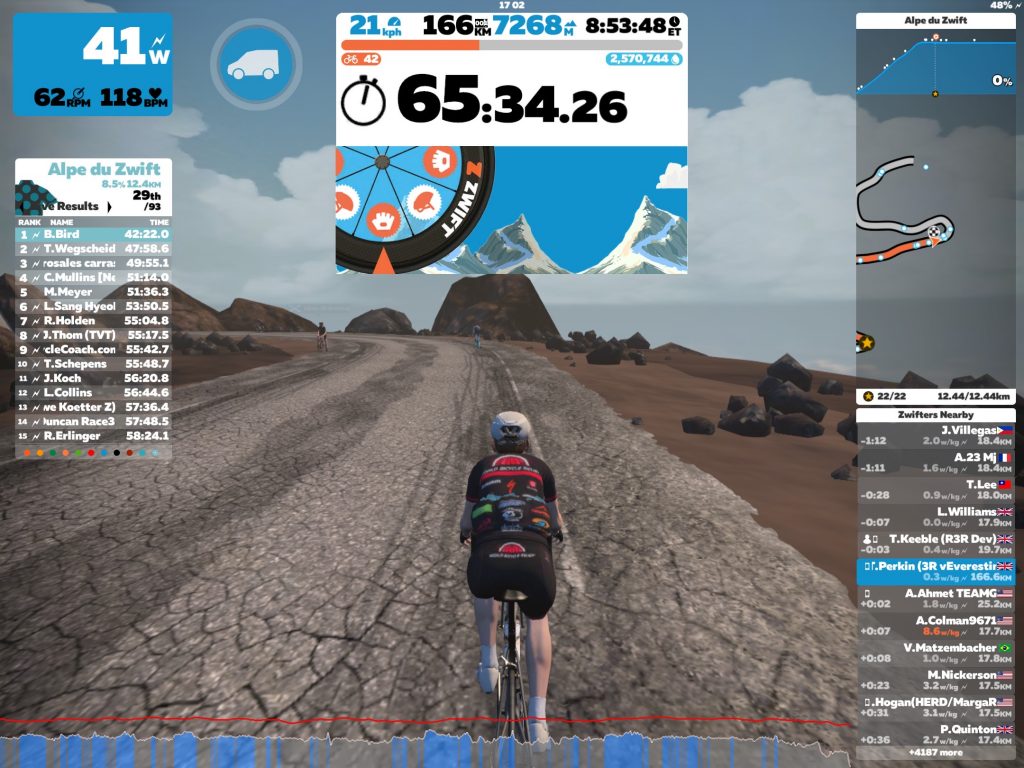 Lap 8
Ted was unable to join me for Lap 8, but I felt the excitement that the end was near. However, I was soon to be visited by another technical gremlin!
As I got back on the bike to start the last lap, the trainer had once against lost connection. "Here we go again!" Fortunately, I went into the pairing screen and reconnected the trainer. I decided for the descent of the 8th lap, it was safer to sit on and spin the legs, keeping the trainer active and thus mitigating any potential connection issues.
This ride was certainly an emotional rollercoaster.
To keep motivated and with the Giro d'Italia long since finished, I switched to music to help pace me. Despite being way over 20 years old, I find there is nothing better than the Propellerheads to help you keep motivated, so I turned up the volume on my mobile device. I didn't have the courage to connect to my Bluetooth external speaker, fearing the Bluetooth connection may interfere with the trainer. (I am sure it wouldn't but I wasn't prepared to chance it.)
The Propellerheads album Decksandrumsandrockandroll quite literally propelled me up the climb, topping out at 63:49.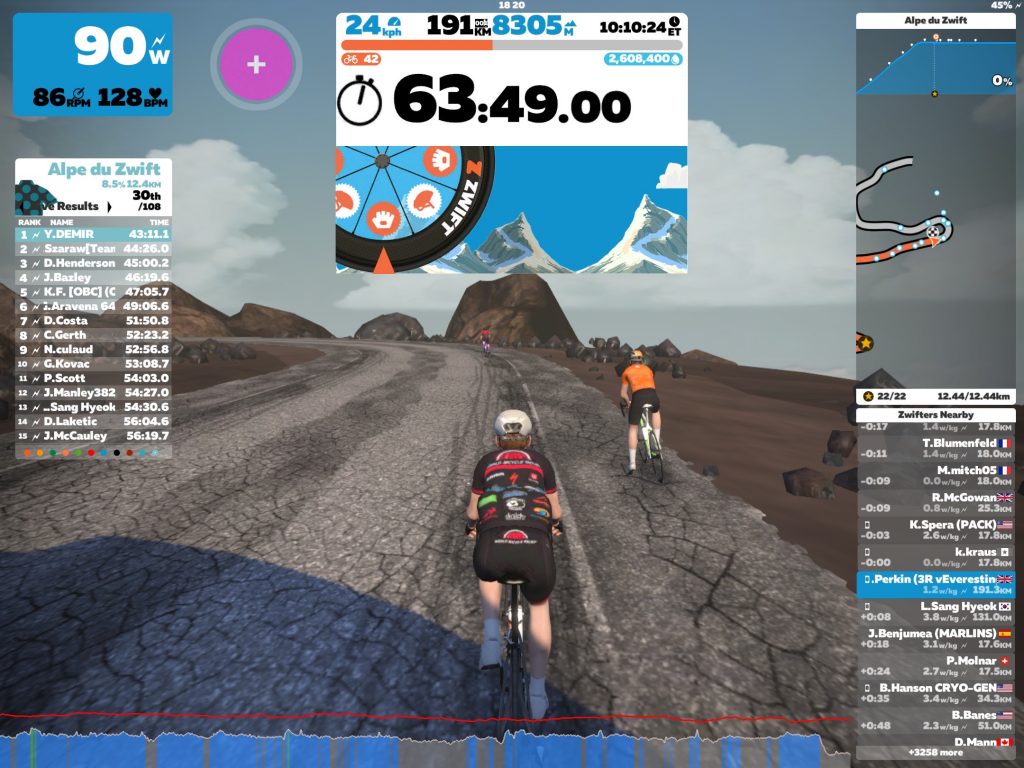 Lap 8 took me to 8305 meters climbed and 45% battery, total ride time 10 hours and 10 minutes. It was only at this point that I thought I could reach the VEveresting target.
Lap 9
I descended the mountain, spinning my legs like the fans that were now strategically located around the room. At the bottom, I made a u-turn and began my ascent to reach what seemed like an impossible goal only a few hours before. There was no heroic 5 w/kg attack, just more steady-paced riding. I watched as the meters crept closer to the magic 8848.
Then, on my approach to turn 9, the moment I thought would never come, "Achievement Unlocked – Everested!" It took 10 hours and 55 minutes of cycling and approximately 11 hours and 5 minutes total. Mission accomplished!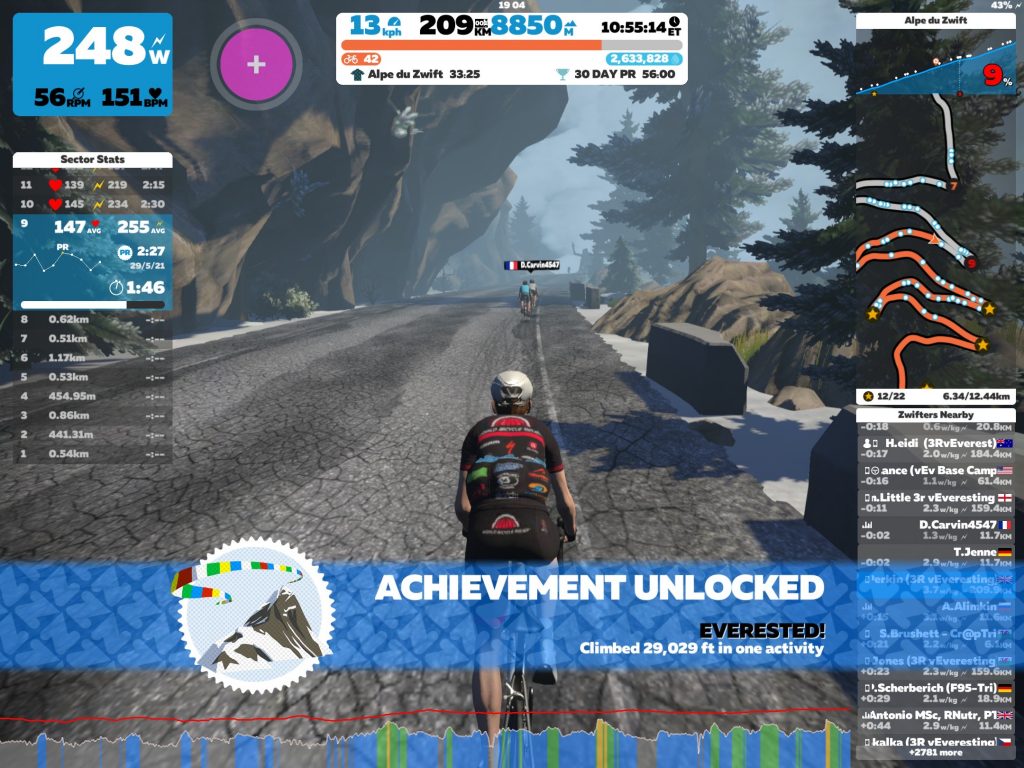 At this stage, most people would have just stopped, got off their bike and called it a day. But I was halfway up lap 9 and couldn't leave the lap unfinished, so I ploughed on, topping out in 71:09 and 9341 meters.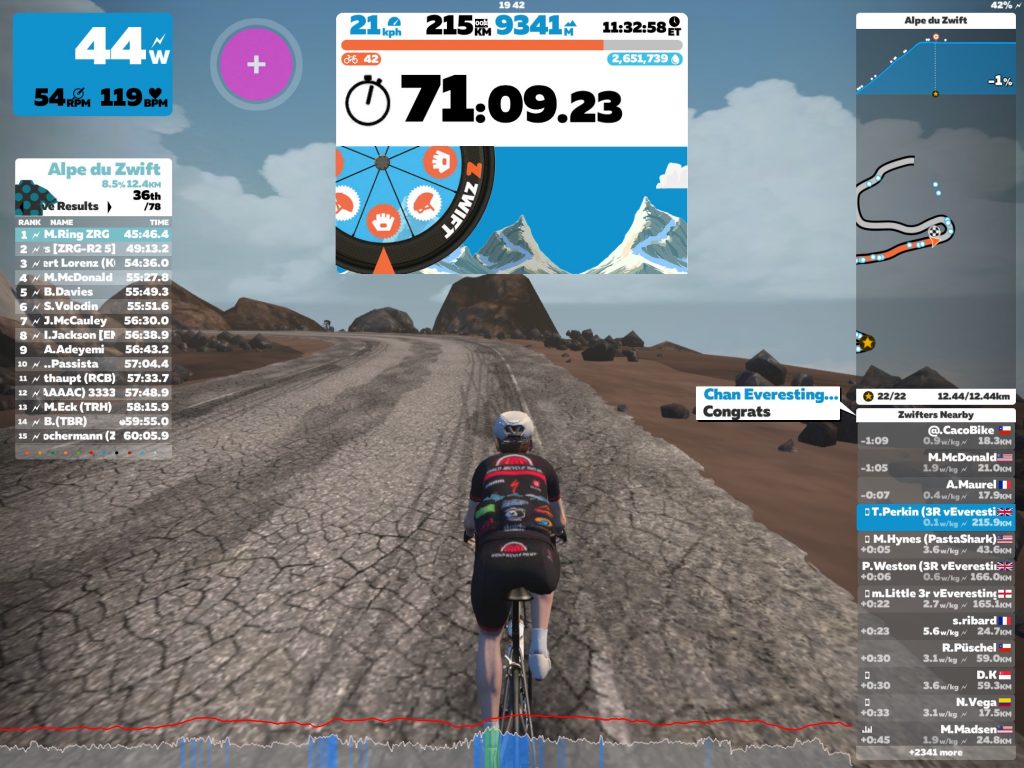 As I climbed up to complete lap 9, I told the group that I had finished the challenge and was congratulated accordingly. However, they then asked if I was going to try for 10,000 meters? Well, this was never in the plan and so I asked more about the 10,000 meters and George explained that if you reached 10,000 meters climbing, this achievement is also recognised in the Hells 500 Hall of Fame.
Well, when you have done 9 laps, what's one more?
Lap 10
The answer is a lot more. An awful lot more. On the descent from lap 9. I had what I considered to be the first rest of the day. This was fatal. Despite refuelling with the last of my risotto, I found eating quite difficult as my body started thinking I had finished and thus started to relax. When I got back on the bike to pedal the last few hundred meters, everything had seized up and I was noticeably down on power. I could not hold anywhere near the 3 w/kg I had been doing minutes before and instead tried to set a sustainable tempo. The legs had finally failed me.
As I pedalled, each meter ascended was felt. It felt like when you are on a long ride and you have had enough, but you are literally still a few hours from home and you know it doesn't matter what you do, it's going to take time to get back home, and you are going to suffer. You accept the suffering and just pedal. It was the same feeling, just I had to pedal uphill to get home.
As I reached turn 8, I could see I was edging closer to 10,000 meters. I met my new target at the start of turn 7. It took 236 km, 12 hours and 34 minutes. I had been on the go now for a total of 12 hours and 44 minutes.
Challenge complete!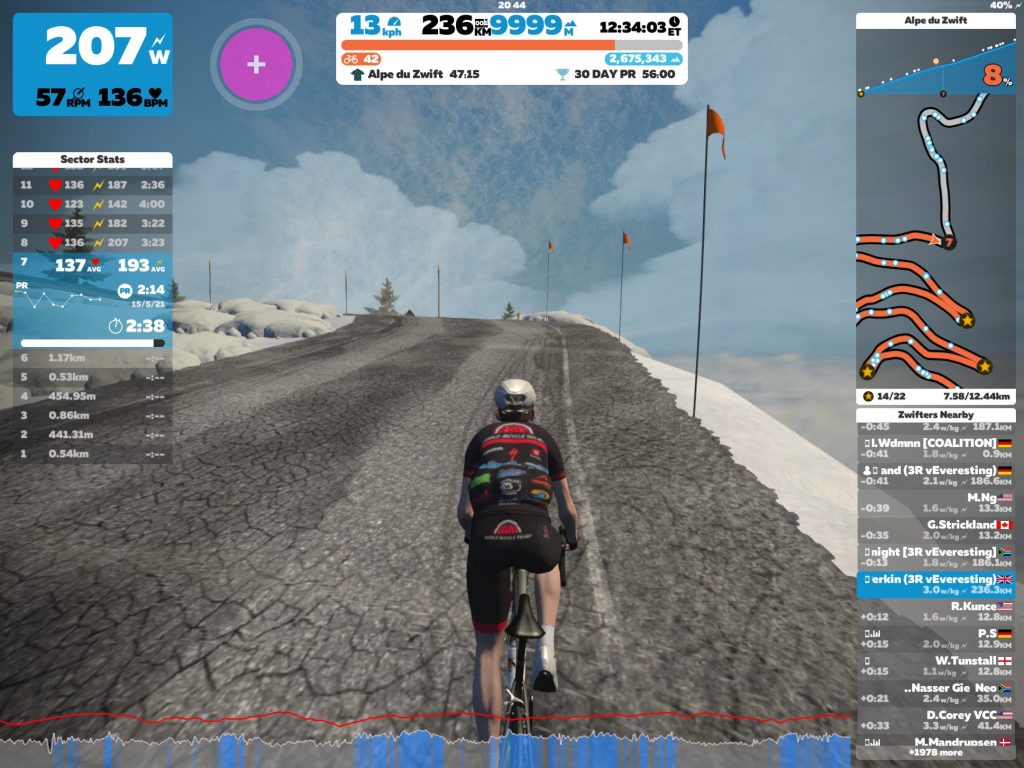 I was about to hit the u-turn button and descend the mountain when I got told to "make sure you do a bit extra to ensure the ride qualifies". Well, how much is extra? At turn 7, I came to conclude that there really is not much of the Alpe left to do, so I thought, "I'll just finish lap 10!" Clearly after close to 13 hours, I was delusional!
From turn 7, you can reach the summit between 15 and 20 minutes.  With my fatigued legs, I struggled the last 6 switchbacks, reaching the end of my 10th and final lap in 76:11.  A total of 13 hours and 3 minutes, spanning 241 km, totalling 10,382 meters climbed and with 39% battery remaining.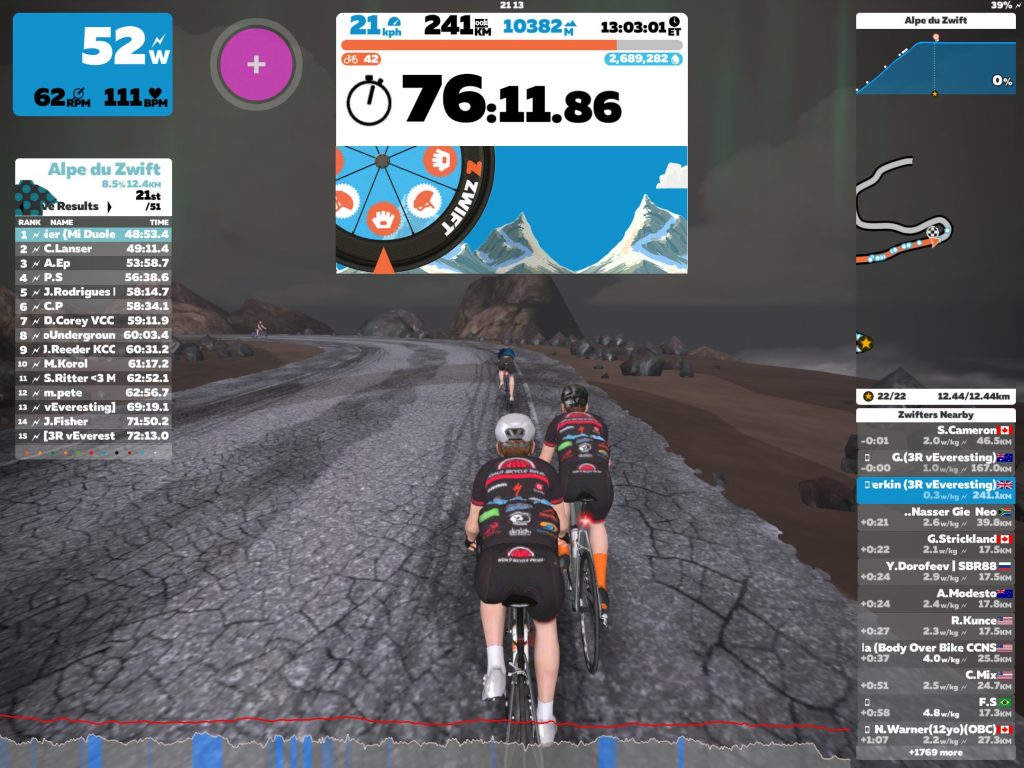 I turned the bike and let my avatar descend.
Summary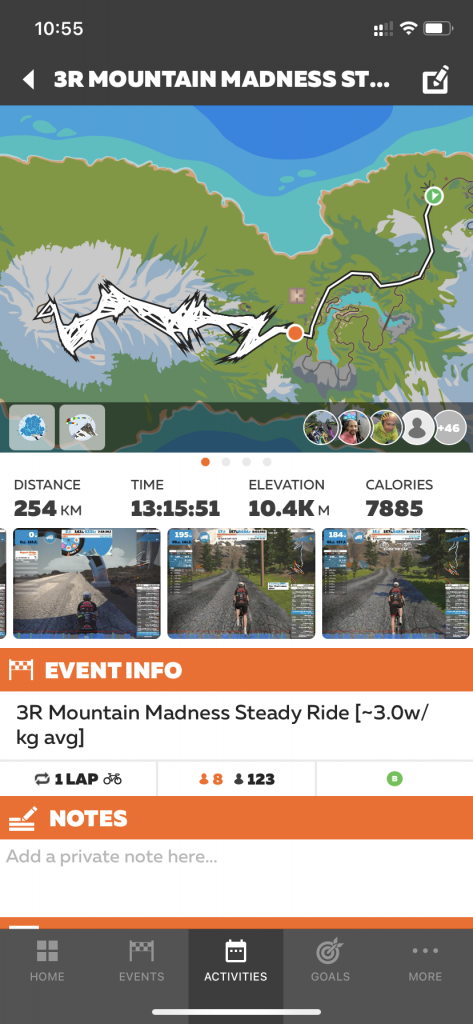 By the time my avatar had come to a natural stop at the base of the Alpe I had cycled 254 km, a moving time of 13 hours and 15 minutes, climbing over 10,000 meters in the process. This was by far my longest day in the saddle, the furthest I had cycled and the most I had ever climbed. Along the way, I had written my name into the Hells 500 Hall of Fame and most importantly, raised money for the World Bicycle Relief charity.
Looking back on the event, it is easy to see why many people attempt vEveresting but don't complete it. There are many factors that need to line up for you to succeed and often many of these variables are out of your control. You can do all the training, but if there is any form of technical issue, then it can be "game over."
Training, pacing each climb appropriately, a proper fuelling strategy and good equipment will only take you ¾ of the way up the mountain, you also need a degree of good luck, or a 'Luciano' or 'Ted' to help you in your time of crisis. The margins of success and failure are slim, I was fortunate to achieve my target so that, on this occasion, there was a happy ending. Ride On!
*A special thanks to George Parker-Fuller and the 3R Academy for making the day a memorable one. There is still chance to sponsor me / the Team for undertaking the event, raising money for the World Bicycle Relief Charity: Fundraising for World Bicycle Relief