After a very successful "Couch to Cat C" project, Boone is now well into his "C to B" training block, where the goal is to see him hit 3.2 w/kg in his ramp FTP test and thus qualify as a B racer.
Many of you who have been following Boone's training story asked what happened to the series, with no updates after week 5. What happened was: Boone went on vacation! First hunting, then skiing. He tried to stay fairly active by doing some jogging in the first (hunting) week, and his diet was fairly disciplined that week as well. For his ski week, he counted hitting the slopes as his training, and was pretty loose with his diet plan.
And that's OK – after 5 weeks of disciplined training and dieting, it's nice to give your body a break. By the end of his vacation, Boone told me, "It's hard to believe, but I miss being on the bike." Warmed this cyclist's heart.
This first week back wasn't anything huge – it was all about getting back in the swing of things. Here's how it unfolded…
The Plan
As a reminder: the basic plan we've settled on for the 6 weeks contains a mix of five different types of rides. (Many thanks to Alan Dempsey of HPP Coaching for giving us solid advice that sets Boone up for success).
Races: Boone will race the C's every week or two to check his progress, work on race craft, and of course get in a good workout.
VO2 Workouts: this will be the cornerstone workout of each week. Nobody likes VO2 work, but we both agree Boone is getting a lot of benefit from these.
Pace Partner Intervals: we'll use the Pace Partners (C. Cadence or Bowie Brevet) to anchor a fun, interactive interval workout. Warm up with the pace partner, then sprint off the front for 15s. Or drop off the back, and put in a measured 2-minute effort to get back on. Lots of options here.
FTP Ramp Tests: we'll do at least two ramp tests to measure FTP progress.
Recovery Rides: some days, Boone will just need an easier effort in the saddle. Since he's still a beginning cyclist, even easy efforts are far from wasted.
Running?! Is Someone Chasing You?
One new addition to Boone's training regiment is running. That's right: he's started doing more running (outside) on his non-ride days. Like myself, he found that when he dropped some weight and built cardio fitness on the bike, running became much more enjoyable. He's even considering training for a half marathon!
My strongest advice for him has been to make sure he's allowing his body to recover between hard workouts. He's getting to the point where he can push himself hard enough in a tough run or ride that his next day needs to be an easy recovery effort, to allow his body to adapt and rebuild from the hard workout.
Because we don't get stronger during hard workouts. We get stronger after those workouts, as our bodies rest/recover/rebuild.
If all we do is go out and push hard every day, we end up with hard workouts that aren't actually hard enough, and "recovery" workouts that don't help us recover at all.
Ride 20: Cruising with Cadence

Most riders will tell you that going out and smashing it after a couple weeks off isn't the best plan. While basic logic may say, "My legs are perfectly rested and ready for a hard effort" the actual truth is that you'll usually ride better if you've "blown out the cobwebs" a day or two earlier – especially if you're talking about shorter (less than 1 hour), harder efforts.
With that in mind, we opted to have Boone just put in a solid hour+ with C. Cadence. Simples.
Her and her roadies (groupies?) were on the Tick Tock route, and Boone hung with them for a bit over 50 minutes before easing up and spinning it out for the final 15 minutes.
Ride 21: More Cruising
Today was a fast day for Boone ("fast" referring to not eating), so we wanted to do another steady ride. This ride was very similar to his previous effort, except he hung in with C. and her roadies for 73 minutes before dropping off and spinning it out for a while.
Ride 22: VO2 Steps
The week wouldn't be complete without a butt-kicking VO2 workout, so that's what Boone tackled today. But first – we adjusted his weight down a couple of pounds, which is always fun! He's now at 214.2, and hoping to hit ~195. Less than 20 pounds to go!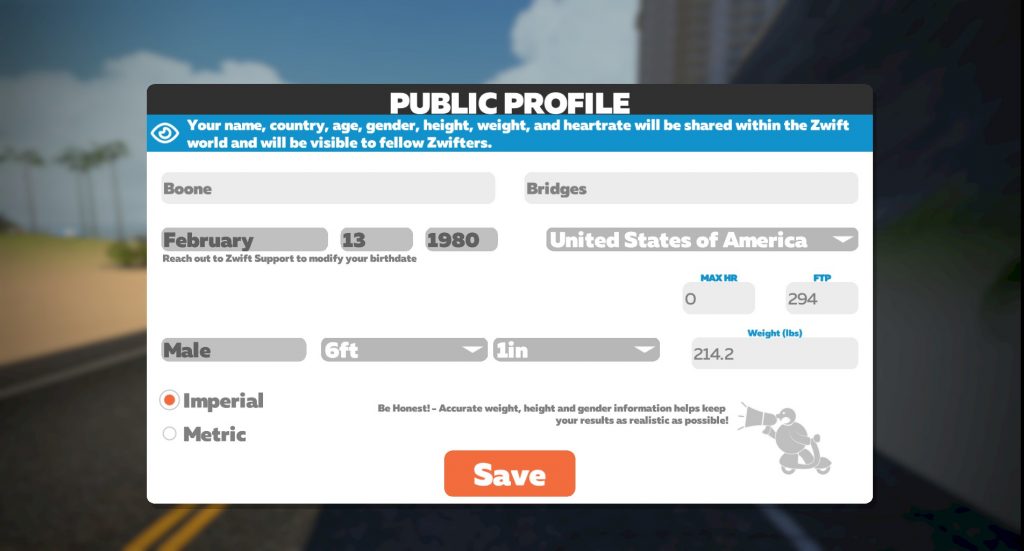 For today's VO2 session, we decided to try something our coach/advisor Alan Dempsey had recently mentioned: using "stepdown" intervals instead of steady intervals, in order to get the heart rate up faster then keep it there.
With a typical 3-minute VO2 interval, your heart rate may take 90 seconds to reach the target level. If instead you begin with a harder 1-minute effort, your heart rate will jump up to that target level within, say, 45 seconds, then remain there for the next two 1-minute intervals. The end result: you spend more time at that target heart rate.
We weren't sure how Boone would perform on this style of interval, so we decided to mix them in with our standard 3-minute steady intervals. You can see the workout below: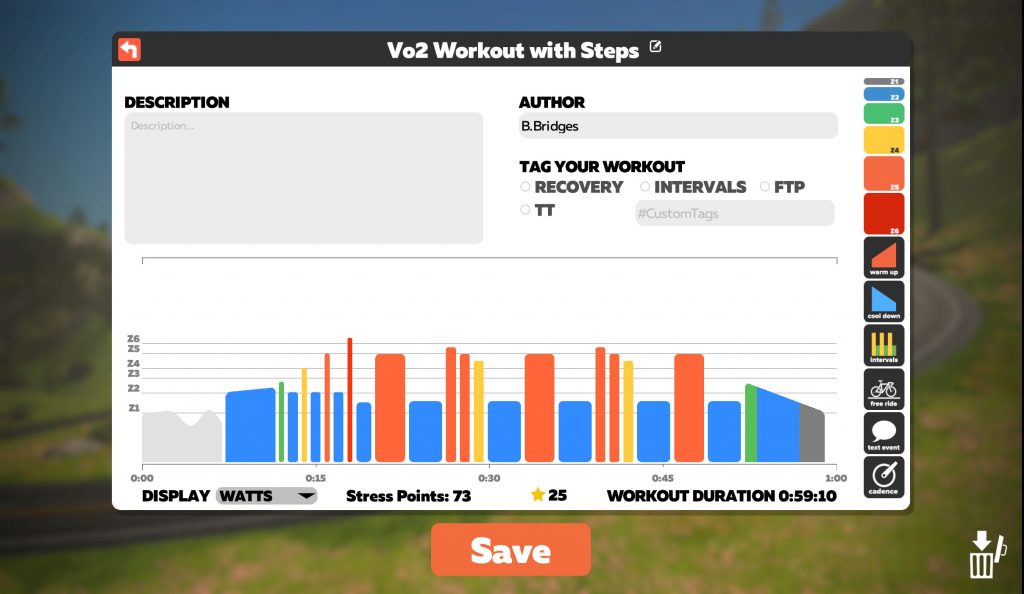 So how did he do? Well, the split interval definitely got his heart rate up faster than the steady ones. But they were also tough! He threw in the towel on the third minute of the 4th VO2 section, then we had to lower the final segment in order for him to finish it.
Did he hit the wall because of the stepped intervals… or because he had logged 12k steps that day, running electrical wiring in his real job? Hard to say. But we'll give this workout another try for sure.
Week 6 Takeaways
One really interesting takeaway from this week has to do with just how much your weight can fluctuate between training weeks and vacation weeks.
Boone lost 13 pounds in less than 5 days, from his "end of vacation" weight on Sunday to his Friday morning, "I'm back in the saddle again" weigh-in. Of course, that's not 13 pounds of fat – it would be mostly water retained due to eating salty and higher-carb foods. But the lesson here is: a few days of relaxed eating won't kill your weight loss goals, as long as you get back in the saddle. In fact, taking a bit of a "diet break" may be very good for the soul.
Other than that, this week was fairly unremarkable. But after three workouts, Boone is primed and ready to hit it hard and make real progress on his journey to cat B. Hup hup!
Questions or Comments?
Post below!