Welcome to this week's "Build Me Up" (BMU) training log. This was the end of the first 4-week training block, so it was a recovery/regeneration/rest week.
Past weeks: Week 1 // Week 2 // Week 3
Daily recovery is important, of course. Because it's during the rest that you get stronger! But letting your body rest over the period of several days is also very smart, and most training plans build in rest weeks every 4-6 weeks.
During rest weeks I focus on having fun on and off the bike, without working too hard. I also make sure my body is adequately equipped for recovery, so I try to continue eating right and sleeping well.
If I do it right, by the end of the rest week I'm looking forward to getting back to work.
Workout Journal – Week 4
Saturday, April 8: Purple Unicorn
The last Unicorn of BMU!
This was the toughest workout yet. Last week's Amalgam was close, but this one was just so tough at the end, having to hold high power at lower cadences, then finishing with a high powered, high cadence effort.
Here's a summary of the full progression of the four Unicorn workouts in BMU, so you can see how the over-under (OU) sections build each week:
Week 1 – Red Unicorn: 4x 6 OU of 1 minute @ 255W, 30s @ 335W
Week 2 – Orange Unicorn: 4x 6 OU of 2 minute @ 275W, 30s @ 335W
Week 3 – Yellow Unicorn: 3x 6 OU of 2 minute @ 265W, 1 minute @ 335W
Week 4 – Purple Unicorn: (basically) 4x 4 OU of 3 minute @ 275W, 1 minute @ 335W, 30s at 370W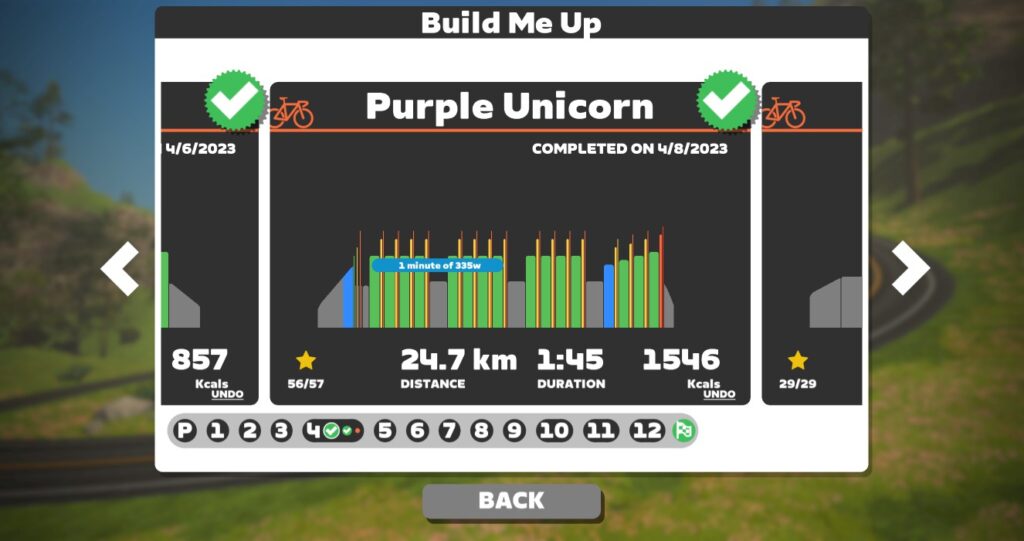 I gave up following the position instructions partway through that third interval, when I couldn't sit in the aero position and do high power. But I hit the power targets and most of the cadence targets throughout the workout, so that'll have to be good enough!
Set a new PR on Ventoux, too, finally breaking 90 minutes. One of these days I'll need to do a race effort up this climb and see what I can really do! It's just soooo loooong….
Thursday, April 13: Sneaky
Apart from the Pedaling Drills workouts, this was the easiest one of BMU so far. 8 sets of 3 minutes at 255W, 1 minute at 305W, 1 minute of rest at 175W. Sort of tempo-range over-unders, they never got my heart rate above tempo range.
Which I suppose is about right, for a recovery week!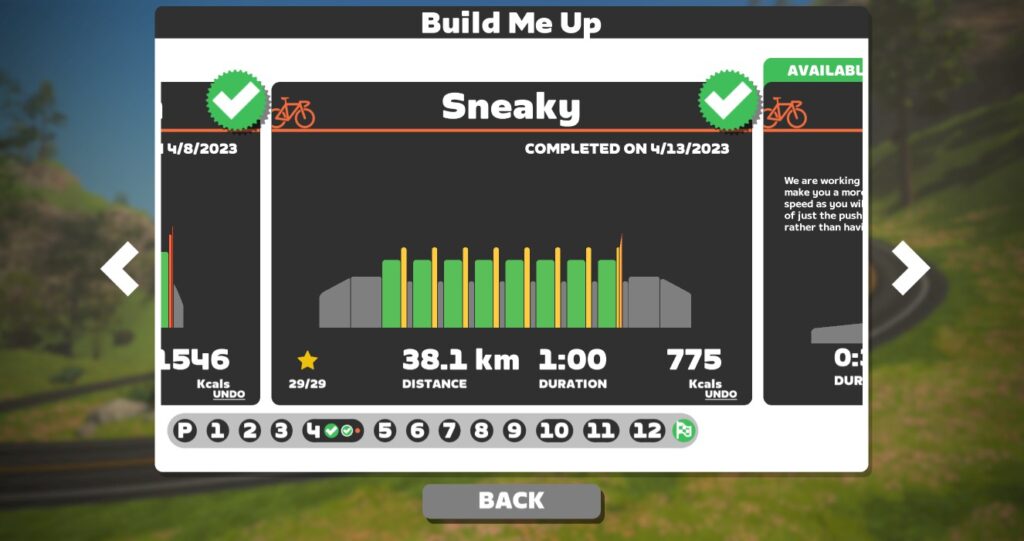 Whine of the Week: Wahoo's Weakness
This week here in Lake County (Northern California) the weather finally broke. It stopped raining, the sun came out, and temps went from the low 50's to high 60's. Perfect riding weather!
I wanted to try doing a workout outside for the first time in the program – but couldn't figure out how to get the workout file onto my Wahoo head unit(s). As far as I can tell, the only way to get a structured workout onto a Wahoo Elemnt, Bolt, or Roam is to:
Have the workout in my TrainingPeaks account, where it will sync over. But this requires a paid TrainingPeaks account, and even then I would have to transfer the Zwift workouts to TrainingPeaks before they could sync over (not hard to do, but a silly hassle).
OR
Use Outdoor Structured Workouts from Wahoo's SYSTM – but that doesn't do me any good, since I need Zwift's Build Me Up workouts.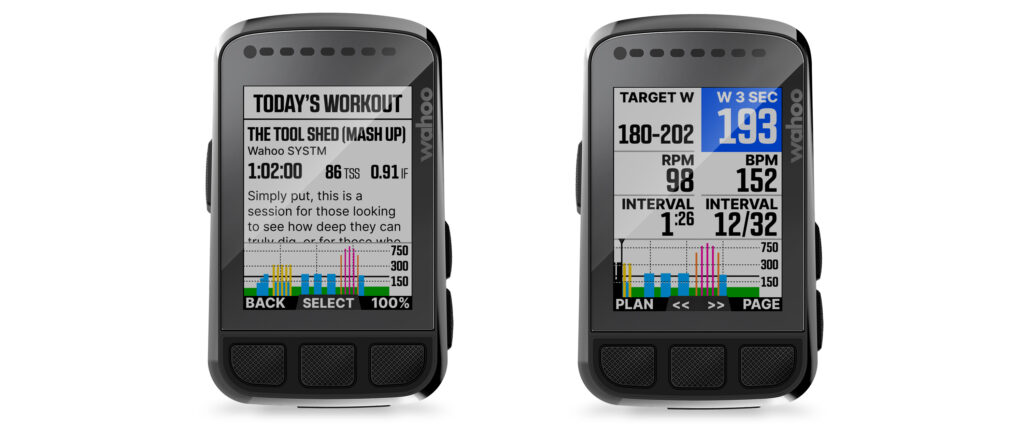 I'm still going to do one or more of the plan's workouts outside, but I'll have to just manually ride it without much help from my head unit.
(Notably, this is possible with Garmin head units. I'm just not a big fan of Garmin head units… I much prefer Wahoo's clear and simple UI.)
Summing Up Week 4
This was a very easy week, as you can see from the BMU workout TSS numbers:
Week 1: 274 TSS
Week 2: 343 TSS
Week 3: 363 TSS
Week 4: 212 TSS (that includes the pedaling drills workout I skipped, which is only 24 TSS)
I did a short Zwift race on Tuesday, just because I've missed racing. It was a pretty tough race (huge pack of 200+ Bs) and I didn't finish anywhere special, but it was fun anyway and I hit some power curve bests for 2023 so that's a good sign.
Also rode my MTB up the local volcano, where I broke a spoke nipple on my front wheel while doing a track stand waiting for my buddy.
While I was planning on doing the "Pedaling Drills" workout, I decided to skip it. As I write this it's Friday morning, and I've decided to head outside on the road bike for a casual ~20 miles in the sunshine before BMU Week 5 begins tomorrow. I'll probably do some high cadence work in a nod to the missed workout, but mostly I'll just enjoy the sunshine and spring air.
One to Keep, One to Throw Away
I think each week of BMU features a key "cornerstone workout" and another which doesn't really need to be done, so I thought it might be useful to call those out each week, in case your schedule is tight. For week 4, here are my picks:
Key Workout – Purple Unicorn: I felt like this final unicorn was sort of the crowning achievement of the first training block. You gotta do it. And it won't be easy.
Throw Away – Sneaky OR Pedaling Drills: honestly, you could skip either of these workouts and be OK heading into week 5… but only as long as you keep riding on this recovery week, keeping those legs spinning and letting them rebuild for the next block.
Coming Up Next Week
Week 5 is the start of the next 4-week block, which looks to be focused on VO2 training. Four workouts totalling 5 hours and 312 TSS.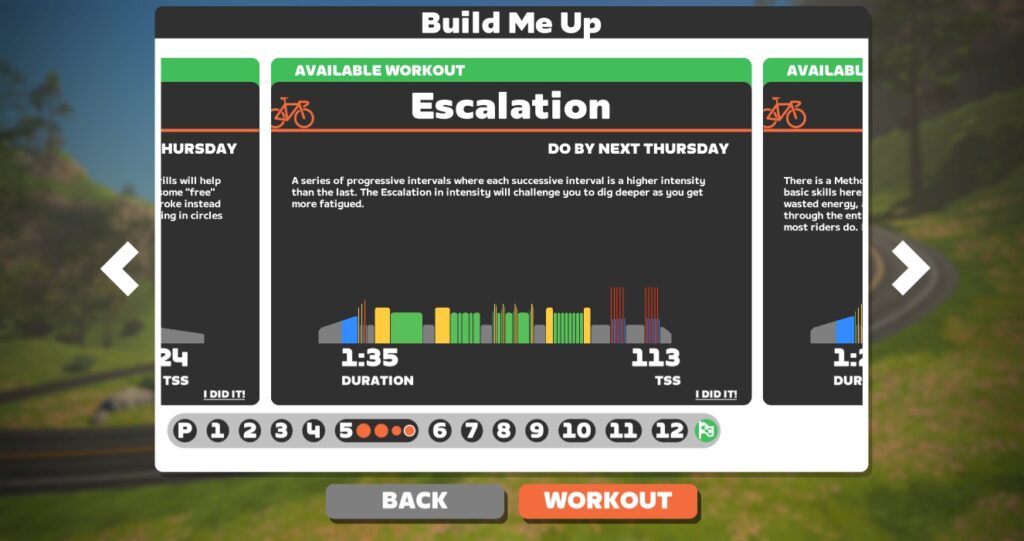 Questions or Comments?
Have you ever done the Purple Unicorn workout? What did you think? Share below!