Welcome to this week's "Build Me Up" (BMU) training log (read last week's here). Let's get to work!
Planning My Training Plan
As I began this week, I had to figure out where each of the plan's 4 workouts would slot into my life. This wasn't a super-easy thing to figure out, because I had to understand what each workout would ask of me in order to properly schedule workouts on back-to-back days so I could be fresh for a big workout on the next Saturday.
I settled on the following:
Saturday: Orange Unicorn (90 minutes)
Monday: What Goes Up, Must Come Down (60 minutes)
Tuesday: Mishmash (90 minutes)
Thursday: Halvfems (90 minutes)
It might seem a bit weird putting the 90-minute Mishmash right after another workout, but Mishmash looked like an easier effort than the 60-minute Halfvems or 60-minute "What Goes Up, Must Come Down". So I slotted it in, and as it turned out I made the right call (more below).
Whine of the Week: Workout Details
I'm not sure if everyone is like me, but I really want to look ahead at my next workout and understand exactly what I'm in for. And so far in my BMU journey, I've found it frustrating to do so.
The Companion app shows a nice workout profile picture, but you can't tap a portion of it to see details like the actual wattage or length of an interval. The list of intervals appears below the profile, but crucially, like it does in game, the list doesn't expand "grouped" intervals like over-unders… so you don't actually know what those intervals contain!
It's maddening. Add to that that you can't see text prompts until they pop up mid-workout, and you really don't know what you're in for until you do the workout.
I do appreciate WhatsOnZwift and their library of workouts, as I can key in my FTP and at least see interval details for a particular workout. (Here's their Mishmash page, for example.)
Daily Journal – Week 2
Saturday, March 25: Orange Unicorn
Ah, the Unicorn workout. There's one each week for the first block of BMU, and I think I will learn to hate unicorns by the end!
This week's Orange Unicorn was a big step up from last week's Red Unicorn. Both had 4 sets of 6 OUs, but last week's were 1 minute at 255W, 30s at 335W. This week it was 2 minutes at 275W, 30s at 335W. That's a big jump!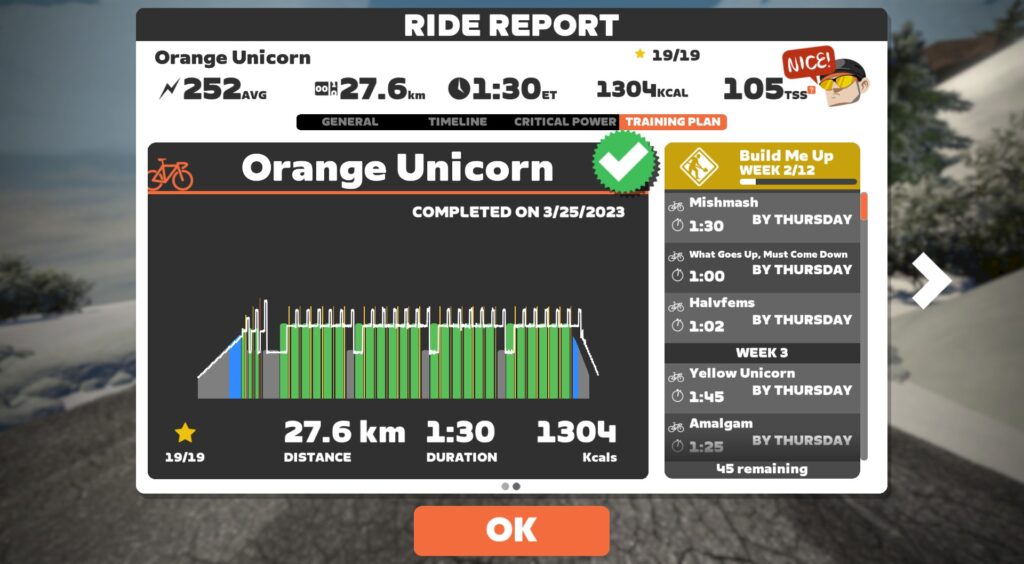 Throw in coach Shayne's cadence and position changes, and it was a tough workout. But I survived.
Monday, March 27: What Goes Up, Must Come Down
I'm used to doing hard rides every other day, but that's a problem when you've got 4 non-recovery workouts to complete each week, which is what BMU asks. (3 workouts would be perfect. 4 means I need to do workouts on back-to-back days.)
So this week I tried to plan the two easiest workouts on Monday and Tuesday.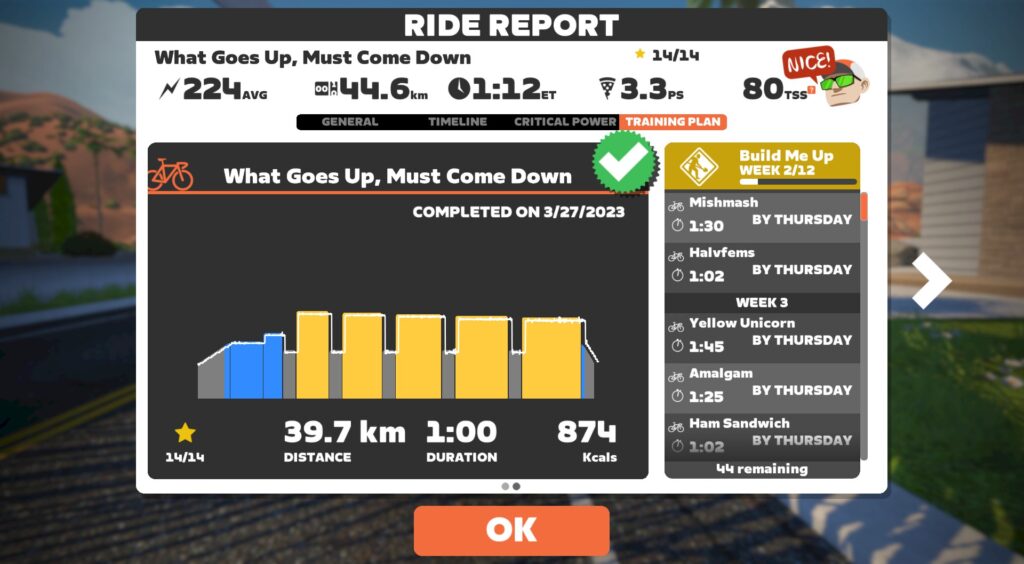 This workout turned out to be tougher than I'd anticipated, though. You begin at 5 minutes at FTP, then do 6 minutes at 98% of FTP, 7 minutes at 96%, 8 minutes at 94%, and 9 minutes at 93%. It seemed "challenging but doable", until Shayne decided every interval would have a lower cadence than the one before!
That meant doing this:
320W at 100RPM for 5 minutes
315W at 90RPM for 6 minutes
310W at 80RPM for 7 minutes
300W at 70RPM for 8 minutes
295W at 60RPM for 9 minutes
60 RPM?! Jimmeny Christmas.
Holding low RPM at near-threshold power for several minutes on Zwift is a weird feeling. While this would feel normal outdoors on a steeper climb, it feels odd in Zwift where I'm used to riding at a more comfortable cadence. So yes, this workout definitely got me out of my comfort zone. But did it kill my legs too much for the next day?
Tuesday, March 28: Mishmash
I hoped this workout would be easier than the previous days' – and it was! While it wasn't easy, I was never close to the limit, so that was nice.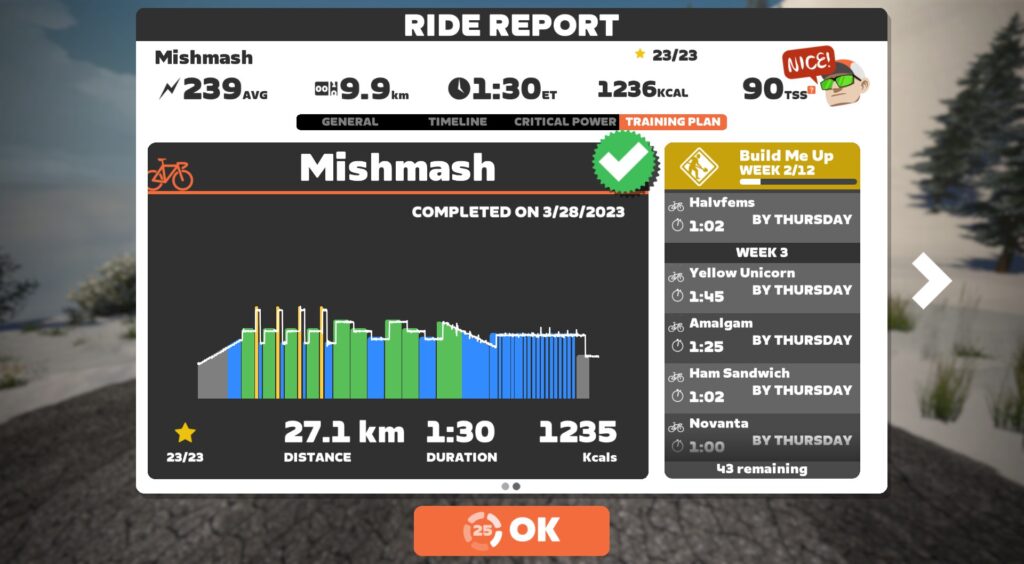 "Mishmash" is a 90-minute workout broken into 3 roughly equal parts:
4x over under: 3 minutes at 255W, 1 minute at 335W
3x of 4 minutes at 290W, 4 minutes at 255W, 4 minutes at 225W (the final set is a smooth ramp from 290 to 200, but is basically like doing the 4-minute intervals)
20 minutes at 240W
Plenty of cadence changeups and out-of-the-saddle work mixed in, of course. And a bonus – 30 minutes in, I hit level 60! I hadn't even been watching my level meter, so this was a bit of a surprise. Hey Zwift: add level 61, please.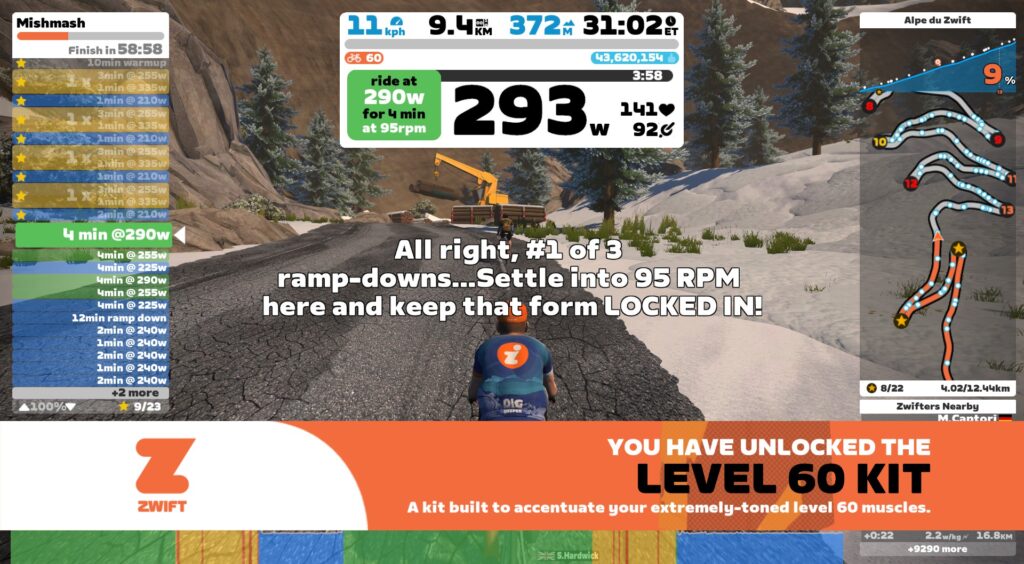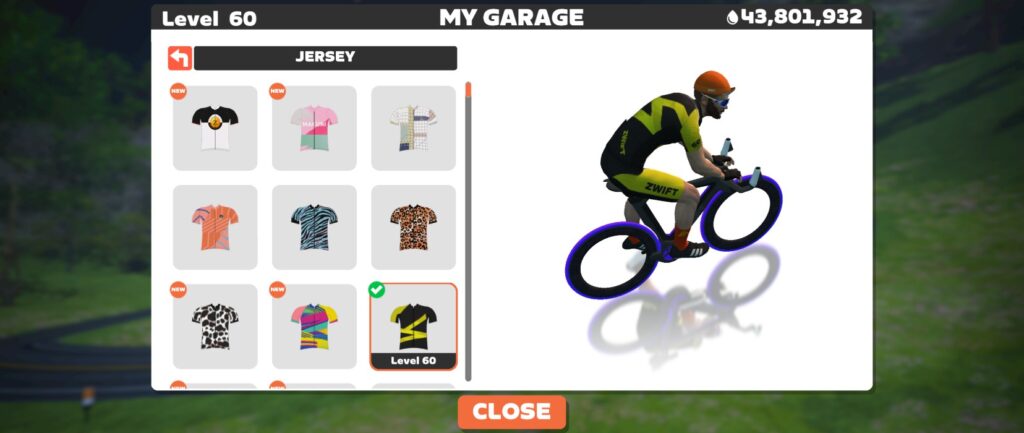 Thursday, March 30: Halvfems
This 1-hour workout is just 3x 12-minute sweet spot intervals (90% of FTP, so 290W for me). Last week's sweet spot workout was 10-minute blocks, so this was a bit tougher.
4 minutes into the ride, coach Shayne says "Today is straight forward, we will be doing 3 sets of 12 minutes @90% of FTP @85-95RPM." I found that message surprising, given the cadence changeups he'd been pulling in previous workouts.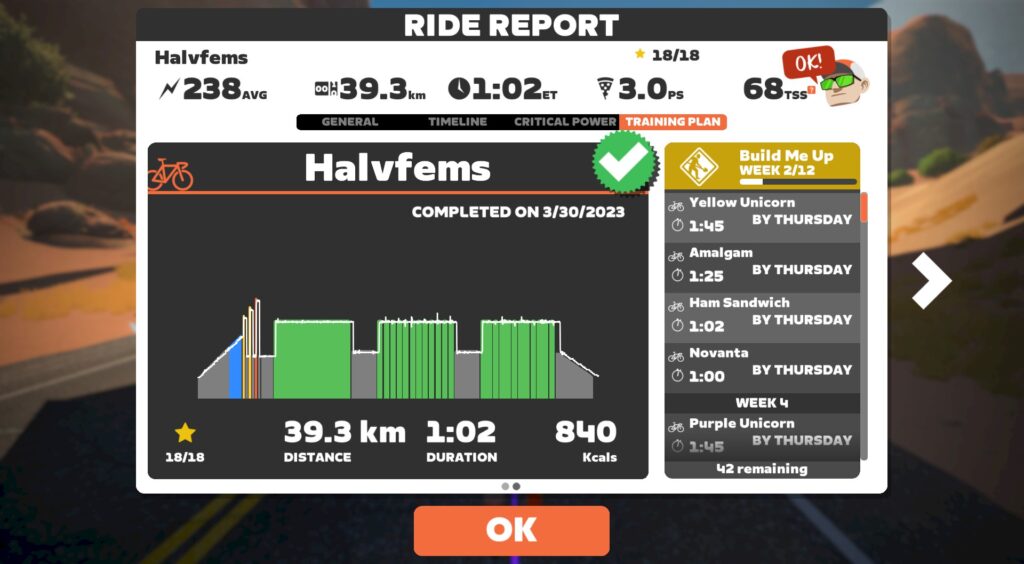 Turns out I was right – Shayne was lying. The first set was simple at 85-95RPM, but the next two sets had cadence changing between 65-100RPM! The last set was the toughest, for sure – trying to hold 100RPM for the 2-minute blocks really felt like work, while standing up for the 1-minute blocks in between kept the heart rate up.
Not a super tough workout overall, though. Just a steady, challenging effort, as sweet spot workouts tend to be.
Summing Up Week 2
Week 2's workouts were definitely a step up from Week 1. While I did 5 workouts in week 1, they only totaled 274 TSS, while week 2's 4 workouts totaled 343 TSS.
It's not called "Build Me Up" for nothing. Next week's workouts are even bigger.
One to Keep, One to Throw Away
I think each week of BMU features a key "cornerstone workout" and another which doesn't really need to be done, so I thought it might be useful to call those out each week, in case your schedule is tight. For week two, here are my picks:
Key Workout – Orange Unicorn: so many over/unders, and 90 minutes long as well. Don't skip this one.
Throw Away – Mishmash: while it's longer at 90 minutes, it's probably the easiest of the week, and doesn't target a particular energy system. This one feels more like a "keep 'em busy" sort of off day workout than one that builds key fitness.
Coming Up Next Week
Four workouts next week, totaling 5 hours, 12 minutes: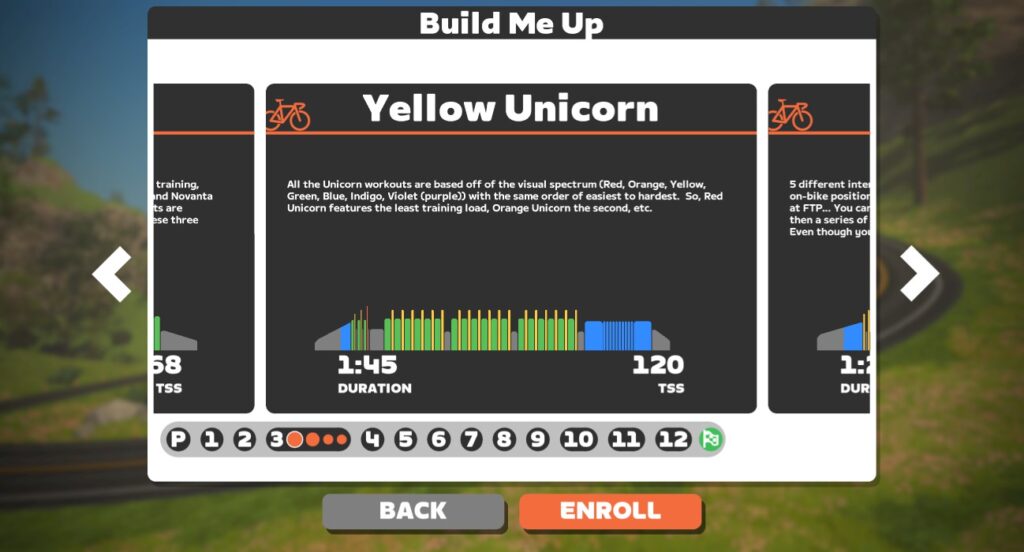 Questions or Comments?
Have you gone through "Build Me Up"? How was your experience? Share below!