Friday February 16th, 2018: There's snow all around me in Spokane, WA and I'm embarking on a journey to the first annual TeamODZ Training Camp in Scottsdale, AZ. For most of the attendees this will be their first TeamODZ's real-life meet up, even though we've spent 3 years cycling and chatting online. An IRL (in real life) meetup is well overdue!
I fashioned the largest bike rack I have onto my meager PT Cruiser and stuffed it full of cycling gear for Gordon Smith, Bob Christensen, and me. We hunkered down for a 7 hour drive to Boise, ID, our first stop on our journey to Scottsdale, AZ.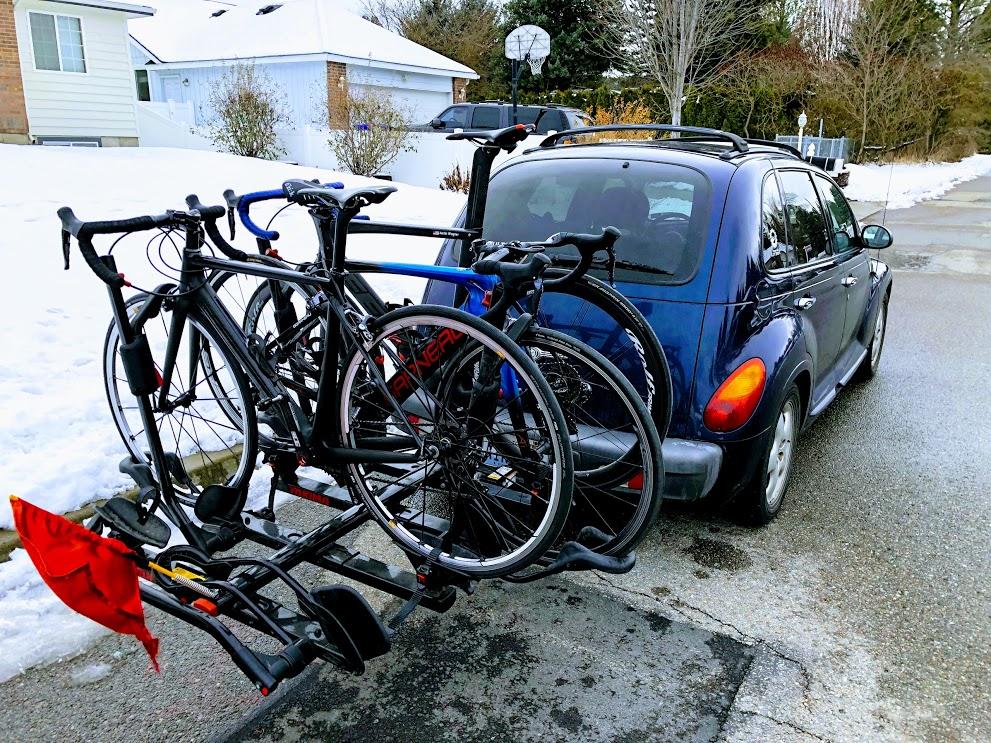 Upon arrival in Boise, we were greeted by Eric Denning and the vehicle we affectionately christened Kraken Heavy (Kraken Heavy naming credit goes to Damon Erb). "Release the Kraken" is a popular phrase frequently heard amongst TeamODZ riders near the dramatic finish of races. That phrase, coupled with the frequent usage of phrases from the SpaceX launch of Falcon Heavy during our camp prep, resulted in the van earning that moniker.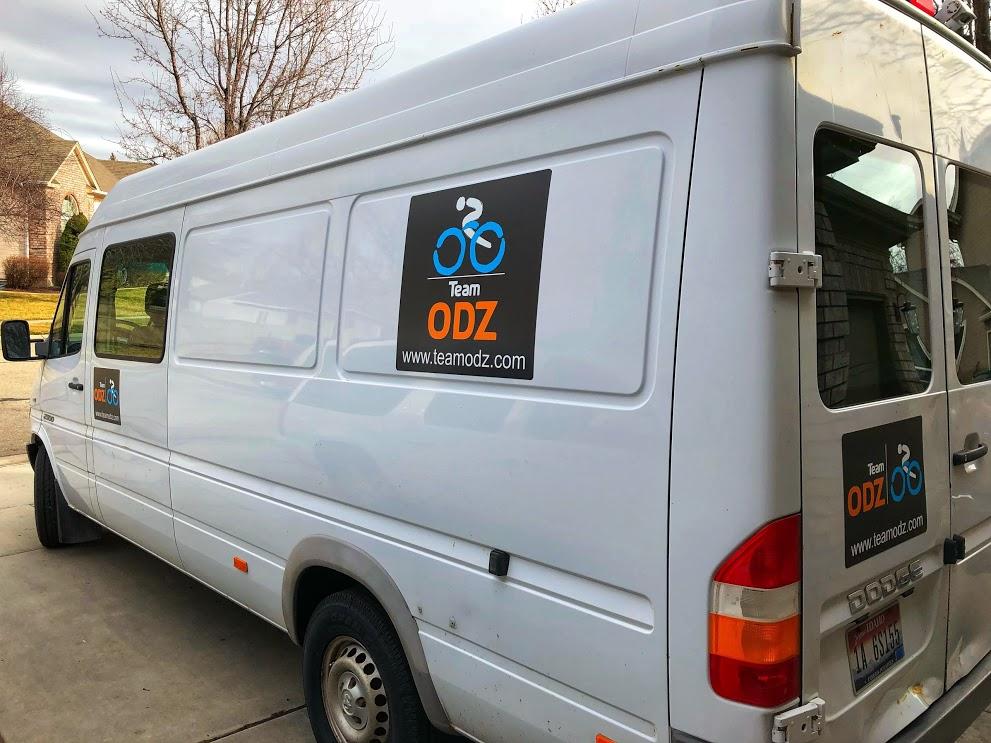 Saturday February 17th, 2018: Bright and early, Kraken Heavy departed Boise, ID heading towards Scottsdale, AZ, approximately a 15-hour drive. Reports flooded in on our Team Chat Channel from Portland, OR, Little Rock, AR, and Heathrow Airport, UK. Gregg Magnus, David Bussey, Charise Mcmullin, and Andy Jenner were all beginning their journeys towards team camp, and the chatter and excitement was non-stop and growing! The others opted for slightly faster methods of travel, namely modern aircraft, potentially as a way to pad their average speed statistics on Strava before camp even started. ZADA is still investigating that topic. (Get ready for sarcasm in this post, as it comes thick and heavy) However, anyone who traveled in Kraken Heavy will be the first to tell you that no modern aircraft can even hold a candle to the awesomeness that is Kraken Heavy. Did you see those team magnet decals?
The most determined rider award was given before camp even started to John Mora, who drove over 1800 miles and 2.5 days to get to camp!
Sunday February 18th, 2018: This day presented a small challenge for me, as I've made the commitment out of religious respect to never race, train, or ride on Sundays. It's for this same reason that you don't see my name on the list of competitors at the live CVR event in Los Angeles March 24-25. Based on my regular season competition point totals for my time zone and bracket, I was invited to attend the live CVR, but with the event being hosted on a Sunday, I declined the invitation to compete. While I stepped away to attend church with my uncle in Mesa, AZ, and observe the Sabbath day, the rest of the group was itching to ride. That group went out for a nice loop of rollers and kickers, including an 18% climb in Fountain Hills.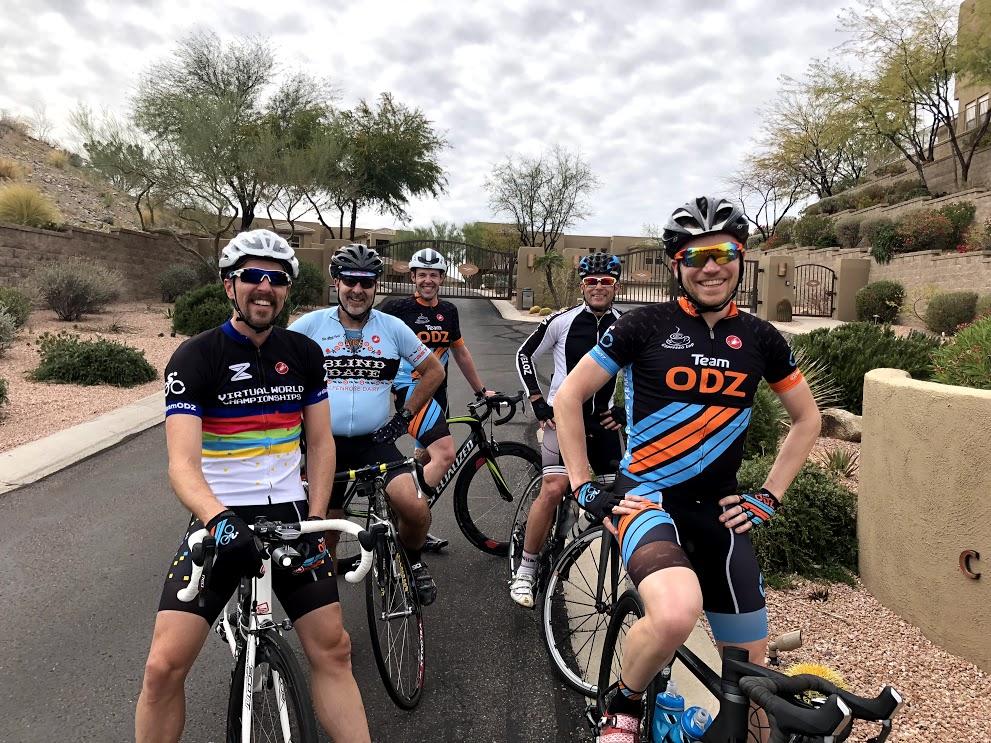 Monday February 19th, 2018: Back in early 2015, I had spent some time riding in the Mesa/Phoenix area while my family visited our uncle. At that time I learned about South Mountain and how it was such a highly recommended ride, but due to timing and other constraints I wasn't able to ride it then. Fast forward to this trip and it was an absolute must for me to climb South Mountain. This was the day! South Mountain is about a 7-mile long climb that winds through a park just southwest of the Phoenix metro area and leads up to radio towers at the top. If you are ever cycling in the area, make it a priority to climb because you won't be disappointed. Joined by John Mora, who had (finally) arrived on Sunday, we set out as a group of 8 to take in all that South Mountain had to offer. After the climb, we decided to do a loop around the same mountain, which is almost completely pancake flat. The wind was very strong, which we both hated and loved, depending on our direction of travel. Upon completing the loop, we headed back to where we had parked Kraken Heavy. We were on a road with a lot of construction signs on the shoulder, and since tight pace lines and construction signs don't mix well, you can see Charise McMullin giving a clinic in Sagan-esque bike handling skills:
We made it back to Kraken Heavy, and I made a quick pit-stop before deciding to eschew a ride back home in Kraken Heavy, choosing to cycle instead to add another 50-60 miles to my day.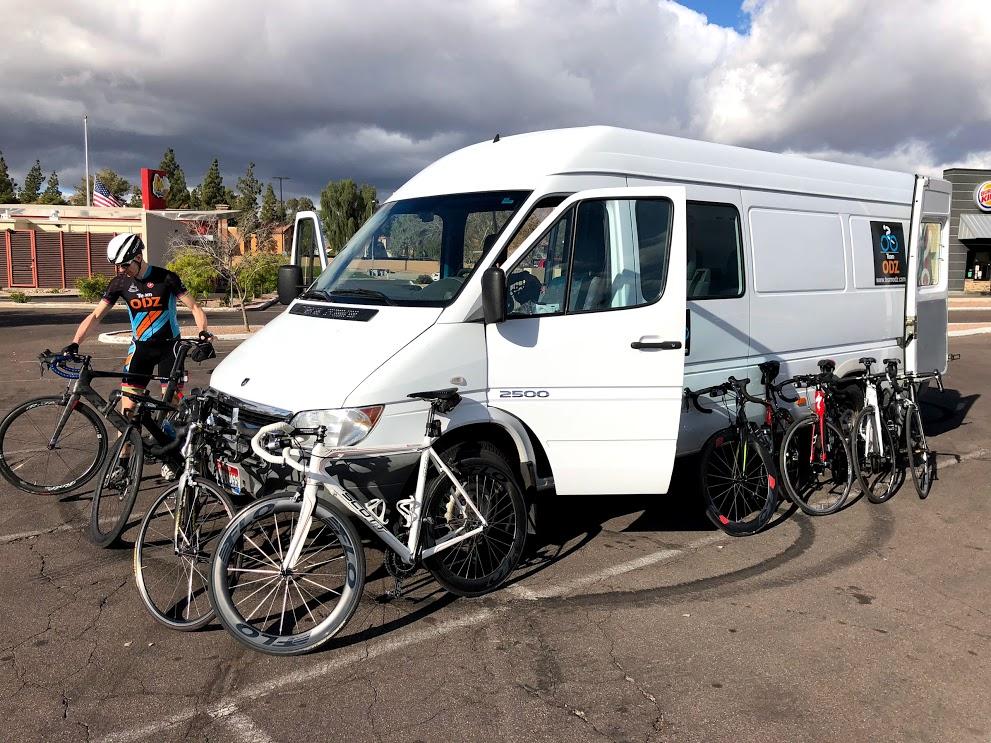 The pit-stop seemed to go well, but 15 miles down the road, I realized I had forgotten to restock my pockets with food, nor did I have my credit card or cash, and Apple Pay wasn't set up on my phone. Rather than attempting to stop at a bike shop and barter for some food in trade for CO2 and tubes, I opted to just ride at a very sustainable pace to not drive myself to a bonked state. Even with that relaxed pace, I was very depleted at the end of that ride, something I certainly hope to never repeat again.
After the ride, our group grew yet again as Tiffany Larson arrived to make sure that Charise didn't get all the QOMs for herself and to make sure the mischief department was in full swing.
Tuesday February 20th, 2018: Camp went into full swing today with 3 different rides happening throughout the day and 4 more attendees arriving: Tex Divine, Theia and Drew Friestedt, and Pat O'Neil. The most notable route of the day were the roads around Camelback mountain, which provided great views of the area from very quiet roads with some steep climbs that were close enough to home to be ridden again. And of course, much bravado was shown and many attacks were launched.
Wednesday February 21st, 2018: The adventure today was a ride out to Bartlett Lake and back, which included a decent amount of climbing compared to the rest of the area. To get to the lake, you first have to climb up a ways, and then you descend down towards the lake. The return trip began immediately with a long, sustained climb to shock our legs awake!
Don't let the climbing deter you from making this ride, as this is another must-do route if you are in the area. The roads to the lake are in great condition, and if you are lucky enough to go during the week, or when it's not boating season, you will likely encounter very little traffic. That being said, if it's the weekend and it's warm enough to go boating, we suspect that this road would be quite heavily congested with larger vehicles towing boats.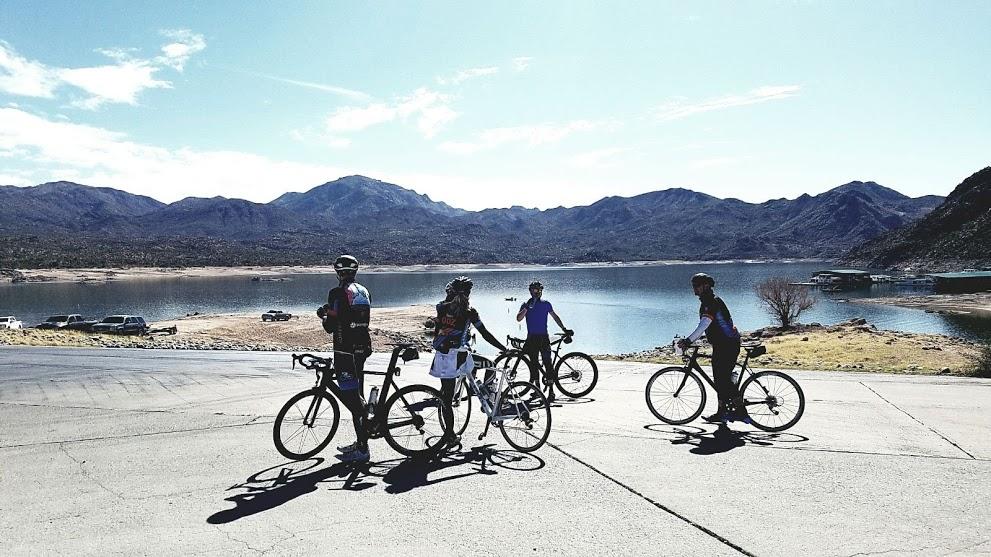 After the ride, we set out to enjoy the showing of the MAMIL film, (Middle Aged Men in Lycra), that just happened to release during our team camp. And although it was joked about, none of our middle aged men (or women) attended the showing of Middle Aged Men In Lycra while wearing lycra.
The list of camp attendees continued to grow this day as Bob Christensen, Mitch Dangremond, and Matt Roth arrived at various times in the day.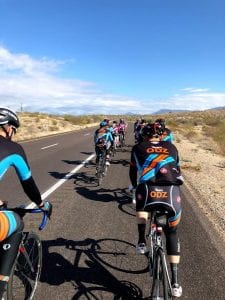 Thursday February 22nd, 2018: At this point in the camp, it started to become evident that we'd need to have the group split up into different routes. With a pack of 17 riders it seemed like somebody had to use the bathroom every 15 minutes!
One group decided to head out for a "recovery ride" to camelback mountain, and another group wanted to complete a 100 mile ride around McDowell mountain. From the reports I heard, the recovery ride turned into a 4-hour long venture with plenty of attacks at different points, and the century ride was a rather steady paced 5-hour long venture. So, maybe the rides weren't really that different after all! The true drama came on the "recovery" ride when a construction sign jumped into the road in front of Mitch Dangremond. While not sporting Sagan-esque moves like Charise, Mitch did his best impersonation of a gymnast vaulting over the bars and almost sticking the landing:
During the 100-mile ride, I decided that I wanted to give an all-out effort on an 18% climb in Fountain Hills to see how high I could get on the Strava segment leaderboard. I arranged to have a two-man leadout train into the climb. Pat O'Neil's job was to get us rolling as fast as possible into the climb without dropping me off the back as I started in my small chainring. Then at the base of the climb, Drew Friestedt continued the pull as long as he could in his big ring until he started to stall out on the steep gradient. At that point, I came around and finished the climb in an all-out effort in my small ring.
I went very deep, posting my 3rd best all time 60 second power performance at 750W. This allowed me to land 9th on the Strava leaderboard with a segment time of 71 seconds on the climb. I knew that many guys with much richer pedigrees than myself had ridden that segment, and I was quite pleased with myself until I opened my saddle bag the next morning. I had finally gotten smart enough to stash some cash in my saddle bag, and when I opened the bag I discovered several pounds of rocks that had been added by Tiffany Larson and Eric Denning on Monday night. Not only could I have definitely shaved several seconds off of that segment time, but I had also been riding around for several days with that extra weight. [unamused look] Don't worry though, those clowns may have been chuckling to themselves knowing that I was oblivious to the situation for several days, but they certainly weren't laughing when I'd drop them on climbs, even with the extra added weight [sadistically evil grin].
Later that evening, the last member of camp arrived, our Team Leader, Jason Flores. The riding was about to get serious, and we'd all have to put forth our best efforts!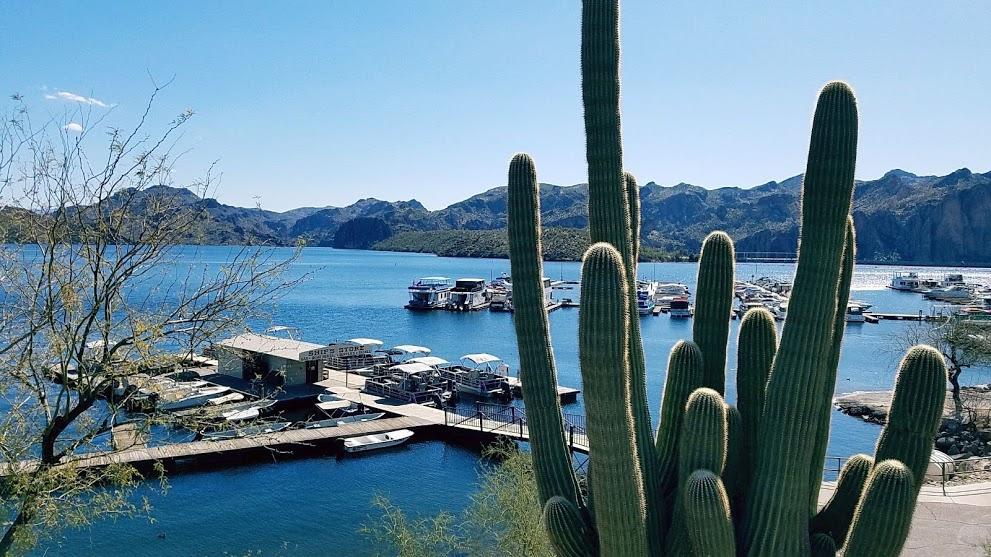 Friday February 23rd, 2018: This adventure sent us out the Beeline highway towards the Saguaro Lake marina, where we found some nice roads with little traffic, that made for very enjoyable riding. After the marina, we headed out over the Usery Pass climb headed towards South Mountain as we wanted to climb it again. When we arrived at South Mountain, we found that the park was closed in preparation for an event that was going to happen the next day. The group was pretty disappointed, as we had been saving ourselves for one last big push up the climb before calling it a day. We had to call it quits and pack up in Kraken Heavy, even though we were about 10 miles short of our 100 mile goal for the day.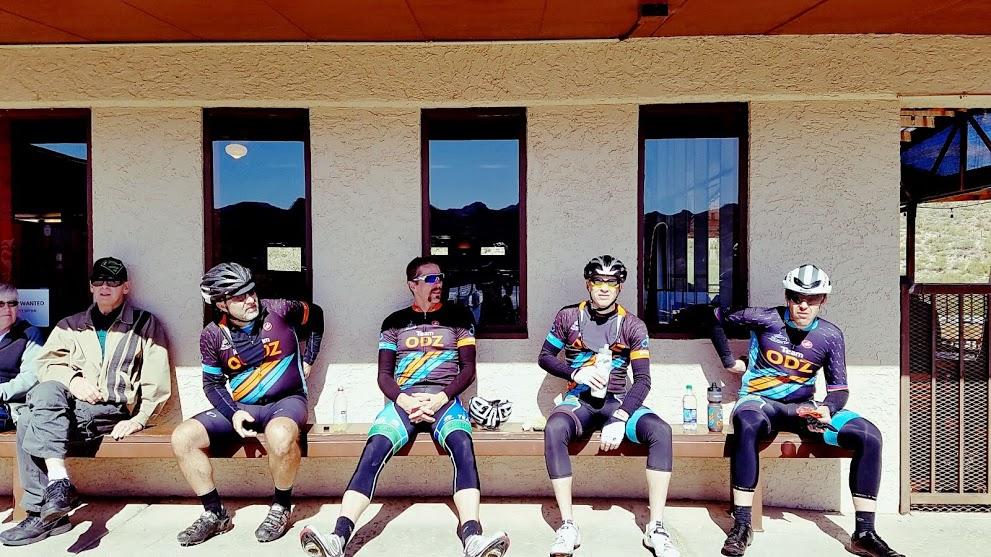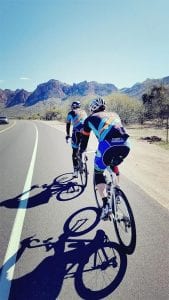 Saturday February 24th, 2018: Due to the let down at the end of the ride on Friday, we were prepared to make our last day of riding worth every moment. Armed with a route of 120 miles and enough calories to sustain ourselves, Pat, Bob, a local rider named Andrew, and myself set out for a long day.
The rest of the team opted for a shorter 50 mile route, so Charise and Tiffany could make their departing flights in time.
Early on in the ride, our local guide Andrew introduced us to a hidden gem that connected two parts of our ride and avoided a major highway. Having local knowledge for training camps is a major plus and a big help. If only we'd had Andrew for the entire week! We rode hard, we rode long, and we fully enjoyed the last day of riding and even added an extra 10 miles!
The Food:
We were absolutely spoiled by the cooking of Charise McMullin and Tiffany Larson.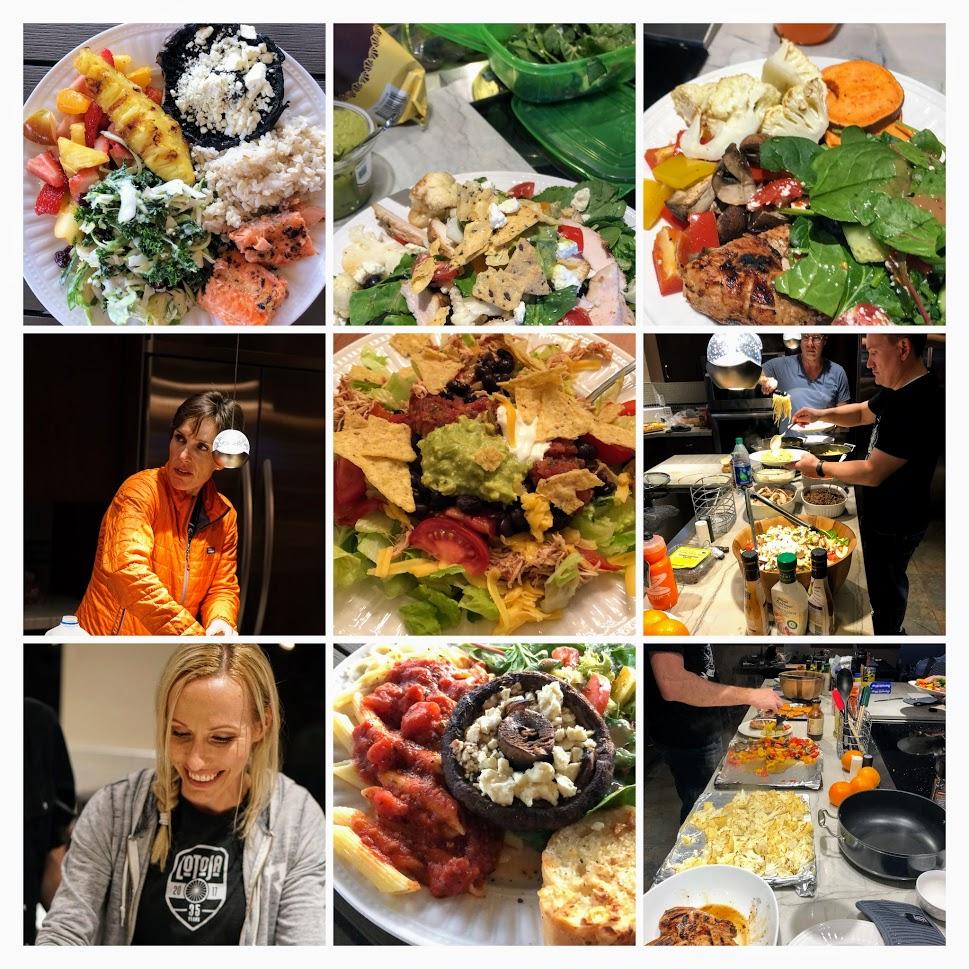 Final Thoughts
Even though many of us at camp had never ridden together outdoors, we all found ourselves falling into the same groups that naturally formed in Zwift based on ability levels. We even had a very good idea of who would be the riders setting the pace on the uphills and on the downhills. This is something that typically takes a few days of riding together to learn, but we were there from day one.
The social interactions during the week started off as if we had already been together for several weeks, and knew exactly what to expect and how to read each of the other attendees. I feel this specific social connection was built based on the hours spent conversing on Discord while riding Zwift, and not just from the in game chat.
Was the camp a success? Well, my target for the week was to get around 3-5 hours per day of riding (inspired by this post by Jordan Cheyne). This somehow then morphed into 100 miles and 250 TSS per day for my 6 days of riding. In the end, I finished with a total of 36 hours, 647 miles, and 1480 TSS for my 6 day total. Was that training sufficient for my goals this year? Only time will tell. Will the banter, laughs, food, friends, and riding live on as precious memories for a lifetime? Absolutely! [at least until next year's camp supersedes this year in awesomeness]
SAVE THE DATE!!! The next TeamODZ Training Camp will be March 3rd-10th, 2019 in Scottsdale, AZ.