Editor's note: Jordan Cheyne's "The Open Pro" series details his experiences with high-level Zwift training as a rider in the pro Continental ranks. You can read his past posts here.
---
I completed my first ride back on Zwift this week after over 3 weeks training in the glorious warmth of the Arizona desert. Any gains I had made in fitness during my intensive training camp were immediately put to the test on the steep ramps of the new Surrey Hills loop on the London course. I am happy to say that I immediately felt more powerful fighting the plentiful resistance supplied by my Kurt Kinetic smart trainer. Everything felt better and easier: more power, lower heart rate and a much smoother pedal stroke at high and low cadences. I haven't fully recovered and absorbed the massive outdoor training block I am sure, but the signs are positive that the dose was correct and the response will be good.
As I wrote in my last installment, I planned a solo camp in Tucson, Arizona to kick-start 2018 after a few weeks of foundational work on Zwift in December. I wasn't completely alone in the venture, I had my wife Emily for company and as it turns out a crew of friends and training partners in the neighborhood. Tucson is an affordable, no-nonsense city and the guaranteed weather and endless desert roads make it a popular spot for Pros in the winter months. The motivation of seeing teammates and competitors on the road is a nice bonus when it comes to pushing through hard days in an early season camp, still months away from the motivation of upcoming races.
Starting Out
The first couple days on the road were a bit uncomfortable as my body acclimated to the rigors of riding for 4+ hours after shorter stints of Zwifting and cross training up to that point. It usually isn't the legs that slow you down in that period; it is the supporting musculature in the back, neck and shoulders along with tender area of the body touching the saddle that cry out for moderation. Fortunately, I adapted quickly and within the first week I was managing 4-5 hour, 250+TSS days with relative ease. The miles started flicking by, the fridge started to empty at a much faster rate and I started to feel like a professional again, going to work day in and day out.
The Plan and Progression
My coach had me on the usual early season diet of zone 2-3 intensities with small volumes of low cadence work and explosive efforts to round out my strength base. As time went on we added long tempo intervals with small sections at FTP to work on lactate tolerance and repeated, sustainable power.
I surprised myself with what I was able to absorb and recover from and was able to put in blocks of 3 days on/1 day easy for the duration of the trip without a hitch. In the past I would have been able to handle that structure at such a high volume load for 1.5-2 weeks at the most before needing a 2-3 day recovery block. On this trip I was able to power through all the way to the end and even ride well in Tucson's famous Shootout training race ride each Saturday. It was really encouraging to be able to throw down with some top guys after riding tough 4 and 5 hour sessions in the preceding days. That durability is a large part of what stage race success is made of at the professional level.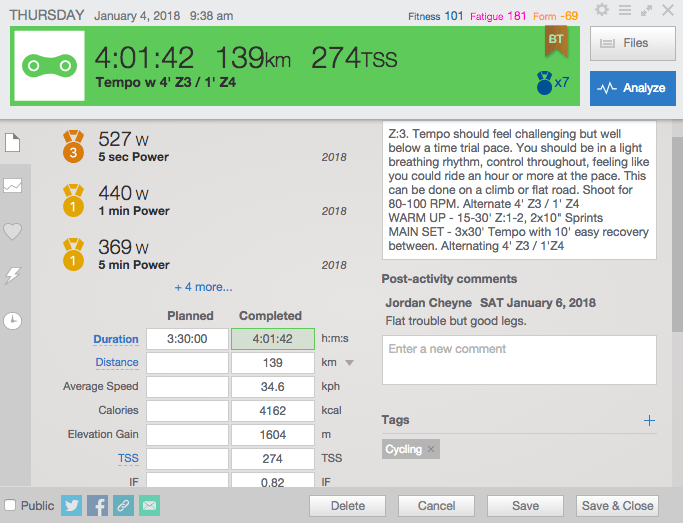 Fuelling Improvements
I attribute my improved training capacity to a couple factors. First, I have had a carefully managed increase in volume and intensity since starting with my coach in late 2014 and in general my Chronic Training Loads (CTL) are up 30-50%. I think that these hard yards, both from training and high level racing all add up and sometimes the results appear in a rapid and unexpected improvement like they did in my Tucson camp.
Secondly, based on experience and good advice, I have forced myself to eat a lot more quality calories during these big training blocks. I have a fast metabolism to begin with and to support 4-5000 kj training days, the food needs to be plentiful, nutritious and easily digestible. I didn't keep track but a conservative estimate would be at least 10 lbs of dry oatmeal, 5 dozen eggs and a pint of coconut oil consumed during the trip in pre/post ride meals alone. There was a fair amount or coconut ice cream, local Mexican delicacies and dark chocolate disposed of as well. I view those as necessary resources in maintaining a strong mental state as well as in meeting daily caloric demands. With this consistent fuelling and plenty of sleep my glycogen stores stayed stocked, my muscles stayed strong and I still lost at least 5 lbs of winter weight.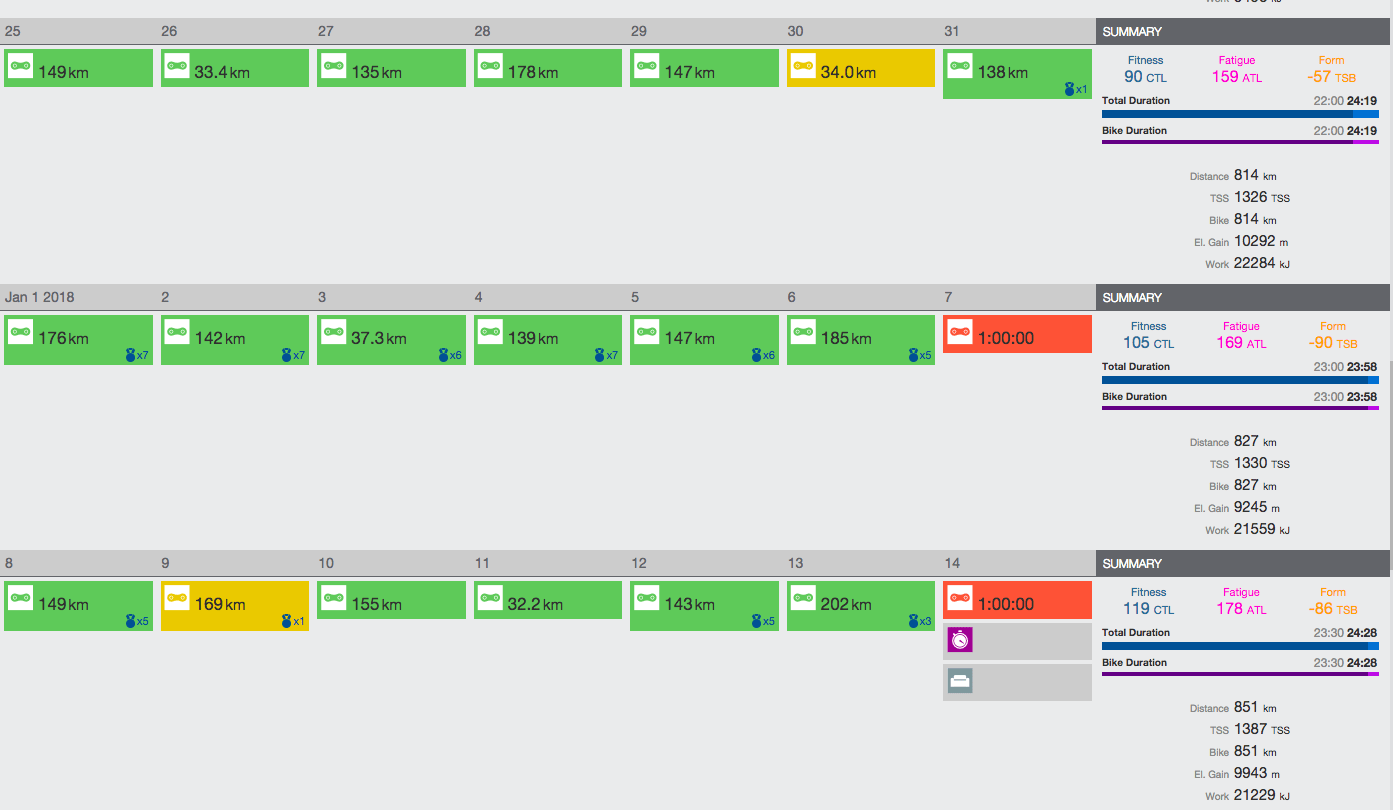 The Results
All said and done I managed 2,800 kilometers, 35,000 meters of elevation, and over 4,500 TSS in 82 hours of training over 24 days. The goal was to come out of camp with a big start on my 2018 base and feeling stronger than when I arrived. I am happy to say I accomplished that and I am bouncing back well. I will be back on Zwift and back on my snowshoes climbing mountains for the next 4 weeks or so before heading to Elevate-KHS team camp in mid-February. The prologue to the 2018 racing season will be finished before I know it and it will be onto racing and striking out for big results with my new team.