Video games, social media, and exercise – individually these topics invoke a range of reactions, both positive and negative.  The three are rarely ever contemplated in the same context, but for three Zwifters, a fortuitous connection was made through the common shared bond of cycling + Autism.
Autism Affects So Many of Us
Autism spectrum disorders (ASDs) are the fastest-growing developmental disability in the world. According to the U.S. Centers for Disease Control and Prevention, 1 in 68 children are diagnosed, and ASD is approximately 4.5 times more common in boys (1 in 42) than in girls (1 in 189).  Individuals affected by ASDs typically have three major areas of difficulty: communication and language, social skills, and repetitive and inflexible behaviors. 
When Larissa Pothier decided to post to the Zwift Riders Facebook group on March 10th, 2021 about her son Kieran who is on the autism spectrum, there was no way that she would have anticipated the overwhelming response, nor the effect it would have on others. Especially Russell Jolliffe. 
It Started As a Simple Post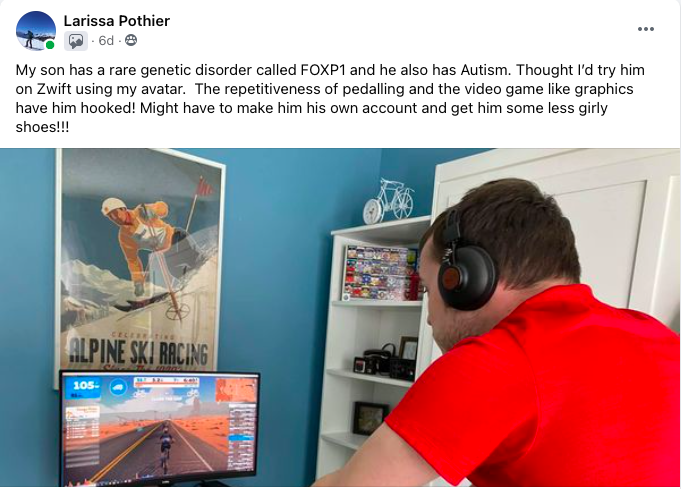 Larissa describes her son as sweet, fun-loving, and happy. FOXP1 and autism have greatly affected Kieran's speech, and have also created developmental and behavioral challenges.  Despite having a tremendous amount of energy, he struggles to learn gross motor skills.  But, "Once he masters a skill," remarks his Mother, "there is no stopping him!"
At the time Larissa simply thought others might enjoy seeing the effect Zwift has had on her 21-year-old son.  When after only three hours her post received over 1,200 likes, it became apparent that it struck a chord with many.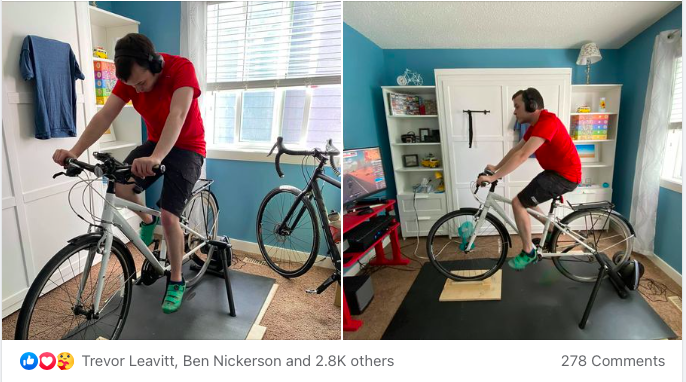 Kieran was introduced to Zwift by watching his parents. When the sound of their indoor trainers piqued his curiosity, he was quickly fascinated by the excitement on the screen.  "He would cheer us on and laugh when we grunted and groaned while struggling up a steep climb," recalls Larissa. Her initial invitation to join them was greeted with an emphatic "NO!"  Over time, however, Kieran's curiosity got the best of him. 
Video Games and Individuals With Special Needs
Larissa attributes Kieran's love of video games to keeping him "coming back for more."  There is an ongoing debate whether video games and technology are beneficial for children affected by autism.  In a study published in the journal Pediatrics in 2013, Mazurek and Englehart found that "many kids affected by autism are overly focused on video gameplay, experience difficulty while transitioning from video gameplay to other activities, and may become argumentative and oppositional."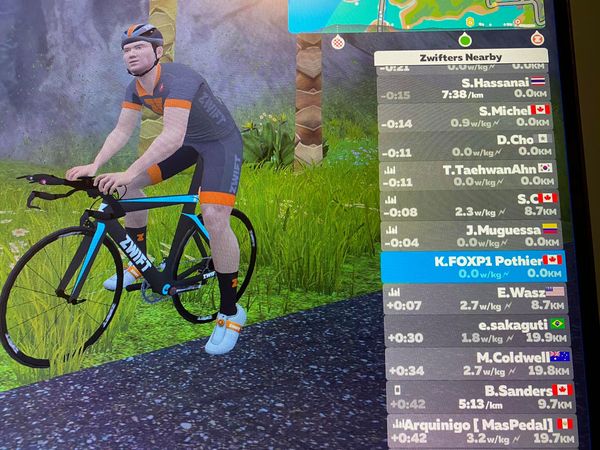 In instances in which video games and technology are used as a means by which to engage, as is the case with Larissa and Kieran, rather than as a tool for managing difficult behavior in attempts to provide a brief respite, they can be a powerful tool to help kids with autism. 
Video games allow an opportunity for joint attention and shared interest with peers, as 70 percent of all video gameplay is now social.  Repetitive and inflexible behaviors which interfere with problem-solving are common traits shared by many kids with autism, but they are a formula for failure in most video games which facilitate and rewarding flexibility, learning from mistakes, and adapting to new demands.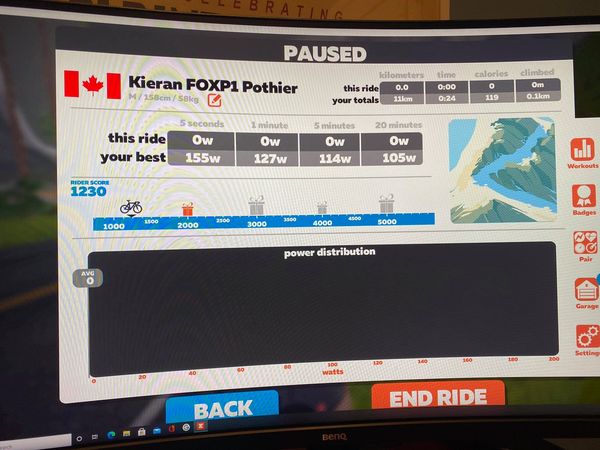 Clinical researcher Christina Whelen, PhD., and her colleagues found that computer games increased motivation and attention when compared with traditional methods of teaching children with autism.  Larissa has found the same, explaining, "Kieran likes watching all the data that is presented on the screen and tracks his wattage, speed, distance, elevation, and time and enjoys looking at all the different avatars, their outfit choices, and especially their bikes."  Larissa feels these aren't the only improvements noticed in her son.
Challenging Autism With Exercise
Those diagnosed with autism are at risk of obesity and other chronic disease, with studies indicating that U.S. adolescents with learning and behavioral development disabilities are 60% more likely to become obese, and 31.8% of adolescents with autism were obese.  "Kieran has only been riding a short time but I already see positive changes," confirms Larissa.  Larissa notes that her aon's stamina is improving and he appears to be "shedding some of those Covid pounds." 
The Components of Physical Fitness for Children with ASD
Body Image: Through exercise teaching children the parts of the body and what actions each part performs
Posture and Motor Coordination: Exercise can have a significant impact on the child's gross motor development, sensory systems, and cognitive development.
Muscular Fitness: Strength and endurance are a top priority in a child's health-related physical fitness.
Cardiovascular Fitness: A challenging component to add due to the repetitive, uninteresting, and distracting nature of most gym exercise equipment, this requires creativity to achieve. (Zwift is a perfect solution.) 
In a study published in Psychology in the Schools the authors concluded: "participation in a physical activity intervention contributed to overall academic engagement for students diagnosed with ASD."  It seems Larissa may have stumbled upon something in encouraging her son to join her.  By combining the benefits of a video game with physical activity, Zwift has the potential to be a powerful learning, behavior modification, and treatment modality for individuals affected by ASD.
Comments from An Adult Cyclist With Autism
The same can be said for 45-year-old Russell Jolliffe who, unbeknownst to him when commenting on Larissa's post about Kieran, had organically gravitated towards Zwift for the many problems it solved in his life.  Russel was diagnosed with Asperger's Syndrome in 2012 following the diagnosis of his son.  A long-time cyclist, Russell was encouraged to join his local cycling club in 2010.  Unfortunately, it did not go well and at the time Russell had no explanation for it.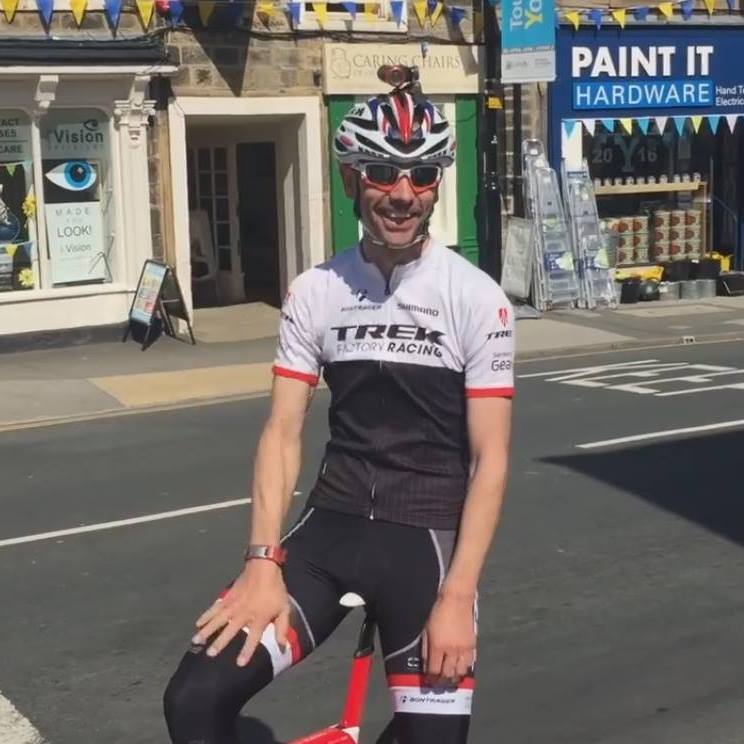 Russell always considered himself routine-oriented and thankfully his club always took the same route, stopping at the same cafe for coffee and cake before returning.  The problems arose when the club would unexpectedly change the route or deviate from the routine in some fashion.  "I would panic, drop to the back, and go the usual route by myself or head home," recalls Russell.
The group riding dynamic, with its emphasis upon the ability to read body language, understand sarcasm, and maintain eye contact, was a challenge. "Interacting with people I don't know is a struggle and conversations tend to be short," explains Russell. Although he enjoyed feeling "normal" as part of the group, the "mental cost was too high" for him to continue.
Zwift Was the Answer to Questions Russell Didn't Know He Had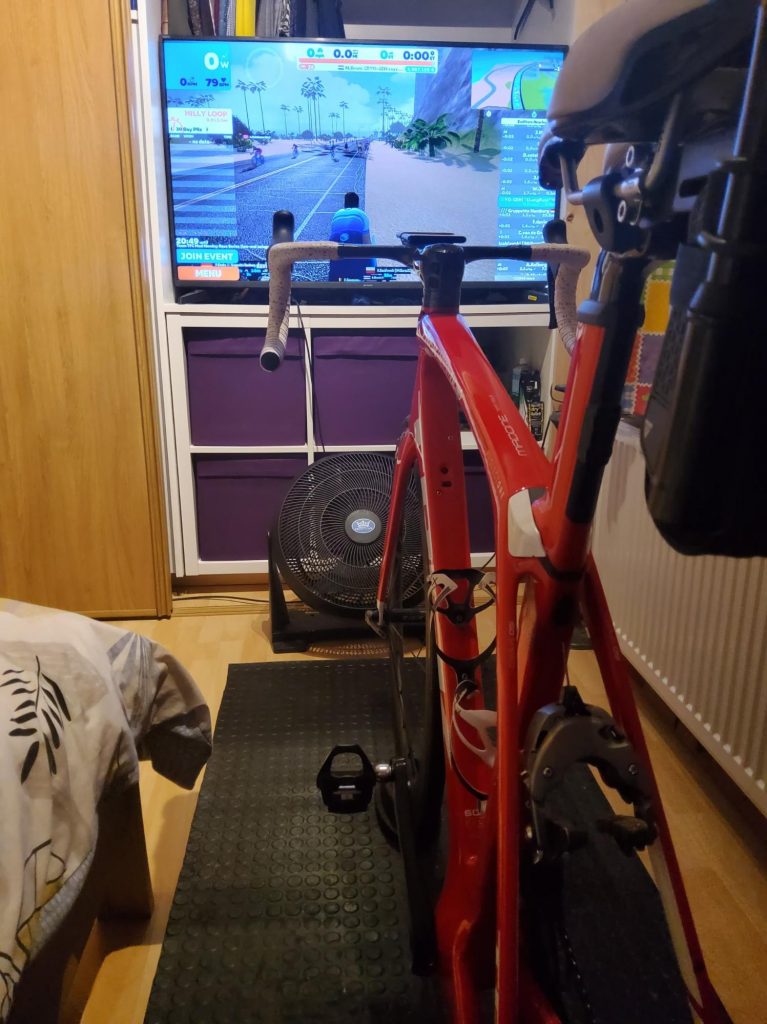 Russell lauds Zwift as his savior, stating, "It's almost as if it had been designed with autism in mind."  Russell thrives on the ability to ride set routes, follow predetermined specific rules and parameters, and interact socially on his terms in a safe, comfortable, and nurturing environment.  "Deep down I do miss my club," laments Russel, "but it was just too much for me and now I am a part of a great team on Zwift."
Russell (see his ZwiftPower profile) is a rider and A racer for Team Cryo-Gen.  "I have never been under any pressure while I race and always feel welcome, especially on the team's group rides," he says.  While Russell admits that his Zwift setup is not much different from most, he acknowledges that he always wears headphones and listens to music while riding.  "In everyday life I have to wear headphones also, like in the supermarket, to filter out anything external and allow me to concentrate," he explains.

Larissa says the same about her son.  "Keiran pretty much goes everywhere with his headphones on listening to music and loves to sing," she states proudly.  He also loves shoes, described by his mother as having a "shoe fetish", and the brightly-colored pair he chose to wear in Larissa's social media post further endeared this sweet young man to the incredibly supportive Zwift community.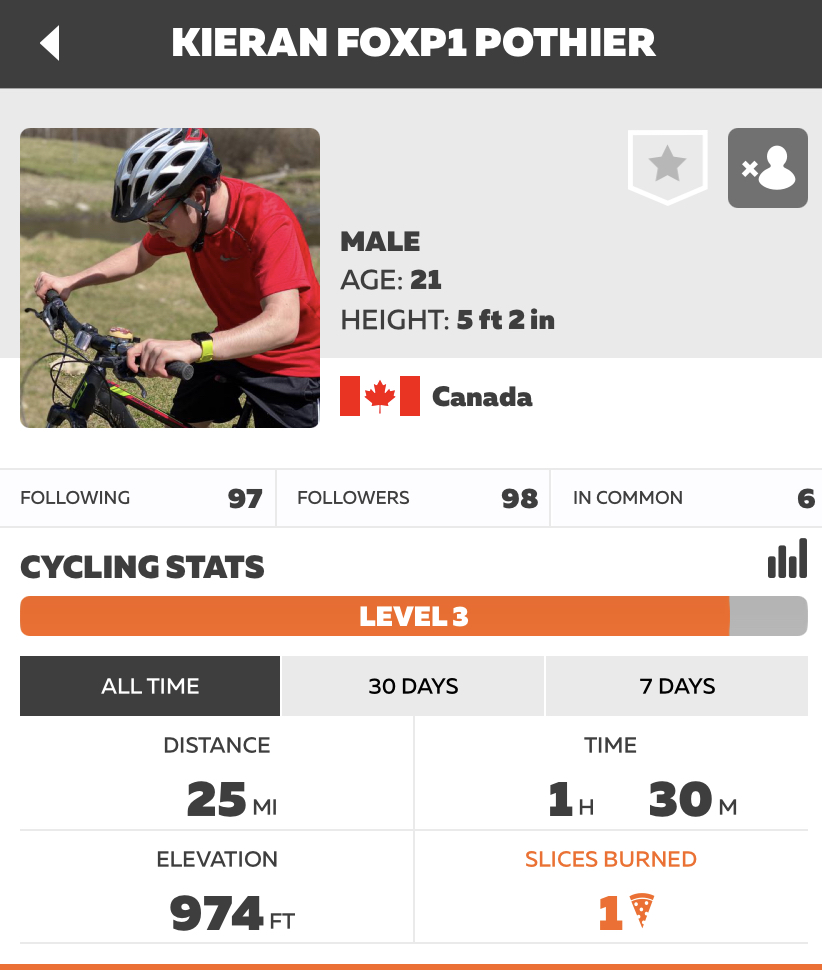 Kieran also loves receiving encouraging Ride Ons from his new Zwift friends, which prompted Larissa to create him his own Zwift account.  "Kieran is always super proud of himself after each ride," states Larissa when attempting to describe the impact that seemingly innocuous social media post has had on her family.  Using Kieran's words, "that's cool…so cool!"

When I saw Larissa's post about Kieran it inspired me and I thought I would offer up a piece of equipment that would make it more fun for him on Zwift.  Larissa said Kieran's face lit up when she told him.

Bradlee Twigg
Larissa and Russell Want to Say, "Thank you!"
Larissa feels that she owes a lot to the Zwift platform and the sincere response she received when sharing with the community.  "I hope that others with special needs individuals in their life can be encouraged by all the positive things Zwift has to offer.  Thank you for giving Kieran this opportunity to share his love for cycling." 
This is a sentiment which Russell echoes, but in much simpler terms by stating, "clipping in and riding a sunny Watopia instantly makes me feel happier."
To Kieran, Russell, and Larissa… Ride ON! 
What do you think?
Do you have a loved one with special needs who might benefit from Zwift or who has already? Your Zwift family would like to know your experience!