After several months of beta testing, Zwift is now available for Apple's tvOS!
Lowering the Barriers to Entry
With the new Apple TV 4k retailing for $179, this is now the most affordable platform for Zwifters seeking an experience of decent visual quality. Zwift is a graphics-intensive game which runs beautifully on gaming PCs but rather poorly on older, low-budget laptop and desktops. And while it runs decently on iPhone and iPad, running those devices into a big-screen TV returns acceptable but unimpressive results.
Thanks to today's release, new Zwifters can now purchase an affordable Apple TV 4k, a decent smart trainer, and be off and riding with a quality Zwifting experience.
Gameplay Quality
While Zwift will run on the previous version of Apple TV (the 4th generation), your experience will be much better on the new Apple TV 4k which boasts greater graphic detail, sharper user interface elements, and higher framerates.
Here are a few quotes from game master Jon Mayfield, pulled from the Zwift iOS & tvOS group:
I think there's a huge perceptible difference between the two. ATV4k will run smooth the entire time and runs at full 1080P, with a 4k user interface layered on top. It also supports glowing things (think Tron bike wheels) and has room for us to make the graphics even better.

Older Apple TV is an old iPhone 6 blown up to full screen. Gonna look pretty rough.

ATV4 can barely cope with a few riders on the screen. Every day as the worlds get more populated, the number of average riders on screen goes up, and the frame rate goes down. While I can say Zwift is more optimized than ever for packs of riders, I don't think the optimizations are keeping up with the increasing numbers of riders.

The new ATV 4k runs at about twice the average framerate of the older Apple TV 4, and it does it at a much higher resolution too. It seems to keep up just fine so far.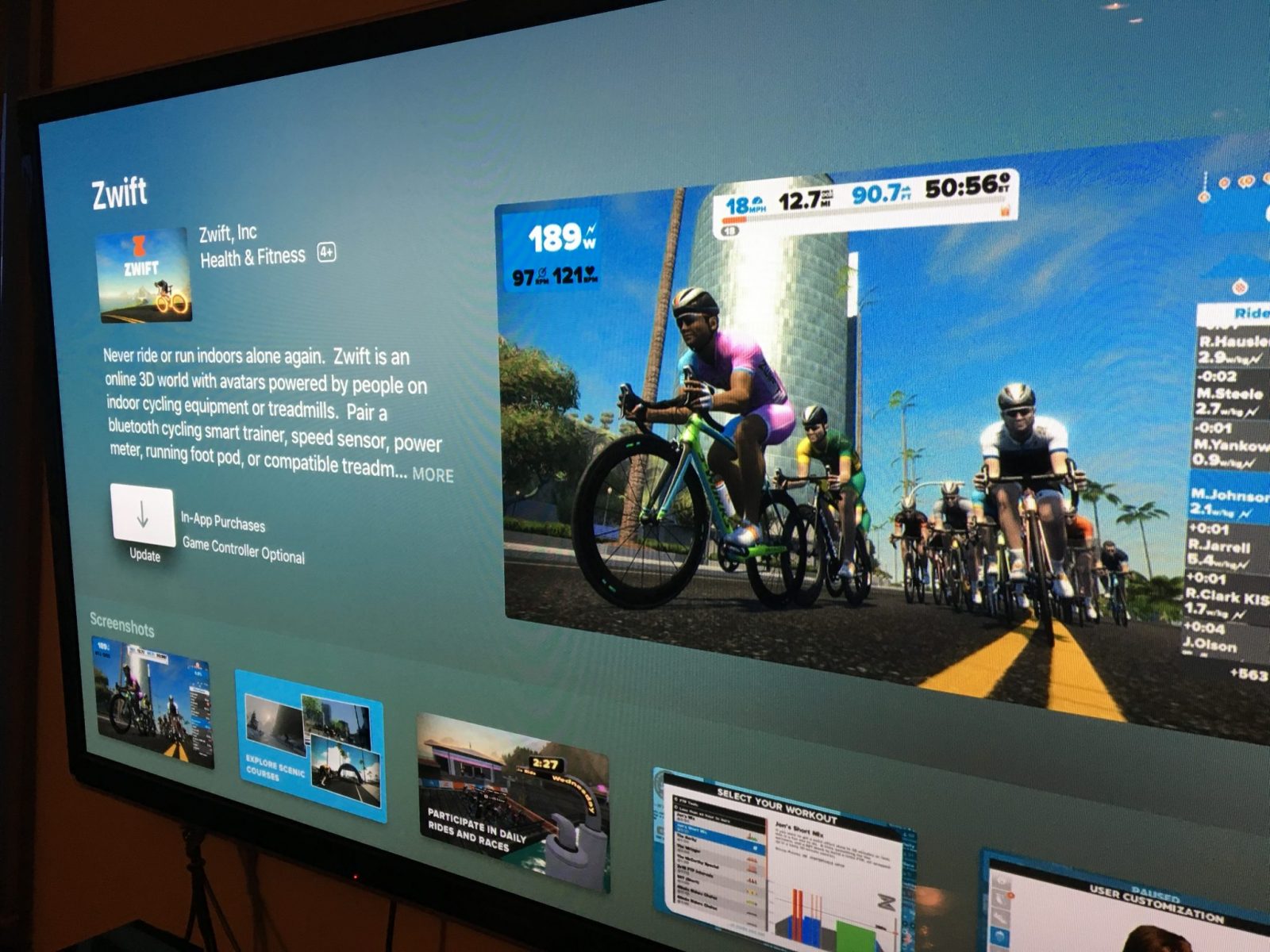 Bluetooth Device Limit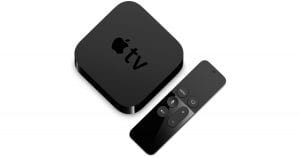 Apple TV only allows the connection of the Apple TV remote (needed for navigating apps) plus two additional Bluetooth devices. This means if you have separate Bluetooth sensors for your smart trainer, cadence, and heart rate, you will need to pair one or more of your Bluetooth devices to your phone via the Zwift Companion app, which will make them available on Apple TV.
The two device limit will be a non-issue to many Zwifters, since a smart trainer counts as only one device. Many smart trainers (such as the Tacx Neo, Elite Drivo, and Tacx Vortex Smart) broadcast power and cadence. This means you can get your controllable trainer connection plus power and cadence and a Bluetooth heart rate monitor all within the two device limit.
Need to Connect ANT+?
Need to connect ANT+ only devices such as a power meter or heart rate monitor? Use an ANT+ bridge such as 4iiii's Viiiiva HR monitor  (highly recommended, read the review) or NPE's CABLE.
Need Custom Workouts?

Since you can't copy and paste custom workout files into Apple TV's file storage, the only way to get custom works into Zwift for Apple TV is to place those workouts in your paired Training Peaks account. Each day's workout will automatically sync to your Zwift account and be available for you in Apple TV.
Here's a quick Zwift for Apple TV intro video from Shane Miller:
Have you tried Zwift for Apple TV yet? Chime in with your thoughts below!