If you are reading this, then I don't have to tell you of the myriad benefits of cycling. But I will anyway! They include:
improving cardiovascular fitness
strengthening the immune system
promoting weight loss
decreasing heart disease and cancer risk
improving sleep
enhancing mental well-being
While the pedal stroke is low-impact and joint-friendly, over time the postural demands of cycling and its repetitive nature can lead to muscular imbalances which may limit the body's ability to perform at peak level and dramatically increase the chance of overuse injury and chronic pain. 
What Causes Virtual Cycling Injuries?
Most indoor cycling injuries are due to muscle imbalances and overuse. Hours of cycling in the bent-over position create tightness in the quadriceps and the psoas (hip flexors), which acts to pull the pelvis into a forward tilt, overloading the muscles of the lumbar spine while at the same time weakening the abdominals. This also causes the opposing hamstrings and glutes to be weakened and calves tightened. 
Additionally, there's the neck and upper back soreness we all feel as we hunch over the bars with rounded shoulders and head raised.  The stationary nature of virtual cycling makes this soreness even worse.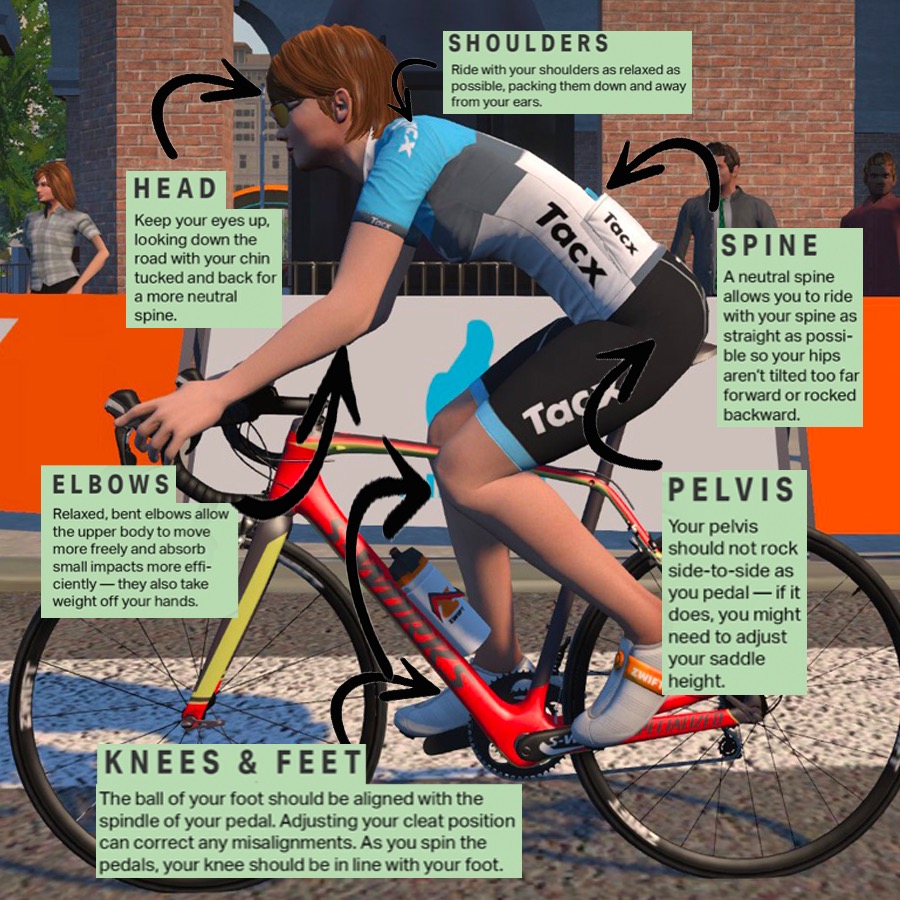 What Can We Do To Actively Treat And Prevent Common Cycling Injuries? 

As a Physical Therapist in Sports Medicine private practice for over 25 years, I have seen the deleterious effects of hours in the saddle. As a competitive amateur cyclist for the majority of that time, my experience provides a unique perspective.  I have suffered from most injuries myself and am perhaps my own worst patient. 
Despite this, I have always practiced by a simple edict: "As a Physical Therapist it is not my job to tell you to stop doing what you love to do, rather to treat and teach so that you don't have to!"  Because I know quite well that I wouldn't stop riding either, despite injuries!
The Treatment 
In this Zwift Insider series, I intend to utilize my experience to provide a basic understanding of common cycling injuries, including their treatment and prevention. Hopefully, this will keep you riding optimally or get you back on the bike quickly without pain.
We will address each injury through the following active approach:

Identifying the Injury (Pain Symptoms and Location)
Acute Treatment
Flexibility and Mobility Exercise (Long-Term Treatment and Prevention)
Strengthening Exercise (Long-Term Treatment and Prevention)
Basic Bike Fit Recommendations
Recovery
We'll look at injuries related to problem areas common to cyclists: knees, hips, low back, and feet… amongst others.
The Follow-Up Appointment
Stay tuned, as in the next edition of this series I will address cycling pathology of the knee, including patellar and quadriceps tendinitis, iliotibial band friction syndrome, and other disorders. We will examine active intervention measures to keep you riding, training, and racing at your best!
What About You?
Comment below if you suffer from any of the cycling "aches and pains" mentioned, or if you have a few of your own. That way I can be sure to address them in upcoming installments.