My husband is visually impaired. Jim has been what we might call "a little accident-prone" his entire life. He has always been involved in sports, and injuries included ruptured achilles, knees, hip replacements, and more.
In 1990 while cycling to work A 3/4 ton truck hit Jim. He suffered a brain and neck injury and it took five years of rehabilitation and therapy to get him back to "normal". This accident and another cycling accident seven years later caused optic nerve damage to both eyes. Jim continued to love cycling and eventually I got caught up in the sport as Jim organized various ride groups in Sherwood Park, Alberta for a well-known bike store "Mud, Sweat and Gears".
In 2014 we moved to Kelowna, British Columbia where we continued to cycle. We became members of the Kelowna Newcomers Club and we organized an outdoor club that included hiking, cycling, and kayaking for up to 25 people. In the winter this group would also snowshoe with us. So you can tell that Jim was very active, both in his early years and later as he retired at the age of 58.
My Life Would Change Forever
We thought the worst of his mishaps were behind us. Little did we know. In February 2018 while in LaQuinta for a three-month stay Jim's vision started to change. We had taken our road bikes and tandem race bike down to this area as the cycling is amazing and for that reason we chose it as an annual "snowbird" destination to avoid Canadian winters. Jim cycled over 1200 km in January using both his road bike and our tandem racing bike.
On February 10 we were out cycling on the tandem bike when Jim hit the curb. While we did not fall it certainly was a cause for alarm. By February 12 he could no longer drive our car. Jim had lived with controlled glaucoma for several years – all controlled by a simple eyedrop. While in LaQuinta his eyes became red and inflamed and we thought this was from the dryness of the region and the sweat going into Jim's eyes. After Jim saw five ophthalmology specialists in the Palm Springs area we decided to return home to Kelowna, British Columbia, Canada.
We both thought we were coming home to get Jim "fixed". This was not to be the case. Seven surgeries and one year later Jim was left with a small amount of vision up to a distance of five feet. He explains that it is like looking through waxed paper. He can see outlines but not faces.
Glaucoma is a group of eye disorders that have few symptoms in their early stages, but eventually leads to damage of the optic nerve (the bundle of nerve fibers that carries information from the eye to the brain), which can then lead to vision loss or complete blindness.
Glaucoma is a leading cause of irreversible blindness in the United States and the world.
Upon our return to Canada, our son who lives in New Zealand flew to see us. We all went to Jim's Opthamologist together. At this time we all learned that Jim's vision was not going to be repaired. We cried together. In 2018 Jim was diagnosed "legally blind".
Our son Corey was already a part of the Zwift community. Neither Jim or I had been that interested in Zwift as we spent the winter months in California, taking our outdoor bikes with us. On the way home from the Opthamologist, Corey told his Dad that he was NOT going to see his Dad stop cycling. Jim had cycled for over 40 years.
Together they drove to a local cycle shop and Corey purchased Jim his first indoor trainer. By mid-afternoon, Jim was now a member of Zwift and Corey had him cycling his first FTP test. Although Jim could not see the large screen TV, I was able to cycle beside him and give him his cues.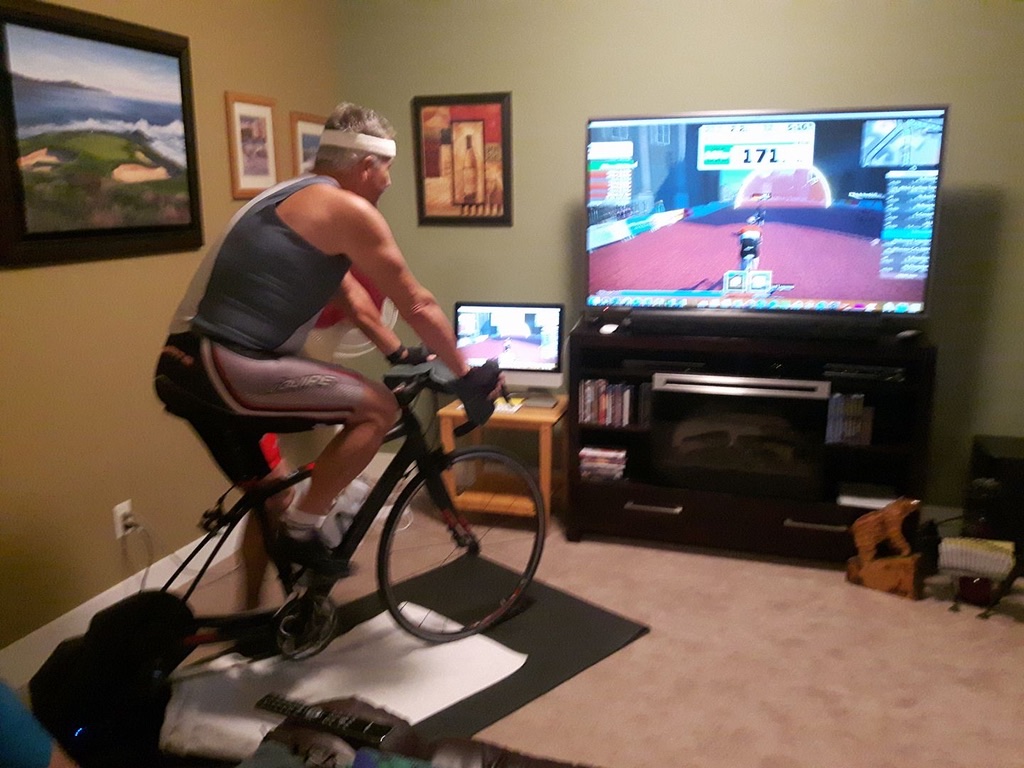 Life Continues On
Over time he convinced me to also ride on Zwift. At least two or three times a week we do a Zwift Meetup, and Jim stays with me for the duration as I am still the "weakest link".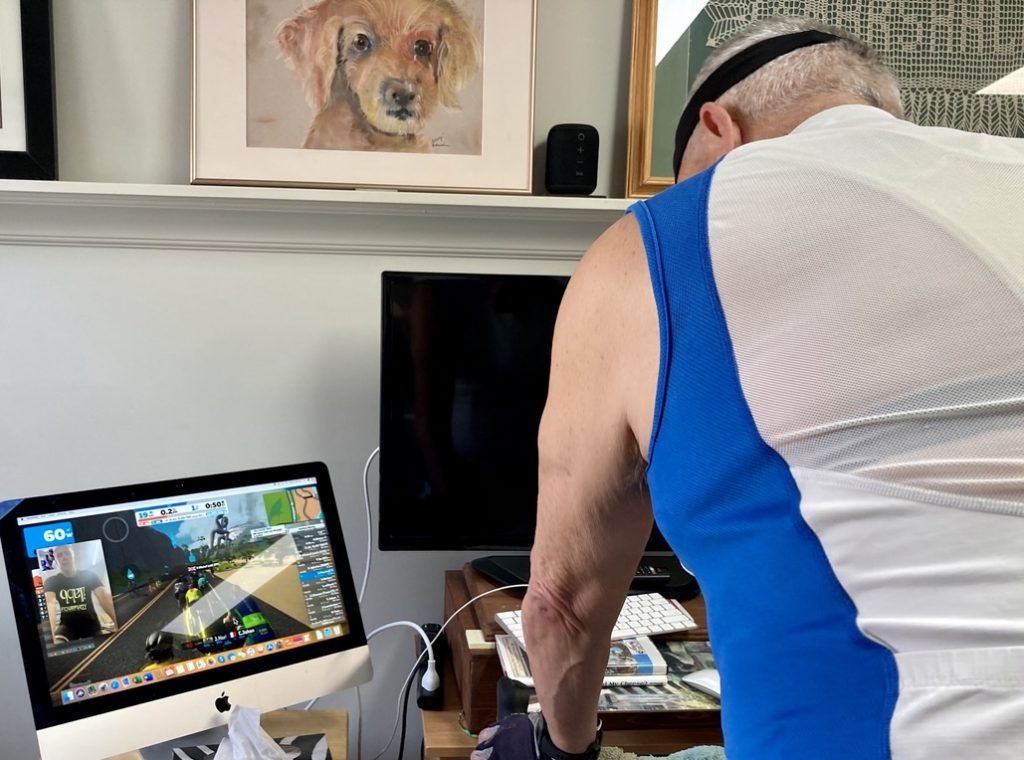 Last year when we flew to New Zealand (pre Covid-19) our son set Jim up on a trainer so they could cycle side by side.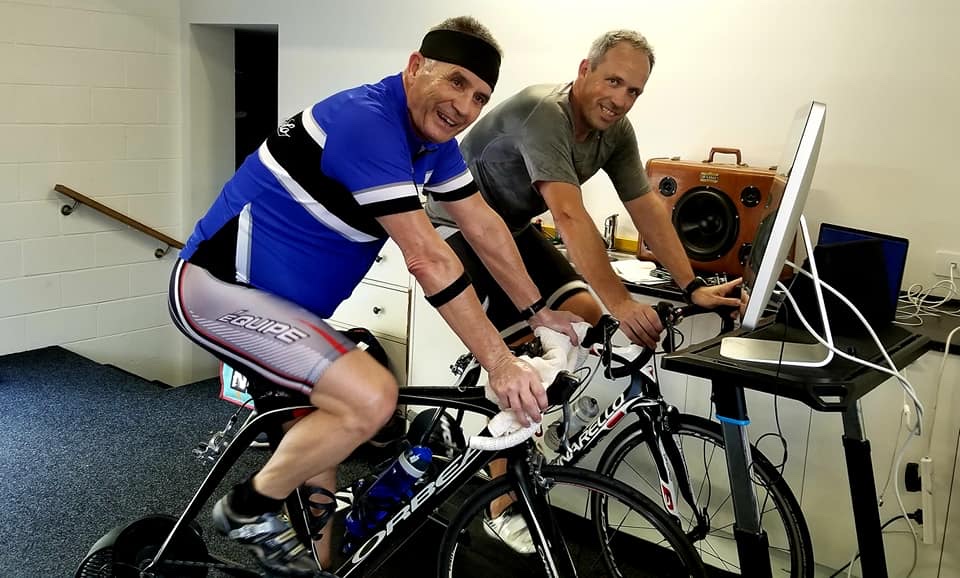 Adapting and Overcoming
Jim is now back to golfing, hiking, and cycling outdoors. He had adapted to his present vision and realizes that there is little he cannot do, he just has to do it differently.
Last summer we purchased a Tandem Terra trike. We always loved tandem cycling. Unfortunately, due to Jim's current eye status, we could not continue to ride our upright race tandem. Jim could not afford to take another bad fall from an upright bike as this would take away the little optic nerve he has left.
During the summer months you can see us out and about in the Kelowna area. Jim controls all of the gears, while I am the eyes for our special team. We have done many fundraising events on this trike.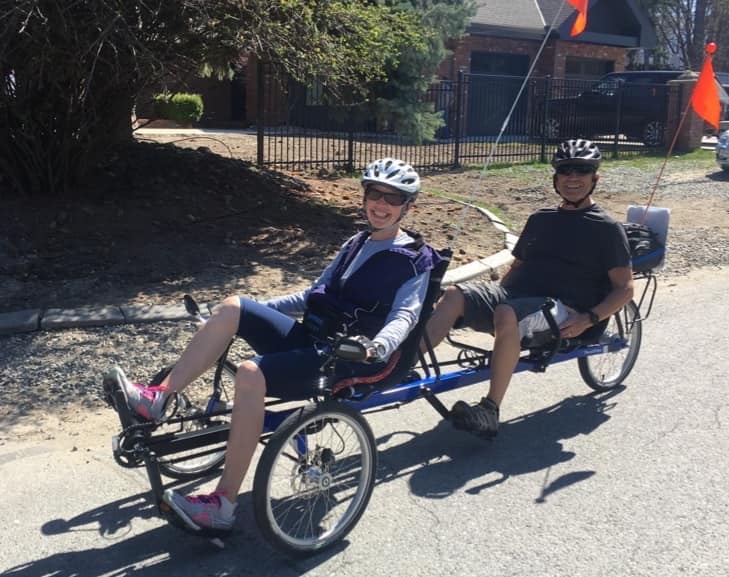 I often ask myself, "What if Jim had not been introduced to Zwift by our son?" Where would he have been today? Jim applauds Zwift as his savior, stating, "It's almost as if it had been designed with me in mind." Jim thrives on the ability to ride set routes, follow predetermined specific rules and parameters, and interact socially on his terms in a safe, comfortable, and nurturing environment.
He's still competitive at the age of 66 and is always trying to achieve personal goals. Deep down Jim would be the first to admit that he does miss cycling on his own outdoors. But he is now proud to be a part of the Zwift team. He hopes that one day there will be more audio cues on Zwift for the vision impaired. He also hopes that one day research will give him some of his eyesight back.
We all have our ups and downs and health problems. Like Jim, though, there is little we cannot do when we adapt and overcome. I am proud to call him my husband of 45 years and I thank Zwift for all they do for Jim and others.
Questions and comments?
Do you ride on Zwift with glaucoma or other eyesight impairment? Share your story below!