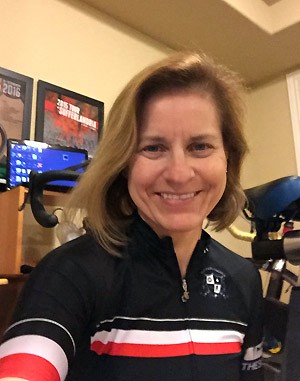 Janis, please tell us about yourself!
I'm a full time working mom of 3 boys. I went back to school full time in 2005 to be a Physician Assistant and I work for a neurology practice in Portland Oregon.
I've been cycling for a long time – started on a mountain bike in 1995 and did some mountain bike racing in Northern California in the late 1990s. I met my husband mountain biking and we used to ride a lot together. I switched to a road bike after my first son was born in 2004 and I just didn't have time for mountain biking anymore. I ran and cycled sporadically for years while I had young kids. We moved from California to Oregon in 2007 and the weather made it hard to get out in the winter.
I finally got serious about using my trainer in 2014 and found Sufferfest which I absolutely love. In 2016 I had my proudest moment ever as a cyclist when I became a knight of Sufferlandria. I also won my Stages bike from the Tour of Sufferlandria.
I did my first ever road races summer of 2016.  I didn't do well but I was proud of myself for going out there.
When did you start Zwifting and what's your story there?
I discovered Zwift late 2016 and didn't care for it at first. I was just riding on my own. I'm not sure I really understood how to track my watts or w/kg so even though I would ride for an hour I wouldn't work nearly as hard as doing an hour Sufferfest workout. I felt like my fitness slipped a bit. But Zwift grew on me. There was definitely a learning curve to Zwift and it took me a few months to sort it out. I was nervous to join a group ride at first and quite intimidated by racing. Then I got brave and tried the women's ZHR time trial race and some group rides. When I discovered group riding, riding with friends, and racing that really hooked me.
My setup is in my basement. I have my stages bike paired with 2 laptops so I can do Sufferfest and Zwift at the same time. I Zwift 2-4 times per week, riding whatever course is on that day. Sometimes it's nice to use the world hack and ride where no one else is around. Watopia is the best world, with the most variety and options.
I'm hooked on Zwift racing and usually do at least one race per week. I like the KISS women's races and the ZHR time trials. The ODZ women's race is great but too early for my time zone. I've been fortunate to do two of the Cycligent E sports races and they were a blast. And I got to go to Las Vegas for the CVR World Cup Race and I got 2nd! Just today I was asked to join a race team!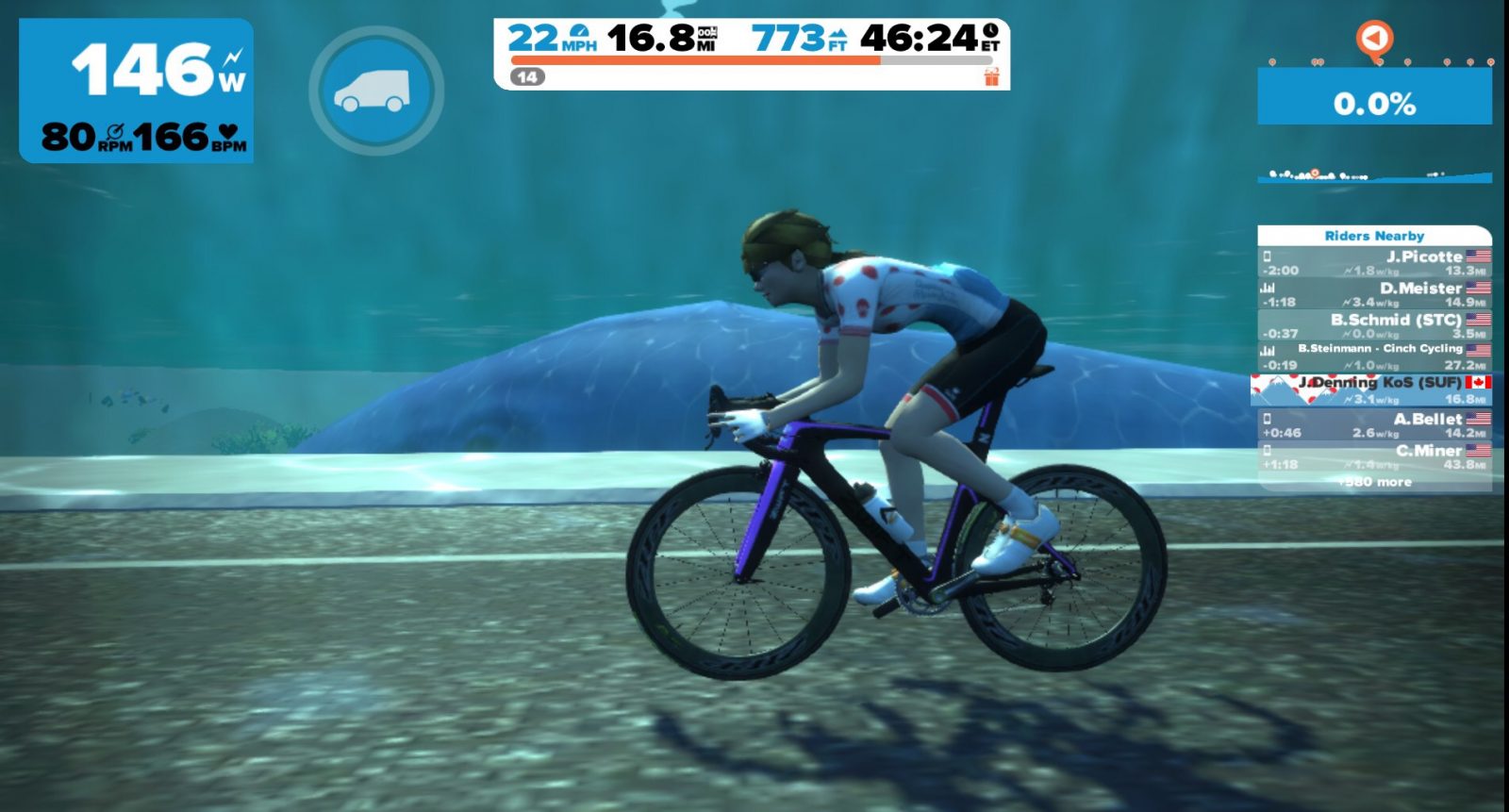 Wow! Congratulations! Tell us what the CVR World Cup Event was like.
It was incredibly fun and I felt so fortunate to be able to participate. One of my friends was approached first to participate but she wasn't available and she offered up my name as a potential rider. As it happened the details all fell into place and I was able to go. I had been a virtual participant in the first event from Roanoke so I knew what to expect, in a way. I was nervous though because the trainer setup was different and I somehow gained 2 pounds from my usual Zwift weight. Even the trip to Vegas was surreal. I had never traveled with my bike before and didn't know what to expect. Lucky for me Catrina Weiss and her husband Scottie were in the hotel room right next to me and I pretty much tagged along with them.
The best part was meeting not only the organizers but also the riders from both the men's and women's events. Wonderful people from all over the world.
I thought for sure I would get dropped in the women's race as no one was catching Lindsay Guerra, but I hung on. I felt bad though for Ashley Carelock because she had a problem with her trainer during the race and it cost her time. Truthfully I would have been thrilled to get 3rd but as it turned out I got 2nd!  After the women's race several of us watched the men's event and what a thrilling conclusion that was!  Then the organizers took all of us out for a wonderful dinner. I was up very early the next day to get to the airport. Later I watched the video of the race and I was just blown away by the online support for both events. What a thrill to be able to participate. I hope I get asked back to future events!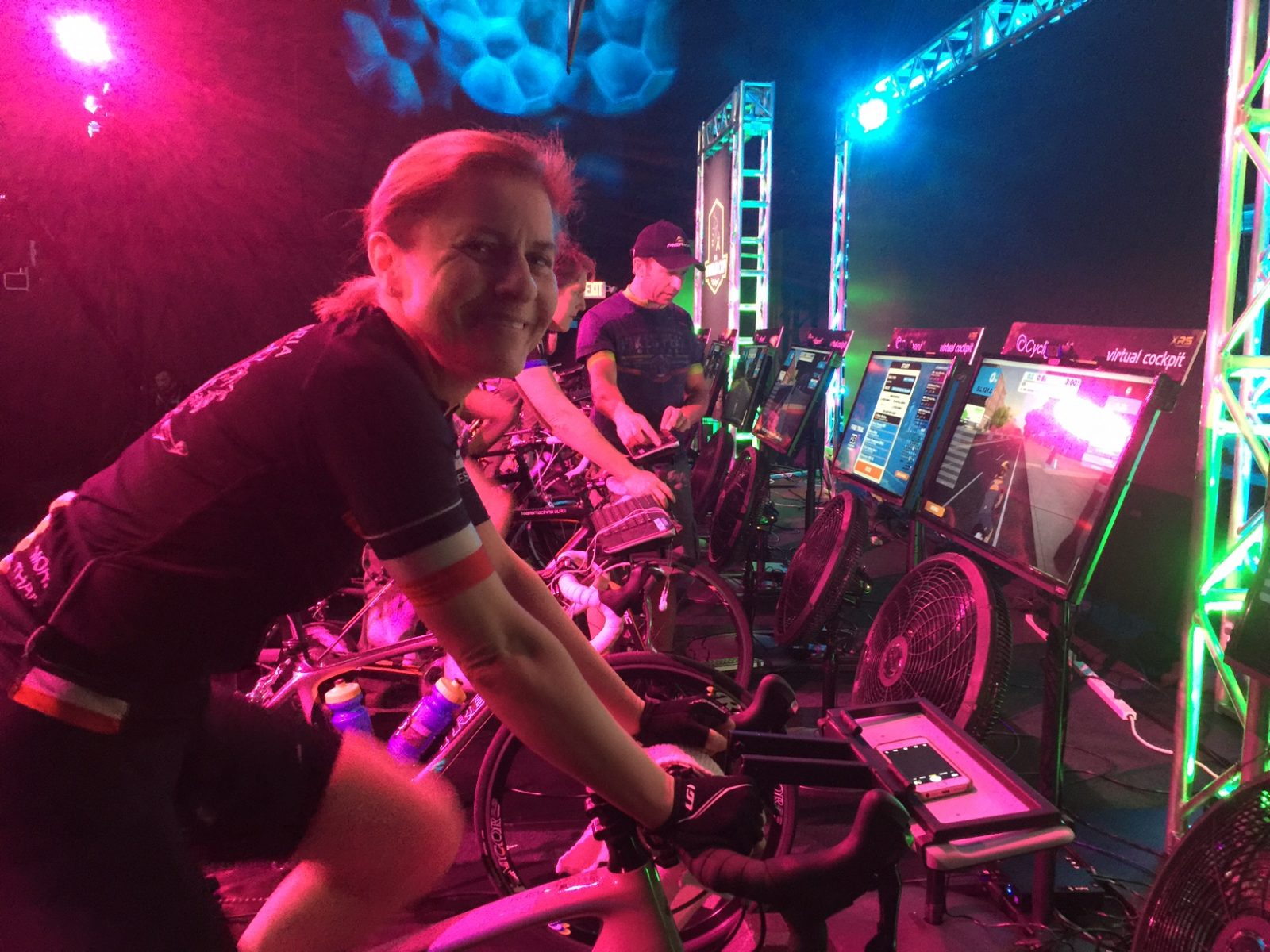 That's awesome! I so wanted to go watch that race in person! What bike do you ride in real life?
A Specialized Ruby Comp Disc. I love my disc brakes!
That's the same bike I ride! Very cool. Please tell us… has Zwifting changed your real life rides?
I'm not sure. Maybe I'm faster? The weather in Oregon has been so rainy and wet I haven't been out much yet!
What's your least favorite thing about Zwift and your most favorite?
My least favorite is that all the avatars look the same. I can't pick myself out. My favorite thing is being able to ride with friends and chat as though we were really together and riding outside.
Is there anything you wish you'd known earlier on in your cycling journey?
I wish I'd known about structured training and power a long time ago when I was mountain bike racing. Maybe I would have been better!
Anything else you'd like to add?
Just that the Zwift women's community is awesome and super supportive!
Thanks for your time, Janis! Great job in Vegas! See you on Zwift!
---
If you are a woman on Zwift and would like to be contacted via e-mail to share your story, please e-mail me at [email protected] to get started.