After introducing the Zwift training study in early February, the participants have been busy training and suffering. They are more than halfway into the 16-week period and we are able to present some interesting preliminary results.
Let's sum up first what is investigating:
How effective Zwift can be as a training tool for cyclists to make significant performance gains
How does it affect motivation for indoor training, which is traditionally perceived as very tedious & is training with Zwift enjoyable?
How is Zwift rated by frequent users at the moment?
The Results – so far
After a week of testing, the first complete training block consisted of four weeks of long-interval Sweetspot training and a few sessions with intensities around their Functional Threshold Power (FTP). The majority of riders also competed in Zwift races once a week and the occasional group ride. The main goal of the training programs is to steadily improve FTP, fatigue resistance and endurance over the course of the study – turning the now 20 participants (Age: 38,35 ± 8,2; only males) into stronger cyclists overall. During each 4-week block, training load and intensity slowly increases followed by a transition week with reduced volume/intensity to allow the body to adapt. So how has performance developed after the first training cycle?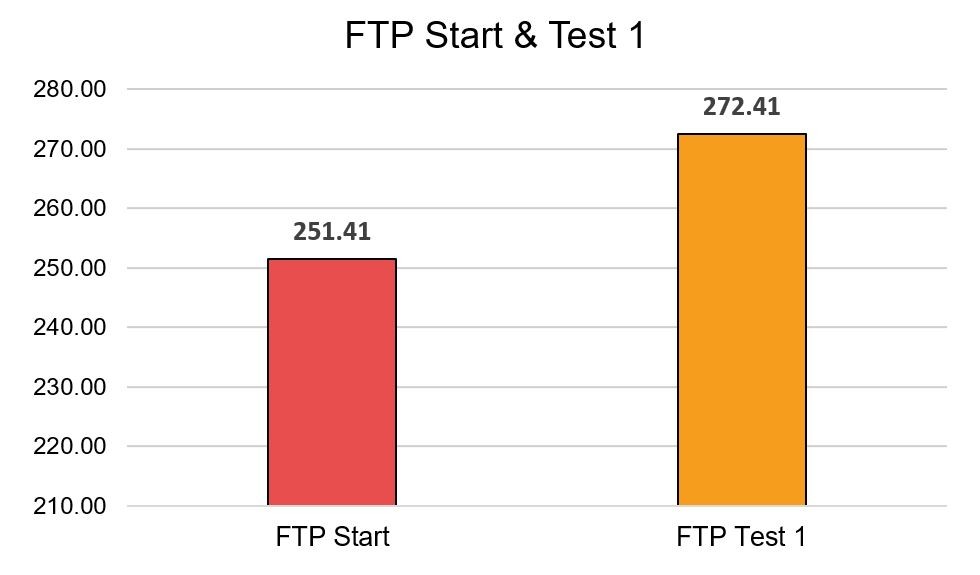 The outcome was quite stunning, even to me. An increase in FTP from 251w (± 38w) to 272w (± 40w) in four weeks! Not one single rider that did not improve his performance – and a few individual evolutions that were just fantastic – 245 to 270w – 265w to 292w – 250w to 320w! It is important no note that none of the participants come from completely sedentary periods. All of them had been riding and training in some way or another before the study for a while. Most had even been using Zwift for a while. Some of the increase might be due to an improvement ability to exercise at an intense level, but the general trend is clear: The training – on Zwift – was very effective!
But how does Zwift fit into this calculation? The best training is worthless if it burns out the riders and enjoyment is non-existent. To investigate the role of Zwift, mentally as well as physically, the participants complete a 15-question survey after every training block. Here are some of the highlights assessments from the first round:
"Do you feel your performance has improved over the course of the study?"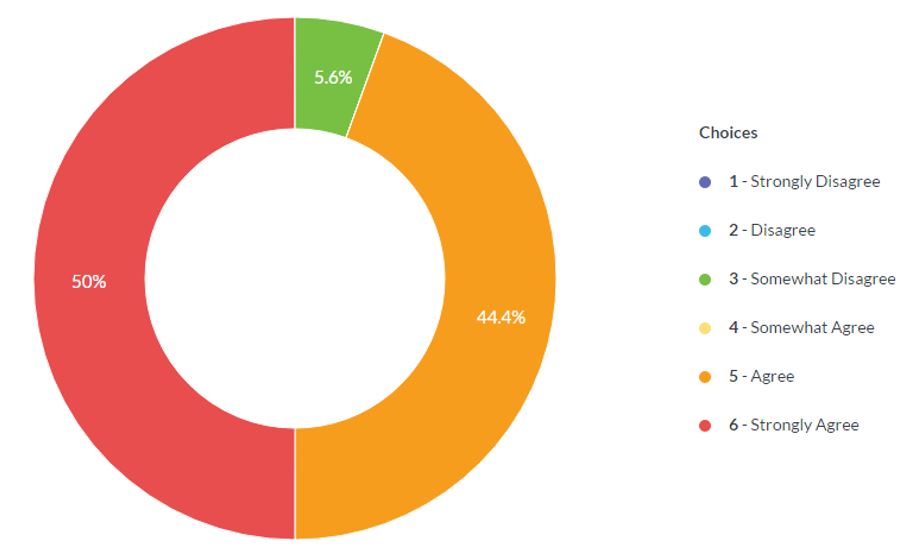 The observed improvements were very much in line with the feeling of the riders. About 95 percent think that they are better now than before.
Then there is the matter of fatigue – do the riders feel the stress of the training programme?
"Fatigue (before) vs. Fatigue (now)"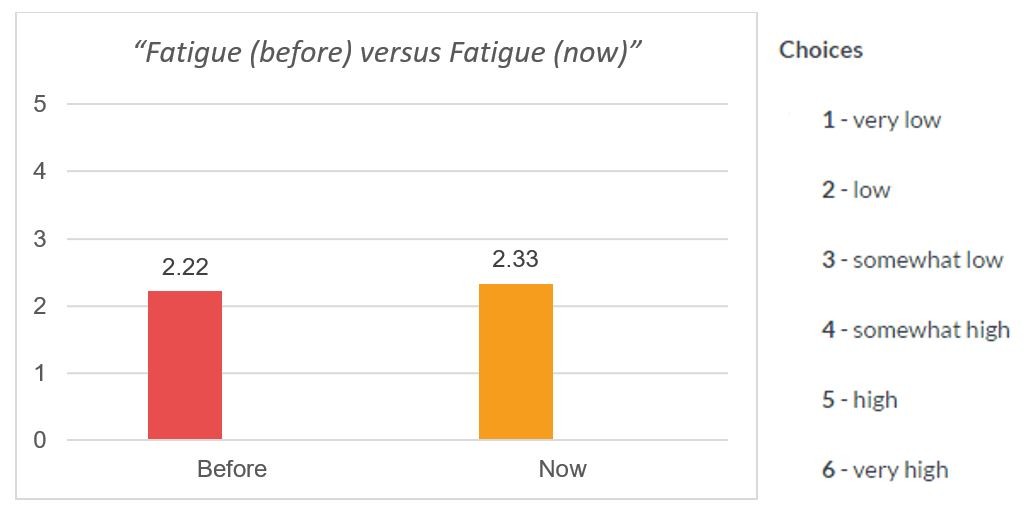 The fatigue increased very slightly from 2,22 average to 2,33, generally remaining "low" to "somewhat low." A good indicator for the sustainability of the training intervention and the miniscule danger of overtraining.
A very important factor that supposedly gives Zwift an advantage compared to other indoor training apps are the "gaming" and the social aspect. They should provide long-term motivation AND enjoyment while doing something that his traditionally viewed as an inconvenient duty.
First the motivation to train:
"Before the study, my motivation to train and improve was…" vs "Right now, my motivation to train and improve is…"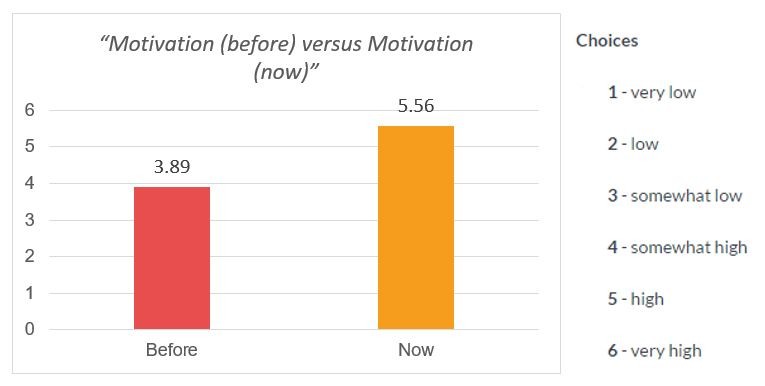 This has been one of the most significant results so far! The motivation jumped from "somewhat high" (3,89 average) to "very high" (5,56 average). After the first block, ALL participants answered with either "high" or "very high". And that following a training routine that was conducted almost entirely on an indoor trainer.
Enjoyment was only measured after the first training block:
"Do you enjoy training with Zwift?"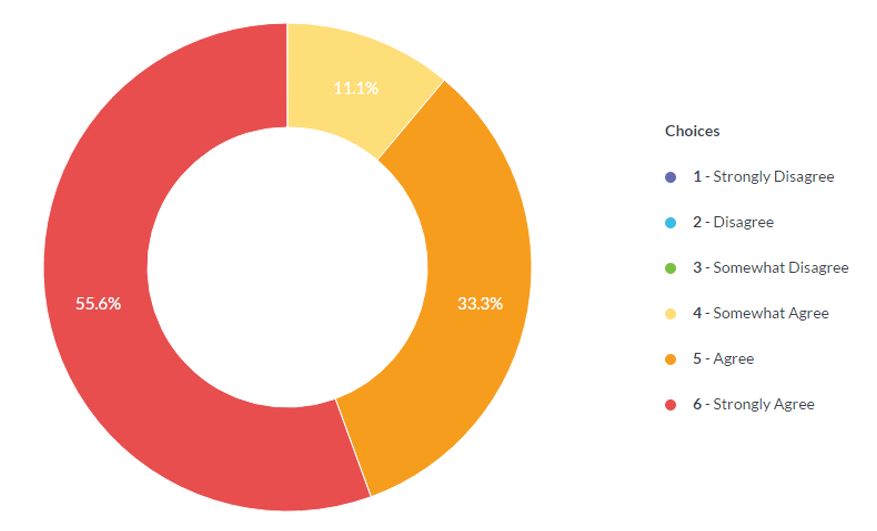 The training seems to provide joy and entertainment and in combination with the motivation, training with Zwift appears to be not only effective but also a very satisfying experience:
"Regarding Zwift as a training tool, the positives are that there are so many ways to stay active and get fit outside of just staring at block training grids – racing, group rides, free rides, and workouts. The racing and group rides are particularly motivating."
Additionally, participants rated Zwift as a training tool: 42 percent rated it "very high", 40 percent "high" and 12 percent "somewhat high". There was a bit criticism here too:
The design user interface is perceived as "clunky" and not very well designed
The Zwift Workout Editor is another area that seems to require improvements. Particularly a "copy-paste" feature for individual blocks and the ability to use it offline.
Summary
All in all the investigation has been a large success so far. All the key factors saw significant improvements after only one third of the study. Besides the obviously great results (from a Zwift user standpoint), we have developed a great community around the study with a very active Facebook group. The long-term goal here is to open it to the public after the study and turn it into a general group for discussions and guides about training for Zwift users! With the rapidly growing number of Zwifters you find many riders doing a lot of ineffective tempo riding. The presented results show that Zwift can be used in a more time-efficient way that yields great results while being enjoyable at the same time.
Until then, if you want to try some of the training the participants have suffered through, you can try all the key sessions. Get them at WhatsOnZwift.com >