In any 'normal year' (sans a global pandemic) April means one thing for many runners – the London Marathon.  It is a massive event that sees the streets of London transformed into a carnival that is special to watch and amazing to participate in. 
Sadly, with the pandemic, the traditional April London Marathon is not taking place, but runners need not despair. The magic of London can be replaced by the magic of Watopia! 
Our friends at WTRL, who brought us the extremely successful Zwift Racing League, are launching the new Zwift Running League which lasts 6 weeks and starts on Friday, April 16.
Event Types, Explained  
The Zwift Running League is a team-based running event.  There are two types of events which alternate each week:
Points Race: based on the Cross Country format, this is a simple race where the higher you finish, the lower the points you earn.  For example, finish 1st, you get one point.  Your team's top 3 finishers earn points, and the winning team is the one with the lowest points.  To participate, you'll need 3-4 runners. Distances for this race vary between 4.4km and 9km.
Relay Race: this race requires 3 runners. Everyone waits in the pen at the start, runner 1 starts and runs 2km, once they have completed their distance, runner 2 goes, then finally runner 3. You can't start your leg until your teammate has finished their leg and any false starts will result in a 20-second penalty. The team's overall time is calculated when the final runner crosses the finish line. The key to this race is communicating with your team member once you have completed your 2km distance. This can be done in various ways such as using Discord or simply messaging them to say "Start".
Is this Competitive?
The event is competitive and caters to all abilities, since you only race people near your own abilities.
The way this is done is that you select what class you enter, based on your running speed.
 Class
Average Minutes per MILE
based on 3.2 miles
 Average Minutes per KILOMETER
based on 5 kilometers
1
4:00 – 5:29
2:30 – 3:25
2
5:30 – 6:29
3:26 – 4:02
3
6:30 – 7:29
4:03 – 4:39
4
7:30 -8:44
4:40- 5:25
5
8:45- 10:00
5:26- 6:12
Teams will consist of 3 runners for Team Relay Races and 3 to 4 for the Points Races.  Once you established your Team's ability, you select the relevant City event category to enter, meaning you are competing against teams of your own level.
The City category you enter is dependent upon the ability of the runners in your team, based on their Class.
| City | Team Make-up |
| --- | --- |
| Atlanta | 3 Runners x Class 1 (but can include other classes) |
| Helsinki | 1 Runner x Class 1 – 2/3 x Class 2, 3, 4, 5 |
| Munich | 1 Runner x Class 2 – 2/3 x Class 3, 4, 5 |
| Rome | 1 Runner x Class 3 – 2/3 x Class 4, 5 |
| Sydney | 1 Runner x Class 4 – 2/3 x Class 5 |
Examples how this works:
If you had 3 quick runners that can average 4 to 5.30 minute miles, you enter Atlanta.
If your team consists of 1 quick runner of Class 1, but then 2 runners of Class 2, you enter Munich.
Winners
Both individual and team winners will be crowned:
Team Results and Leagues (collective/average time, points etc by CITY CLASS)
Individual Leagues & Results (times, points etc by AGE GROUP and CLASS)
Important Detail             
The league that you join has a designated event time. If you do not compete in that designated event, you will not receive a result.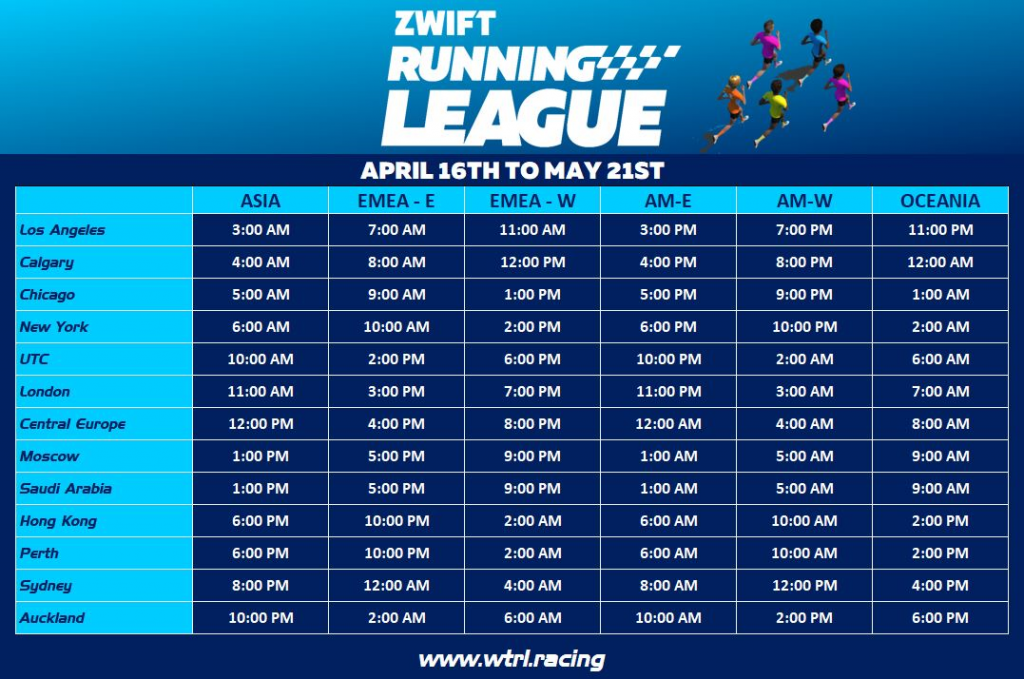 How to participate
You need to register your team at wtrl.racing/zwift-running-league/#registration
To race, you need to be connected to Zwift, and this can be done with a Smart treadmill.
If you don't have a Smart treadmill, there are other solutions. You can attach the NPE Runn™ treadmill sensor to almost any treadmill that transmits the belt's speed in Bluetooth Low Energy (BLE).  It is available in the Zwift Shop.
If you don't have a treadmill and still want to participate, one way to do this is via attaching a stride sensor to one of your shoes and run outside, with your device.  The two most economically-priced options that work are: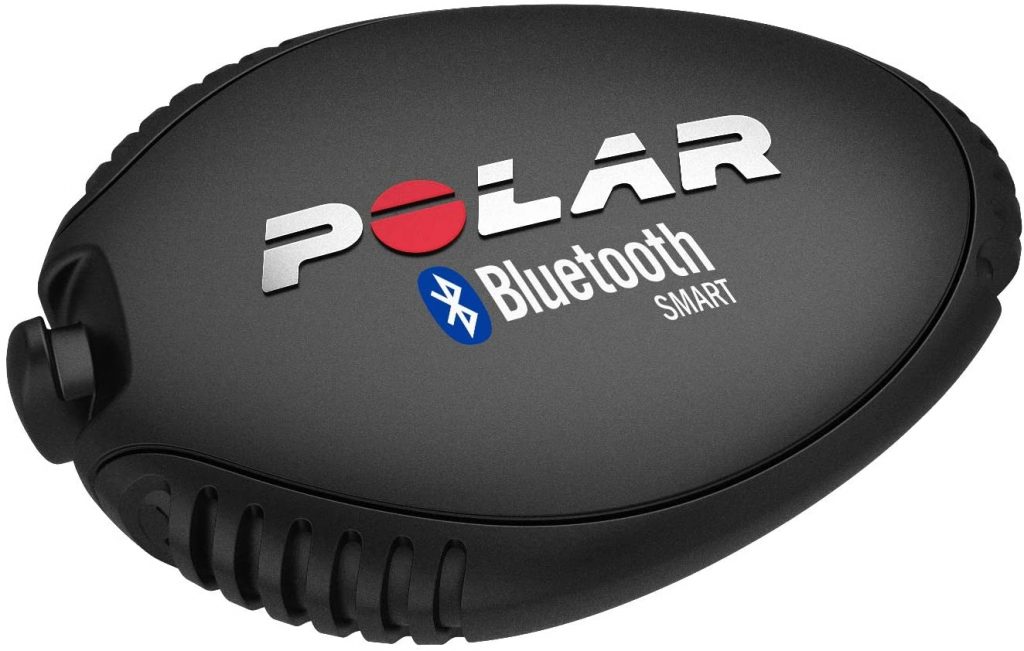 Zwift RunPod (hard to find in stock)
Running outside with your device comes with risks, so we would advise against this option.  You have to physically check your phone (which must be actively running Zwift) while running, and it is quite challenging. Basically, a treadmill is the best way to participate.      
Wrapping It Up
With an ever-increasing number of running events appearing on Zwift, it may just be time to start shopping around for a treadmill if you don't already have one! Just as Zwift cycling has enabled people to compete around the world, Zwift running is bringing people together to compete from all corners of the globe. Zwift Running League will be the first real show of this global competition, but it certainly won't be the last!
The potential here to have fun and get back to competitive running is appealing. WTRL has seen massive success with their Zwift Racing League and Thursday night TTT events, and we're sure this series will be handled with equal attention to detail.
Learn more at wtrl.racing/zwift-running-league/
Questions or Comments?
Share below!