Back in January 2017 I wrote a review of the Milestone pod, coming to the conclusion that it was a very affordable footpod with decent accuracy–a viable option for those looking to get into Zwift running.
Since that date, Milestone has had some issues with profitability, inventory, and data sharing. You can read more about this on DC Rainmaker's insightful post, but here I want to focus on the news that Zwift has moved into the hardware space. Because that's a big deal!
UPDATE 2: We are delighted to become part of @GoZwift team so together we can optimize the Zwift run experience and our Pods. Keep an eye out for more information about new footpod developments from @GoZwiftRun! https://t.co/HiYuis5jm4

— MilestonePod (@MilestonePod) June 25, 2018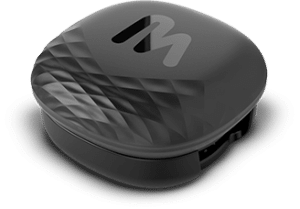 In the past, Zwift CEO Eric Min has intimated that Zwift would stay out of the hardware arena, choosing to focus on making Zwift the best dang indoor fitness game around. But here's my guess: Zwift has had a change of heart as they've realized how important hardware is to their success. Because you can create the best indoor training simulator around (and Zwift has) but without quality, affordable hardware it's all for naught.
Peloton, Zwift's #1 competitor, has proven that making the hardware/software experience seamless for users allows you to charge a premium and grow quickly. They produce and sell the trainers and treadmills used on their service, and it's working: their market valuation as of a year ago was $1.25 billion!
When it comes to running footpods, there is a real need for a decent footpod in the sub $50 price range. As DC Rainmaker says about "budget" footpods:
… all of the existing ANT+ footpods that cost $50-$80 but were ANT+ only, not Bluetooth Smart. Additionally, there were the couple of Bluetooth Smart footpods that were either discontinued (Adidas) or the size of a Twinkie (Polar's option). Seriously, there was nothing on the market reasonable except Milestone.
Zwift securing Milestone's team and assets so they can ensure the availability of Milestone pods is a good move. And I wouldn't be at all surprised if Zwift made a similar move in the cycling world at some point, because there are still too many issues with smart trainers (dropouts and inaccuracy being at the top of my list.) If Zwift could produce and sell a smart trainer that made the setup and use experience smooth and enjoyable, it would usher in another wave of Zwifters: those who don't like to monkey around with dodgy hardware.
Here is the full text of Zwift's press release on the Milestone acquisition:
Zwift Acquires Team and Assets of Milestone Sports
(Long Beach, CA, June, 22 2018) – Zwift, the global online training platform, has acquired the commercial rights to manufacture and distribute footpods previously manufactured under the Milestone Sports brand.
As part of the deal, Zwift have secured the core team responsible for the design and engineering of the legacy Milestone product – including ex-Milestone CEO, Jason Kaplan, Chief Technical Officer, Meir Machlin and Tzach Goren, former VP of Business Development . Zwift intends to start producing new pods imminently for its running experience.
Running footpods provide a first entry point into the world of virtual running on Zwift and allow Zwifters to run in any gym, on any treadmill, anywhere. By simply clipping a footpod to their existing running shoes, runners can communicate speed and cadence to the Zwift platform powering their avatar through a rich virtual environment.
"Footpods though, are not only a great asset to runners indoors." says Jason Kaplan, now Director of Enabling Products & Business Development at Zwift. "Not only do they provide connectivity to Zwift on any treadmill, but they also provide the outdoor runner with important metrics such foot strike and rate of impact along with run distance and duration. These are not only great tools that help to refine running technique, but also help provide runners with important information that can improve performance, reduce injury risk, and make sure they are in the proper shoe."
Zwift now aims to produce a new footpod model, which will be more "Zwift-centric," focused on improving the indoor running experience. The new Zwift footpod will be a refined version of the legacy MilestonePod, with enhanced technology and a more responsive feel for both indoor and outdoor experience.
"This is an important step for us as we move into the running space." says Eric Min, Zwift Co-Founder and CEO. "We at Zwift aim to help more people to exercise more often than they may have done before, by bringing more entertainment and social connectivity to the convenience of indoor training. We are determined, as much as ever before, to continue work with existing footpod and treadmill manufacturers to help us achieve this goal by providing customers the best possible experiences to suit their individual training needs."
MilestonePods are now back in production and being shipped to distribution channels. Zwift officially launched running on Zwift in February 2018 as a free access product. To date, Zwifters have completed over 125,000 runs, logging in excess of 560,000 miles.