Registration is now open for Zwift Academy Run 2023 (sign up here, or in game). Here's a complete look at this year's program including workout details, graduation requirements, schedule details, and more!
Intro to Zwift Academy Run
Now in its third year, Zwift Academy Run is an annual event that serves two purposes. First, it's a global training program for runners of all levels. Secondly, it's a worldwide talent ID competition to determine the members of this year's Zwift Academy Run Team (more on that below).
Graduation Requirements
To complete Zwift Academy Run 2023, participants must complete a total of 8 runs:
All 7 Zwift Academy Run workouts (group workouts or individual on-demand workouts, your choice)
1 Finish Line Run event
Runners aspiring to the Zwift Academy Run Team have additional requirements – see below for details.
Workout Details
ZA Run workouts can be done in scheduled group events, or you may select the workout from the Zwift Academy Run 2023 folder and complete it as an individual, on-demand activity.
#1: Roller Coaster
This aerobic hill workout, featuring constant elevation change, teaches the art of switching gears. Start the opening intervals close to your current marathon effort and crank the incline as you push your effort toward the top end of your lactate threshold (LT).
What is Lactate Threshold? Also known as Tempo effort, this is a pace you can sustain for longer durations while still moving at a steady clip. Once you hit your LT, you'll gradually bring the incline down one minute at a time until you're back at a marathon pace. After a short rest, you do it all over again to finish the session. This workout is great when you're tight on time and want a solid aerobic run without going to the well.

---
#2: Interval Kickers
A new twist on an old classic. This workout features three-minute reps starting at your lactate threshold (LT) pace for the first two minutes and then bumping up the speed to "kick" it in gear. Each successive rep will challenge you to push the pace faster than the previous one.

---
#3: Up & Up & Up
Legs, meet hills. Hills, meet legs. Hill work is speed work disguised! These one-minute repeats will prep you for that final surge to the summit. These hill intervals start with a moderate grade and steadily get steeper. Each repetition gains vert every 20 seconds, so get your low running gears ready to shift into action.

---
#4: VO2 Inferno
Take advantage of the warm-up for this one. Because as soon as you hit the main set, the speed will feel intense! This workout aims to run through two sets of progressively shorter and faster VO2 reps.
Refresher: VO2 max is the maximum amount of oxygen your body uses while exercising as hard as you can. Kick this workout off with the longer intervals first and work your way down to a fast 30-second finish. After a short break to catch your breath, we'll hit it for one final round. This session will elevate your heart rate and take your speed beyond your goal 5k race pace, so hold on and keep your eyes on the horizon.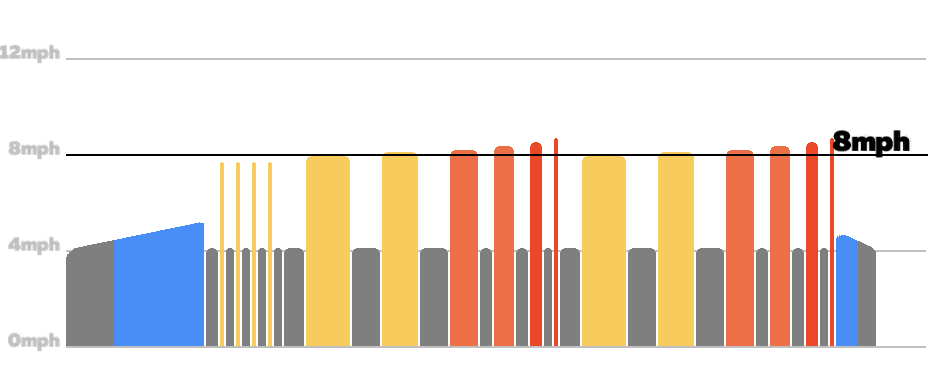 ---
#5: Kick Start
Ready to improve your Lactate Threshold (LT) pace? This workout will teach you how to recover on the fly. Today's session kicks off with a fast effort that should feel faster than your 5k race pace. We'll bring your heart rate back down over the next few intervals to finish the speed block. Your goal is to be able to complete all of these intervals with minimal rest.

---
#6: 5k Race Prep
Setting yourself up for success is easy in 5k Race Prep! This workout calls for multiple reps at 2.5 to 3-minute intervals. Alternating reps will be done at your goal 5k race pace before pushing 30 seconds above and below your 5k PR on even intervals. The fluctuation of speed will get you ready for race day.

---
#7: Down and Dirty Tempo
Fun fact: Tempo runs are the foundation for many great training programs. This workout will keep you going non-stop for a solid block of steady-state work. You'll start fast, then we'll play with speed before we end the workout with a cut-down interval. Stay focused on form and work on keeping up your turnover from start to finish.

---
Finish Line Run
The Finish Line Run is the final event for the 2023 Zwift Academy Run program. The goal? Run as fast as you can for 5k. Every step counts if you're competing for a spot on the Zwift Run team.
Finish Line events will be available between February 20 and March 5.
Tip: treat this event like a race by giving yourself at least 48-72 hours of recovery before you head to the start line. Show up well-rested and ready to get after it. Good Luck!
Key Dates/Schedule
ZA Run in-game registration opens January 23
ZA Run begins February 6 at 3pm UTC (8am PT)
Makeup events available during the final week of the program (all events of the program will be available this week)
ZA Run ends March 5 at 8:59am UTC (1:59am PT)
ZA Run Team applications accepted from 100-200 selected participants between March 6, 2023 and April 6, 2023
ZA Run Team member announcement (approximate date): May 15, 2023
Unlocks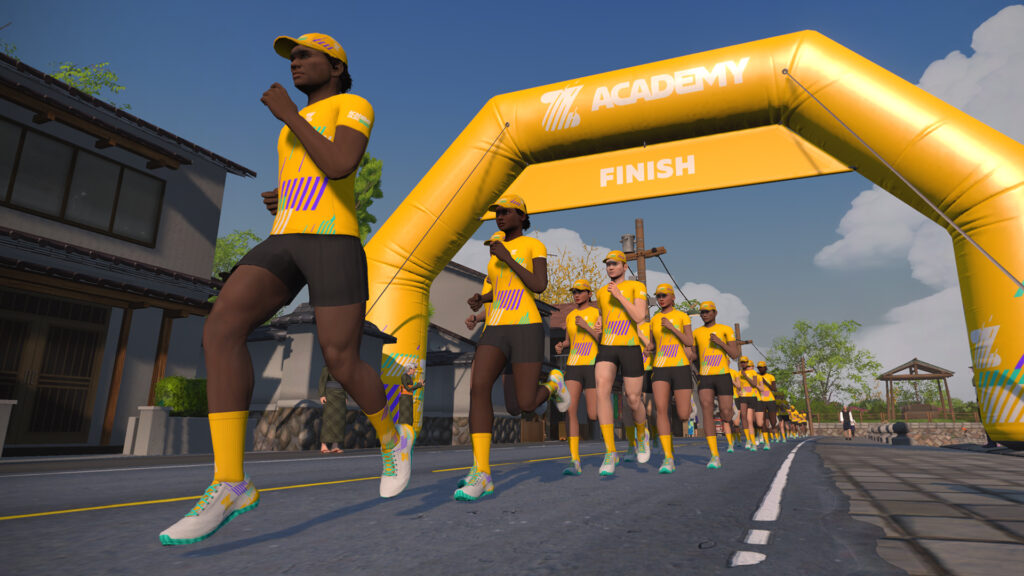 Runners will unlock new kit as they progress through the program:
Run Hat and Socks: 33%
Run Kit (shirt and shorts): 66%
Run Shoes: 100%
Zwift Academy Run Team Selection
Many ZA Run participants will be aiming for a spot on this year's ZA Run Team whose goal is to qualify for and compete in 2023 World Marathon Major. Two athletes (one male and one female) will be selected for this year's Zwift Academy Run team, a reduction from the 6-member teams of past years.
If you're trying to get onto the Zwift Academy Run Team you must complete all the long run workouts and the 5k Finish Line Run, and a heart rate monitor is required for the Finish Line Run.
What else will Zwift use in order to determine who makes the Zwift Academy Run team? See the full terms and conditions, which includes a detailed "Selection Process/Team Participation" section.
Coaches
The ZA Run coaches are experienced coaches who have trained runners from beginner level all the way up to Olympic athletes.
Terrence Mahon
Coach Terrence Mahon brings total integration of sports science, strength, conditioning, and sports therapy to the ZA Run program. He has guided athletes to the Olympics and incredible results on the global stage by maximizing training sessions to help runners achieve their potential.
Jen Rhines
With 20 years of experience as a pro athlete, 3x Olympian Jen Rhines coaches runners of all ages and ability levels from amateurs to Olympic hopefuls. Last year, she mentored the Zwift Run Team to nail their nutrition and improve their mindset during training.
Ready to Get Started?
Sign up in-game, or do it online at zwift.com/academy/zarun.
Questions or Comments?
Post below! We'll do our best to answer any questions, and may reach out to Zwift HQ if you have queries we can't answer. You may also want to check out the additional ZA Run FAQs >