After a break during October, the Zwift Ride Series is back for November with a "World Tour" theme featuring three top pro cycling teams: Movistar, INEOS Grenadiers, and Jayco AlUla.
Each team is hosting a stage, including special events featuring pro riders. Get all the details below…

Route and Schedule Details
Rides are 60 minutes long and scheduled hourly at five minutes past the hour.
Stage 1 (Nov 6-15): Movistar Team
Stage 2 (November 16-24): INEOS Grenadiers
Stage 3 (November 25-Dec 3): Team Jayco AlUla


Special Guest Rides!
Want to spin with the pros?
Each stage includes special events hosted by pro riders from the featured team. For a list of upcoming special guest rides in this series, visit this custom ZwiftHacks link.
Signing Up
To sign up for the series, click the card at the top of the homescreen and click "Register". You're all done! Clicking the card will now show your progress as you complete each stage.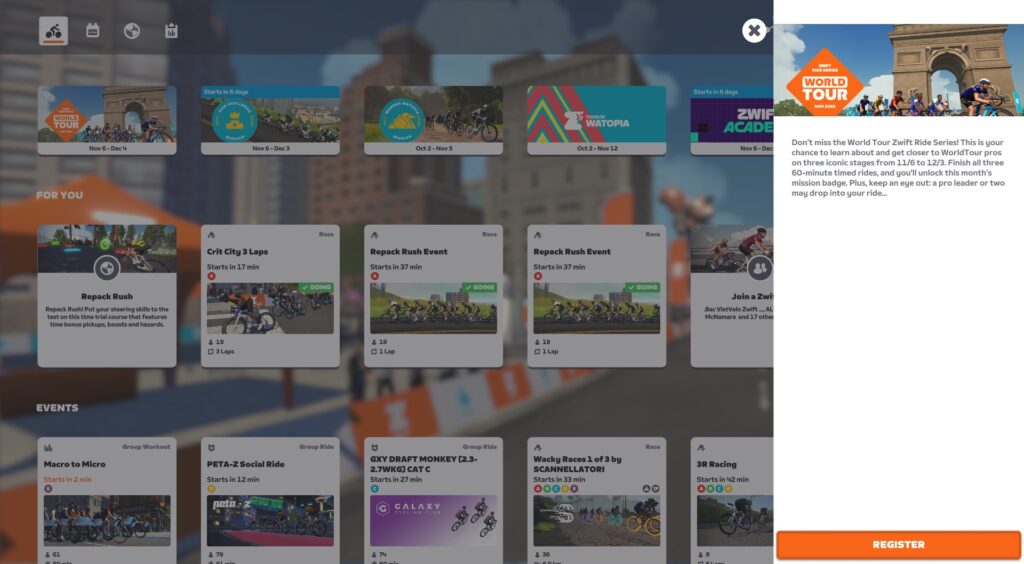 Next you'll need to join and complete at least one ride from each of the three stage. They're scheduled hourly, so you should be able to fit one into your schedule.
Badge Unlocks
Complete all three stages this month to unlock the Zwift Ride Series: World Tour badge!
Questions or Comments?
Share below!