About This Series
Since March I have become obsessed with the weekly Team Time Trial… so I asked Eric if I could share my obsession with you all, in weekly doses.
Each week on a Friday I will give you a profile of the upcoming route, guidance on bike choice and some target times if you want to aim for the Premiere League (top-10 in each coffee class get to be in a special race televised on YouTube).
If you can't ride, or even if you can ride, but want more action! Don't forget to tune in to the live TV show on Zwift Community Live's YouTube Channel at 6:15 (UK time).
For those outside the good ole US of A it's just another Thursday… for those inside it is the biggest holiday that isn't in July… it's Thanksgiving! I have been here 20 years and I still don't understand it… but hey… treat it like practice for Christmas dinner, and what can go wrong? The question is how many of the riders on this side of the pond will be weighed down by Turkey, cranberry sauce, and sweet potato (with marshmallow topping)?
But…. it's not just Thanksgiving… this is the Nopinz World TTT Tournament event. All the work you've put in on TTTs this year is for nothing except training because THIS IS THE EVENT THAT COUNTS!
Review of TTT #83 Watopia Hilly
Watopia Hilly might be the oldest ride in Zwift, but it isn't a big hitter on the WTRL TTT calender. Its last showing was in December, and there were less than 100 teams… so nothing really to work with in terms of time. Luckily Hilly Reverse was ridden a few weeks back so at least I could work from that. Sill… here are the times and the results from WTRL #83
| | | | |
| --- | --- | --- | --- |
| Category | My prediction | #83 PL | Position |
| Vienna | 42:30 | 41:28 | 16th |
| Espresso | 36:57 | 36:32 | 19th |
| Frappe | 38:45 | 38:39 | 15th |
| Latte | 42:00 | 41:55 | 13th |
| Mocha | 48:30 | 48:36 | 11th |
So how did I do on the day? Well, unfortunately last Saturday disaster struck and I had a catastrophic failure with my Turbo/Ergo/Smart Trainer. Despite desperate messages to various outlets, friends, and other contacts in the area I couldn't get a loaner for Thursday.
What that did mean is that I got to be DS from the "team car" twice this week – once on Greatest London Flat for the ZRL, and then on the WTRL TTT on Hilly.
My experience this week as DS was something of a revelation to be honest. The team only had six – me down with a dead trainer, another rider in hospital with a raging infection… but our time through the course was faster than targeted and the watts were higher than usual. Did the Magnificent Six just have a good day, or was there a tangible benefit from having someone who knew them and knew the course calling the plays?
I know I really enjoyed being the eye in the sky and would definitely do so again if I could. It's an experience I'd recommend to everyone.
That said, the UPS man has just arrived with a reconditioned 2018 Wahoo Kickr, and my trusty old Kestrel Talon is all ready to be set up. This weekend I intend to have a crack at the 1 hour Alpe. Ride on, and see you on Magnificent 8!
Magnificent 8 Course
Next Tuesday we have a 28.8km ride in a rough figure-8 route around Watopia. The Watopia Magnificent 8 course is one of those "mostly flat, but…" courses. Here the "but" comes in the form of Hilly KOM Reverse which has the potential to rip the team apart if you aren't careful. Luckily the KOM comes close to the start of the ride so your legs will be fresh. Here's the always great VeloViewer view of the course:
We start in the downtown Watopia pens and head through the start/finish gate… from there it's across the bridge, around the Volcano and head towards the Italian Villas over the land bridge. The tricky segment starts here – the surface turns to dirt and then you head up the hill past the waterfall. Brief respite from tricky terrain for a short while (a km of downhill and mostly flat), before hitting the KOM.
Up and over the KOM, hang a right and head into the desert, and it's 11km of flat. Up the Col du Saddle Springs, down the other side, and into the tunnels. After that, it's back to downtown Watopia and through the start/finish and, as the saying goes, Bob's your uncle.
Curiously, if not totally relevant, I do actually have an Uncle Bob.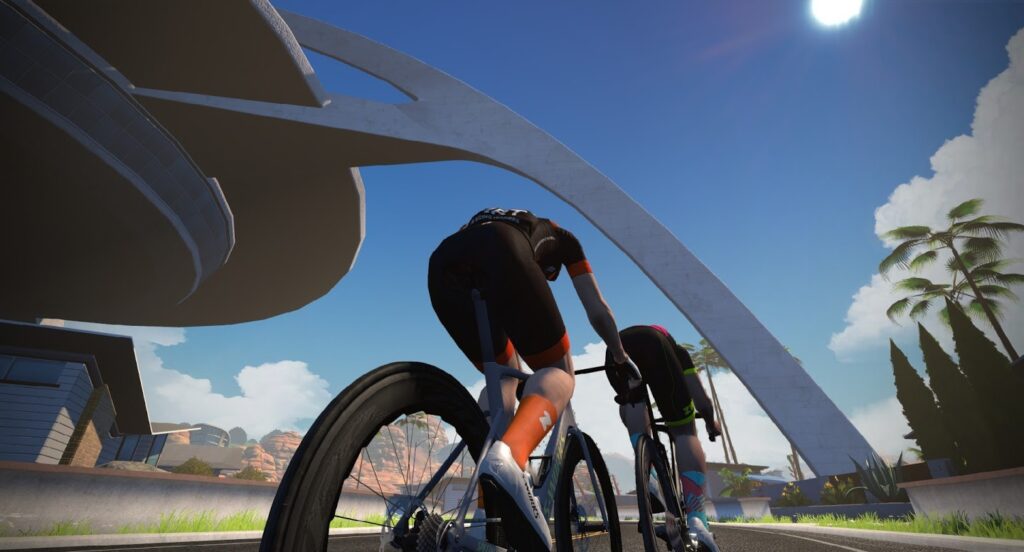 Ahead of ZRL #4, a Team Time Trial, the guys over at No Breakaways have created a fantastic route profile on YouTube (I have a good face for text which is why i'm writing this not presenting it…). The only difference in the ZRL and the WTRL Thursday TTT is the format of the teams/classes so this is well worth the 8-minute investment to watch!
What to ride?
Bike recommendation on this route is pretty straightforward. Despite the bump over Reverse Hilly KOM Reverse, aero rules the day. At the top-end of equipment the question is does Tron's performance on the hill outweigh S-Works Venge with the pretty Super-9 disc wheels. Not for me… I will be on S-Works Venge with the 858/Super9s.
Here are some recommendations on equipment at various levels:
Level 6 Zwift Aero frame and DT Swiss ARC 62 wheels
Level 13 Canyon Aeroad 2021 and Zipp 808s
Level 18 Specialized Venge with Zipp 808s
Level 25 Cervelo S5 with Zipp 808s
Level 33 S-Works Venge with ENVE SES 8.9
Level 35 S-Works Venge with Zipp 808/Super 9
Level 45 get those 858/Super 9 wheels and pair them with the S-Works Venge
I know I say it every week but it is doubly important this week. Get the Tron! There is no better ride this week.
Route Recon Rides
There are a variety of rides on this course over the weekend. Check for yourself on the event listing on zwifthacks.com.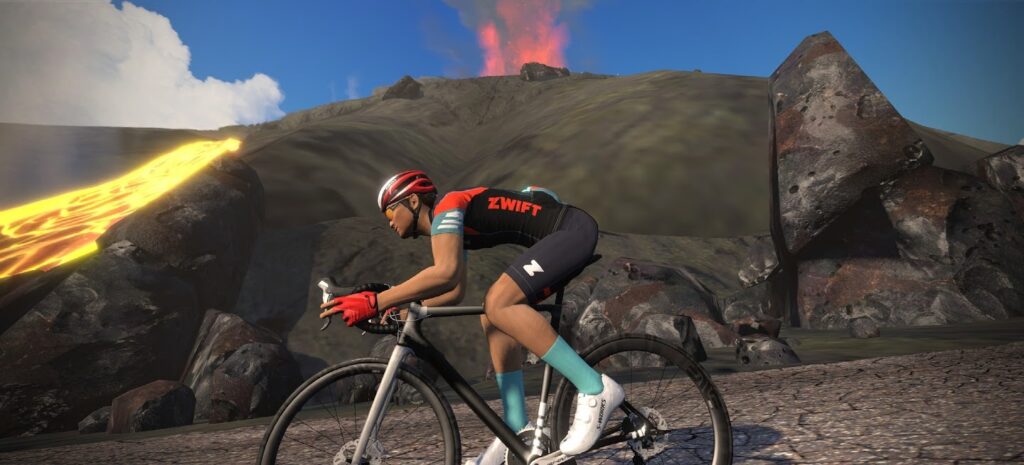 Race breakdown
I break this route into four sections:
Flat to the land bridge
Over the KOM
Desert flats
From Saddle Springs to the end of the line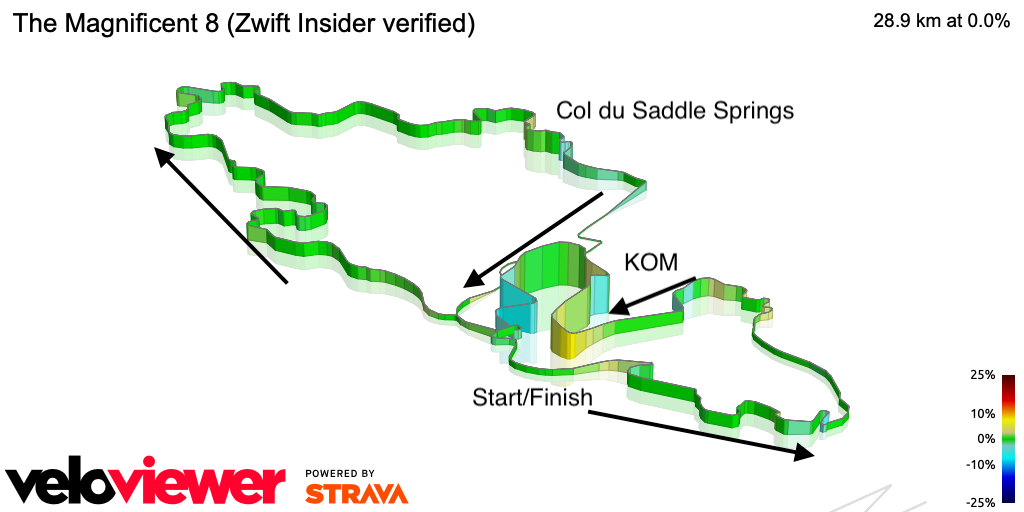 Part 1 – Flat
Come out of the pens and through the start / finish gate. It's not flat to start with but it is a steady rise – work on your formation and you have nothing to worry about. At the top of the rise turn right, head across the bridge, around the volcano and across the land-bridge towards the Italian Villas.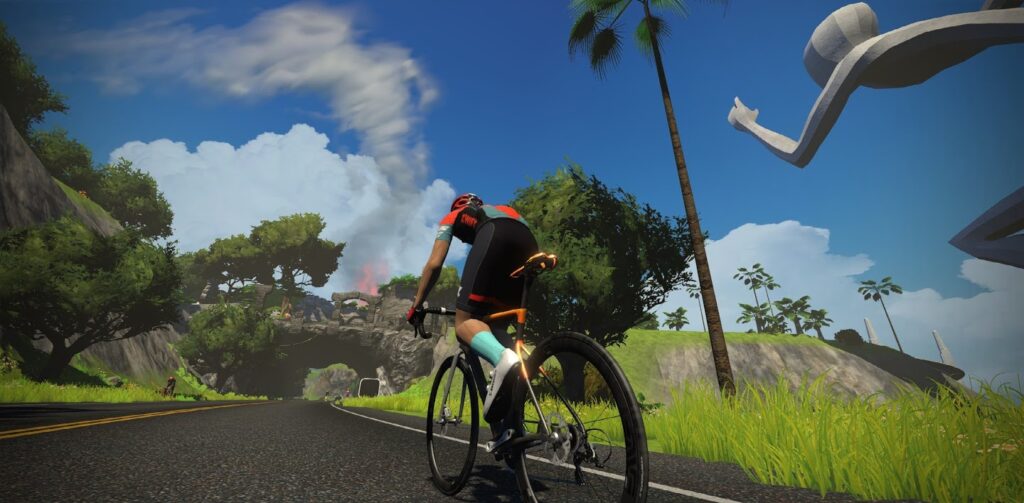 Part 2 – Through the Italian Villas and over the KOM
This is definitely the trickiest section of the ride. Once you are across the landbridge the road surface changes to dirt, then it starts to rise. Once you get to the Villas the surface turns to cobbles then tarmac, and rises up past the waterfall. There is a brief respite (down/flat) before hitting the KOM itself.
The challenge with the dirt section is the drag dirt has – it will slow your team down, and will also reduce visibility. Discord is your friend here. The road hits 3% which on the dirt will feel like 5%. It doesn't take long though, and soon enough you'll be at the Italian Villas.
At around 7.4km you hit the reverse KOM. This one is your real danger area for holding the team together.
By the numbers this hill barely exists… it's 1.8% for 2.5k. A false-flat, right? Well, the truth is we have four ramps separated by easier segments and even some downhill. Why is this a problem? In a large group race you have a big group to hide in, and as the groups split up you still have plenty of protection. In a TTT you have only have (up to) to 6 team members to hold together – when the hill bites each team member will be impacted differently.
What to look out for here?
Stronger members leaving the team behind. This is not a time for a solo break.
Weaker team members getting dropped or left behind. Particularly after the first ramp – at over 10% someone will crack if you go at race-pace, or they will burn matches getting over the ramp then back off and get left.
If you come over the top together you're in luck – gather momentum on the descent and there is an opportunity to supertuck to get a micro-rest… just look out for the flatter section around the bend where your supertuck might break. Stay together here and power down.
Part 3 – Across the desert
There is a slight rise into the desert itself, but mostly this is a flat, fast 11km. Get your heads down, stay in formation and ride like the wind.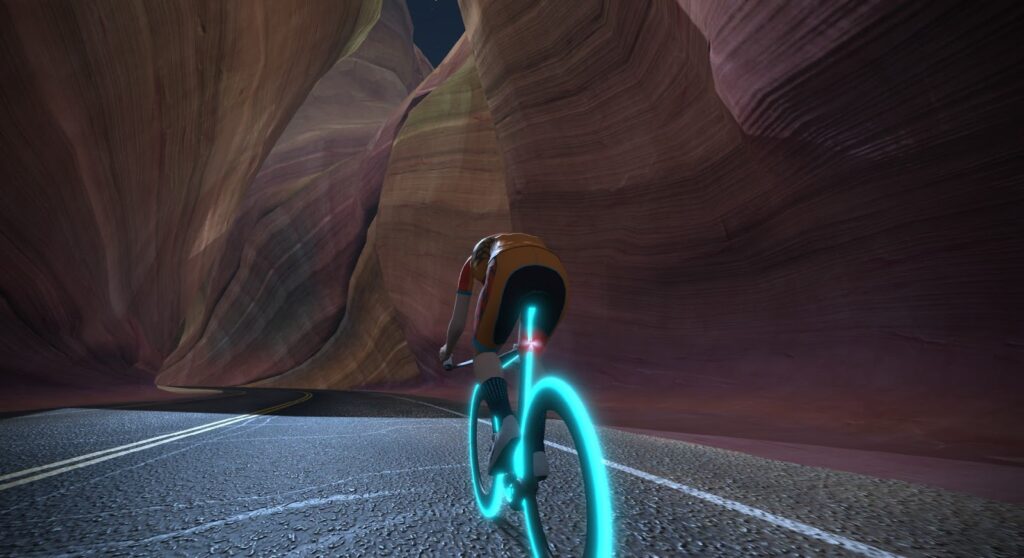 Part 4 – Col du Saddle Springs and home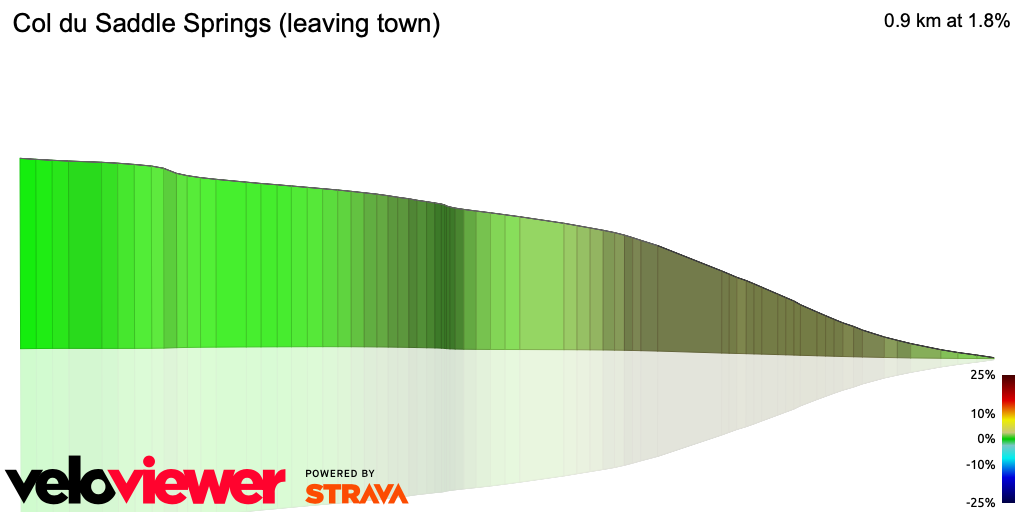 You exit the township of Saddle Springs at around 24km. The col is a small rise that comes right after the futuristic building you pass on your left (it's a copy of the LAX Control Tower). After the long flat this is a perfect opportunity for your lighter, stronger climbers to jump ahead and create a split! Rein in those riders and keep everyone together. This little hill averages just 2% for 900m before you head back down and into the undersea tunnels.
After that it's pretty plain sailing – exiting the tunnel system has a short bump up – but by this time you can make your own decisions on whether to jettison slower riders based on how many of you are left. Just a short sprint back to Downtown!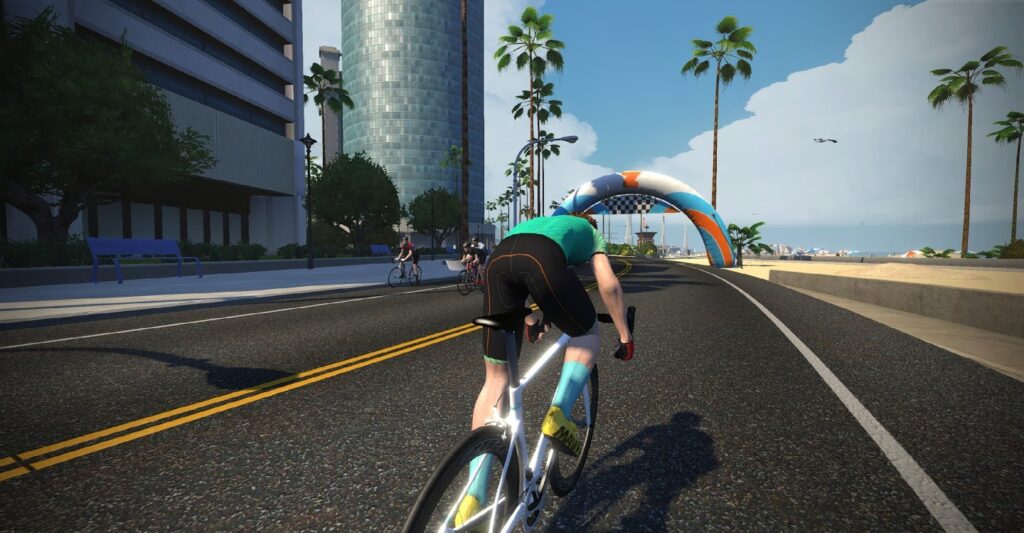 Target times
This route was last run at peak-Zwift – 25th June (#62), and before that, on 21st May (#57)… and then on 6th February (#42). It's a very popular route – and of course it featured as a ZRL Team Time Trial as well.
The results show an interesting progression. The ladies Coffee Class, Vienna gets faster and faster – as does the C/D mixed class, Mocha. However the Espresso, Frappe, and Latte teams peaked in May and got a little slower in June.
So what do I think will happen this week? Well… I think times will be faster than June, but much faster than February… somewhere around May's times. Here we go:
| | | | | |
| --- | --- | --- | --- | --- |
| Category | #42 | #57 | #62 | My prediction |
| Vienna | 56:24 (9th) | 43:27 | 43:12 | 43:05 |
| Espresso | 42:47 | 37:40 | 37:55 | 37:30 |
| Frappe | 41:16 | 39:52 | 40:13 | 39:50 |
| Latte | 44:08 | 43:16 | 43:30 | 43:20 |
| Mocha | 53:18 (9th) | 49:35 | 49:06 | 49:00 |
#46 was my first ride out with the R&K Hyenas – we did 46:52 and ended in a sprint finish. For me it was a grudge ride… I was still smarting from being dropped by my CICC brethren on Reverse Hilly a few weeks prior – in my defense, I was in the Frappe team that week, but it always hurts. If we go out with a full team for #84 I am aiming for a sub-46 minute ride. We have a nice mix of climbers and… those more suited to the flats. I think we can pull out something special. Besides, I've been sitting around for a week without a trainer and I have something to prove!
Wrap up
This ride features frequently in the WTRL schedule – and for good reason. It's a perfect TTT route. It is mostly flat with enough technical bits to keep you on your toes.
The Reverse Hilly KOM is the defining feature for the route. Because it figures very early in the ride, it's not so much how fast you get over, but whether you can get all your bigger riders over together. Immediately following the KOM are 11 kilometers of flat desert where you will want every watt and horsepower a team of eight can deliver.