About this Series
Since March I have become obsessed with the weekly Team Time Trial… so I asked Eric if I could share my obsession with you all, in weekly doses.
Each week on a Friday I will give you a profile of the upcoming route, guidance on bike choice and some target times if you want to aim for the Premiere League (top-10 in each coffee class get to be in a special race televised on YouTube).
If you can't ride, or even if you can ride, but want more action! Don't forget to tune in to the live TV show on Zwift Community Live's YouTube Channel at 6:15 (UK time).
Review of TTT #81 UCI Richmond
Over to RIchmond VA for the TTT last week. I took a break from my time targets – and well done to Joy Murphy of the ZSUN Saturn Frappe team – for calling me on it. ZSUN are one of those great forces in Zwift racing – and they have almost 30 teams! It's great to know you guys have your eyes on the weekly recce, and even better that you like the target times!
Going into the TTT this week I felt very good about the R&K Hyenas. As a feeder and training team for R&K we are constantly getting new riders… then waving them goodbye. Over recent weeks so much has changed that I am the only rider left from the summer! That said, the mix of riders we have going to Richmond seemed the perfect squad for 8 ½ km flat and 8 ½ km with those three bumps. Two riders with a lot of oomph to go with their mass, four lighter climbers, and two all-rounders. We had a plan that would get us through lap one together, and a plan for the endgame.
Mike Tyson, famously, said "Everyone has a plan until they get punched in the face". My plan got punched in the face pretty early on when two of our climbers got dropped – and in the aftermath the DS (that's me) made the totally wrong call about whether to go back for them, leaving himself in the wind for a couple of minutes. These are the things races are made of – and while the team performed amazingly, their DS let them down (#sadface). Ah well… next week is another race!
Results are finalized now – so here are the PL times from UCI Richmond:
| | | |
| --- | --- | --- |
| Category | #47 PL | #81 PL |
| Vienna | 1:14:45 (10 teams) | 49:51 |
| Espresso | 48:06 (7 teams) | 43:58 |
| Frappe | 49:17 | 46:00 |
| Latte | 53:17 | 50:45 |
| Mocha | 1:08:10 | 57:31 |
Massive gains between #47 and #81… demonstrating the level of professionalism and competition between March and November. Well done and "Ride On" to every team that rode out yesterday!
Thursday 12th November – Two laps of Tempus Fugit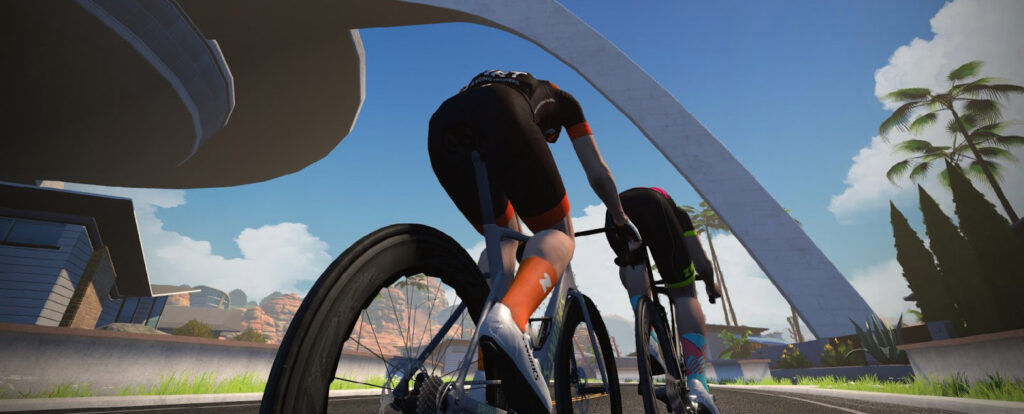 We were last on Tempus Fugit in April this year (WTRL #52), and before that in January. WTRL #52 was my second TTT, and I went out with the CICC lads, a fine bunch of (mostly) expats living in France. Why they adopted this lost lamb from Colorado I don't know. But they did, for which I will be forever grateful!
Tempus Fugit has to be the flattest route in Zwift, making it the least technical TTT possible. That is perfect for any team wanting to show off their perfect paceline skills to reach max-aero without interruption from course-related complications. The highest mountain you will climb here is… 7m tall. A welcome change from Richmond perhaps.
The Fuego Flats desert course that makes up Tempus Fugit is one of the most popular spots on Zwift, so I'm pretty sure every one of you has been there. The course for Thursday is two laps – so from the Fuego Flats pens it's a 2.4km lead-in, up and around the cool futuristic building in Saddle Springs (the LAX control tower), back and through the start/finish arch, around the loop and back through the start/finish to complete the first of two laps. This is a fairly long TTT at 37.1km, but it is fast… very fast. A top-flight Espresso team will average 50kph and be done in 45 minutes… while the slowest Mocha team will be in and out in just over an hour.
What to ride?

This course is flat… aero-rules-all kind of flat. At the top end, you are looking at Venge S-Works + Zipp 858/Super9 over Tron, with the Aeroad following close behind. Whatever you do, don't ride the one in the picture above… however sexy it looks!
Here are the recommendations at various levels:
Level 6 Zwift Aero frame and DT Swiss ARC 62 wheels
Level 13 Canyon Aeroad 2021 and Zipp 808s
Level 33 S-Works Venge with ENVE SES 8.9
Level 35 S-Works Venge with Zipp 808/Super9
Level 45 get those 858/Super9 wheels and pair them with the S-Works Venge
I know I say it every week but it is doubly important this week. Get the Tron! Someone on one of the Zwift Facebook groups asked "what is the one thing you wish you'd known at level 1"… the answer is I wish I'd known how important Tron was! So, I cannot stress highly enough that if you are racing you need to be working on Tron. It'll take a while, but just set the Everest Challenge and forget about it for nine months… like having a baby. On this course Venge S-Works beats Tron… but Tron remains the perfect "set it and forget it" bike.

Route Recon Rides
A few places to go for information – a race-focused recce from Zwift can be found here. Of course, it is focused on profiling the course from an individual racer's perspective, but worth reading anyway.
There are so many ways to recce this route – the simplest being to hop on and select Tempus Fugit. If you want an organized ride or race follow this link to Zwifthype. There are a lot of individual TTs on the roster since this is one of Zwift's iTT routes – and that can be an interesting way to test yourself.
Paceline skills are going to be a huge differentiator this week – so if your team wants to do some paceline practice remember you can always set up a private group ride (Meetup) in Companion!
Race Breakdown
There really isn't a breakdown of the route that makes sense… other than scenery there is nothing that gets in the way of good team formation. Take a look at the Veloviewer profile (I have purposefully stretched the elevation so you can see the "hills") and you can see the flatness… one rise in the middle of the map, and another even smaller one in Saddle Springs…
Target times
Tempus Fugit has been ridden in two TTTs this year – in January and in April. January wasn't competitive, perhaps because everyone was still hungover. #52, in April, was much faster – but I think the influx of teams and the honing of skill will drive up the speeds of the teams significantly in #82.
| | | |
| --- | --- | --- |
| Category | #37 PL | #52 PL |
| Vienna | 1:10:09 (6 teams) | 55:20 |
| Espresso | 51:49 (9 teams) | 47:30 |
| Frappe | 51:22 | 49:19 |
| Latte | 55:13 | 53:07 |
| Mocha | 1:02:36 (7 teams) | 1:00:28 |
So what do I think will happen this week? Well… I think times will be faster across the board. I have assumed the same splits (10k, 20km, 30km) as the last time. Here we go:
| | | | | |
| --- | --- | --- | --- | --- |
| Category | 10km split | 20km split | 30km split | Finish |
| Vienna | 14:40 | 29:20 | 43:30 | 52:25 |
| Espresso | 12:45 | 25:30 | 38:20 | 46:50 |
| Frappe | 13:20 | 26:35 | 39:50 | 48:40 |
| Latte | 14:20 | 28:45 | 43:20 | 52:50 |
| Mocha | 16:00 | 31:50 | 48:00 | 58:24 |
I took a little break to think about my life choices after being so far adrift 2 weeks ago. Let's see how Tempus Fugit treats me!
As for the Hyenas, I don't know who the team on the ground will be – but right now I'm going to set a target time of sub 54 minutes.
Wrap up
This race is all about team time trialing teamwork. There isn't anything in the 34km that will get in the way of your team's aero-excellence. Frankly, while I usually say get out there and recce the route, here I say get out there with your fellow riders… and practice teamwork!