Each week I give you a profile of the upcoming WTRL TTT route, guidance on bike choice, and some target times if you want to aim for the Premiere League (top-10 in each coffee class get to be in a special race televised on YouTube).
If you can't ride (or even if you can ride, but want more action) don't forget to tune in to the live TV show on Zwift Community Live's YouTube Channel at 6:15 (UK time). I have my own YouTube channel you should check out also!
Review of WTRL TTT #104 Sand and Sequoias
| | | | | |
| --- | --- | --- | --- | --- |
| Class | 17 Dec / #87 | My prediction | PL-Time | My spot |
| Vienna | 1:05:03 | 1:04:00 | 1:04:27 | 8th |
| Doppio | 58:03 | 55:30 | 57:02 | 9th |
| Espresso | 58:10 | 56:45 | 56:22 | 15th |
| Frappe | 1:00:38 | 58:00 | 58:43 | 4th |
| Latte | 1:04:58 | 1:03:00 | 1:03:07 | 11th |
| Mocha | 1:15:22 | 1:11:00 | 1:11:21 | 10th |
Not bad – all in the right kind of place except Espresso who were much faster than i anticipated! Let's see if I can get a clean sweep next week.
Thursday 22nd October – Three laps of Innsbruckring

After a few weeks of hilly rides, this one is mostly flat, with just one stretch known as The Legsnapper (or Kleiner Hugel as I call it). We are off to continental Europe – to Innsbruck, Austria. The name Innsbruck literally translates to "bridge over the river Inn", which we cross six times in the three laps of the city center map – and we cross the river Sil (a tributary of the Inn) six times too!
I'm excited for this race – I have raced it twice before and think it's a great test of a team. Many teams look at this course and fear the Leg Snapper itself, but for me, the killer section is from the summit of the Snapper and the descent that follows. The nature of that descent exacerbates splits caused on the Leg Snapper, making them very costly to fix.
Three laps at 8.8km, plus a tiny lead-in make this a short, fast 26.8km with one awkward little bump in the middle of an otherwise flattish (gently rolling) course. Top-flight Espresso teams will be in and out in just over a half hour, while an under-staffed Mocha team will be around 50 minutes. My team is targeting 40 minutes this week – that's aggressive as it's 2 minutes faster than last time we tackled the Innsbruckring. Winning here is about being fast on the flat, and not allowing Kleiner Hugel to slow you down too much.
There is, of course, only one tricky stretch on this course. When you cross the Inn (5km, 14km, and 23km) you head up Kleiner Hugel then do a series of bumps down. Obviously staying together on the main hill is important – but as I mentioned above, equally important is not getting separated on the descent. Communication alone won't help you here – you have to have a plan, and ideally time to practice. Once you finish the descent (6.4, 15.2, and 24 kms) it's all fairly flat again. My fastest time for a lap was in the Tour of Innsbruck at 13:30 – I'll do better this time.
Here's the fantastic VeloViewer segment view along with a map:
What to ride?
Bike recommendation on this route is pretty straightforward. Yes there's a hill… but other than that it's flat. Aero rules the day. For me, it will be my trusty S-Works Venge and Super9 disc wheels.
There is a reason to not go pure aero though – if you are rider who is going to get dropped on the Leg Snapper, consider something lighter weight to help you over that bump. For this reason (despite what I said only one paragraph ago) I might end up on Tron!
Here's my recommendations at different levels for Innsbruckring.
Level 5 Specialized SL7 with Roval CLX64 or ENVE SES3.4
Level 6 Ditch the Roval/ENVE and get the DT Swiss ARC 1100
Level 13 Ditch the Roval/ENVE for Zipp808
Level 23 – Ditch the SL7 and get the Canyon Aeroad… Zipps
Level 33 S-Works Venge… keep the Zipps
Level 40 S-Works Venge with Zipp 808/Super 9 (the disc wheel at the back)
Level 45 get those 858/Super 9 wheels and pair them with the S-Works Venge
I know I say it every week but I cannot stress highly enough that if you are racing you need to be working on Tron. It'll take a while, but just set the Everest Challenge and forget about it for nine months… like having a baby.
Route Recon
Here are some key points to look out for:
Race breakdown
Regardless of how the official race recon breaks the route up, I only see three sections…
Pen/Gate to the bridge at the foot of the Kleiner Hugel
Leg Snapper and the descent
Along the river, back across the Inn and home
I built out some DS-style notes – the race broken down into its component parts and some basic instructions. I'd love to hear what you think of these!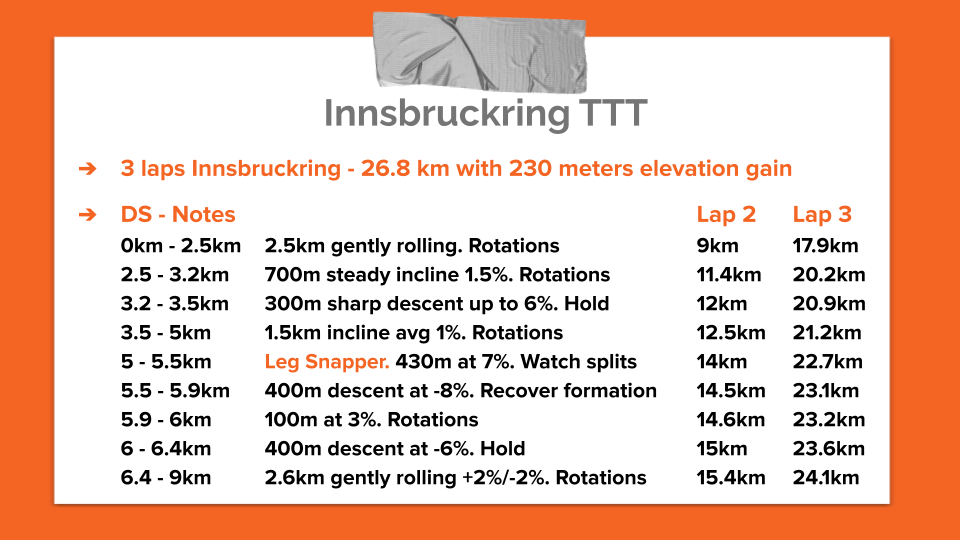 Pen / Gate to the bridge at the foot of Kleiner Hugel
The lead-in is a short 200M – and the distance from the pen to the bridge is 4.7km. This isn't flat exactly but there's nothing taxing and nothing that will ruin your momentum if you're paying attention. The most challenging is the long overpass over the River Sill (a tributary of the Inn) and railyards, but it is just a steady 600M at 1.5%. On the satellite view you can see it – the long straight at the bottom.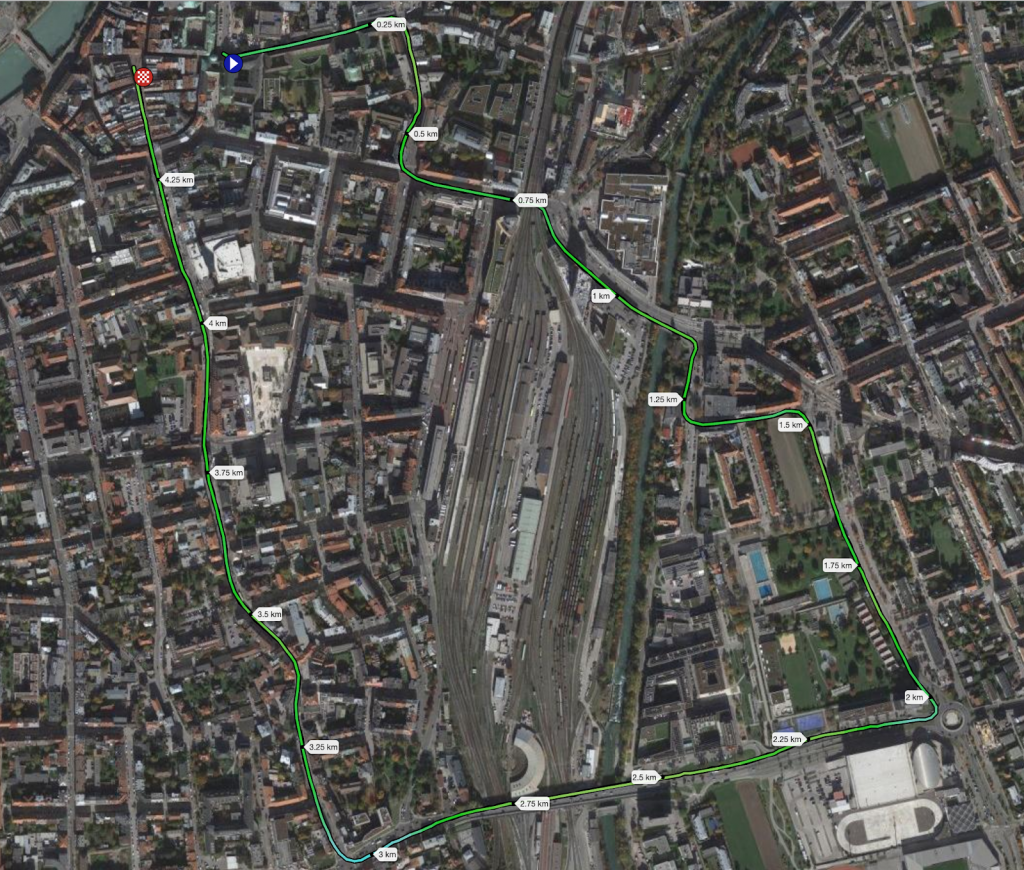 Leg breaker and descent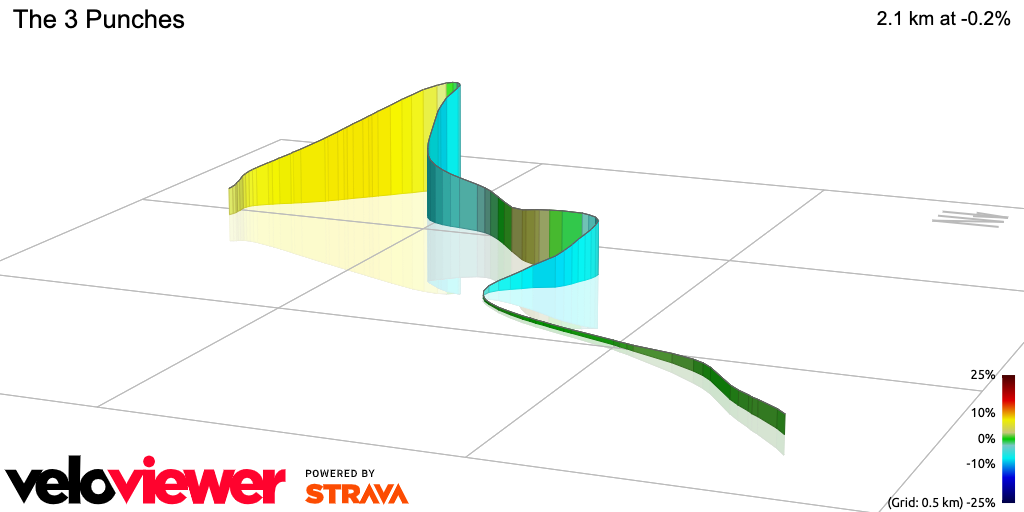 Kleiner Hugel is the only meaningful hill on the loop. It isn't a brutal climb by any definition, but it's long enough to grind your heavy sprinters into the dirt. By the time they are at the top they will be gasping! By the numbers, it's 450M long and averages 6.8%. But the hill actually starts gently and ramps to 9% 100M from the top. You cannot afford to be timid on this bump – pick a speed on the edge of what the team can tolerate, and go for it!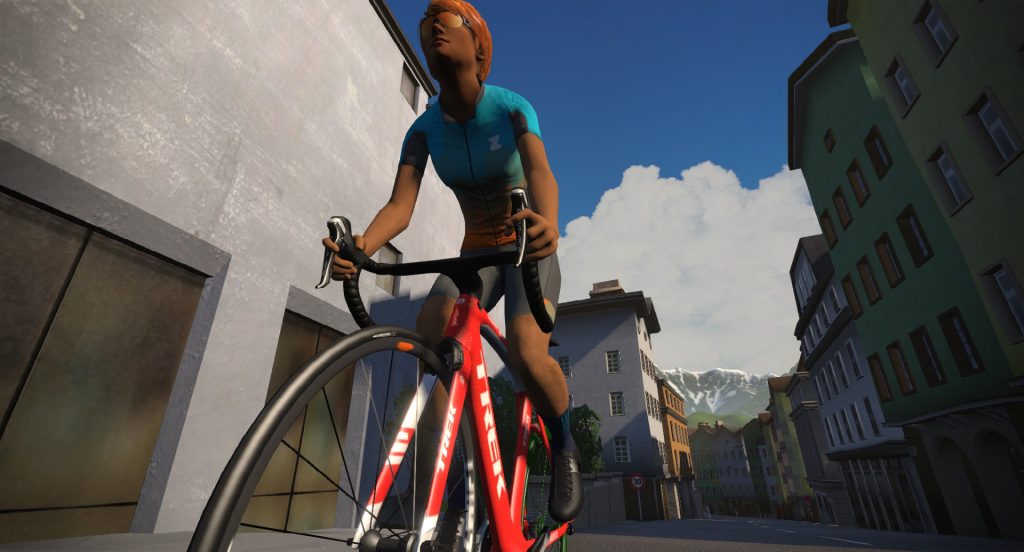 After you crest the hill the descent comes. The problem here is that if you have a split going up the hill, the first guys over the top will accelerate down, while your slower riders can barely turn the pedals. A 2-3 second gap stretches to 10 seconds and you are done as a team.
Here are two links for research – one is the initial hill, Kleiner Hugel, and the other is for the ascent and descent combined. Man, I love VeloViewer!
I can't emphasize enough – your plan for going up and down Kleiner Hugel will make or break your ride.
Along the river, back across the Inn and home
Through the sprint and along the side of the river to the bridge, sharp turn and back again to the start/finish gate. This isn't flat – it undulates – but mostly between 1 and 2%. This stretch is 2.5km long.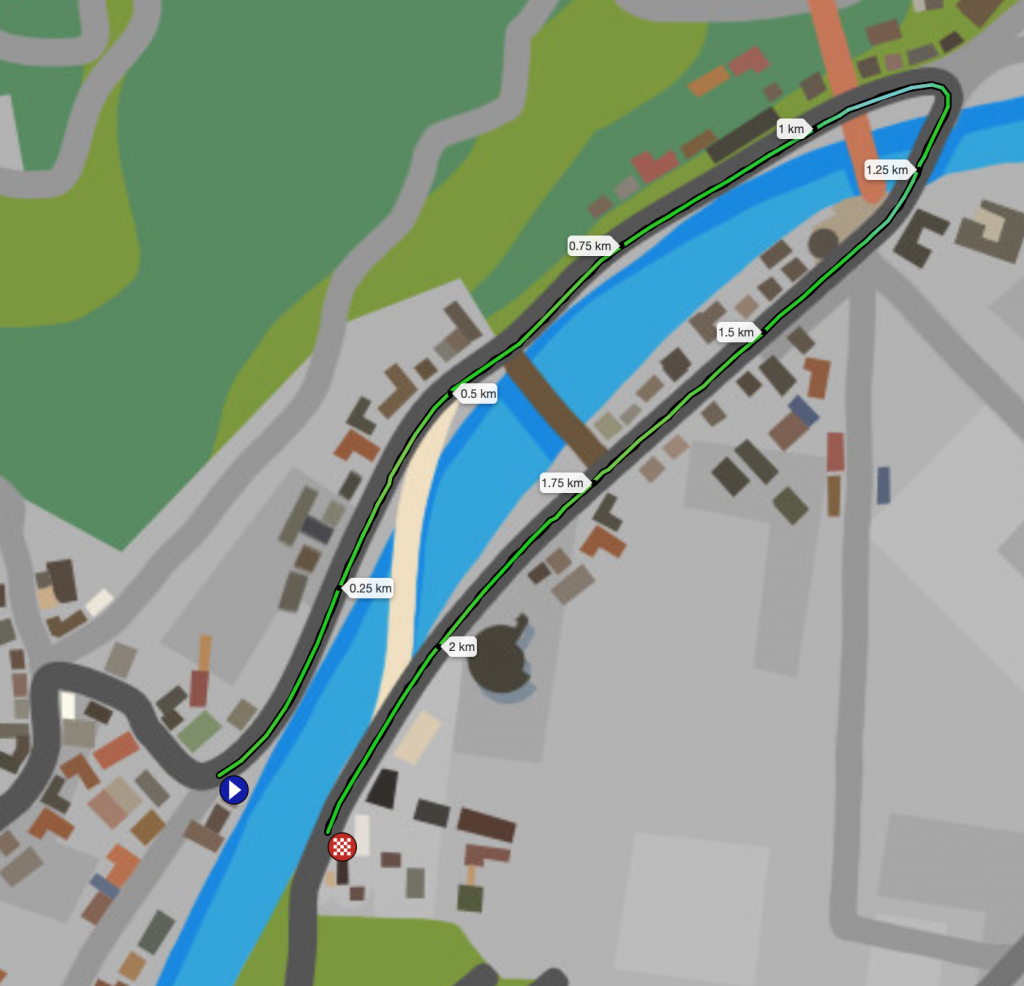 The ride as a whole
There are three laps to do. On the first lap you should be fine. By the time you hit the Kleiner Hugel on the second lap your heavier riders will be spent, and you may have to choose whether you're going to leave someone behind on the hill. At this point you're only halfway through, and their help on the remaining 12km might be invaluable… but you will have to slow down for them to catch up. Is it worth it? Only you know!
The third time up Kleiner Hugel will be immeasurably worse! A half hour or more at threshold and everyone is on the edge. Again the heavier riders will struggle. Will you help them or leave them to the wolves?
Target times
Innsbruckring has featured a few times in WTRL's schedule, but only once before in the three lap format. That was TTT #66 on July 23rd. Here's how you did (in 11th place) for each Coffee Class then.
| | | | |
| --- | --- | --- | --- |
| Category | #66 | #79 | My prediction |
| Vienna | 41:24 | 39:17 | 39:30 |
| Doppio | | 34:42 | 34:45 |
| Espresso | 34:49 | 35:24 | 35:30 |
| Frappe | 36:48 | 36:13 | 36:20 |
| Latte | 39:39 | 39:16 | 39:25 |
| Mocha | 44:41 | 44:52 | 45:00 |
Wrap up
This race is all about one specific decision, probably played out twice – the second and third time over the Kleiner Hugel. Do you wait, or do you go?