After almost a year of pandemic-related restrictions, many of us have come to terms and even found a lot of fun and community with indoor riding and racing.
Now that your bike has been set up on the trainer and you've continuously leveled up on Zwift, you've likely already figured out that a few things are indispensable for indoor riding: one (or multiple) fans, copious amounts of water, and ample towels to protect your handlebars.
But have you considered changing your indoor wardrobe, dialing in your hydration, and using extra protection for your nether region? Check out our top 3 tips to make your trainer sessions more enjoyable and effective.
Are You Using Indoor-Specific Gear?
Heat is likely one of the most important factors in your indoor riding experience. Luckily, several cycling brands have recently launched indoor-specific cycling gear. With lighter fabric, mesh inserts, and even pockets for ice packs, those specific kits can give you the edge over your competition.
Indoor-specific kits like this one from CUORE of Switzerland implement highly breathable mesh fabric on the thigh as well as in the back and straps. In combination with high-performance material and the use of Carbon yarn, this improves moisture management and air circulation, helping your body stay cool and relaxed.
Trying out the CUORE indoor kit, I noticed that having large mesh panels along the quads helped dissipate heat from those large, working muscles. With a chamois that adjusts well to the different needs and positioning of indoor racing, the added comfort with an indoor specific kit is noticeable. Similar to the shorts, CUORE's tech shirt features large mesh panels and lightweight fabric that helps air circulation and moisture management.
It is unfortunate to see that some brands neglect adding a women's version to their indoor line, so having companies like CUORE offer a full, women-specific lineup is important. In addition to bibs and shirts, I make sure to wear cooling headbands, which keep the sweat out of my eyes and add a cooling sensation, if only for a short while.
Have You Dialed in Your Hydration?
What you put out on the bike depends significantly on what you put in your body. What indoor sessions might lack in duration, they sure often make up in intensity. Keeping an eye on your hydration and fueling status is therefore key!
Even if most of your indoor rides are relatively short, you want to make sure you fuel enough and with the right amounts of electrolytes (and calories). While you might think that "men sweat more than women," hydration is more individualized by physiology than gender. Therefore, it can be extremely helpful to do a simple sweat test to get a good indication of your individual needs.
Abby Coleman, Sport Scientist and "Sweat Expert" at Precision Hydration, notes: "Recording the volume of sweat riders lose as well as monitoring the concentration (saltiness!) of their sweat can be really insightful. These two factors, along with the duration of exercise, determine a person's net sodium losses – which is the ultimate factor we're trying to address with our personalized hydration strategies." An initial test for your sweat rate can be simple:
Weigh yourself before a ride, ideally without clothing (A)
Measure how much water you took in during the workout (B)
Post-ride, towel yourself dry and weigh yourself again, ideally without clothing (C)
Subtract (C) from (A), add (B) and divide it by the time you trained
Studies show that a 'normal' sweat rate can range between 1-2 liters per hour. Figuring out whether you fall into this range or whether you had a more intense loss is helpful in determining specific hydration needs. Precision Hydration offers online sweat tests as well as one-on-one hydration strategy calls.
Shop Precision Hydration on Amazon >
In addition to fueling sufficiently throughout your indoor rides, consider pre-loading harder and longer workouts with a strong electrolyte drink. Take some notes on how you feel with and without electrolytes and whether you notice a significant improvement in your performance. Similarly, if you feel extreme fatigue or cramps coming on, you might want to experiment with adding an electrolyte mix to your post-ride routine.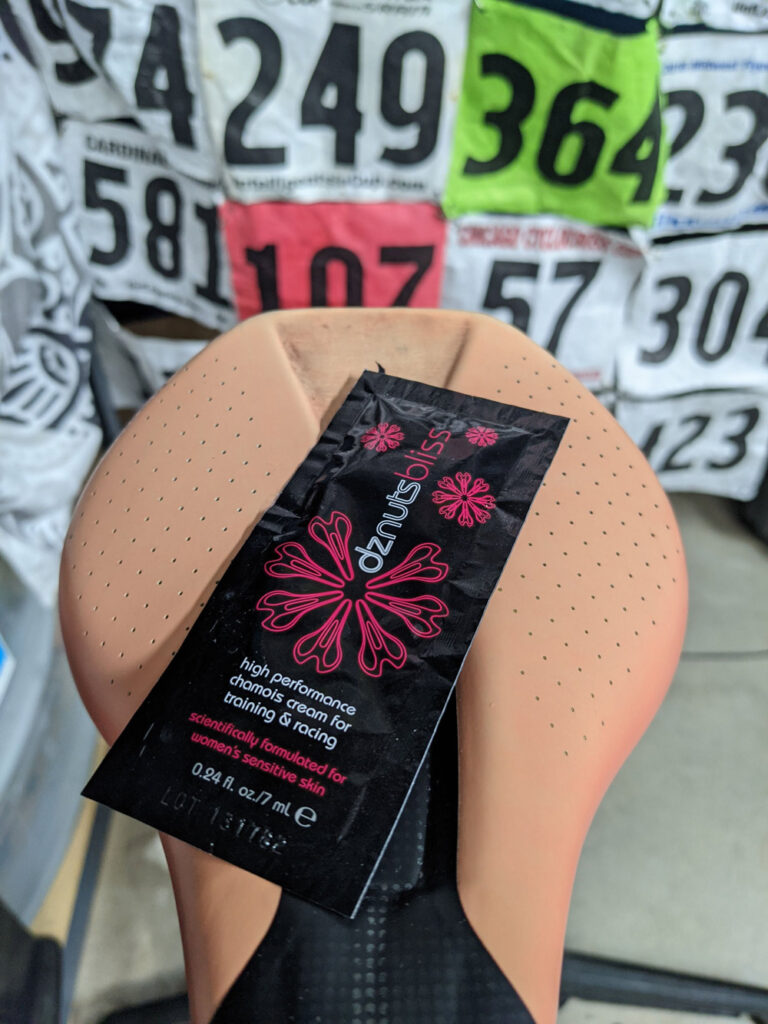 Did You Pick The Right Chamois Cream?
Riding indoors does not equal outdoor cycling. When you are Zwifting, you tend to move laterally less, coast less, and recover less than on the road. As you are spending more time in a static position, you will have a lot more saddle contact and experience increased friction.
For some, this discrepancy might warrant a whole indoor-specific set up, with a different saddle, indoor-specific chamois, or even an altered fit. For me personally, a high-quality chamois cream makes all the difference.
Chamois cream does not only protect your private parts from chafing, it is also anti-bacterial and protects your skin from nasty infections. When you apply chamois cream, moisture-absorbing polymers help regulate dampness and reduce the level of friction between saddle, chamois, and your sensitive skin.
While there is a lot of personal preference when it comes to scent, tingliness, and viscosity of chamois creams, it is worthwhile considering that women's pH systems differ from men's. This is why my go-to is a women's specific chamois cream. dzNuts, the cycling company of TT specialist and pro Dave Zabriskie, features a unique women's product. The dzNuts Bliss chamois cream not only helps protect your skin from nasty saddle sores but even encourages beneficial skin flora growth with its pre- and probiotics complex. With their focus on natural ingredients such as evodia, tea tree oil, and masterwort, dzNuts Bliss includes wound healing benefits to keep your netherregion happy and healthy for long hours in the saddle.
What About You?
Ladies: beyond the basics already mentioned, what do you find most helpful in your indoor sessions? Share below!