Last night Game Master Jon Mayfield published a long-awaited post sharing Zwift's plans for "Map Choice." Zwifters (including myself) are reading this post with interest since we've been requesting this ability for quite some time.
Jon's post thoughfully lays out the reasons Map Choice is what it is today. He begins with a statement of what makes Zwift special:
From the very start we chose to focus our efforts on a connected experience where you are part of a world populated by others, rather than the typical solution of the day (and now) of having countless courses to choose from, each being a solo or sparsely populated experience.
No one will dispute the wisdom of Zwift focusing on a social, connected experience. In fact, I would argue that this, more than anything else, is what makes Zwift special.
Jon also shares a short history lesson on how the Zwift community thrived even in its early days on Jarvis Island in 2014 (read more about Jarvis). And even back then, Jon says, Zwifters were requesting more worlds and questioning the logic of having a very limited map selection!
So What's Next?
Now it is November 2018, and everyone knows some sort of World Choice is imminent. The only questions are how will it work, and when will it happen? In typical mysterious Mayfield style, he doesn't answer either question specifically but gives us some big clues.
How Will It Work?
Zwift's vision for world swapping is to have Watopia always be live, working as a sort of "hub" for the Zwift universe. Want to ride somewhere else? You can join an event held in another world (this functionality launched May 30, 2018) or (coming soon!) you will be able to take an airplane to the "guest map" of the day.
The guest map idea is analogous to our current course schedule calendar. This "restricted rotation" has some advantages, as Jon explains:
With Watopia being a hub it also means our guest maps can be smaller, more experimental, and even seasonal allowing us to introduce fresh rides without having to spend so much time making something that can support 8,000 simultaneous Zwifters.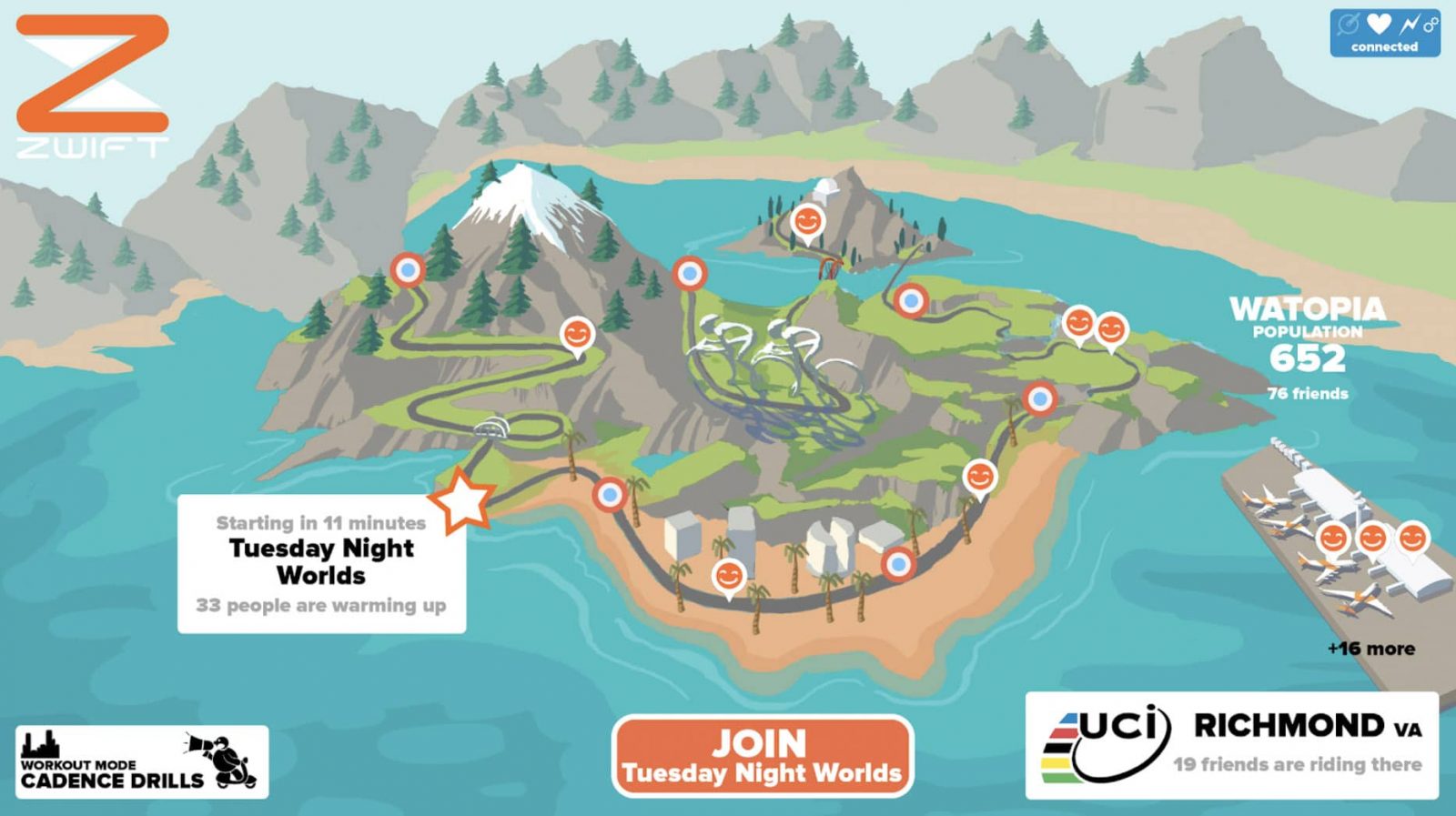 Is this what the new World Choice interface will look like once it's live this winter? Jon says:
We've still got some work to do on the user interface for this, and while it's not quite as cartoony looking as the 2015 mockup above, it's probably not going to end up too far from it either.
When Will It Happen?
We all want this to happen yesterday, of course. But to the question of "When?" Jon replies:
We're actively working on this final step of having Watopia + a guest map (or maps), and it's coming this winter.

My Comments
I see the rationale behind Zwift's plans, and agree this is a big step in the right direction. It will be interesting to see how many riders choose the guest map of the day, because this will indicate just how much people care about riding in less-populated worlds. What if the vast majority of Zwifters choose to stay in Watopia? That means Zwift needs to focus on building it out further. On the other hand, if the guest maps also get crowded Zwift may need to make more than one available at a time.
I'll also say Zwift is running late releasing World Choice. I would have liked to see it a year ago, because even back then free riding any course but Watopia had become a conga-line experience. Even the Watopia flat routes are quite crowded these days, so it is good to see Jon mention a flat expansion for Watopia coming soon as well.
With all that said, even if they're running a bit late Zwift is still an amazing platform delivering a social indoor training experience like no other–so I'm excited about what the near future has in store for our community.