In a recent post, Wattbike announced beta firmware supporting dual-channel Bluetooth. They also addressed concerns over Wattbike handlebar compatibility with Zwift Play controllers. Let's dive into the details!
Dual-Channel Bluetooth
Dual-channel Bluetooth means the Wattbike can connect to two devices via Bluetooth at once, instead of just one. The most common use case for dual-channel Bluetooth on Wattbike would be connecting to the Wattbike Hub app running on your phone or tablet, while also connecting the bike to software like Zwift.
Wattbike Hub includes a library of training plans, workouts, climbs, pedal stroke analysis, and virtual gearing customization. The basic version is free, while the paid version provides access to a larger library of workouts.
With dual-channel Bluetooth, riders could do things like:
Analyze pedaling technique live on Wattbike Hub while riding Zwift
Ride a Wattbike Hub workout while powering your avatar in Zwift
(Of course, you could do these things previously, as long as you were connecting to Zwift using ANT+ instead of Bluetooth.)
To install the beta firmware, update your Wattbike Hub to version 6.2.0 and click on 'Use Beta Firmware' in the 'Preferences' menu. Follow the on-screen prompts to connect your Wattbike Atom and update the firmware (full guide here). Once the update is complete, you can connect two devices via Bluetooth.
Warning: some users are complaining that the beta firmware breaks gradient simulation in Zwift (see comments below). Install at your own risk, and realize you may need to go back to the working firmware if you have issues.
Notably, when using the Wattbike's dual-channel Bluetooth capabilities, the last connected app or device will be in control. Here is Wattbike's guide on how to use dual-channel Bluetooth.
Zwift Play Compatibility
While Zwift's tech specs say their Play Controllers are not compatible with the Wattbike, Wattbike disagrees. They've published a support page explaining the benefits of Zwift Play, with photos of Play installed on Wattbike handlebars: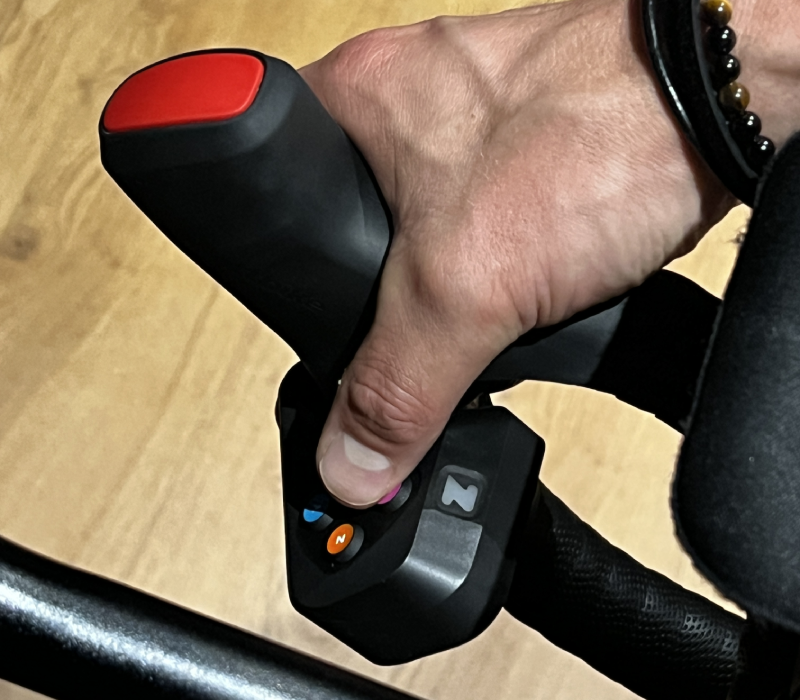 Wattbike says to install the Play controllers by placing them under the brake hoods as high up as you can, without covering the shifters.
In our chats with Wattbike owners, they've said the Play controllers fit decently well, although the button pads are tilted forward a bit more than would be preferred. One recommendation is to modify the included shims, cutting them shorter so they can be placed beneath only the lower portion of each controllers, tilting the entire assembly so the button pads are flatter.
Questions or Comments?
Post below!