When the Fuego Flats desert expansion dropped on Watopia last week, Zwifters were quick to note a closed-off section of road running through the forest and connecting both sides of the expansion. Here's what the intersection looks like on the southern end:

Experienced Zwifters know there are several "under construction" sections of road scattered around Zwift's various worlds, and some have been there for years. But this stretch seems different.
For one thing: the full road shows up in the in-game minimap when you ride Fuego Flats. Additionally, on Zwift's own blog announcement for Fuego Flats, they included a map which clearly shows this closed section of road, colored just the same as the active roads. I've highlighted it tastefully below: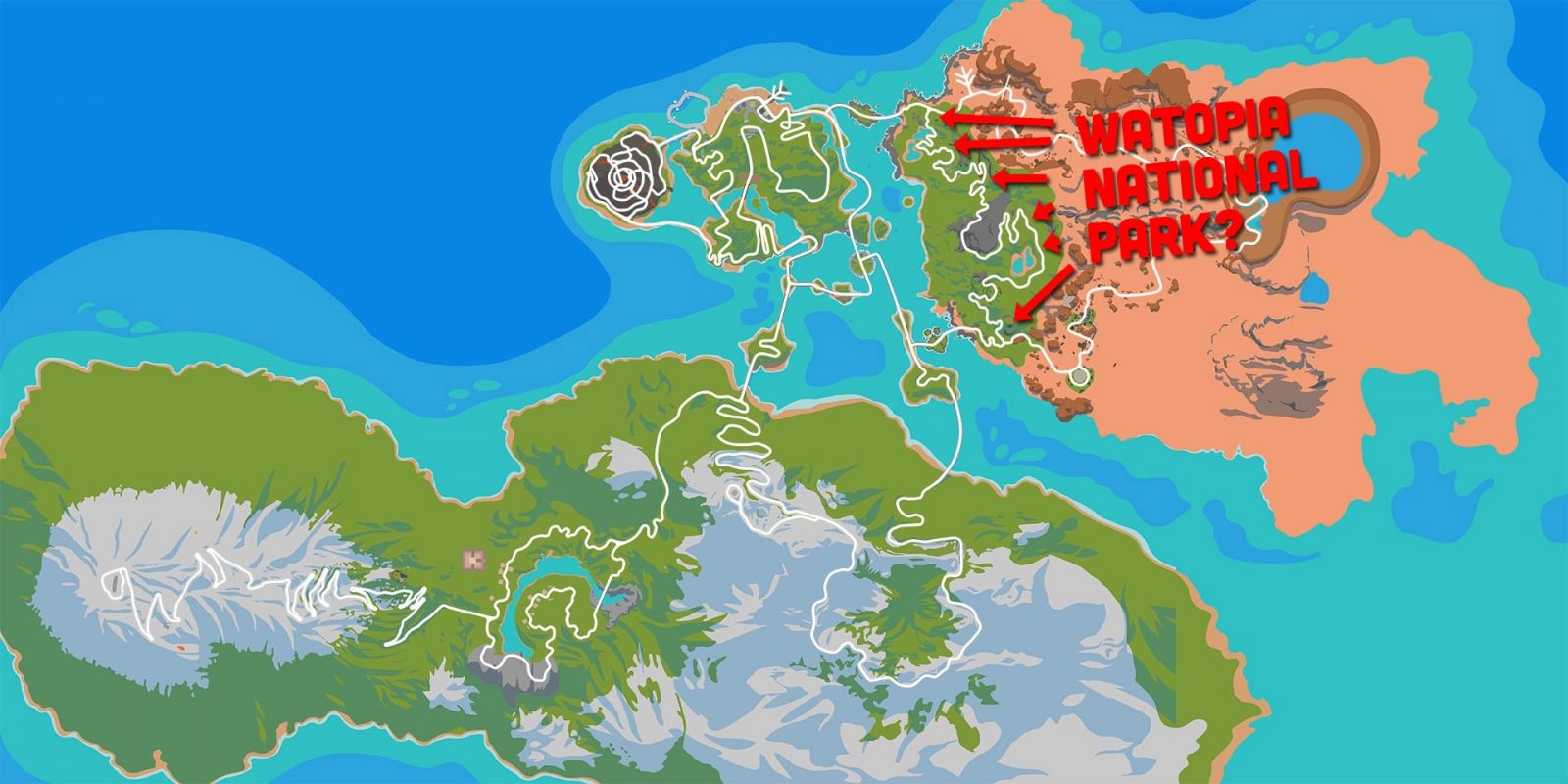 Route Profile
A couple of days ago, Jonathon Levie from Zwift Hype posted a Strava ride of this closed section of road. (We don't know how he did it, but he certainly did it!) Here's what we can figure out from the Strava data:
The road is 8.7km (5.4 miles) long
Traveling north you hit three small climbs of 40′, 174′, and 21′ for a total elevation gain of 235′ (71m). Traveling south you hit three small climbs of 130′, 129′, and 43′ for a total elevation gain of 302′ (92m). So this new road is somewhere between the Watopia Hilly and Watopia Flat routes in terms of elevation gain per mile of road.
The pitches aren't very steep, typically 3-5%. But the road is never flat. This will be an attack-filled stretch of racing tarmac!

Scenery/Geography
This is the coolest park: the area seems to be a mashup of various American national parks–hence the "Watopia National Park" name. Similar to what Zwift did with Fuego Flats (combining iconic visuals from various American deserts), this area appears to include the redwood groves of Redwood National Parks, steam geysers from Yellowstone, and massive granite rocks à la Yosemite's El Capitan. And that's just what we've seen so far… there could be more. Awesome!
I've done a fair bit of riding in Northern California's redwoods, and it's a beautiful experience. But I would love to ride through virtual redwoods as well. It will be nice not to worry about logging trucks flying past within arm's reach as I zip along some shadowy, forgotten stretch of IRL pavement.
For more on the visuals and other speculation about this stretch of roads check out Shawn McAfee's just-released video:
When Will It Be Released?
This, of course, is the million-dollar question. Based on the ride-through portion at the end of Shawn's video I would say the artwork isn't completely finished, but it's close. With the road already appearing on in-game maps, my guess is that, at the latest, this stretch of road will be opened before the indoor season spins up again around mid-October.
It could very well happen much sooner, depending on what other courses Zwift's art department is working on. We'll have to wait and see!