Zwift has rolled out a fresh Mission for April, along with a pile of events all based on Paris Roubaix Femmes avec Zwift, the big IRL women's race happening April 8.
"Conquer a Classic" Mission Details
Getting Started
To begin the Mission, select the mission card on your homescreen and click to register: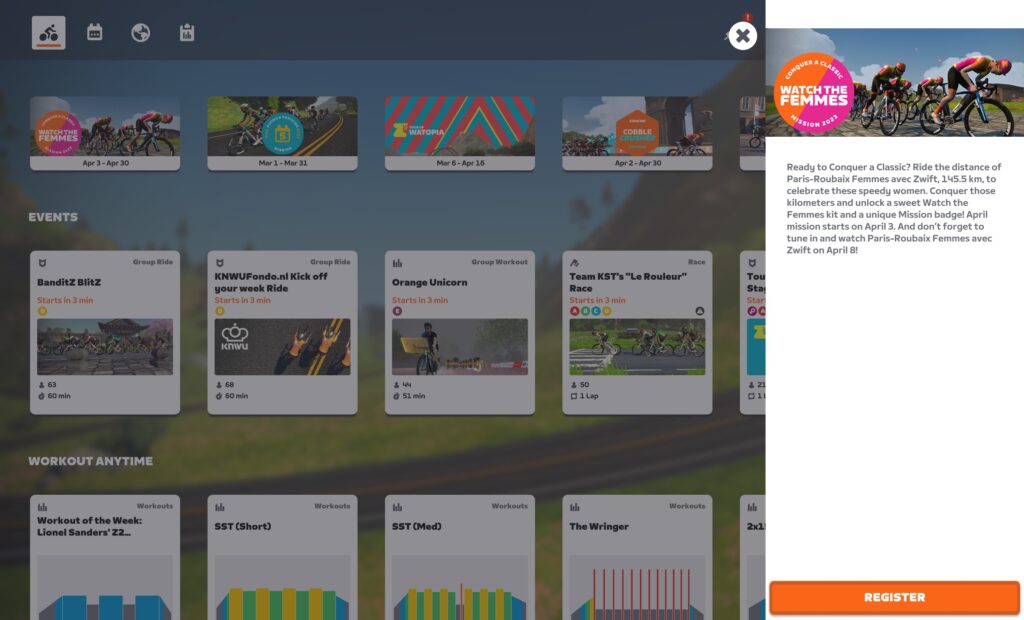 Once you've registered, clicking the mission card will show your progress for the Mission.
Note: signups opened today in game, but the Mission doesn't begin until April 3.
Completing the Mission
To complete the mission and earn the specially-designed Watch The Femmes-themed achievement badge, ride at least 145.5km (90.4 miles) between April 3-30, 2023. Of course, you don't have to do this all in one ride. But you can if you'd like, and there are special events on April 8th to help you do just that (see below)!
Why 145.5km? Because that's the length of the IRL Paris Roubaix Femmes avec Zwift race being held on April 8!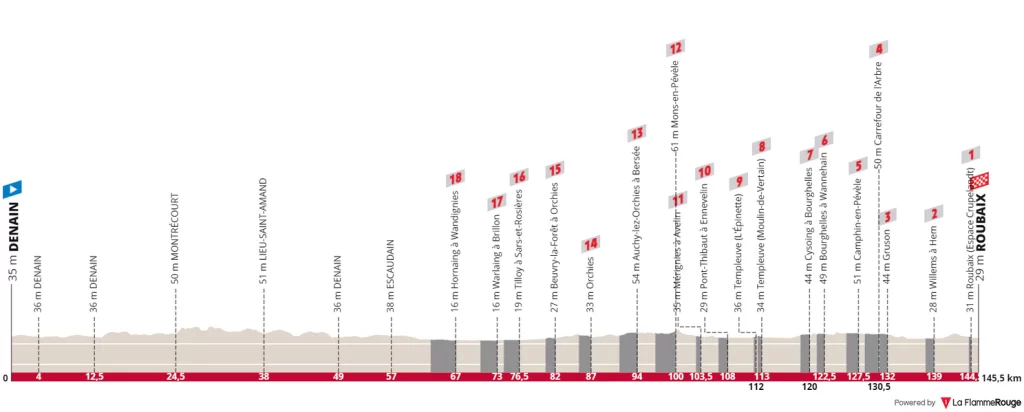 Zwift says finishing the mission will unlock the Watch the Femmes kit, socks, cap (the same as 2022), and a new pair of WTF sunglasses… but riders are reporting not unlocking the glasses with mission completion. To get those, you'll probably need to ride a Cobble Crusher race or the France Classic Fondo (see below).
Additional Watch the Femmes Events
Zwift has a full slate of events planned around the #watchthefemmes theme for April:
April 3 to April 30 – ZRacing Monthly Series: Cobble Crusher (see details here)
April 8 France Classic Fondo Rides: Want a challenge? Ride 145.5 km on the new France Classic Fondo route in the #watchthefemmes fondo! Four time slots to choose from. Finish a fondo and unlock the Watch the Femmes kit, socks, and cap (the same as 2022), plus a new pair of WTF sunglasses.
Every Wednesday in April – Workouts of the Week: Try out the workouts inspired by Annemiek Van Vleuten, Coryn Labecki, Sara Martin, and Teniel Campbell every Wednesday in April
Learn more about the IRL race, as well as the Zwift series surrounding it, at zwift.com/watchthefemmes
New Cobbles?
The Watch the Femmes events will take place in France, and according to Zwift during these special events some of the existing paved sections will be changed to cobbled roads. A temporary cobbling!
Questions or Comments?
Post below!