Here at Eurobike 2019 Wahoo has just announced what is literally their biggest product yet: the Wahoo KICKR Bike.
How does the KICKR Bike stand out from the new crowd of smart bikes being announced here at Eurobike? Well, it's got a distinctive look for sure. And it's the only smart bike which includes bike-tilting gradient simulation. Also, the customization options via Wahoo's app appear to be second to none.
But perhaps most importantly, this bike comes from Wahoo: the US-based company whose KICKR is the most popular trainer in the world by a good margin. Wahoo founder Chip Hawkins told me yesterday this bike is 3-4 years in development–and it shows! This is definitely a full-featured, premium quality smart bike.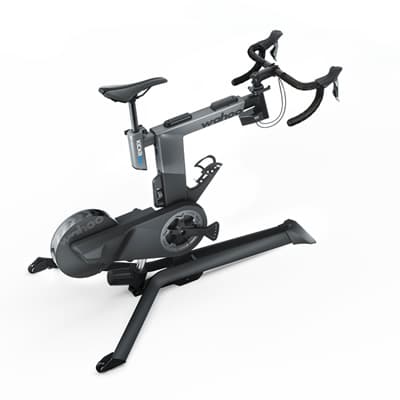 Specs
Climb functionality (tilting up and down hills)
Complete customization of gearing: easily set the number and size of chainrings and rear cassette.
App helps you easily dial in the fit based on your fit system numbers (GURU, Retül, etc) or based on photos of your own bike.
Flywheel/motor accurately simulates climbs of 20% or descents of 15%
Variable crank length (165mm, 167.5mm, 170mm, 172.5mm, 175mm)
Virtually silent operation
Maximum wattage: 2200 watts
Accuracy: +/- 1%
Total weight: 93lbs
Flywheel: 13lbs plus enhanced motor
Availability and Pricing
Wahoo is saying their bike will ship to the US in October, with shipping to Europe and other markets in early 2020.
Priced at $3499USD, the KICKR Bike is perhaps the most expensive of the new smart bike offerings. But it also includes Climb functionality, which arguably adds $500-$700 to the price.
Order now through Clever Training
Want to see and hear more? Check out these first look videos from our friends Ray and Shane: