In 1995 I watched along with many millions as British Triple Jumper Jonathan Edwards hopped, skipped, and jumped his way to a world record so epic (18.29m) it has stood for 25 years and remains unbroken. Jonathan was so good that night at the Gothenburg World Athletic Championships that he broke the world record not just once, but twice. This was sporting excellence.
Following that famous night, he went on to dominate the technical athletic disciple of Triple Jumping, winning every medal possible and in 2002 holding the "four majors" titles at the same time (Olympic Games, World Championships, Commonwealth Games, and European Championships). No one has dominated the sport since.
25 years on from the magical night in Gothenburg, I had the privilege of riding with this British legend and cycling enthusiast on Zwift. We discussed those events and his interest in cycling and his use of the platform. From a personal point of view, I was interested in exploring how ex-professional athletes use Zwift.
Getting Set Up
We arranged a ride in Watopia via the Meetup function and I selected the "Tick Tock" course mainly because it did not have any big climbs to contend with. I thought it might be a bit too challenging for me to conduct the interview whilst struggling up the Epic KOM. Like my carefully selected route, I had planned my questions and had them ready to copy and paste into the chat function on the Companion App. However, I was mightily relieved when Jonathan suggested we do the interview over the telephone, whilst cycling. This was probably going to be the most unique interview he would have to do and I was in favour as it would give the experience a more natural feel, just like two people chatting whilst cycling outside. It did present me with a new challenge, though: writing and riding. To offset the difficulties of this, I printed the questions and left suitable gaps to fill in the answers, as we went, just like an old school exam.
As we started our ride, Jonathan explained that he was introduced to cycling via another British Olympic legend, Sir Chris Hoy. For those who are not familiar with Sir Chris Hoy, he is the second-most decorated Olympic cyclist of all time with a total of seven Olympic medals (six gold and one silver), so certainly not a bad person to get you involved in the sport.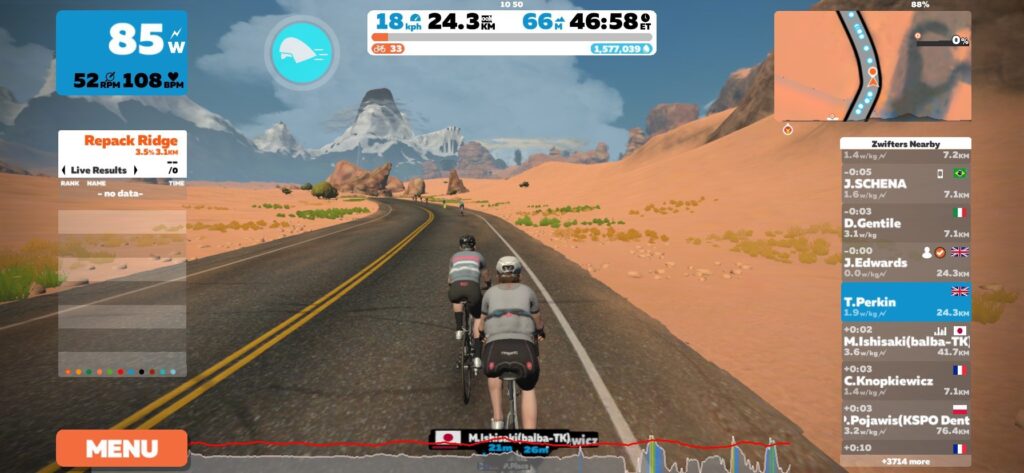 Zwifty Details
Jonathan has clocked up a massive 10,415km on Zwift and is at an impressive Level 35, achieved over 3 years. He was introduced to the Zwift platform via Sir David Brailsford, former performance director of British Cycling and current general manager of Ineos Grenadiers professional cycling team. Despite using the platform extensively, Jonathan confessed that he has never undertaken a Zwift race, which I hope to change because with his explosive power, I am sure he would do fantastically well in short races such as the TTR Mini Series. However, he explained that he uses the platform for general fitness and treats riding on Zwift like he does outside, where he has no interest in competing.
I'll confess, I was not expecting that answer. But in retrospect, having won everything in your chosen sport I can understand.
We both agreed on the benefits of using Zwift, one being the ease of using the platform and as he eloquently stated, "You just get on your bike and away you go, making it more convenient and safer than having to spend 30 minutes navigating busy roads before reaching quieter country lanes, like in the real world." Outside of the world of Watopia, Jonathan cycles on a custom Racer Rosa and enjoys riding in the Lake District, which is a beautiful part of the UK. This area was home to some of the UK's best-known writers including William Wordsworth, one of Britain's most famous poets, and Beatrix Potter, the famous children's author.
Jonathan explained his Zwift setup, which is probably not too dissimilar to many. It includes a 36″ TV connected to an Apple TV which hosts Zwift. He uses a direct-drive Wahoo KICKR, and most importantly has a big fan – something all Zwifters can agree to be a necessity! This setup is hosted in his garage.
Talking of Zwift setups, it was at this point I had a dreaded "drop out." This put my multi-tasking skills to the test as now I had to jump off my bike and swap from being a "Riding reporter" to "IT Technician." It seems that I am cursed with having technical problems at the worst moments, the last one being in the Zwift Hill Climb Battle that completely disrupted my race. Fortunately, Jonathan took this small delay in his stride and understood it was all part of 'Zwifting' and after a quick fix, I jumped back on my bike and we were back up and running.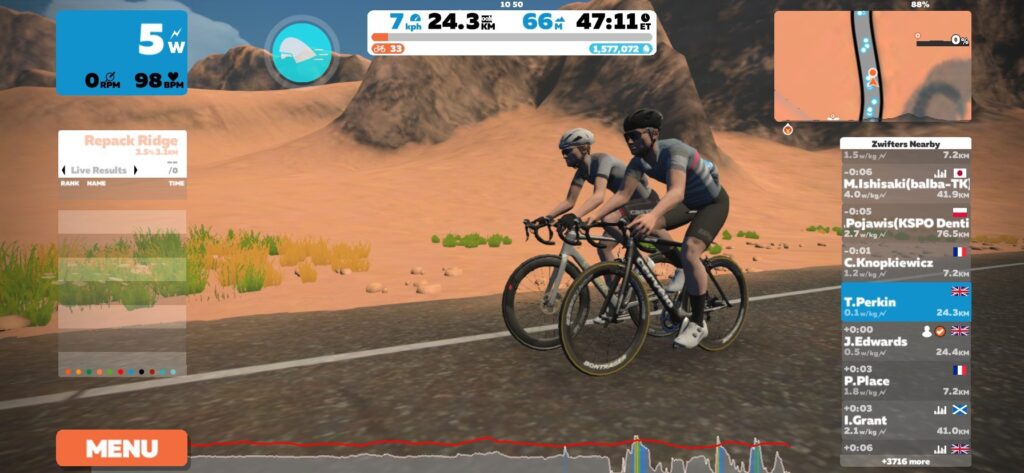 Watopian Favorites
Back in Watopia, Jonathan mentioned he doesn't have favoured bike frames or wheels in-game and so I highlighted some of the different ones available and their benefits. He went on to explain that he enjoys riding with small groups around 5-6 people and thinks the new 'Pace Partners' are a good addition and also occasionally uses the different in-programme training plans, and typically likes to train around the 2.5-3 watts per kilo mark.
He was impressed with the variety of rides and routes that are on offer and how so much can be achieved within an hour.  This is something I could completely agree with because for me, even after 6 months of using Zwift on a daily basis, I am still discovering new events and different routes.  We agreed that what can be achieved in an hour of training on Zwift is incredible, and we both shared the common fact that we are both spending hours cycling within Watopia for fitness and for the sheer enjoyment.
Riding vs Jumping
I was interested in understanding the difference in training from what Jonathan does with cycling compared to what he did to dominate the sport of Triple Jumping. He explained that his current bike training is the complete opposite of what he did historically.
Training for the Triple Jump involved short duration, high-quality sessions focused on your anaerobic power whilst in contrast, cycling involves longer, less intense sessions and is more aerobically based, which Jonathan mentioned was not one of his strengths.
Favorite Record
Turning the topic of conversation to his strengths as a Triple Jumper, I had to know: having won every medal in the sport and achieving the World Record (18.29m), what was he most proud of? The answer was without a doubt the World Record. After holding it for a quarter of a century, I asked if he had become attached to it and the answer was a simple "Yes". However, he was gracious in admitting that having held it for 25 years, that was a nice "line in the sand to meet" and fully appreciates that one day it may be beaten.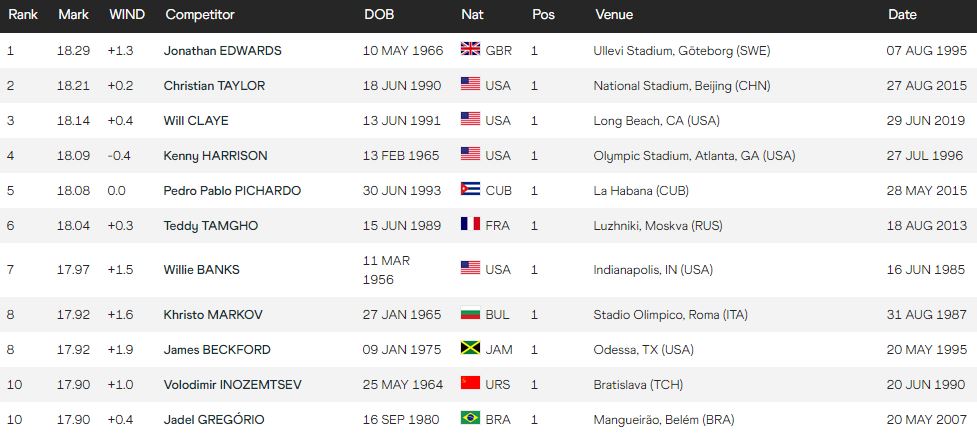 As it stands, only 6 athletes have jumped over 18 meters in the history of the sport, with the second place being some 8 centimetres behind. Ironically, the World Record wasn't actually Jonathan's longest jump; previously he had recorded a staggering 18.43m in Lille, but that was not an official record due to regulations around wind assistance.
The Power of Perception
Jonathan stated "the jump of 18.43m blew my mind," and went on to explain that it changed how competitors viewed him. He was to be forever a marked man. Jonathan described that moment as one where his perception of what was possible changed.
I think in our own individual ways, whilst cycling on Zwift we have moments where we achieve results above what we think we are capable of, whether that is finishing high in the rankings of a major event, pushing a certain wattage, finishing a climb, or completing some grueling training programme. It's these moments that change our own perception of our abilities and keep us returning to Zwift to push those boundaries further.
Wrapping It Up
Soon, our ride was over. What a privilege it had been to ride with Jonathan! It was interesting to learn that after a lifetime of competing and dominating at the highest level of sport he was happy to be pedaling around Watopia without the need to compete.
And so perhaps the biggest challenge isn't all the races we turn up to and thrash ourselves in, but to understand what actually motivates us to ride in the first place. Is it like Jonathan, the simple enjoyment of just cycling?