Editor's note: Adrian Timmis is a prolific Zwift racer, but long before Zwift came along he was a pro competing outdoors with the best in the world. Timmis rode the 1987 Tour de France (finishing 70th), represented Britain in the team pursuit at the 1984 Olympic Games, and competed at big-name races like Paris-Nice, Tour de Romandie, Liège–Bastogne–Liège, La Flèche Wallonne, and Amstel Gold.
When I heard he had completed his first-ever vEveresting attempt on Zwift, I asked him to share his numbers and experience. Perhaps you, like me, will find it all quite impressive!
---
I'd been thinking of doing a vEveresting on Zwift for a while. My plan was to do it sometime over the Christmas period, but on Monday I put on an 11-32 cassette to test out (using 50-34 at the front).
I normally ride 11-28, but I'd put the 32 on my Tacx NEO2 because the plan was to ride around my Z2 power, and with 100% trainer difficulty there was too much torque required with the 11-28 to sit there comfortably. The 32 sprocket felt perfect so after a couple of climbs I carried on!
Nutrition Notes
In the past few years I've read and listened to a lot of podcasts about becoming more fat-adapted for fuel and feeding for the work required. For me personally it's made a huge difference, and this is without cutting carbs out by the way, as I like my carbs too much!
If I'd been riding harder I definitely would have consumed more carbs, but because I knew I'd be riding around Z2 and because of the way I've adapted my training and nutrition I knew I could rely on a lot less carbs than I would have needed in the past and eat fairly normal food as well.
Nutrition-wise I had a bowl of porridge before, but after 3 climbs (once I realised I was going to carry on) I dug 3 Aldi fruit and nut bars from the kitchen boards and started eating those. After the next few climbs and because I fancied one I also ate a Magnum ice cream towards the end and drank about 3 litres of electrolyte drink. I didn't have any energy drink.
Because of the way I train this wasn't far off, maybe another bar would have helped. Another litre of electrolyte would have helped as well as I had to back off at the end because of cramping. Then again, this may be due to a lack of planning the day before: I started with a 3-hour fasted pre-breakfast ride around Watopia including Alpe du Zwift and ended with half a bottle of wine in the evening while putting up our Christmas tree! Because of these things I may have started a bit dehydrated, but I hadn't planned on doing the attempt the next day.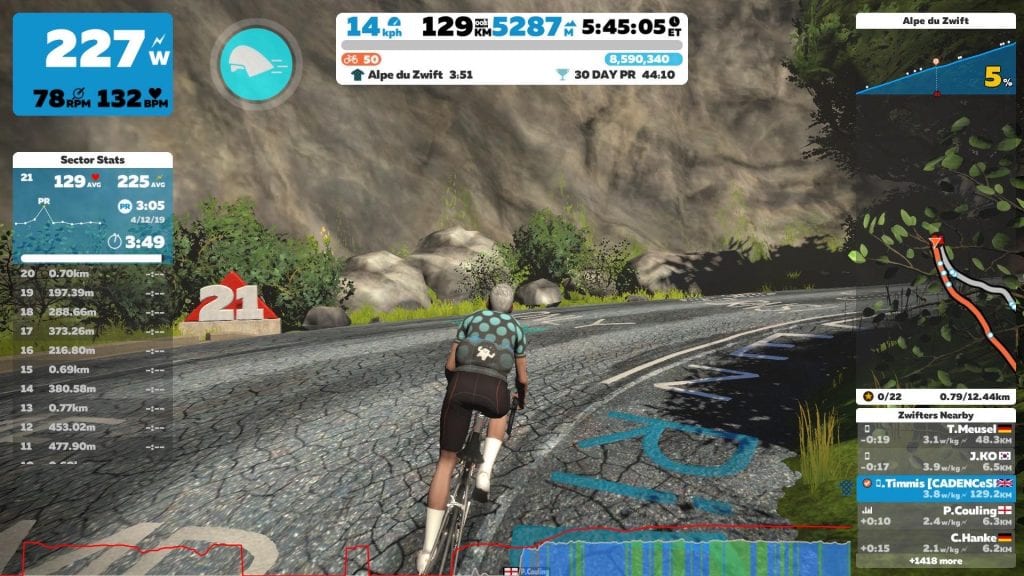 Experiencing Everest
I knew I was fairly fit already but in the last 6 or so weeks I'd done a fair bit of sweetspot training, which I haven't done for a while, and which I know helps me a lot. Also in the last few weeks I'd done a few Sunday morning 3-hour fasted pre-breakfast rides, whereas most of my training is based around hour sessions.
I did the ride while my wife was at work and daughter was at school so I was looking after myself.
The plan was to use the Companion app to do a U-turn at the finish and start line as soon as I crossed each line, which would give a 11 and half to 12-minute descent to virtually freewheel for a toilet break and refill my bottle and change some clothing if needed. This part makes it easier than an IRL Everest where you would have to actually stop for a toilet break and changing clothes. And even though you may freewheel down the real descent you have to physically get your bike down, which I reckon would probably add 5-10 minutes to the real descent.
I did have a plan to ride a very even pace, I'd thought around 220w and 55min would be doable for each climb (I hoped it would, anyway). I've ridden the real thing over 20 times in the last 6-7 years and the Zwift version over 60 times, so I understood the importance of pacing it for just one climb let alone attempting 8. Pacing is made easy Zwift as it shows each segment. I used this to control my average power, this helped massively.
Here are my final numbers for the 8 Alpe ascents: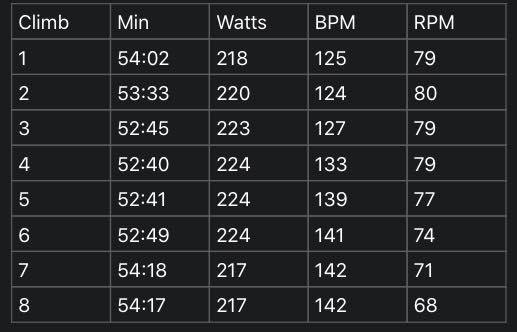 Yes, I am a climber. For this ride my weight was 59.5kg, the previous week on Zwift Transparency my weigh-in was 59.1kg.
The last half-climb was helped by a big group ride for company, which gave a bit of a distraction to counting the meters down to 8848m.
After a lie down to recover, was I happy? Yes. Even though the ride wasn't planned, I achieved the goal of doing 55min/220w climbs.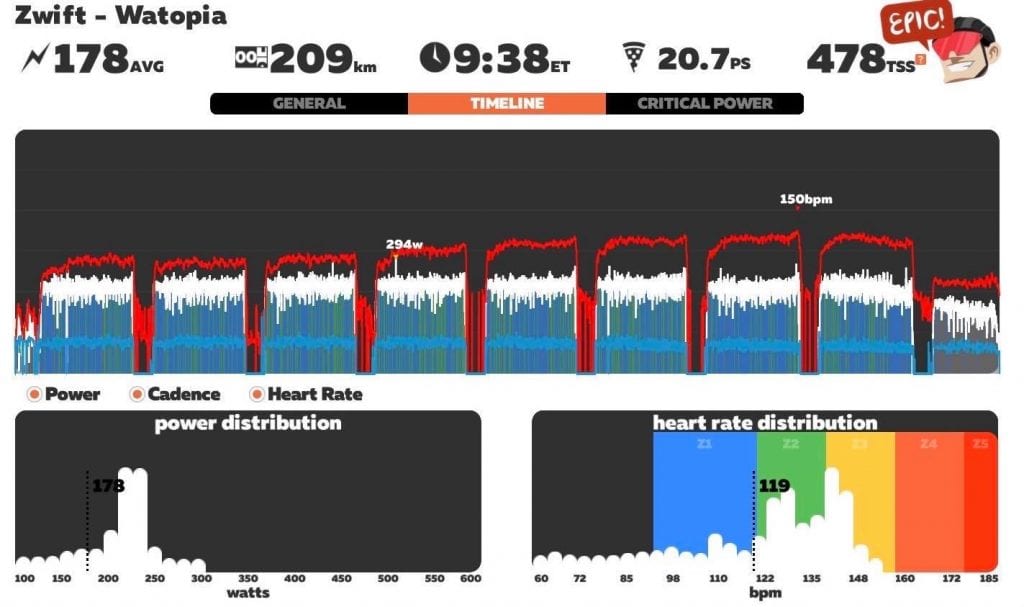 Looking Back, Looking Forward
Would I do it again? I'm mad enough to say yes! (I must be mad, as I've already tried to calculate how long Everesting the real Alpe d'Huez would take!)
Would I change anything? The ride itself no, training in the last few weeks was good also, but I'd make sure I was rested up next time and put a bit more planning into the nutrition on the day.
Finally, I tip my hat to those that have done it, as I know most have spent a lot more time in the saddle to achieve it. If you're thinking of doing it go for it, but do the planning. #rideon
See Adrian's full ride on Strava >