When you look up "Pain Cave" in the Urban Dictionary it says, "A grueling physical workout intended to make you a better athlete. Usually done at home or the gym, and we call that place the 'pain cave'."
There are many different pain caves; some extravagant, some simple, some large, some small. It really doesn't matter your individual setup, it's simply a space for you to enjoy your training. However, I have found that there are certain things that we get accustomed to and the thought of not having it, doesn't "feel right". In my case, it's having a small table to my right, where I can put my supplies within easy reach.
Along with my table, a sweat mat is also a necessity. The reason being is that it saves ruining my floor. My mat is an Elite one that is bright red. It's perfectly functional and does what is required. But it's not special. There is nothing unique about it. In fact, my Direto and RIZER setup with the Elite mat looks like a page from Elite's marketing campaign! There is absolutely nothing wrong with that, but I felt it was time to personalize and this is where I discovered Velo Mats.


Who are Velo Mats and what do they do?
Velo Mats are an Australian company situated outside Melbourne that manufacture cycling mats. They don't just make any mats, but are in the business of making fully customizable mats designed to order for use in your pain cave.
The company is relatively new and has been in operation for 2 years. Director Reece Conlan, a keen cyclist, also runs a successful printing business. Like many businesses the world over, at the start of the global pandemic, due to the impact on his printing business, Reece was forced to come up with a new print solution offering for his business. Being a keen cyclist, he turned to Zwift for relief and used his skills to manufacture his own training mat to use with his Zwift setup. Impressed with what Reece had manufactured, his friends soon requested their own customised mats. At this point, Reece realised he had a product that people wanted and his new business, Velo Mats, was founded.
The company has expanded and they now have a Design, Sales and Marketing team. In addition to this, the product is easy to obtain because Reece has established global distribution for the product and it can be obtained in all major geographical locations such as the UK, US, Canada, Australia, and also Europe, which is going to begin shortly.
About the Mats
Reece explained that the mats are made from 2.5mm PVC rubber, custom printed with a special satin laminate coated finish to protect the printed surface. Because he and his company are very environmentally conscious, the mats are printed using eco-friendly methods (HP latex inks).
The material that is used is specific floor matting material that is used throughout the market and manufactured originally in Europe. Unlike some competitors, their mats are thin enough to be rolled up and stored away after use without issue, and their laminate finish enables easy cleaning.
Customisation
What makes these mats unique is the fact that they can be fully customised and personalised. This customisation includes your name, country flag, personal tagline, your team's sponsors, even motivational phrases and graphics. Reece explained that he produced a mat for a man whose wife had passed away from cancer and a poem that he had written was printed on his mat as his daily inspiration.
Whatever you want, within reason, can be printed. Each mat follows the same process which is:
Customer places an order on the Velo Mats website choosing from a large range of existing templates. (Customers can also contact Velo Mats with a design idea, which is mainly done for group/bulk orders.)
All designs are managed in Australia, by their inhouse design team.
Design is sent to customer for final approval.
Once approved, the design file is sent for print production.
The mats are produced and shipped from one of their global production/distribution hubs and sent to the customer.
If you are not creative, remember the templates that can be customised.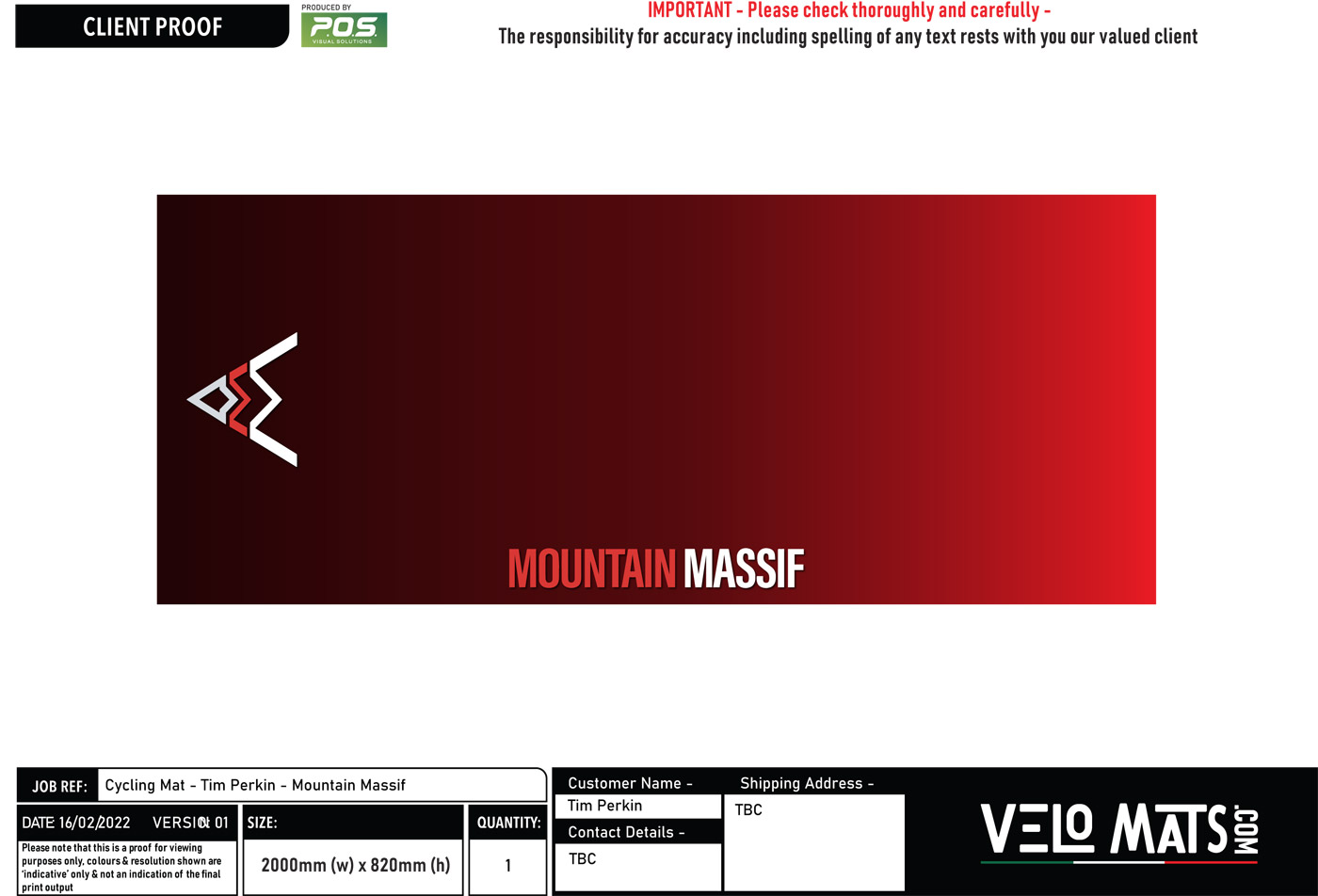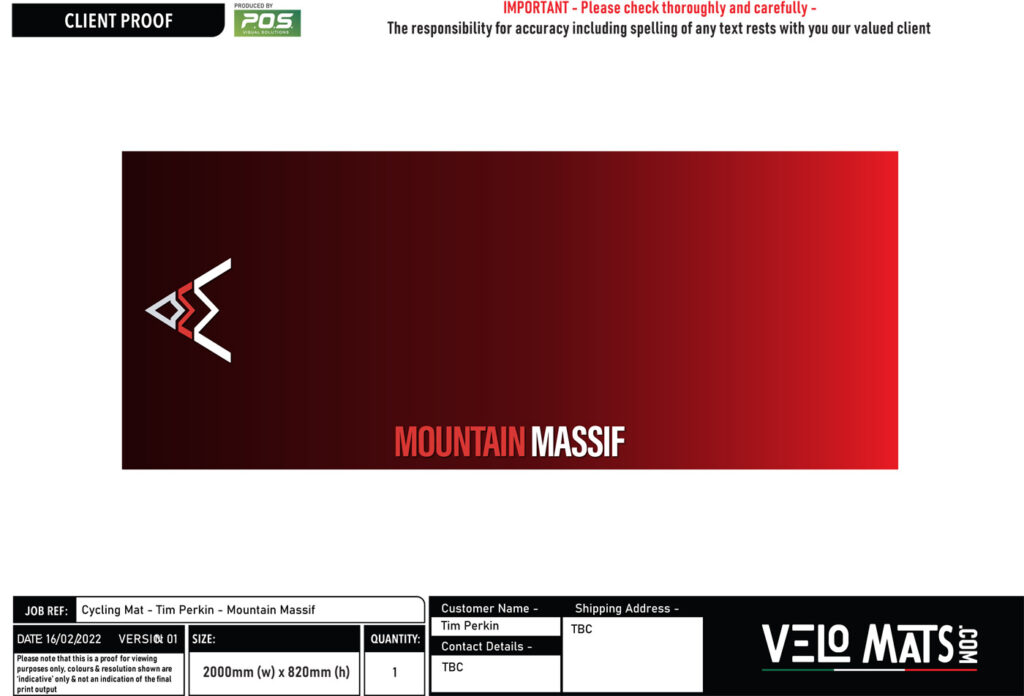 Future Developments and Sponsorship
Currently, Reece and his team have been trying to solve a problem that has plagued the cycling mat production industry: the cleat. Those of you that have mats have probably seen over time that the spot where you get on and off the bike gets worn as the cleat cuts into the mat. As Reece noted. "the cleat is not the friend of any mat, and we have tested most of them!" Velo Mats are experimenting with different techniques to try and resolve this issue.
In addition to looking at enhancing their mats, the team produce desk mats to customise your work space and are looking at producing murals that can be purchased and stuck to or hung off your walls, to further customise your pain cave. They are currently developing a bank of images where you can select a graphic that will be printed and shipped directly to you, for use in your space.
Velo Mats are growing organically and meeting the demand from customers, which has stayed constant, despite the world slowing opening up after the global pandemic. As a result, Reece and his team are working with various partners and are active in the market. An example of this can be seen with WTRL. Many who race in WTRL events may be familiar with Velo Mats because they currently sponsor WRTL events. This is something that Reece is proud of, given the presence that WTRL has within the indoor cycling community.
Velo Mats has also partnered with Zwift Insider, and you can get 10% off your Velo Mats purchase by using discount code ZWIFTINSIDER.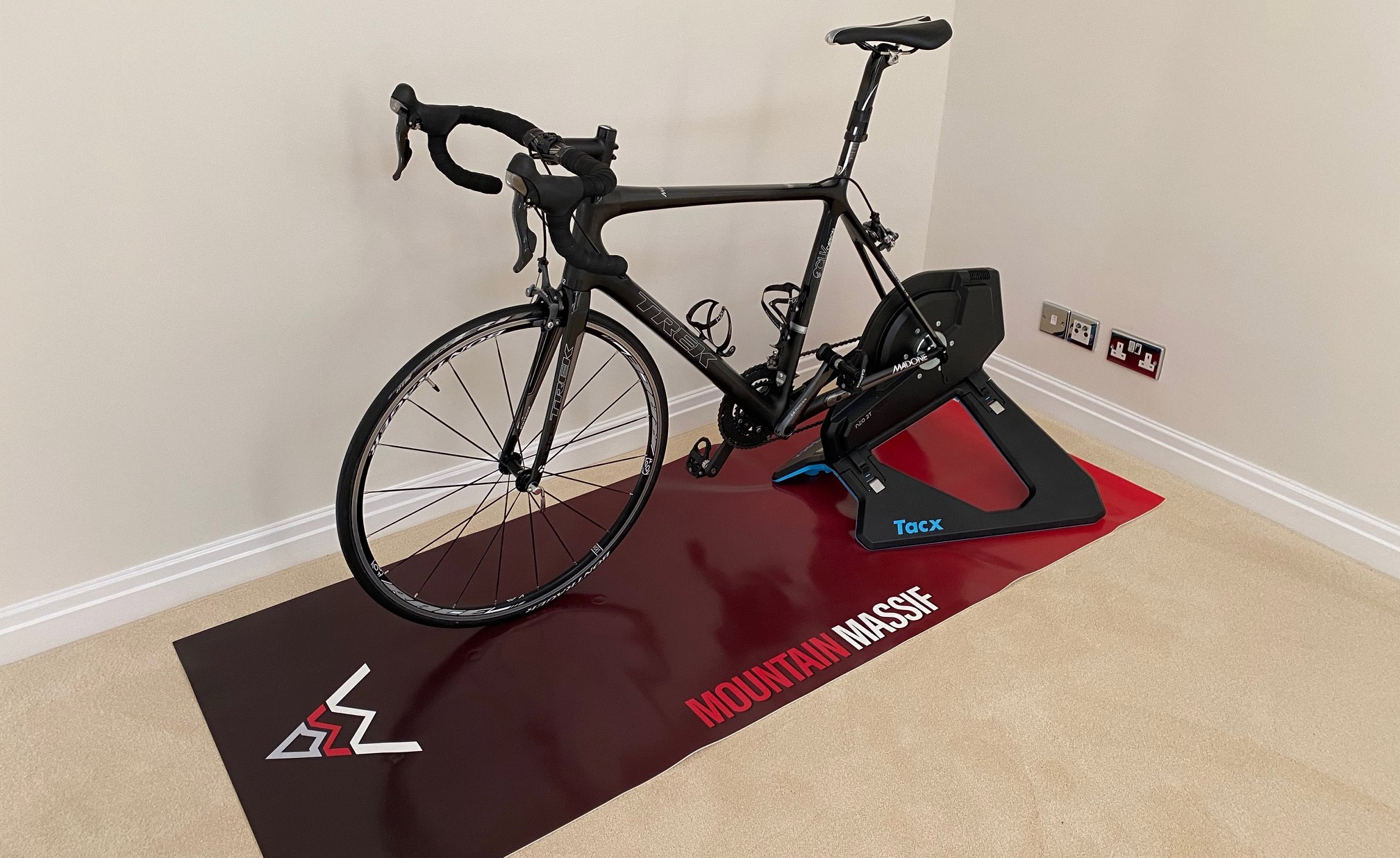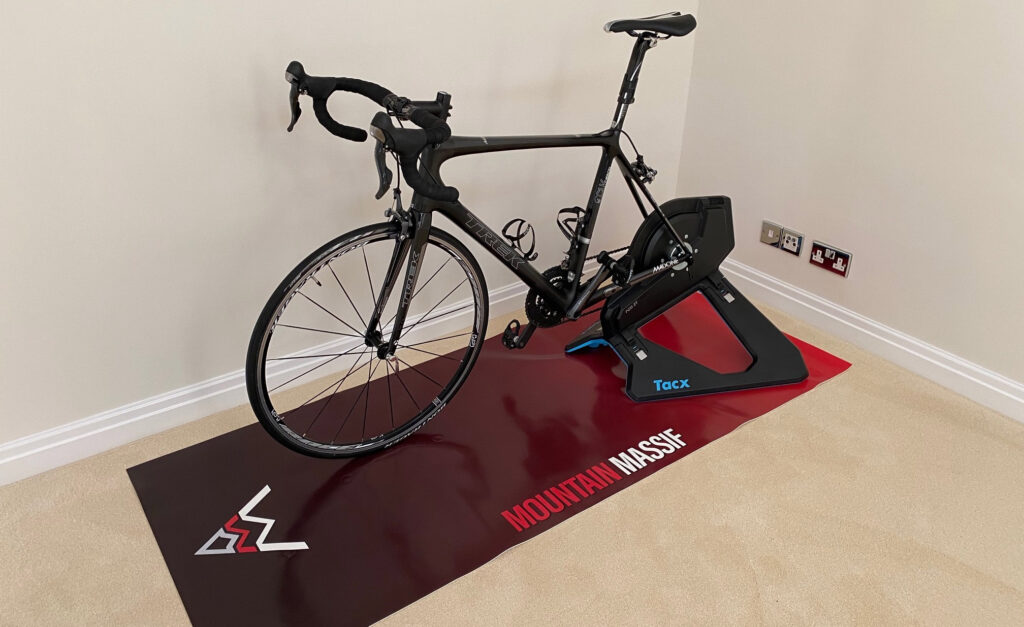 Summing Up
The fact that business is going well and has expanded to have a global reach indicates that the Velo Mats product has been well-received. I have even taken the opportunity to improve my own pain cave with a mat adorned with my Mountain Massif logo. I couldn't think of anything more motivational than competing in my own event and seeing my logo in front of me as I battle up the climb.
If you're looking for similar motivation, Velo Mats is the "go-to" place.
Velo Mats has also partnered with Zwift Insider, and you can get 10% off your Velo Mats purchase by using discount code ZWIFTINSIDER.