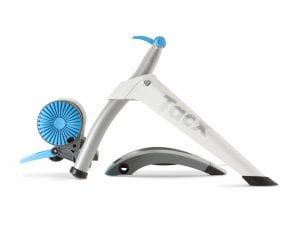 I love my Vortex Smart, but one morning I woke up and found that it had zero resistance and a solid amber-colored light instead of the happy blinking green. Fortunately a little research helped me solve my problem–now I'm sharing that solution with you.
Firmware for your Tacx Vortex Smart's brake unit is updated using a different process from updating the main computer firmware. While the main computer firmware can be updated easily via the Tacx utility app (iPhone and Android), to my knowledge the brake firmware can only be updated using the process below.
You do not need to upgrade your brake firmware unless the unit isn't operating properly. If the light on the unit is an amber (orange) color, this indicates a brake issue. Typically this can be fixed with a brake firmware upgrade. Below are instructions for upgrading the brake firmware using a Windows PC.
Note: you must have an ANT+ USB dongle installed on your PC to perform this update.
If you do not have TTS4 (Tacx trainer software), please download and install it here (it's a big file which downloads slowly, so it'll take an hour or two).
Unzip the folder/extract the folder and save on your computer. Now you have the complete installation disc on your PC.
Run the setup.exe in the root folder. The TTS4 software will be installed.
Run the "Tacx Trainer Software 4" that is installed.
Update to the latest software using the UPDATE button in the Launcher (you will see this at the start)–this will take another 15 minutes or so.
Then go to
C:\Program Files x86)\Tacx\TacxTrainersoftware4\updater\ and run Tacxupdate.exe (at least on my Windows PC that's where it is)
Select "Vortex" then "Update Vortex Brake Firmware" and do the update. This is where problems typically pop up. Uploading the firmware to the unit often fails, and you just need to keep trying. Possible solutions include rebooting the trainer, moving it closer or further from your computer's ant+ dongle, moving your ant+ dongle to another USB port, and rebooting your PC.
If you are unable to resolve your issue, I recommend contacting Tacx support and/or posting in the Tacx forums.