The latest Zwift update has been announced and will be released in phases over the next few days. It includes the much-anticipated Climb Portal feature, new stuff for Apple TV and Play Controller users, and a pile of bug fixes!
Let's dig into the details…
Climb Portal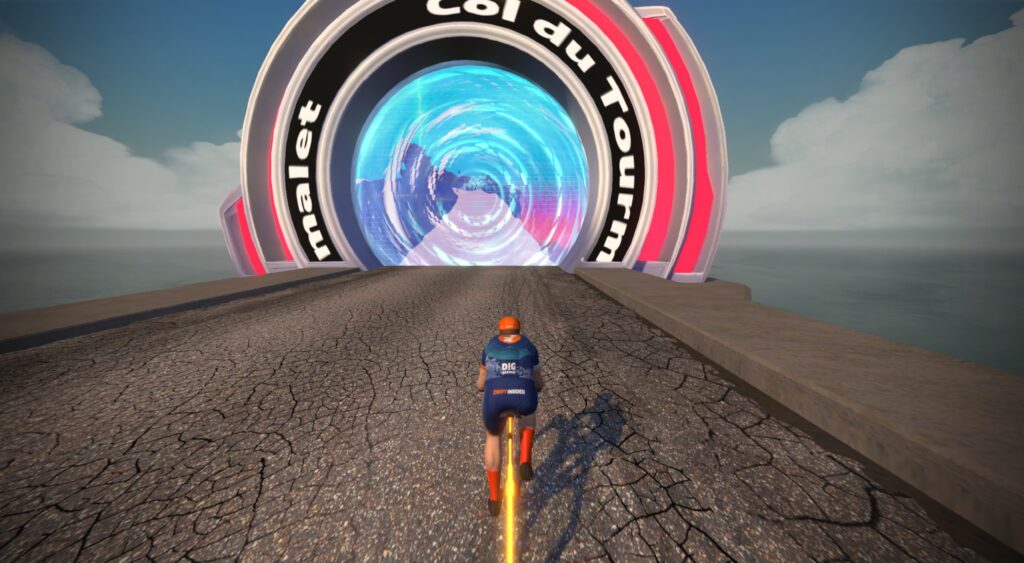 The Climb Portal was announced as an upcoming feature back in April, and today it arrives in game – although most Zwifters won't be able to use it until noon PST this Friday, June 30. (A limited number of Zwift testers, including myself, have had access to it for several days.)
There are actually two Climb Portals – one in Watopia (near the Volcano), the other in France (near the Castle). These portals can be accessed via the home screen, route menu, or when free-riding in either world.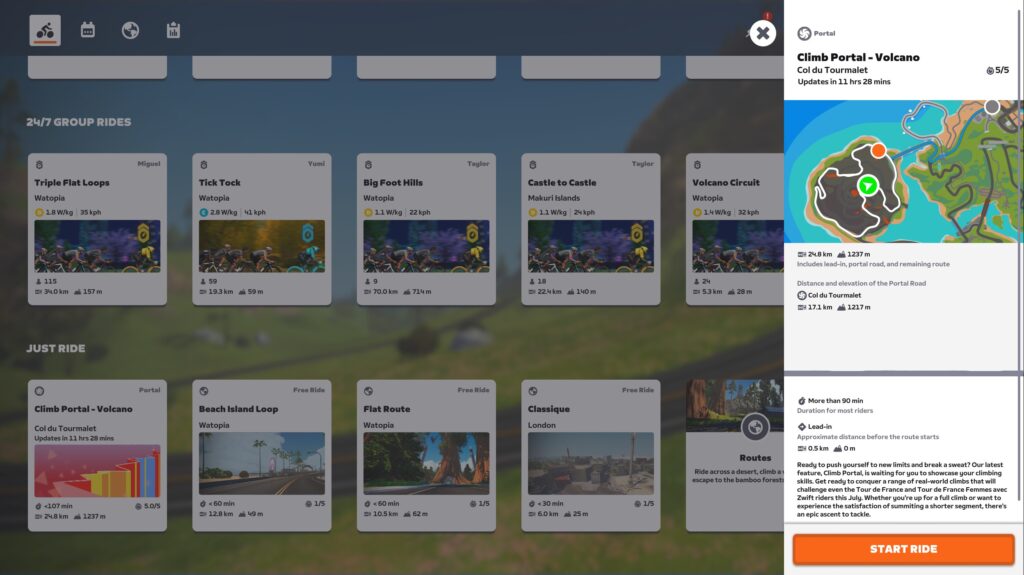 The Climb Portals give us access to a curated list of iconic climbs with a "gamified" look unlike anything we've seen before in Zwift: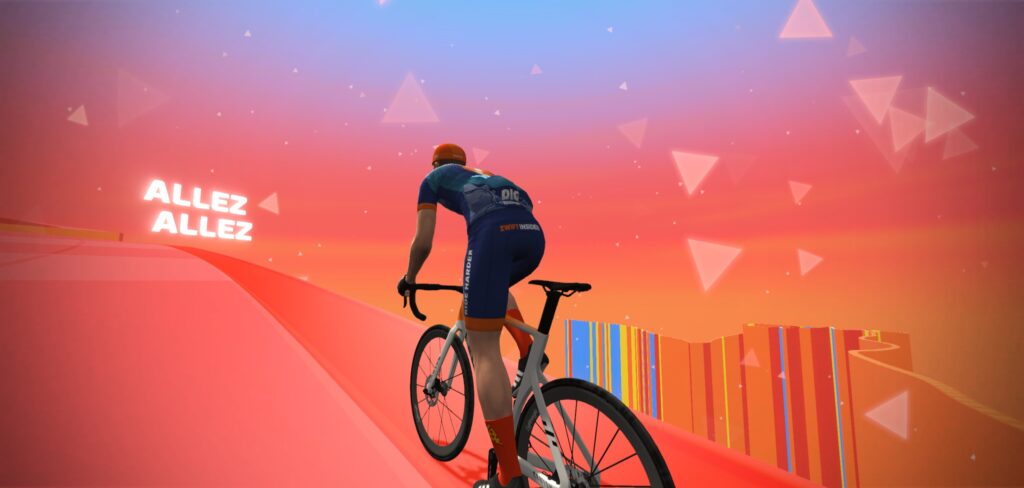 As you climb, the road changes color based on the gradient. There is no surrounding "natural" environment – just sky and floating shapes.
Why the "gamified" look? Because it makes it easy for Zwift to release new climbs! With no need for custom artwork, Zwift can simply feed a famous climb's GPS data into the game, break that climb into defined segments, and add it to the library of Climb Portal climbs.
Once you reach the top there's a turnaround loop, then you can enjoy the descent you earned: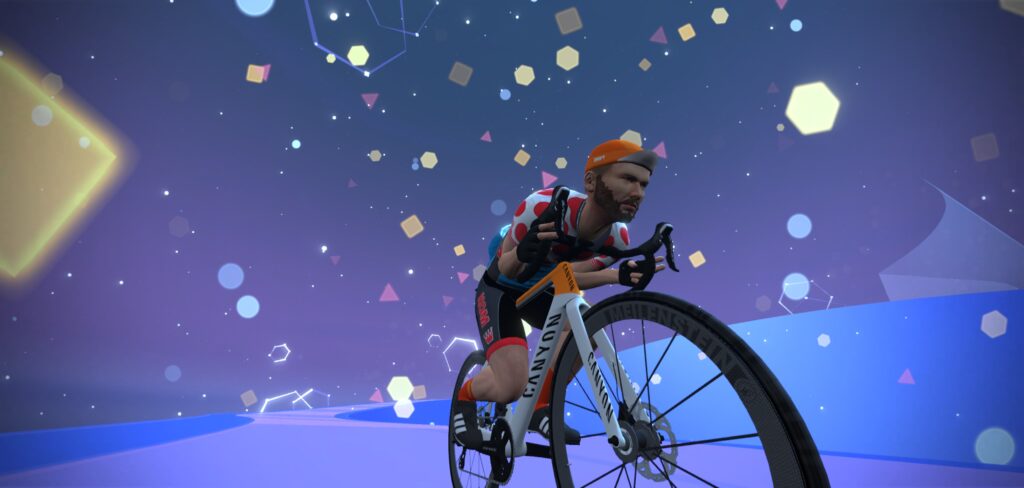 The HUD has been customized for these climbs, with each iconic climb is broken up into sections that begin with an arch and are individually tracked via a dashboard on the left. The HUD also shows your estimated finishing time, an overall progress bar which includes distance, climb, and percentage progress, and a profile minimap and overhead map view: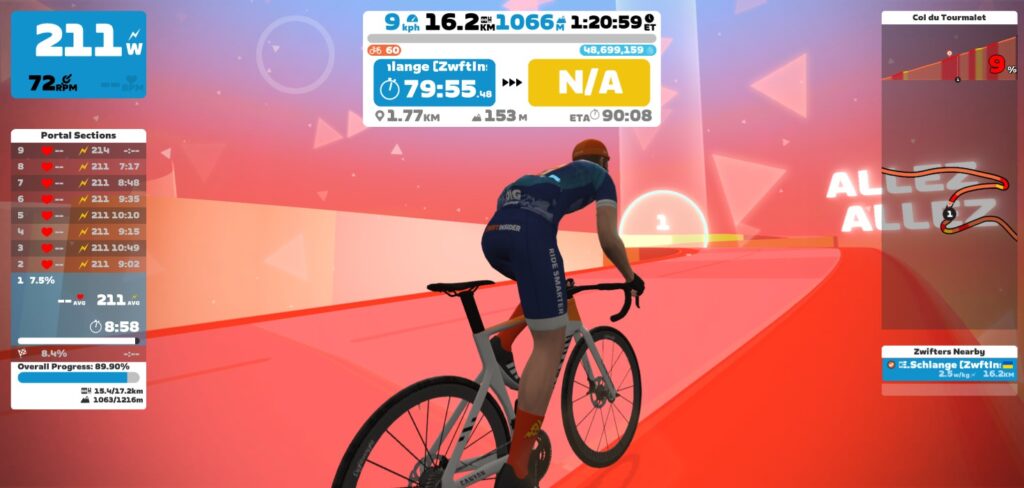 Eight climbs are included in this initial launch. Why did Zwift choose these climbs? Because each of them features in the 2023 Tour de France and/or Tour de France Femmes avec Zwift!
Cote de Trébiac: 3.4 km at 5.8%
Col des Aravis: 4.4 km at 6%
Col d'Aspin: 12 km at 6.5%
Puy de Dome: 10.5 km at 8%
Cote de Domancy: 2.6km at 8.6%
Cote de Pike: 2 km at 10%
Col du Platzerwasel: 7.1km at 8.4%
Col du Tourmalet: 16.9 km at 7.4%

These climbs will be part of the "Climb Portal First Ascent Challenge" which begins Friday (watch for a post all about this challenge, coming soon). You'll be able to ride any of the eight climbs you'd like, or choose from one of the two climbs featured each day which will rotate during the month of July.
Zwift says, "Following the Climb Portal First Ascent Challenge the portals will feature a selection of the world's best-known climbs, with new ascents available each month."
Got questions? See Zwift's Climb Portal FAQ.
Video Screenshots for Apple TV
Video Screenshots let you easily save 15-second video snippets of your Zwift gameplay. "Notable moments" are automatically recorded (think: race finishes or segment PRs) but you can also tap the screenshot icon in Companion or on the Action Bar to save a recording of the last 15 seconds. Here's one notable moment Zwift recently auto-recorded:
Did you see that? I topped the leaderboard for a solid tenth of a second!
Video Screenshots were released for iOS and MacOS back in February, and according to Zwift the capability has been rolled out to "most" iOS and MacOS users. Today, Zwift begins rolling out Video Screenshot capability to Apple TV users.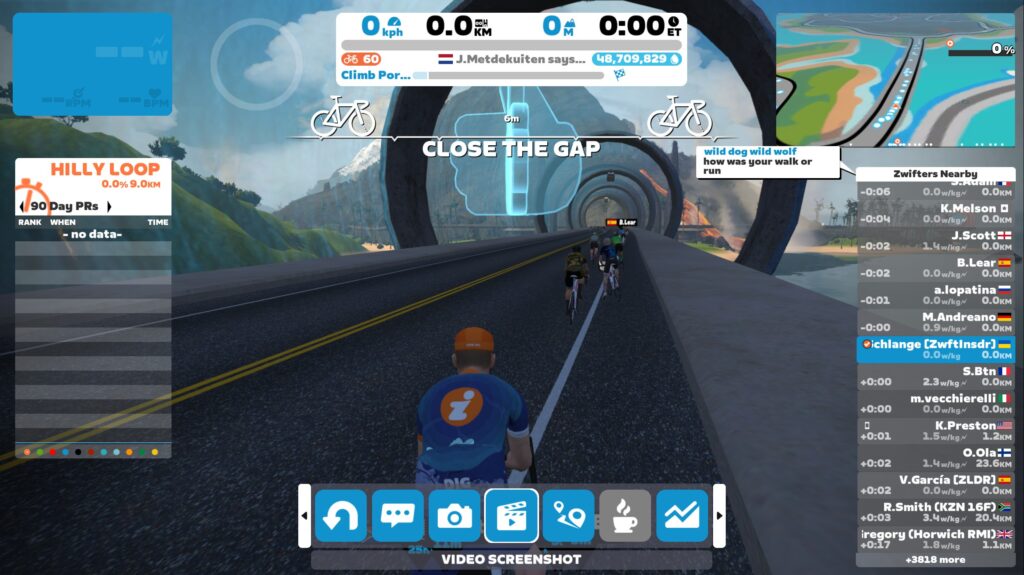 PC and Android users: your time will come. Zwift says they're working on it, with PC coming very soon.
Haptics for Play Controllers
"Haptics" are vibrational feedback, and the Zwift Play controllers now use haptics in certain situations. The release notes say, "Zwift Play controllers now have haptic feedback on Mac, PC, iOS, and Apple TV, with Android coming soon."
Here's the full list of Play haptics:
Controllers Paired
Use Powerup
Return a Ride On
Give a Ride On Bomb
Braking
Repack Rush: Boost
Repack Rush: Hazard
Repack Rush: Bonus Time Pickup
Play haptics are rolling out in phases, so if you don't have it yet, you should soon. Zwift says ~25% of Play Controllers will have haptics starting today.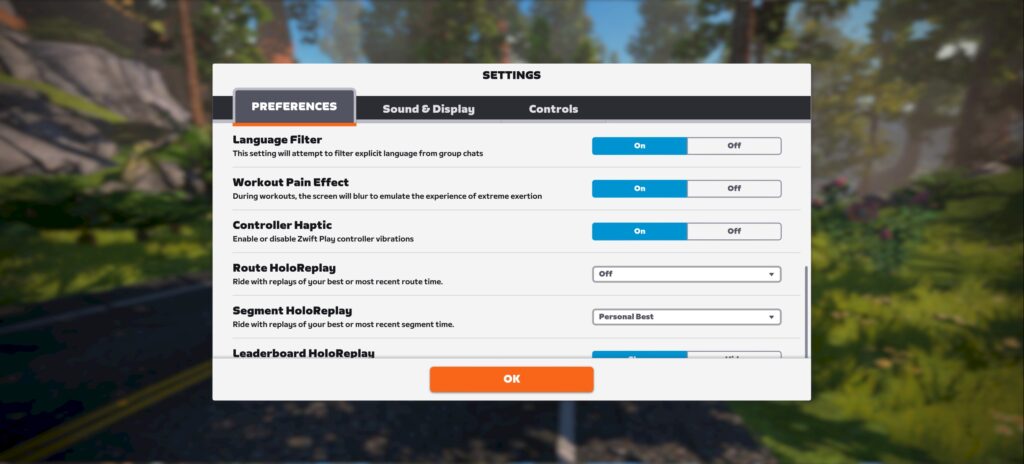 Got feedback on Zwift's new Play Controller haptics? Share it on this forum thread.
More Fixes and Tweaks
Additional tweaks and bug fixes Zwift listed for this update:
Fixed an issue with Coffee Stop that would cause the first use of Coffee Stop after 30 minutes to be 30 seconds instead of the expected 3 minutes. This was most prevalent in events.
Fixed an issue with Coffee Stop that would result in the timer getting stuck, preventing Zwifters being able to use Coffee Stop.
Water textures are back and less gray.
Fixed an issue which occasionally caused cyclists to not appear to be pedaling despite having cadence connected.
Zwift theme music returns 11!
Action Bar pops up more easily on touch screens.
Black squares that appear in dusty conditions have been banished.
Fixed an issue that caused road edges and avatars to turn white in the underwater tunnels of Watopia.
Improved the appearance of the roadway near the village on the Epic KOM route.
Fixed an issue where HoloReplay privacy settings were reset after exiting Zwift.
Fixed an issue that could potentially cause Workout category card titles to be blank.
Fixed a crash that could occur when saving a custom workout.
Fixed an issue where the Save Activity screen could get stuck with a "spinning" indicator.
Fixed an issue where some segments in Makuri Islands and Scotland only displayed results in total seconds.
Fixed an issue in the Ride Report where the power output line did not match up with the corresponding zone blocks.
(PC): AMD Radeon RX 7900 XTX GPUs now have the Ultra graphics profile enabled.
(Mac and PC): Fixed an issue where button hover effects in the Pause menu flashed while moving the mouse.
(Android and iOS): Fixed an issue where scrolling in the Zwifters Nearby list could open the Action Bar.
(Android and iOS): Fixed an issue where the Leaderboard and Zwifters Nearby lists could not be hidden by swiping to the side.
(Android): Fixed a crash that could occur when using Zwift Play controllers.
Fixed an issue so Zwift Play controllers can better navigate the Pause screen on some mobile devices.
Various improvements to in-game menu navigation using Zwift Play controllers.
Fixed an issue that could potentially prevent using Zwift Play controllers from adjusting workout intensity.
See Zwift's release notes in the forum >
Questions or Comments?
If you spotted any other changes or bugs in the update, please comment below!