Last week's Tiny Races returned with a bang on 4 flatter routes, which kept the competition tight. Many of the overall winners (below) only won by a margin of 5-10 points, which could have been changed by finishing just one place lower in a single race!
We've got another themed week this time around, with four dirty courses on the docket. We're also testing the latest version of Zwift's new Pack Dynamics, so be prepared for the races to "feel" a bit different than a standard Zwift race.
Last Week's Results
Overall Winners
A: J Bruhn (NeXT pb Enshored)
B: Lee Warburton
C: Adam Woby (ZSUNR)
D: Richard Johnston (WTF)
A: Joe Chudyk (Turbo)
B: Rainer Beckers (WattFabrik)
C: David Hivey (ART)
D: PapaBroda
A: Daniel Erman (AHDR)
B: Sam Atkinson (TBR)
C: Craig Olman
D: Andrew Milling (EVO)
Women's Winners
A: Florence Nakaggwa (MASAKA)*
B: Mikiton Nakaji (EVO)
C: Kirsty Kennedy (HERD)
D: Manon Holtman (HERD)
A: none
B: Amanda Wendorff (IRACELIKEAGIRL)
C: Donna Watts (S4W SBR)
D: Linn Björgvik (SZR)
A: none
B: Kinsey Remien (ATP)
C: Vanessa Curtis (IOWA)
D: Lee Darling (BRT)
*Florence: we need you to verify your power numbers, otherwise you may be disqualified from future Tiny Race events. Please contact [email protected] for more information.
This Week: New Pack Dynamics!
Zwift rolled out phase 3 of Pack Dynamics 4 in late January, and it has been tested in various races and group rides over the past month. This weekend we'll use it in the Tiny Races, with the goal of letting hundreds of racers experience the latest iteration of Pack Dynamics, so you all can provide feedback to Zwift on this forum topic.
(Feel free to comment on this post after your race, and share your thoughts on the new Pack Dynamics.)
This Week's Route(s): The Dirt Hurt
Each race this week features one or more key dirt sections. This does not mean you should use a gravel bike for every race. You'll need to check out the routes and make the best decision for you!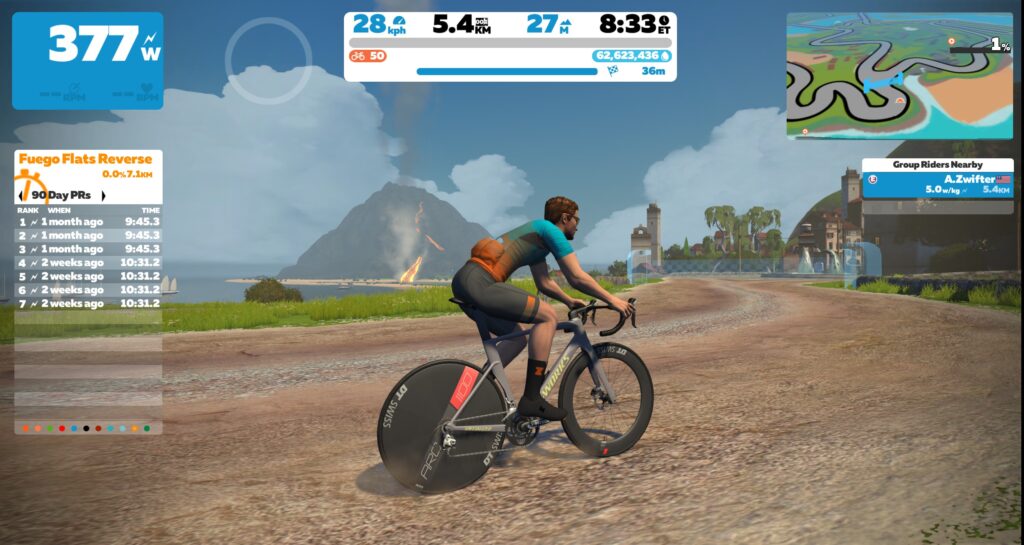 Sign up at zwift.com/events/tag/tinyraces
ZwiftPower Results
Zwift displays preliminary race results in game when you cross the line, but points are computed after all four races are finished, with final results on ZwiftPower. (We have to do some data processing on our side to compute results, so if your rankings don't show up right away, be patient.)
Riders will earn points based on finish position in each of the 4 Tiny Races. The category winner of each week's series is the rider with the most points across their timezone's 4 races. Here are the links for each timezone's results on ZwiftPower:
Rules
Tiny Race rules are simple. Four races, four rules:
You must have a ZwiftPower account, because final results are processed by ZwiftPower (learn how to sign up)
No skipping then returning. These races are meant to be raced as a set of 4. If you need to leave early, that's fine… but once you miss a race in your hour's set of 4, don't come back and race another or you'll be disqualified from that race since you rested while others were racing! (Example: racing only races 1 and 2 is fine. Racing 1, 2, and 4 is not – you will be DQ from race 4. And if you race 2, 3, and 4, you'll be DQ from all those races, since you skipped race 1!)
Heart rate monitors are required for podium finishers
ZPower/Virtual power is not allowed. Smart trainer/smart bike or power meter required.
Join a Chat & Chill Cooldown
Immediately following each hour's racing, we've scheduled 30-minute "Chat & Chill" events where riders from all categories can spin their legs together and chat about how it all went down. Find them at zwift.com/events/tag/tinyraces.
Questions or Comments
Post below!